A few of the things I find each week that tickle my fancy, that I hope will also tickle yours. Can you believe that Christmas is one week from today??? Its come up on us rather quickly I think! I do so love this time of year. ☺
These Scottish shortbread cookies from
Baking Bites
look absolutely gorgeously perfect. I do love a good shortbread cookie, don't you? I had the perfect recipe from Canadian Living that I use every year, or at least I used to use every year until I lost the sheet of paper it was on. It also had my absolute favourite almond cookie recipe on it as well as really fabulous apricot squares. I can't believe I lost the paper!
From Lil Luna,
40+ Food Gift ideas
. Some of these are really nice.
Are these decorated Sugar Cookies not the prettiest you have ever seen?? They look very simple to do as well. From
The Monday Box
.
Aren't these Crochet Knee Socks sweet? I think they are adorable! I couldn't wear them, but if you were young and had great pins, they would be just gorgeous! From
CokaCrochet on Etsy
, an instant download pattern, at a very reasonable price.
Organize Your Week printables from
Polished Habitat
. I need all the help I can get!
This Gingerbread Doll Pattern is so cute. It looks like a towell topper or a pot holder. You can get the pattern for free with registration on the
Free Patterns
website. So adorable!
Thirty One Things you can freeze to save time and Money.
Found and Featured
.
Eight Simple and Memorable Christmas Eve Traditions. I love holiday traditions, don't you? From
Clarks Condensed
. When the kids were growing up we always did up a surprise Christmas basket for some family we thought were in need, took a drive to see the Christmas Lights in the neighborhood, did Christmas Cookie Trays up for friends and family, Gingerbread houses, etc.
These Beaded Snowflake ornaments are so cute. I love them. It isn't too late to pop one or two of these out! From the people at
BHG
. Simple.
Seventeen Free Printable Christmas Games. From
The Bold Abode
. Some of these are really cute!
And that's it for this week, and probably this year! I don't think there is another Friday until the first of January. I certainly won't be doing one on Christmas day!
I had a nice afternoon with my friends at our friend Lesley's house yesterday afternoon. We had a bit of a tea party and I did a craft with them. Just some button wreath Christmas Ornaments to hang on the tree. Simple. I have to say I have felt pretty rough this morning, but blogging is a great distraction. The pain is worse today than it was yesterday. I did not sleep a lot last night. They were itching me and hurting and I kept waking up from it. With every itch, even on places I don't have them, I was awake and worrying were they spreading to my face, my ears, etc. lol What a worry wart I can be sometimes. What will be will be. The pain is the worst though, like all of your nerve endings are being pinced and are on fire and itching all at the same time. I called our friend Doreen to say we would not be able to come over to visit and she has the Shingles too. Please keep her in your happy thoughts and prayers. At the age of 86, this cannot be very pleasant for her.
I think I may try to go back to bed now. And with that I will leave you with a thought for the day . . .
~•~♥♥♥~•.~•~♥♥♥~• ~•~♥♥♥~•~
"But in this season it is well to reassert
that the hope of mankind rests in faith.
"As man thinketh, so he is."
Nothing much happens unless you believe,
and believing there is hope for the world
is a way to move toward it."
~Gladys Taber
~•~♥♥♥~•.~•~♥♥♥~• ~•~♥♥♥~•~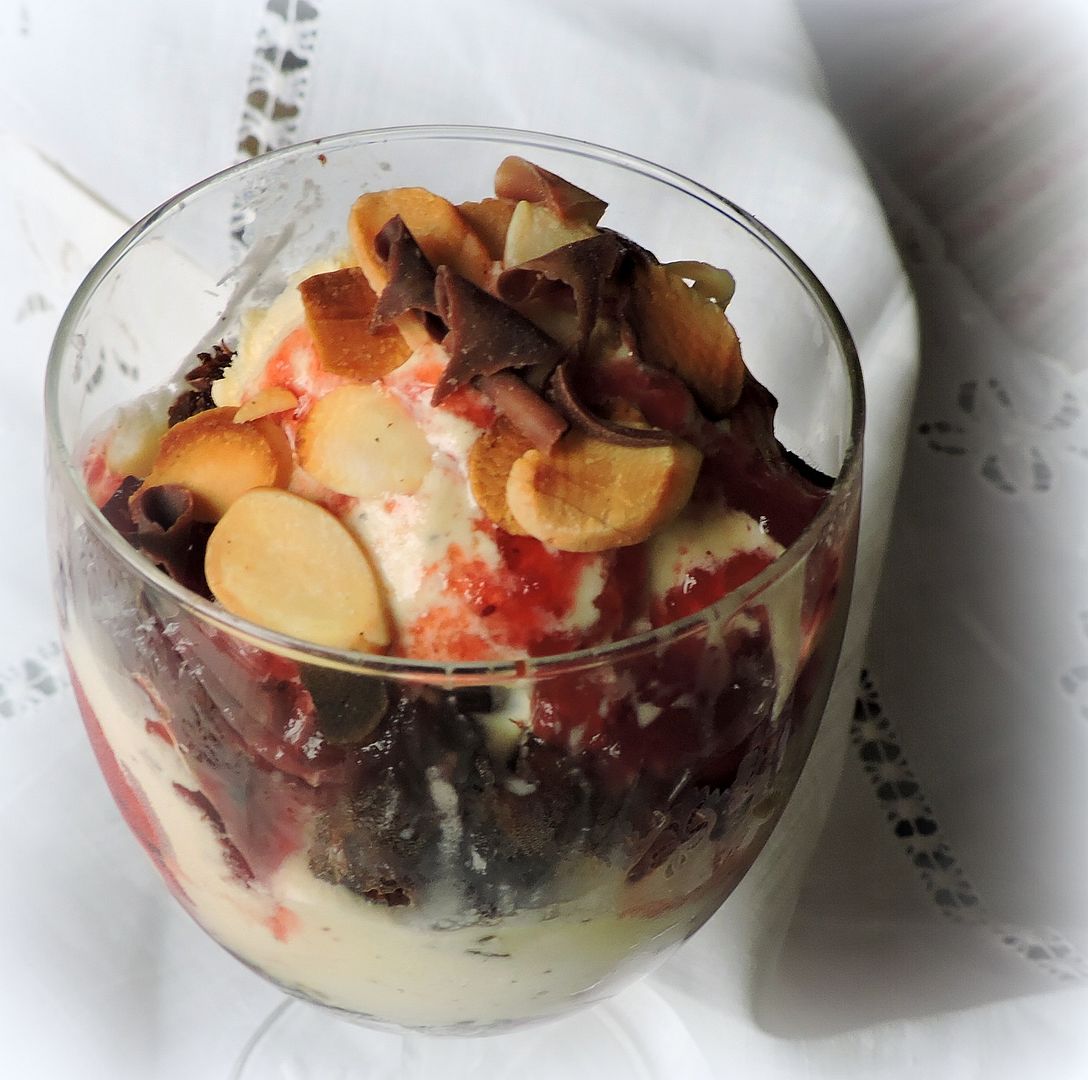 There is a delicious Christmas Ice Cream Dessert in the kitchen today.
Christmas Pudding Sundaes.
I did not have a taste of this, but Todd really enjoyed his!
Have a fabulous Friday! Don't forget!
═══════════ ღೋƸ̵̡Ӝ̵̨̄Ʒღೋ ═══════════ ⊰✿░G░O░D⊰✿⊰L░O░V░E░S⊰✿⊰░Y░O░U░⊰✿
═══════════ ღೋƸ̵̡Ӝ̵̨̄Ʒღೋ ═══════════
And I do too!