Charles Dickens, the famous Victorian novelist, wanted people to celebrate Christmas all the year through, not just in December. The heartwarming days which fell on both sides of the 25th of December meant a great deal to the man who created Ebenezer Scrooge, the selfish, Christmas hating mizer who was at the centre of one of his most famous books, "A Christmas Carol."
I have often watched programs depicting that era in time and thought I would not have wanted to be alive during the Industrial Revolution unless I had been wealthy or a farmer's wife. Great Britain during that time was a land where the wealthy lives in luxury, but the poor were indeed very poor. Dickens remained a passionate advocate of optimism in the face of the despair of the poor.
"There is always something in life to be thankful for," he said. "I will honour Christmas in my heart and try to keep it all year round. It transforms us. This is the season of merry Christmases, friendships, cheerful recollections and affection. God bless every Christmas!"
~Charles Dickens
Christmas should be simple, but we make it complicated. Indeed our lives should be simple, but we tend to make them ever more complicated as well. After our meetings yesterday morning, I wanted to go to Hobby Craft to pick up some wire for this special craft I am doing with some friends tomorrow. First we went to visit an elderly shut in from our church, but we could not find her house. We had not been there before, so that wasn't really a surprise. The sat nav in the car took us to a completely different place and kept insisting we were where we were supposed to be. After knocking on a few doors we gave up and decided to just go home, but first I had to pick up this wire.
The roads into and off of the trading estate where the hobby store is were manic, absolutely manic. To compound the craziness, a truck carrying a huge sheet glass window had dropped it's load at a roundabout, and there was shattered glass all over the road which several people were trying to sweep up. This was at 2 pm on a Tuesday afternoon . . . a week before Christmas. The car lineup to get into McDonalds was chocker block and spilling onto the main road . . . there was nary a parking spot to find near the craft store, but we did manage to squeak into one. I picked up my little packet of wire and got back to the tils, where, once again . . . there was a lineup to defy all description and only two people manning the tils. I patiently waited and paid for the wire and then we came home.
It was a relief to get home. An oasis of calm in the midst of abundant craziness . . . and then Todd turned on the telly only to learn that over 1400 schools in Los Angeles had been closed due to a credible terror threat. Thankfully there was no substance to it, and schools will be opening as per normal today. But what a horrible feeling that must have been yesterday for the parents and teachers of over 6,000 pupils . . . and what chaos must this have added to already hectic lives as working parents scurried to find places for their children to be instead of at school, etc.
We turned off the telly and just put some music on. I heated us up some leftovers for an early supper and we just put off the world for the rest of the day. And I think we will do much the same today. Dwell and relax on our little oasis of peace, calmly enjoying the real reason for this holiday season. Perhaps I'll bake some cookies. The Elders are coming for their tea tonight.
I will spend the day today pondering on my feelings of tenderness for the past and my hopes for the future with a fervant wish that every cup may overflow with blessings rich and eternal and that every path may lead to peace. I am striving to have everything I need to have done, done by the end of this week, so that indeed during the final days before this most blessed of holiday celebrations I can truly ponder and reflect on the true meaning of Christmas and the peace that passeth all understanding.
Turn the music off up top and listen . . .
It is beautiful . . . just beautiful . . .
Christmas will come no matter if we have a ton of mince pies on the sideboard and gifts beneath the tree. At the end of the day its really all about the love which we share with each other . . . and that can be done without all the trimmings and tinsel . . . although admittedly a bit of trimming and tinsel does make it a little bit extra special. We just don't have or need to go crazy with it all. When we keep things in perspective we can find the feelings of peace and love which are at the root of the true meaning of this most blessed season.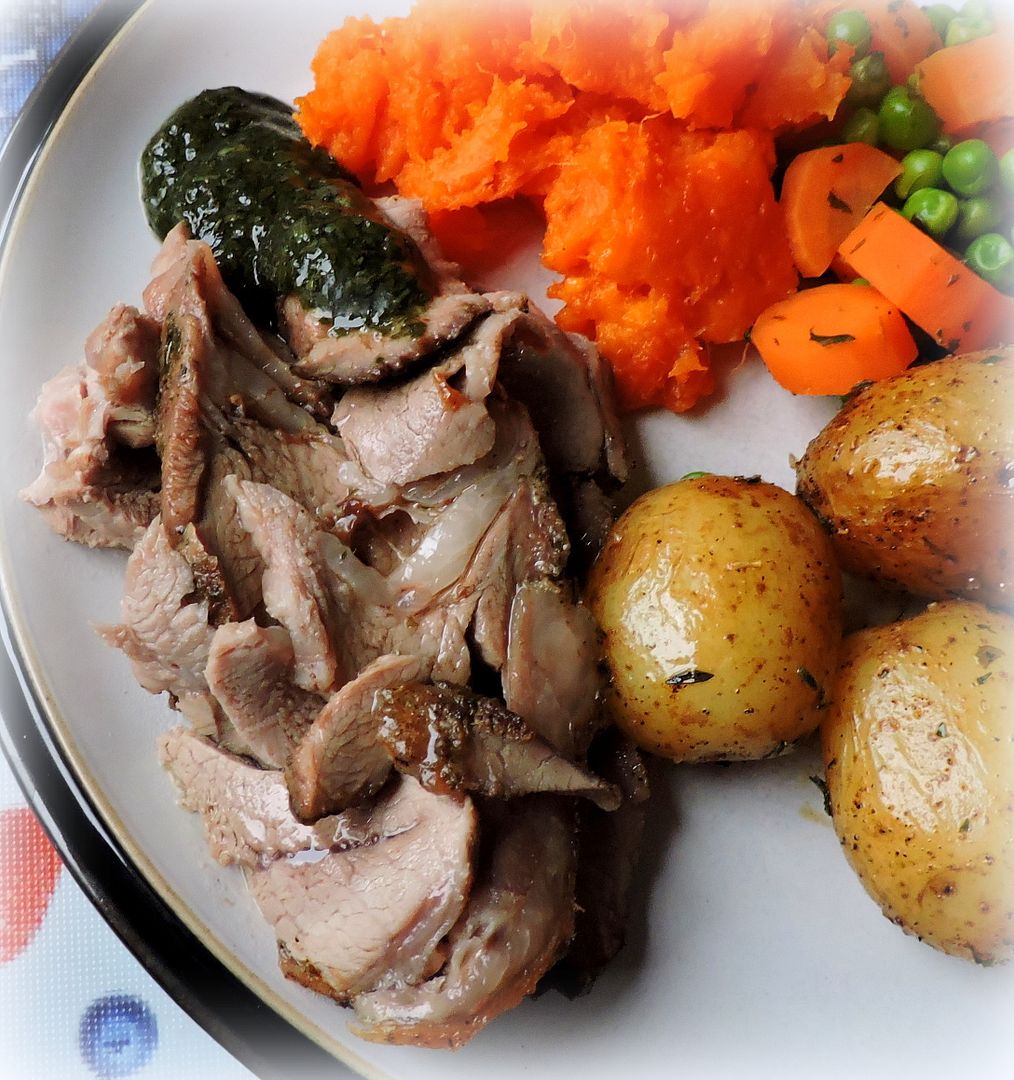 Cooking in The English Kitchen today . . .
A Perfect Roasted Boneless Leg of Lamb
.
May your Wednesday be an oasis of calm amidst the chaos the world tries to turn Christmas into. Don't forget!
═══════════ ღೋƸ̵̡Ӝ̵̨̄Ʒღೋ ═══════════ ⊰✿░G░O░D⊰✿⊰L░O░V░E░S⊰✿⊰░Y░O░U░⊰✿
═══════════ ღೋƸ̵̡Ӝ̵̨̄Ʒღೋ ═══════════
And I do too!