"It is a beautiful arrangement, also, derived from days or yore, that this festival, which commemorates the announcement of the religion of peace and love, has been made the season of gathering together of familiar connections, and drawing closer again those bands of kindred hearts, which the cares and pleasures and sorrows of the world are continually operating to cut lose; of calling back the children of a family, who have launcheed forth in life, and wandered widely asunder, once more to assemble about the paternal hearth, that rallying place of the affections, there to grow young and loving again among the endearing mementos of childhood."
~Washington Irving, Christmas at Bracebridge Hall
I found this thought this morning and pondered to myself, what beautiful sentiments. There is something in the heart at this time of year which longs to take itself back to the roots of one's being . . . to be amongst those we love and care about, with whom we share a history which we share with none other. Oh that I could, but alas I cannot. But in my mind and my heart, I am there.
Devastating floods again to the North of us. This has been a pretty wet and dismal Christmas for so many. That is what happens with the weather is far too mild here at this time of year. We get rain, rain and more rain. Our back garden lays in puddles of water that the already over-saturated ground cannot possibly absorb. Please spare a few prayers for those who have been so adversely affected these past weeks by this horrible weather.
I spoke to my brother briefly on Christmas day in Ottawa and he was going for a bicycle ride. Unheard of for this time of year in that place. Two green Christmas's in a row for Nova Scotia. I hope they don't get the snow afterwards to make up for it that they got last year.
Must dash. I know I have not written much, but my computer has been really messing about this morning. Sluggish and just not wanting to cooperate in the least. Some days are just like that n'est ce pas? Mais oui!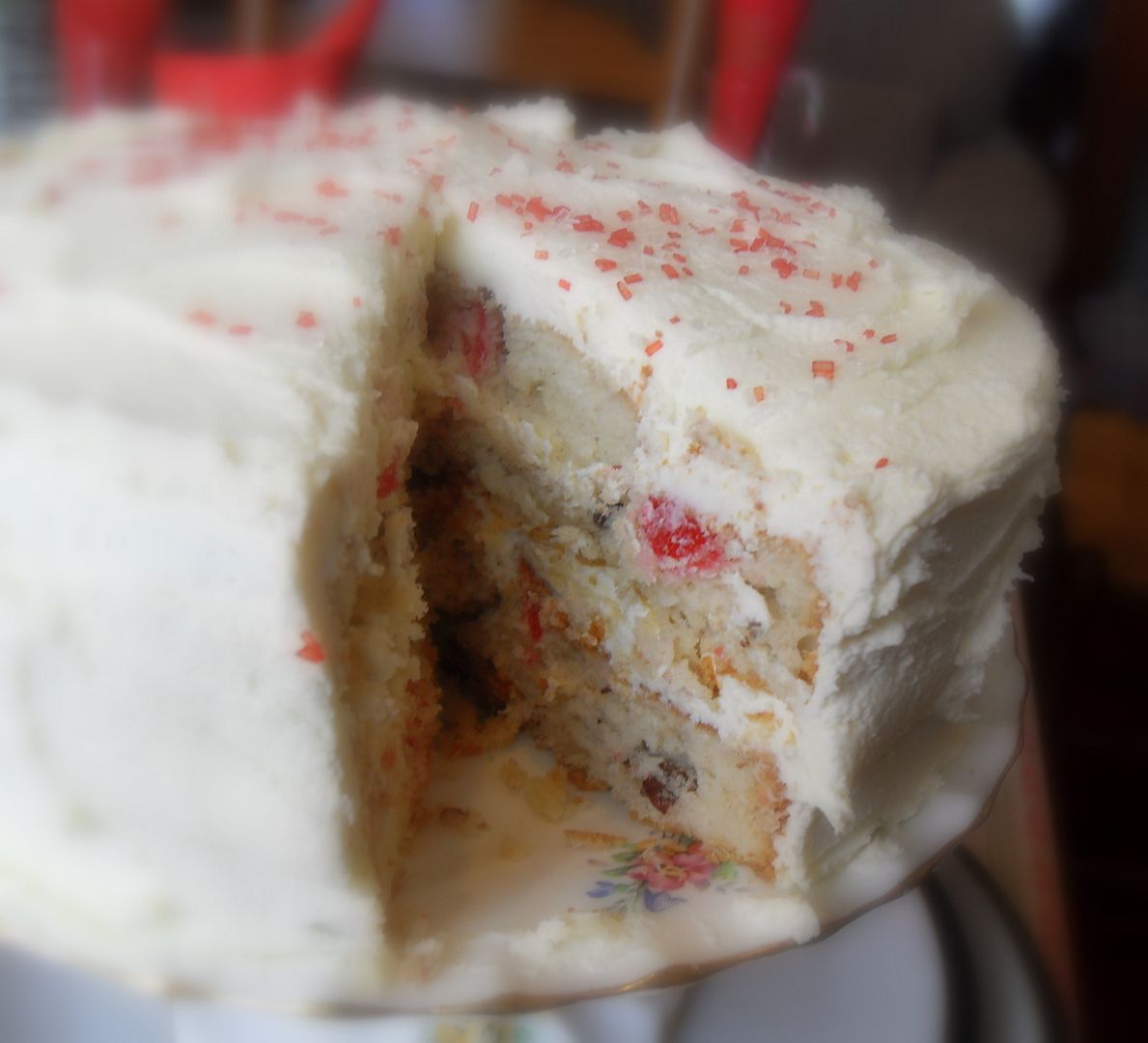 In The English Kitchen today . . .
Maraschino Cherry Cake
!
Have a wonderful and blessed sabbath, the last of this year! Don't forget,
═══════════ ღೋƸ̵̡Ӝ̵̨̄Ʒღೋ ═══════════ ⊰✿░G░O░D⊰✿⊰L░O░V░E░S⊰✿⊰░Y░O░U░⊰✿
═══════════ ღೋƸ̵̡Ӝ̵̨̄Ʒღೋ ═══════════
And I do too!