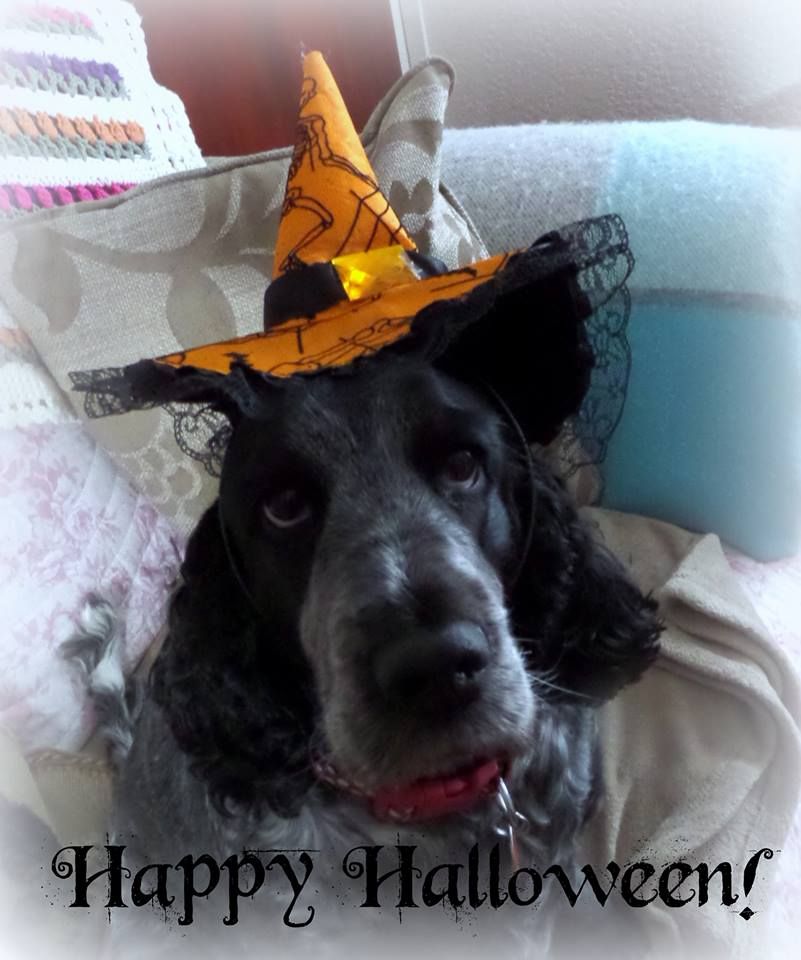 Its only a couple of days away now! Halloween! It's one of my favourite holidays. When I first moved over here to the UK, you didn't hear much about it, but it's gradually become quite popular and so you will see Halloween Decorations in the shops, candy, costumes etc.
Todd and I differ greatly on our like of Halloween. He thinks its nothing more than a Pagan celebration, which might be true . . . but I always answer him with, "It's only pagan to a pagan! To me . . . it's Halloween!"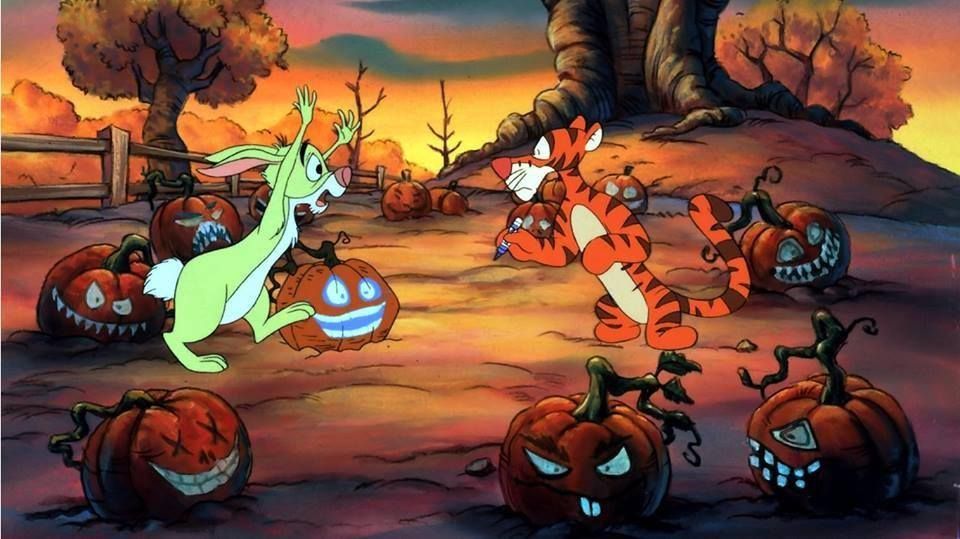 I have always believed that things are what you make of them. Oh, yes . . . I do know that these celebrations (and even much of our Christmas traditions) have their roots in Pagan celebrations, but I don't celebrate it as such . . . only as a fun time of the year when kiddies get to dress up and the spirit of giving is once again prevalent as we hand out candies to them at the door.
Yes, admittedly, there are some negative aspics of it . . . but I think if you choose only to dwell on the positive ones, then it becomes a positive experience, and I have nothing but positive and happy memories of Halloweens when I was growing up.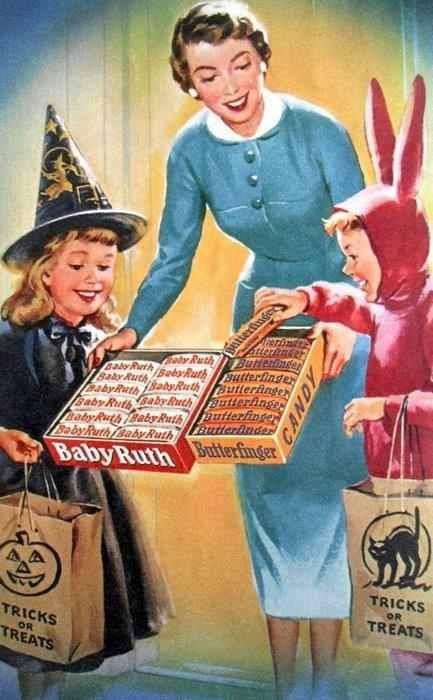 I was trying to remember costumes I might have had as a child. Oddly enough the ones I remember most are not the store bought ones, but the homemade ones. My mother was very good at this type of thing when we were very small. One year I was a witch . . . complete with pointy hat. I remember my best friend, whose first name was Gary, was Robin Hood that year with green tights and everything. Another year I was Lily Munster and my then best friend (Gayle Cormack) was Herman Munster. It was fun doing a duo costume! Another year I quite simply was a woman . . . I wore one of my mother's skirts and sweaters and she let me wear a bra and make up. I can remember playing in the back yard, still dressed up, after school and some teenage boy walking through the back yard and saying something lewd to me and thinking it was very strange and feeling uncomfortable about it at the time . . . and as a sixty year old woman, feeling even more uncomfortable about it now and I can't even remember what he said, only how he made me feel. Other than the homemade costumes I can only remember plastic masks (not what they were of) and having a sweaty face when trick or treating. Not pleasant.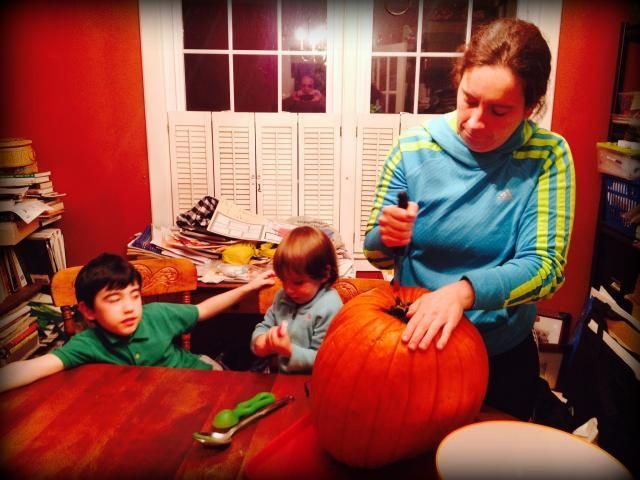 (Anne, Gabe and Luke carving a pumpkin)
As a child we never carved any pumpkins that I can remember, but when my kids were growing up we always did carve at least one pumpkin. Halloween is synonymous with the smell of burnt pumpkin and rotting leaves to me. It just isn't a proper Halloween unless the air is pungent with the smell of both!
My mother would never let us go out trick or treating until we had eaten our supper. That was the hardest meal of all to eat in the year. We were never really hungry for it. We'd always had a Halloween party at school and filled up on goodies there and didn't really want supper . . . and then when kids started knocking and trick or treating at our door and we were still at the table, it was combined with the fear that by the time we got out there to trick or treat ourselves . . . all the goodies would be gone! This was a really big fear too, because as the night wore on, people did run out of candy and it was highly likely that you might not get any, or at least very much.
I am sure we must have been like horses at the starting gate, chomping at our bits . . . just wanting to get going.
(This is our Bruce, Sara and Baxter. Do you know Ellen even showed this picture on her show? I know fascinating!)
We were always strictly warned by mum not to eat any of our candy until we had come home and she had helped us to go through it all. Once home we would dump our bag out onto the living room carpet, each in our own little piles . . . and it would be gone through methodically to check if there was anything suspicious. I did the same with my own children. Anything that looked tampered with or not quite right was always removed and thrown away.
I was not fond of getting apples . . . in fact they were the least favourite thing . . . nor was I fond of those molasses taffies wrapped in orange and black papers. Now though, as an adult, I find myself oddly craving them . . . and the taffy bats, also in orange and black papers. The favourite treats would be the packets of crisps or mini chocolate bars. Those were like the cadillacs of Halloween Treatdom. Not many people gave them out as they were probably more expensive and if you got a few of those in your bag you were really lucky. Even luckier still if you got a bag of cheesies, because those were even rarer.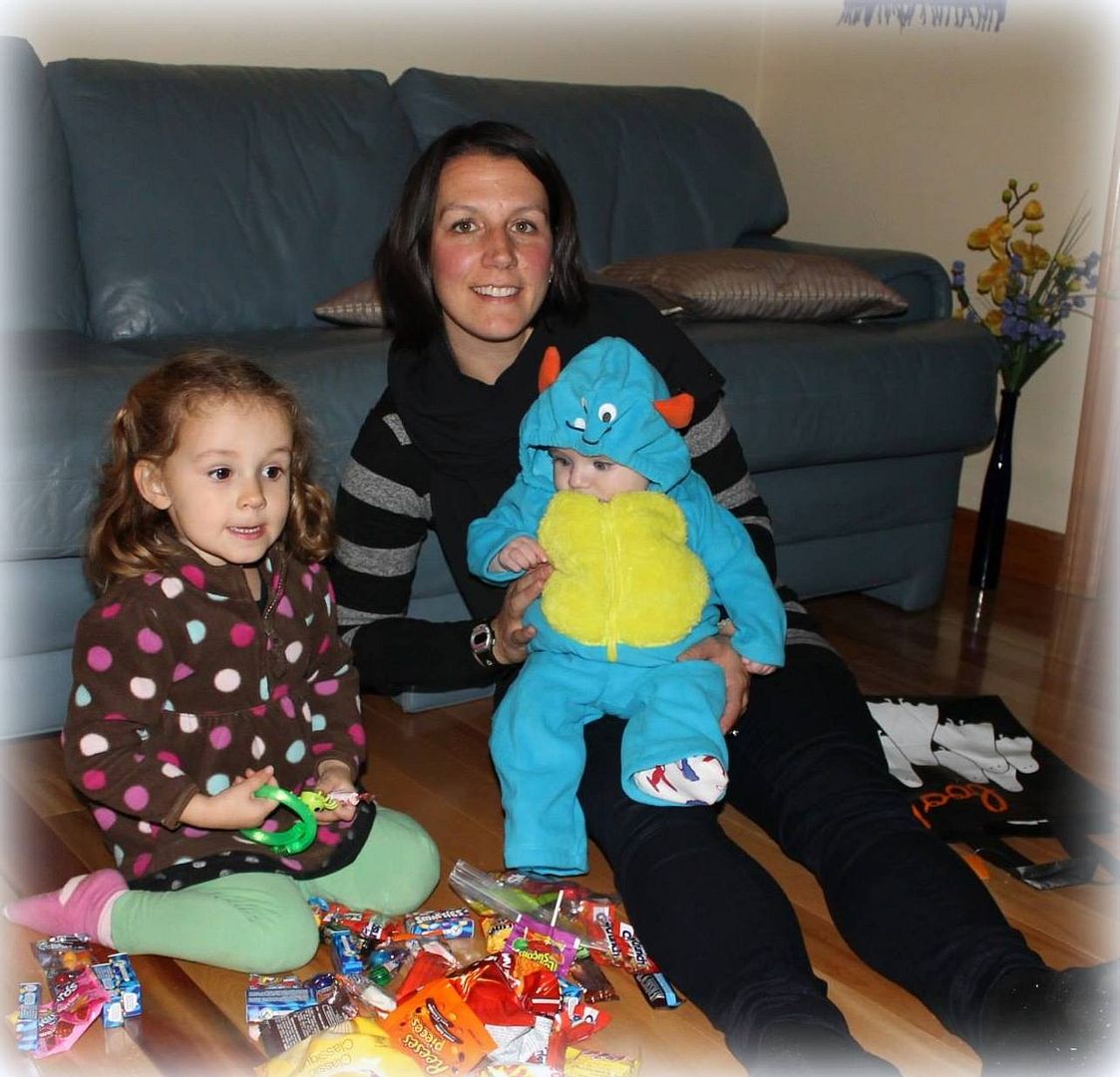 It's nice to see that some traditions continue through the family. Maryn and Cameron are very young here. I think this must have been two years ago now . . .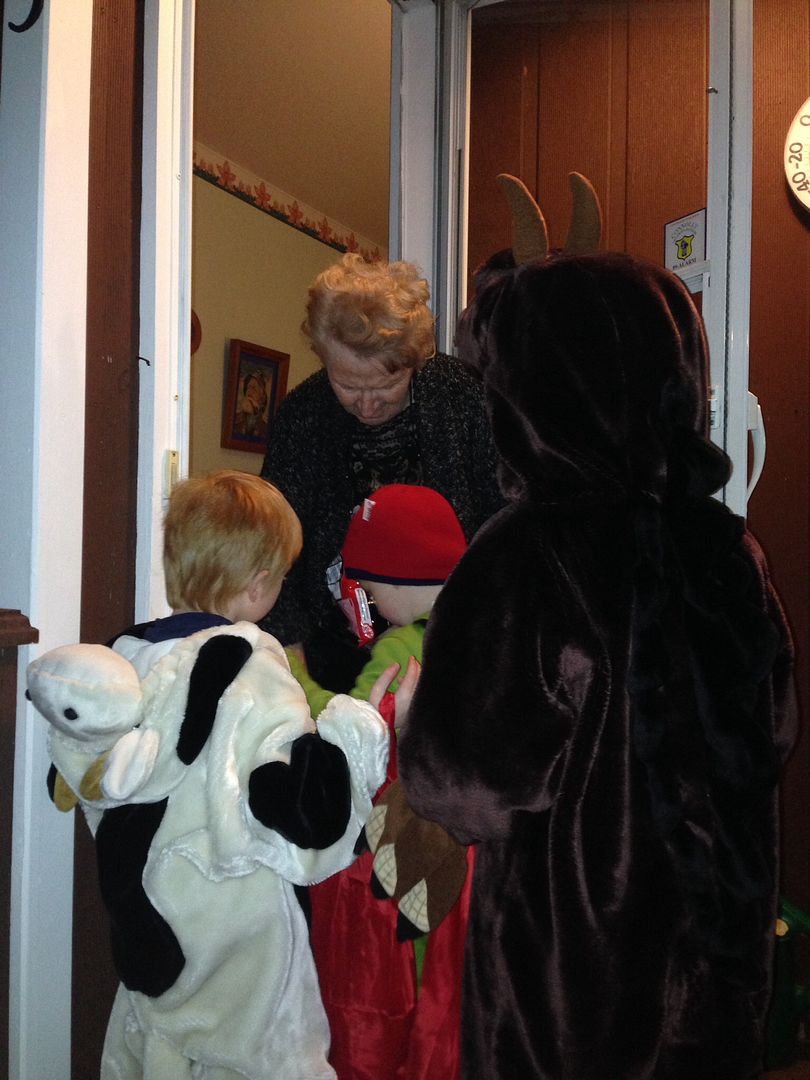 And this is Josh, Jake and Jon trick or treating last year at my ex MIL Elizabeth's house. (Oh, I do miss Elizabeth. She was such a lovely mother in law and a friend. We had ever so much in common. Old movies, scrap books, cooking, etc.)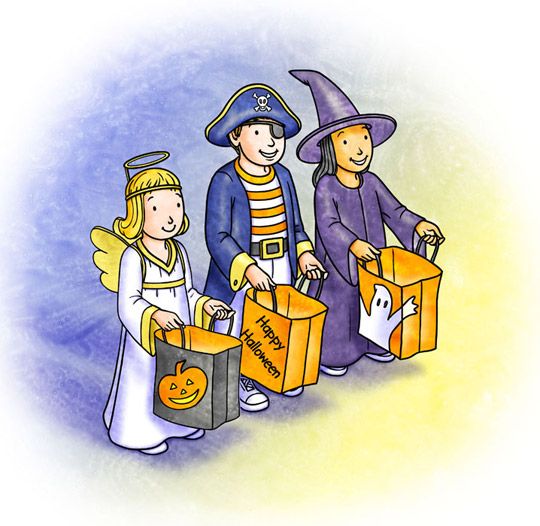 We have never gotten many trick or treaters here at our house on Halloween. I do buy in a couple of bags of candy every year, just in case . . . and we only ever have one or two at the door. I love it when we do because all the happy memories of my childhood Halloweens come flooding back to me. I would never ask them to do a trick . . . I always hated it when an adult asked us to do something for our treat. I always just comment on how spooky they look, wave at the adult by the gate and put something tasty in their bag. This year is mini chocolate bars. Okay . . . every year it is mini chocolate bars, but I do admit that this year I was thinking the little bags of Quavers were looking very tempting also.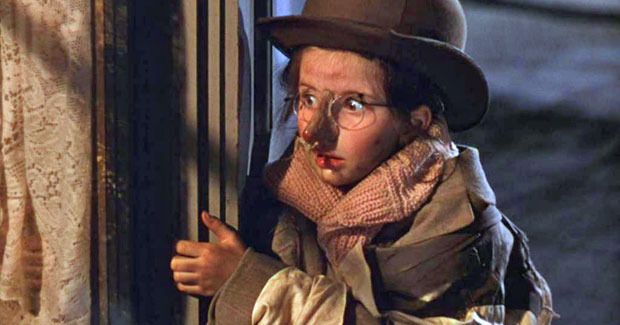 And I am sorely tempted to crack open "Meet Me in St Louis" and watch it on Halloween night. I love that film. Margaret O'Brien is such a great little actress. The Halloween scenes are just wonderful, well . . . it's all pretty wonderful in my books. Watching it would be such a great lead up to Thanksgiving and Christmas!
So what are some of your memories of Halloween as a child, if any? Likes and dislikes? I would be really interested in reading them!
A thought to carry with you through today . . .
ღೋƸ̵̡Ӝ̵̨̄ƷღೋღೋƸ̵̡Ӝ̵̨̄Ʒღೋ
When witches go riding,
and black cats are seen . . .
the moon laughs and whispers,
'tis near Halloween!
~unknown
ღೋƸ̵̡Ӝ̵̨̄ƷღೋღೋƸ̵̡Ӝ̵̨̄Ʒღೋ
Cooking in The English Kitchen today . . .
Crushed New Potato Colcannon
. Colourful and delicious, healthy too!
Have a wonderful Wednesday! Don't forget!
═══════════ ღೋƸ̵̡Ӝ̵̨̄Ʒღೋ ═══════════ ⊰✿░G░O░D⊰✿⊰L░O░V░E░S⊰✿⊰░Y░O░U░⊰✿
═══════════ ღೋƸ̵̡Ӝ̵̨̄Ʒღೋ ═══════════
And I do too!