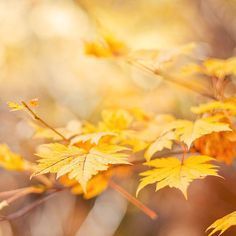 Some of the things I love most about October are the changing colours of the leaves and that autumnal feel in the air . . . Thanksgiving (for Canada at least!) . . . Halloween . . . all good things, but most of all I love that we have the autumn sessions of our church's bi-annual General Conference, a time when we get to sit and listen to inspiration and advice from our leaders.
We used to drive to the Stake Centre to watch it via a video feed, but now, with the help of modern technology we are able to sit and watch it in the comfort of our own home. I love this because not only is it a lot more comfortable, but we can see and hear better and most importantly of all, it invites that beautiful conference spirit into our home.
We are able to watch it live from the computer where it is being broadcast from our church's beautiful Conference Centre in Salt Lake City, Utah. The Conference Centre is a beautiful building. I was so lucky to be able to see it when I was visiting with Lura about 6 1/2 years ago now. (Time flies! Its hard to believe it was so long ago now!)
The Conference Center in Salt Lake City, Utah is the world's largest indoor religious auditorium and seats 21,000+ visitors. The roof is covered in over three acres of gardens with a fountain located in the northeast corner directly above the pulpit in the auditorium below.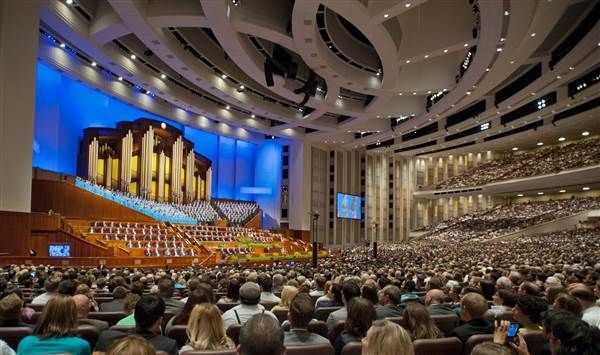 And it's not just amazing on the outside, but also on the inside . . .
It is my dream to one day be able to attend a General Conference and be there in the Conference Centre while our leaders speak to us.
But for now we enjoy it at home.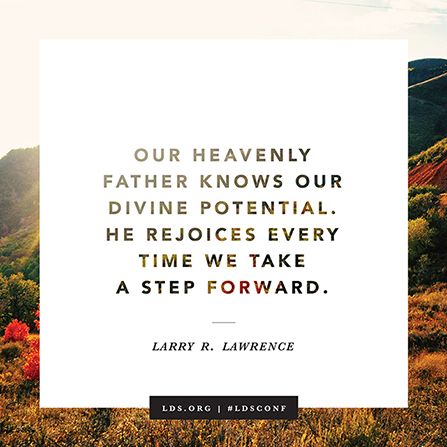 What made last night's sessions even more special was that we got to enjoy it in our home along with two Elders and an investigator friend, Hazel. Elder Newman even brought me some sugar free candy! That was so thoughtful of him! (Rhubarb and Custard Boiled Sweets, Wine Gums and Marshmallows)
It was such a nice feeling seeing two young mean sprawled across our carpet watching the conference and taking notes, sharing some fruit from the fruit bowl that Todd put down for them to enjoy . . . listening to the comments now and again on what was being said . . . having Mitzie curled up between Hazel and myself on the sofa, and Todd sitting in his armchair, every inch the patriarch of our home . . . and all the while listening to wise words and inspiration from our leaders, both men and women.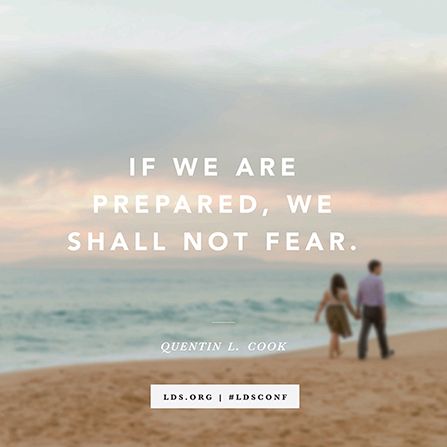 I would be hard pressed to take a favourite from all of the talks which we have heard thus far. (And we get to do it twice more today. )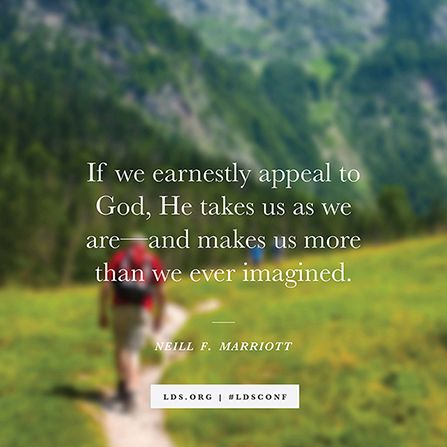 One of my favourite talks last night was one given by Sister Neill F Marriott, who spoke of their Family Motto, "It Will All Work Out," and how the family had struggled when she and her husband were serving their Mission, and she had had to rush home because their daughter had been in a biking accident, only to discover that once she arrived at the hospital her daughter had perished several hours before her arrival.
How do we, a modern, busy, competitive people, become yielded and still? How do we make the Lord's ways our ways? I believe that we begin by learning of Him and praying for understanding. As our trust in Him grows, we open our hearts and seek to do His will, and wait for answers that will help us understand. …
When we open ourselves to the Spirit, we learn God's way and feel His will. During the sacrament, which I call the heart of the Sabbath, I have found that after praying for forgiveness of sins, it is instructive for me to ask Heavenly Father, "Father, is there more?" When we are yielded and still, our minds can be directed to something more we may need to change—something limiting our capacity to receive spiritual guidance or even healing and help. …
When we offer our broken heart to Jesus Christ, He accepts our offering. He takes us back. No matter what losses, wounds, and rejection we may have suffered, His grace and healing are mightier than all. Truly yoked to the Savior, we can say with confidence, "It will all work out."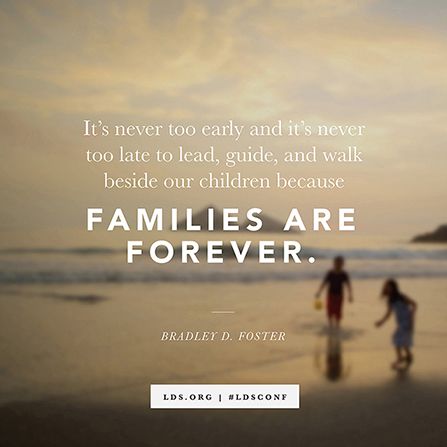 Another favourites was the talk given by Bradley D Foster on the eternal divine nature of the family . . . and how we can and should protect them.
Brothers and sisters, we are engaged in a battle with the world. In the past, the world competed for our children's energy and their time. Today it fights for their identity and their mind. Many loud and prominent voices are trying to define who our children are and what they should believe. We cannot let society give our family a makeover in the image of the world. We must win this battle. Everything depends on it. …
I know I can't turn back time, but this I now know—that it's never too early and it's never too late to lead, guide, and walk beside our children, because families are forever. It is my witness that our Heavenly Father loved us so much that He sent His Only Begotten Son to live the life of a mortal so that Jesus could say to us, "I've been where you are, I know what comes next, and I'll help you through it." I know He will.
And this is just a short sampling of the wonderful words which were shared with us. I know I will go back and listen to all of the talks again and take the wisdom from them into my heart. I feel so blessed to be able to do that. In a world which seems to be increasingly going mad . . . anchors like these help me to keep my ship of Zion balanced. . . or as Elder M Russell Ballard said . . . Ship Shape and in Bristol Fashion . . . and ready to stay the course.
Our Heavenly Father and the Lord Jesus Christ have outfitted the Old Ship Zion with clear and simple eternal truths that will help us stay the course through the troubled waters of mortal life.
I would invite anyone who is interested to go along and
watch some of the talks
which have been given already, and perhaps even listen to some of the talks we will be given yet later today. I can promise you, it won't be boring in the least and you will come away from the experience feeling uplifted and at peace.
A thought to carry with you through today . . .
ღೋƸ̵̡Ӝ̵̨̄ƷღೋღೋƸ̵̡Ӝ̵̨̄ƷღೋƸ̵̡Ӝ̵̨̄Ʒღೋ
And when ye shall receive these things,
I would exhort you that ye would ask God, the Eternal Father,
in the name of Christ, if these things are not true;
and if ye shall ask with a sincere heart, with real intent,
having faith in Christ, he will manifest the truth of it unto you,
by the power of the Holy Ghost.
~Moroni 10:4
ღೋƸ̵̡Ӝ̵̨̄ƷღೋღೋƸ̵̡Ӝ̵̨̄ƷღೋƸ̵̡Ӝ̵̨̄Ʒღೋ
Baking in The English Kitchen today . . .
Crumb Topped Cornmeal and Molasses Muffins
.
May your Sabbath day be Holy and blessed. Don't forget!
═══════════ ღೋƸ̵̡Ӝ̵̨̄Ʒღೋ ═══════════ ⊰✿░G░O░D⊰✿⊰L░O░V░E░S⊰✿⊰░Y░O░U░⊰✿
═══════════ ღೋƸ̵̡Ӝ̵̨̄Ʒღೋ ═══════════
And I do too!