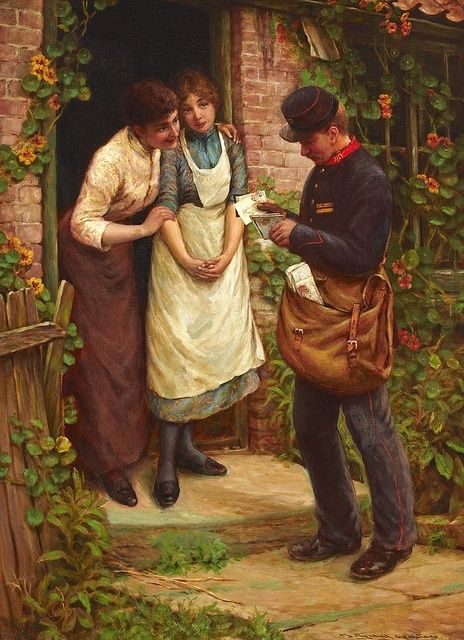 When I was a child there was nothing more exciting than for something to arrive for you in the post! I didn't get a lot of things via post during my growing up years, but that is good in a way, because . . . to this day . . . I can tell you exactly
every
thing I did get! Handkerchiefs with pretty pictures on them, a Christmas Card that was an actual record, a glow in the dark Jesus picture with the Lord's Prayer on it, a chair pin cushion made from a tin can and some crepe paper/clothespin butterflies. The butterflies were pink and had sparkly gold pipe cleaner antennae, and the glow in the dark Jesus looked down on me most of the nights of my childhood. Somehow our bedroom seemed safer with Him on the wall watching over us.
We never lived any place where a Post Man actually delivered the mail to our house. In the warmer months it was often my job to go and pick up the post at the Post Office. When we lived in Gimli, (Manitoba) I used to ride my bicycle onto the base to pick up and bring it back each morning. Being able to do this made me feel really important. Once we moved to Nova Scotia, my dad would usually pick it up on the way home from work. In the last house we lived in on the base, the Post Office was practically at the end of our street, so it wasn't really all that far to go. I can still tell you the box number of our postal box . . . 527. That was the PO Box until about 16 years ago when my mother finally switched to one in the town she lives near now. My mother has also had the same telephone number for about the last 30 years! Nothing changes.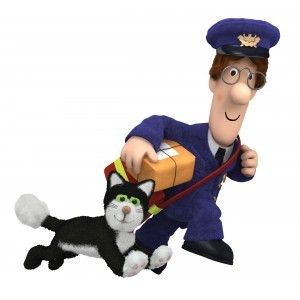 I still get really excited when I get something in the post, and most especially when it comes as a big surprise. It was no different yesterday when my postman delivered me a large padded envelope. It was from my dear friend Tatiana in Greece and I was really surprises as I had not been expecting anything from her. Tatiana and I have been in contact for quite a few years now. In fact, my top thrill of 2015 was to finally get to meet her on New Years Day. (I am sure you will remember me telling you about it.) Tatiana is the same age as my oldest son, and she feels like a daughter to me in many ways, but she also is a dear and beloved friend, so it's an even more special relationship than a mother/daughter thing. It's really hard to describe. She's just
really
special to me.
She's a very talented bookmaker as well. A real artist with her book binding and she does beautiful decoupage work. But on top of it all, she is a dear sweet girl with a huge heart and a tender soul. She means the world to me and we talk just about every morning for several minutes on the computer, unless she is not going to be around. It's really nice. I love her to bits, and I miss her when she's not there.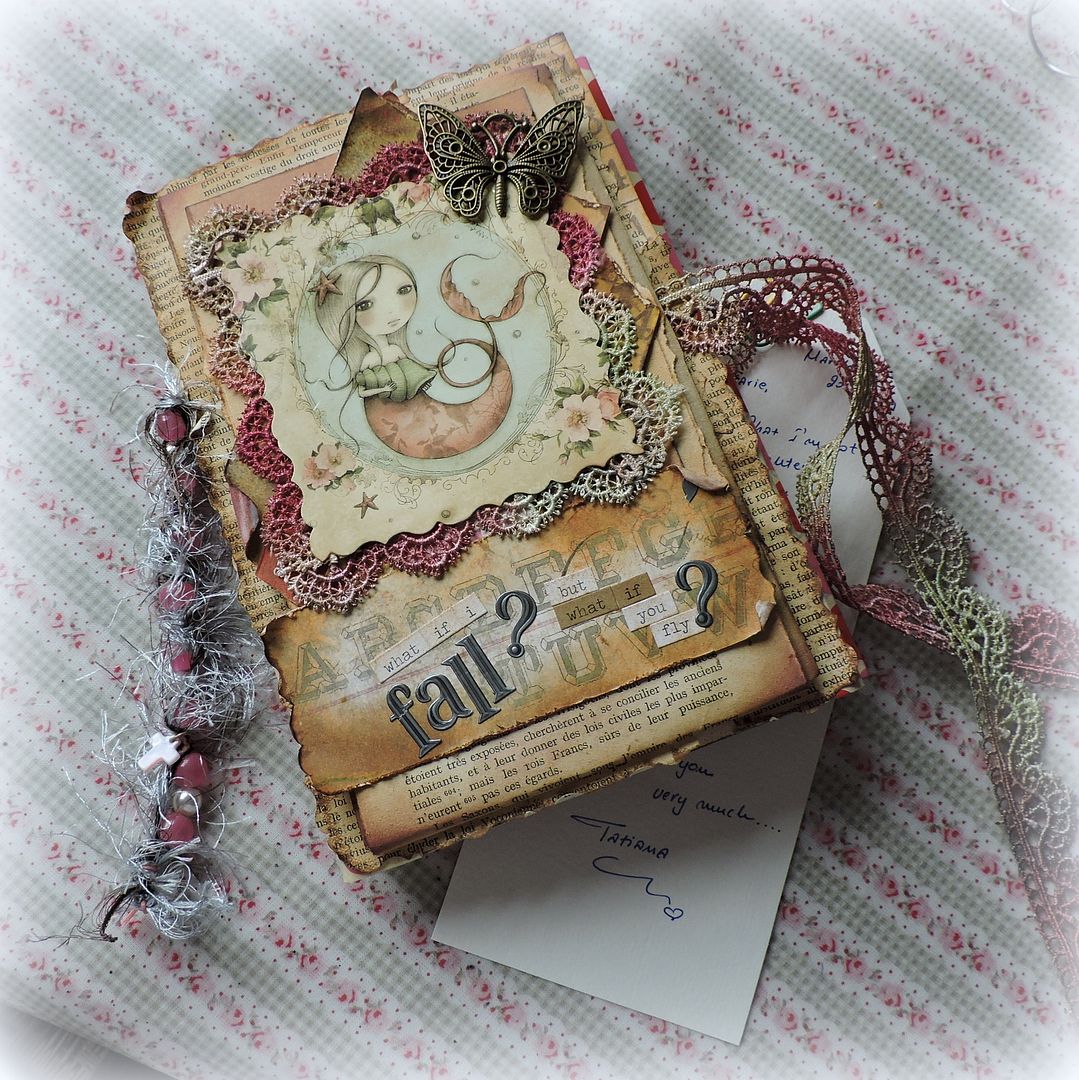 This is what was in the package! A special book that she made just for me for Mothering Sunday! I was so surprised and touched that she would think of me in this way! Isn't it beautiful? There has been so much work and effort put into it. I think it is amazing. The cover alone is composed of layers of old book pages, each one antiqued and put together in a specific way . . . the butterfly embellishment . . . the lace . . . the quote . . . one which I had posted on Facebook a while back. So much attention to detail.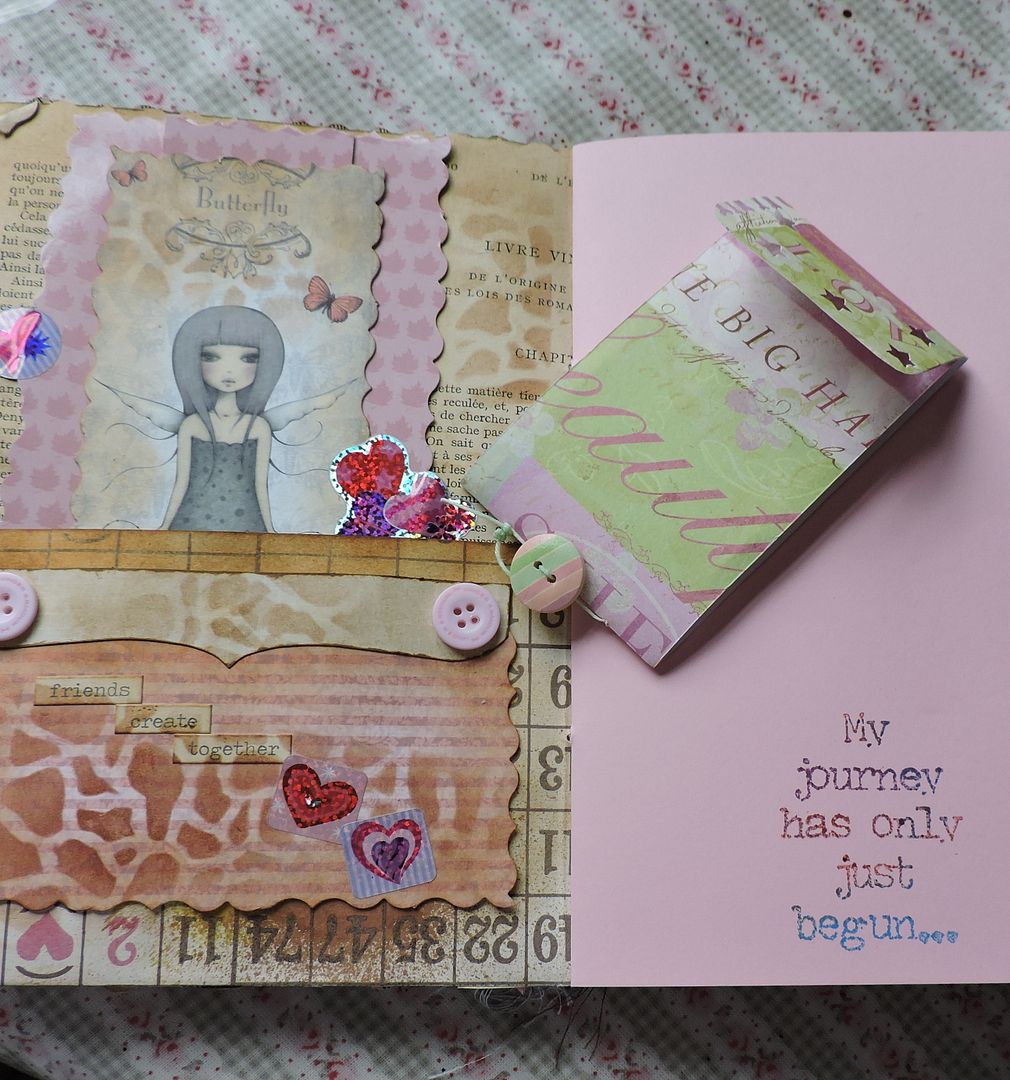 The detail doesn't stop there, it continues inside. Each page is loving constructed, with pockets and little mini books, quotations etc. Buttons! She knows I love buttons! I love the sentiment on this page . . . friends create together . . .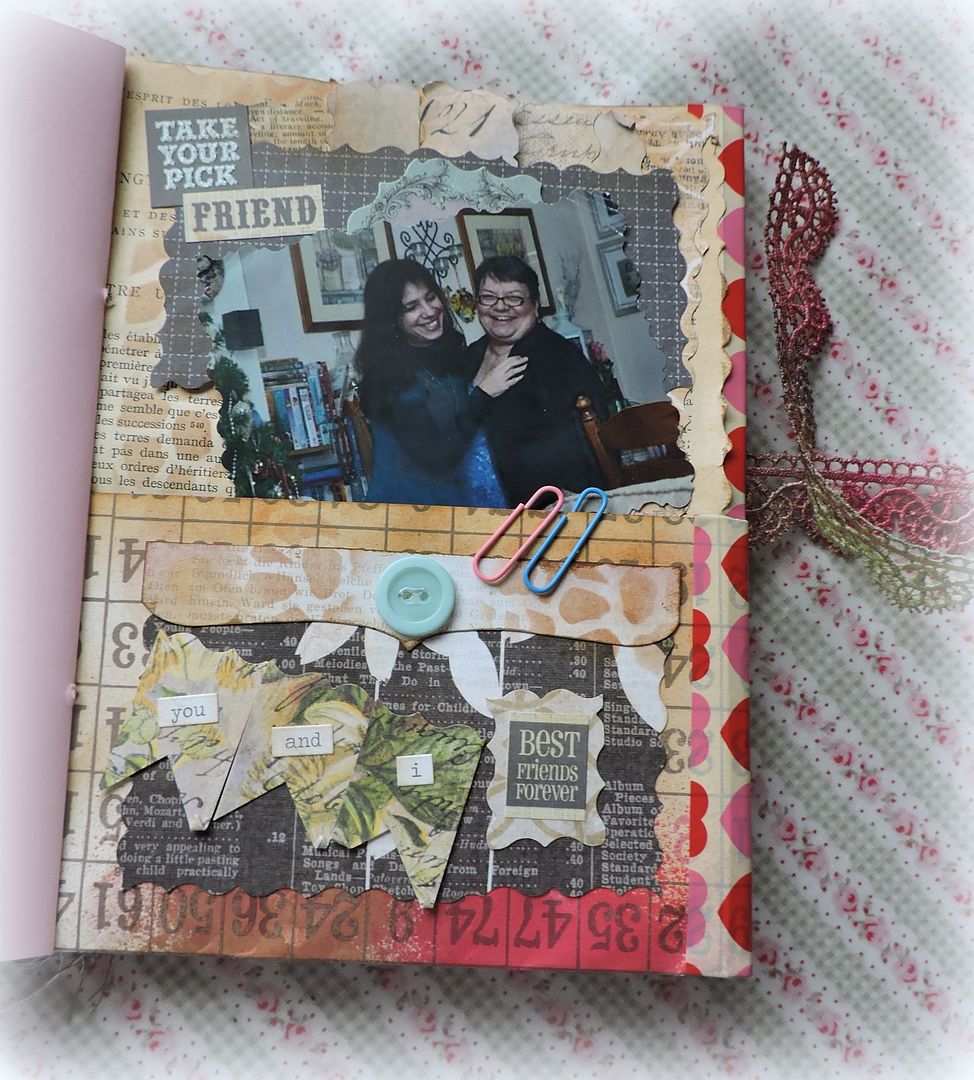 There are blank pages for me to put my own mark upon, but I especially love the pages which Tatiana has finished with photos of us together from her visit in January . . . and the little sayings she has put on each . . . all of this work just so filled with her heart and her love for me.
To be honest, it is quite simply an amazing piece of work and I was touched beyond measure that she would make this for me. It represents hours and hours of dedicated and painstaking work . . . and I will treasure it always.
It just goes to prove that the old saying stands true . . . Friends
ARE
family you get to choose for yourself. Sometimes our own families will let us down . . . . after all they know you will love them no matter what . . . but a friend, that is somebody very special. Friends never let you down if they can help it, and friends will more often than not go the extra mile, make a special effort. Do something meaningful when you least expect it.
I hope that Tatiana knows how very much her special gift to me touched my heart yesterday when it arrived. It put an extra special smile on my face this Mothering Sundayand impacted me in a way which really touched my heart,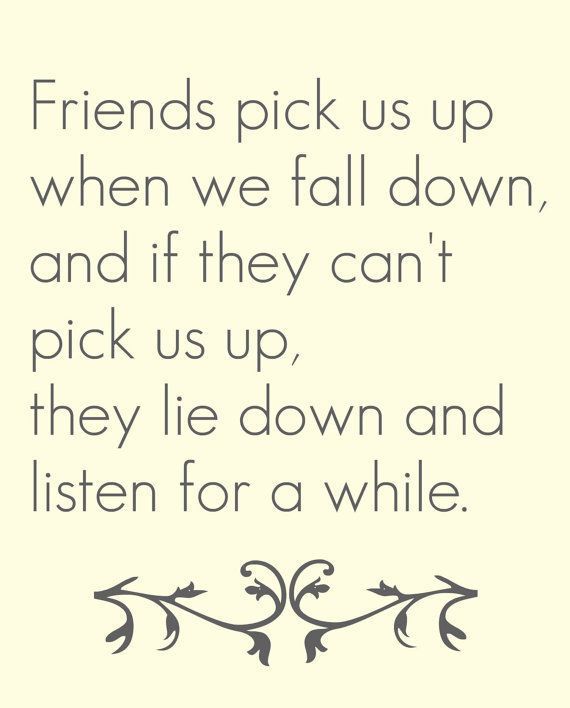 I am so grateful for the friends in my life. God has surrounded me with truly special people. I am blessed in numerous ways . . . I don't know what I did ever that deserved to be loved in the special way that I am. But whatever it was, I am glad I did it because . . . this is a feeling which truly can't be bought.
I do have the best friends.
"A single rose can be my garden,
a single friend . . . my world."
~Leo Buscaglia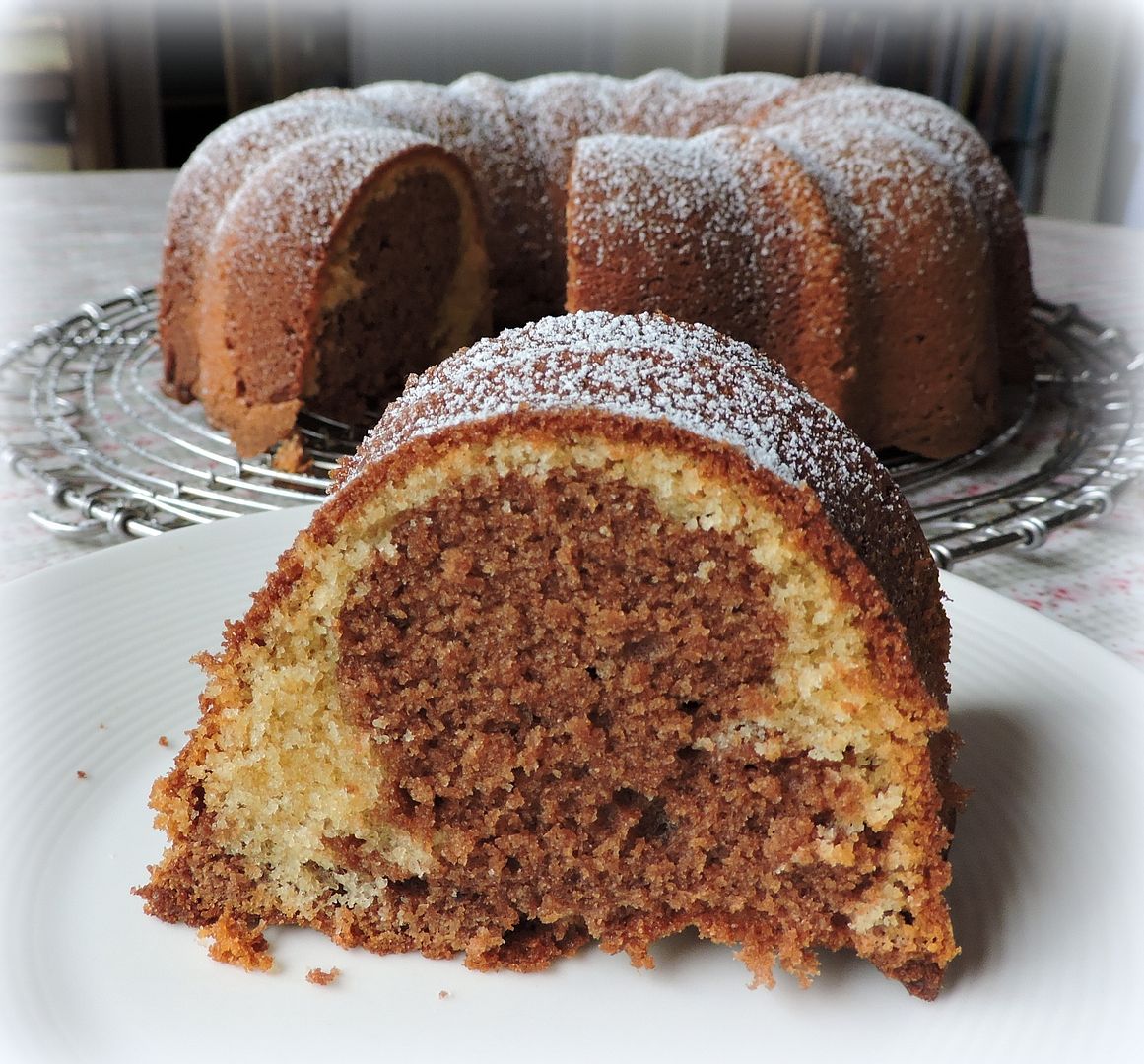 I am baking a delicious Chocolate and Vanilla Marble Cake in
The English Kitchen
today. My first one ever that didn't come from a mix.
Have a beautiful Sunday. Happy Mothering Sunday to all of my friends. Are we not all mothers? Yes we are.
Don't forget . . .
═══════════ ღೋƸ̵̡Ӝ̵̨̄Ʒღೋ ═══════════ ⊰✿░G░O░D⊰✿⊰L░O░V░E░S⊰✿⊰░Y░O░U░⊰✿
═══════════ ღೋƸ̵̡Ӝ̵̨̄Ʒღೋ ═══════════
And I do too!