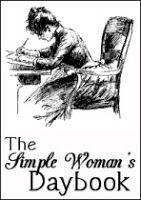 FOR TODAY, October 7th, 2014
Outside my window ...
Tis dark, dark, dark . . . it's only six am. Doesn't seem all that long ago that it was still slight this time of day . . . but the nights are really drawing in now, and the days are getting noticeably shorter!
I am thinking ...
I have learned whatever state I am in, therewith to be content.
~Philippians 4:11
I think that is one of the secrets to happiness.
I am thankful ...
For all the wisdom I was able to glean from last weekend's
Conference Messages
. In fact I am listening to one now, as I write this.
In the kitchen ...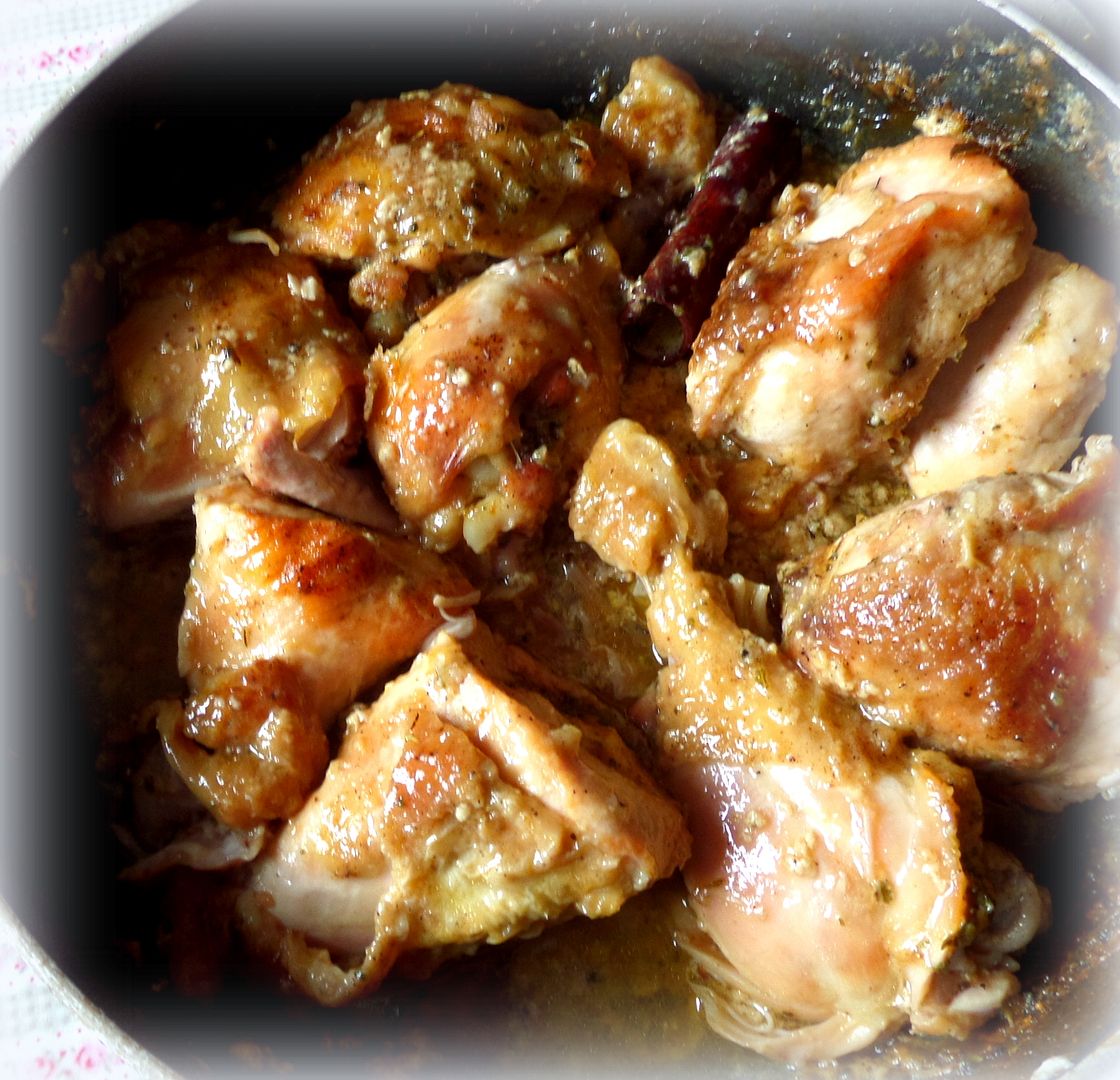 Milk Braised Chicken
. This is seriously delicious! It's not that pretty to look at, but boy oh boy, is it ever tasty!
On my "To Cook" list ...
Pepperoni Pizza Puffs
from Lick the Bowl Good. Scrumptious looking!
I am creating ...


I did two more Zen Tangle bookmarks yesterday. The owls took forever, but I do enjoy this! Not sure it will ever replace my regular artwork though! I crave colour!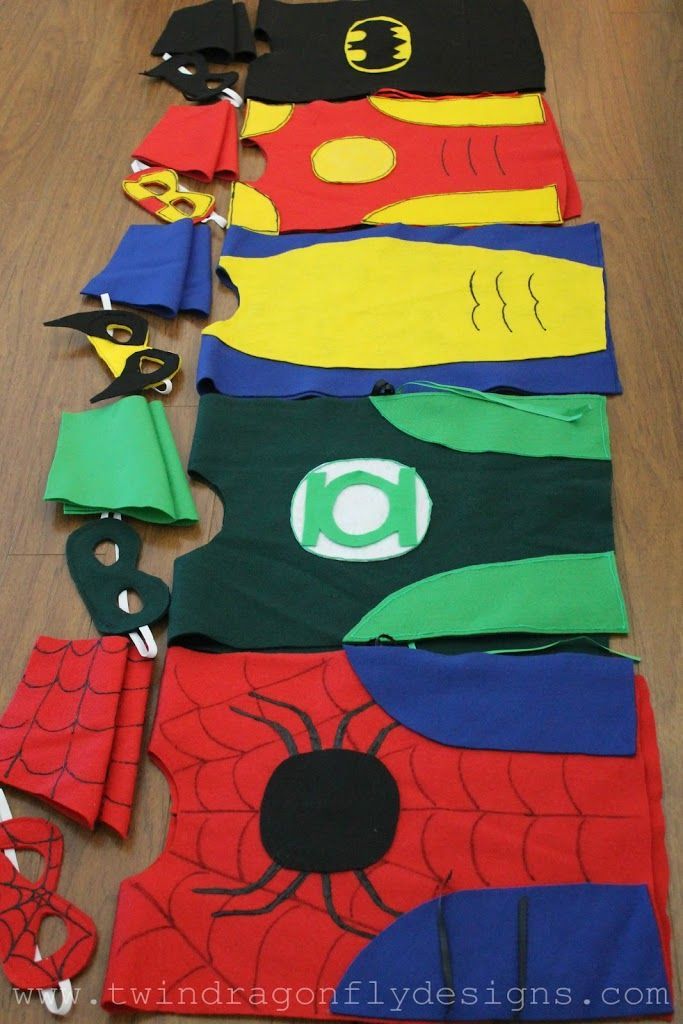 These Now Sew super hero costumes are quite cute. I can think of a few little boys they would be good for. Found on
Twin Dragonfly Designs
.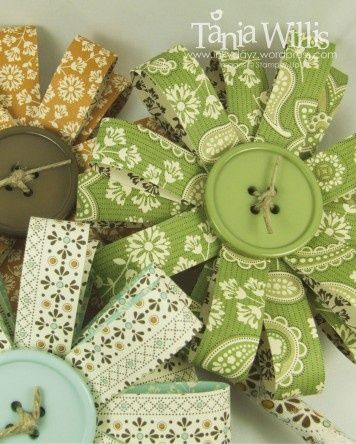 I love these paper flowers. They are so cute and would be a great way to use some paper scraps up. Found on
Inky Dayz
.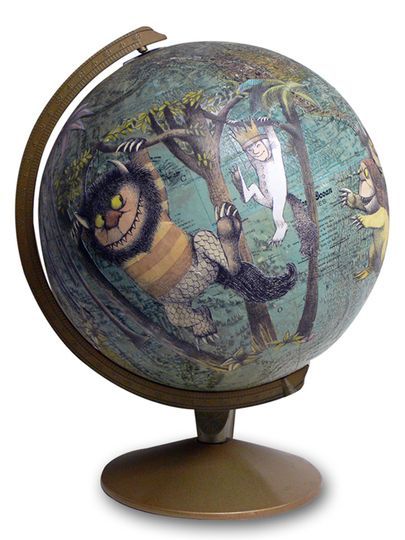 Loving this decoupaged globe. I love this. This one is Where the Wild Things Are, but you could do this with your favourite children's novel. Found on
A Ribbon At a Time
.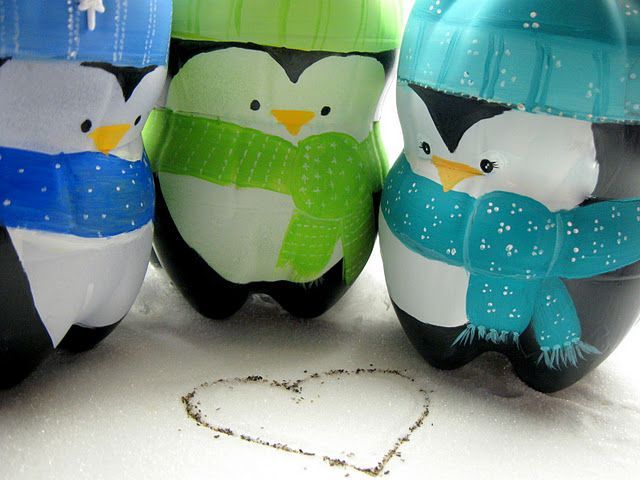 These penguins are really cute. They are made using soft drink bottles. Found on
Craftberry Bush
.
I am going ...
I have an appointment to get my hair cut tomorrow and we are taking Mitzie to the weight clinic at the Vet on Thursday morning, plus I have Visit Teaching to do on Friday. A busy week!
I am reading ...
The Sisters, The Saga of the Mitford Family
, by Mary S Lovell
This is the story of a close, loving family splintered by the violent ideologies of Europe between the world wars. Jessica was a Communist; Debo became the Duchess of Devonshire; Nancy was one of the best-selling novelists of her day; beautiful Diana married the Fascist leader Sir Oswald Mosley; and Unity, a close friend of Hitler, shot herself in the head when England and Germany declared war. The Mitfords had style and presence and were mercilessly gifted. Above all, they were funny hilariously and mercilessly so. In this wise, evenhanded, and generous book, Mary Lovell captures the vitality and drama of a family that took the twentieth century by storm and became, in some respects, its victims."
So far it's a cracking read, especially if you like biographies. I was intrigued as the last of the sisters died last week at the age of 92 and so I looked them up and found this book and decided I wanted to learn more about them.
I am hoping ...
I would like to figure out a way to lose weight that doesn't end up with me gaining more than I have lost. Sigh . . .
Makes me smile ...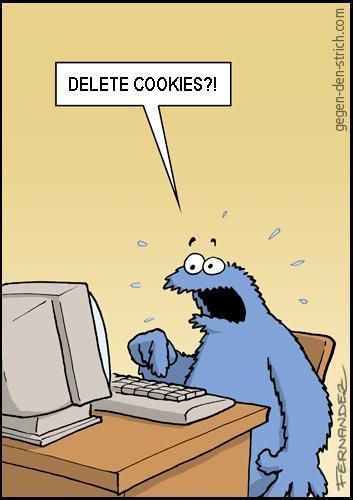 The Cookie Monster always makes me smile.
I am learning ...
To explore new worlds and opportunities.
Around the house ...
I love this little cottage kitchen found on
Syl Loves
. Red and white. It gets me every time.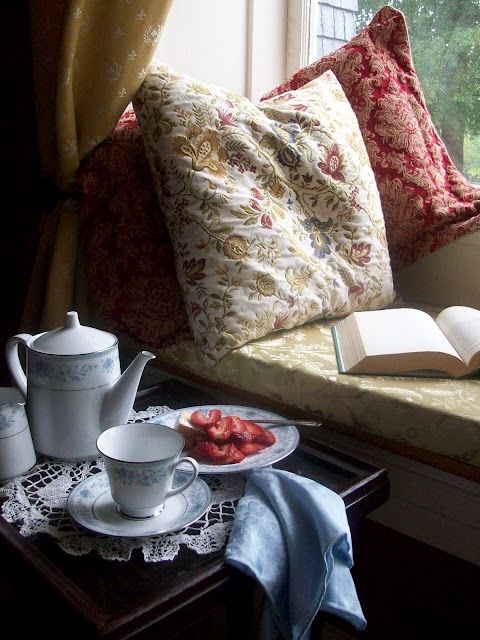 Love this cosy reading nook. Someplace quiet to read a book and have a nice cuppa.
Slanted ceilings, dormer rooms. I love them. Cottage cosy. From
Interior Design
.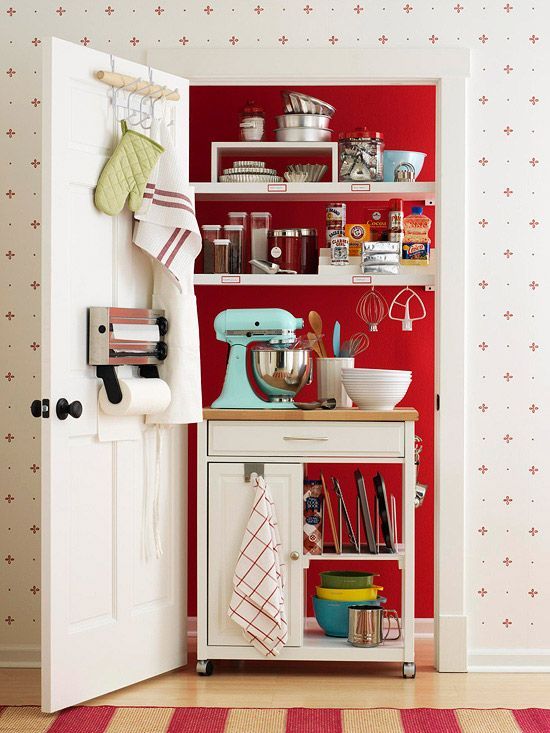 Love, love, LOVE the idea of a baking cupboard. From
Vintage Home
.
I am pondering ...
Today's complexity requires greater simplicity.
~L Tom Perry
Longing to simplify.
A favourite quote for the day ...
`*.¸.*✻ღϠ₡ღ¸.✻´´¯`✻.¸¸.Ƹ̴Ӂ̴Ʒ..
(¯`v´¯)
`*.¸.*´Ƹ̵̡Ӝ̵̨̄Ʒ
¸.•´¸.•~♥♥♥~•.~
ღϠ₡ღ¸.✻´´¯`✻.¸¸.Ƹ̴Ӂ̴Ʒ.
(¸.❀⁀⋱‿✿"
To make a difference in someone's world, you don't have to be amazing,
rich, talented, beautiful or perfect. You just have to be you and care.
~unknown
One of my favourite things ...
(
source
)
Good old fashioned Pound Cake. My mom would buy a piece of it on occasion and we would have a slice for dessert with ice cream, or with tinned fruit. I love the stuff. Always have. Always will.
A peek into my day ...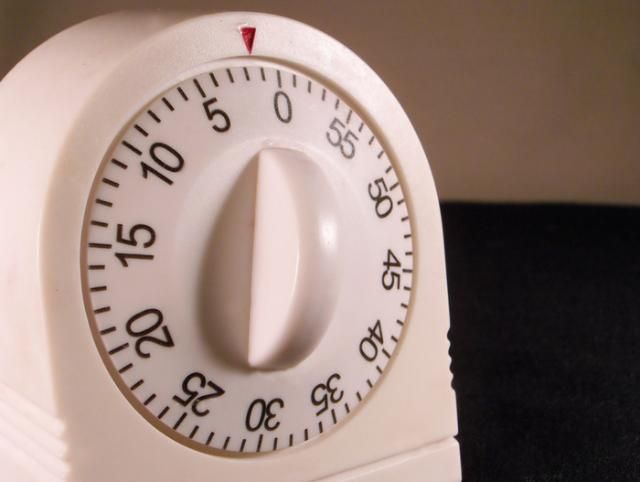 Always trying to cram as much as I can into each hour of my day. I don't want to waste a second of this beautiful life.
And that's my day book for this week!
⋱ ⋮ ⋰
⋯ ◯ ⋯ Take time to enjoy the small*´¯`.¸¸.☆
⋰ ⋮ ⋱ blessings in life.*´¯`.¸¸.☆
✿¸.•*¨`*•..¸✿ ✿¸.•*¨`*•..¸✿
╬♥═╬╬═♥=╬╬═♥╬╬═♥╬╬═♥=╬╬♥═╬
░░░░░░░░░░░░░ ░░░░░░░░░░░░░

Wherever you go and whatever you do I hope there's a wonderful day planned for you!
═══════════ ღೋƸ̵̡Ӝ̵̨̄Ʒღೋ ═══════════ ⊰✿░L░O░V░E⊰✿⊰✿⊰✿⊰✿⊰✿⊰░Y░O░U░⊰✿
═══════════ ღೋƸ̵̡Ӝ̵̨̄Ʒღೋ ═══════════