"I'm so glad I live in a world where there are Octobers."
~L. M. Montgomery
Every season has its glory, and each month it's own identity . . . but I think October is the most glorious of the months of the year . . .
The air . . . it is as cool as an old silver teaspoon that's not long since come from your cup . . . with the vestiges of the summer's warmth still clinging to it's edges . . . lingering teasingly . . . with a faint tang of blue woodsmoke in the air . . . and the promise of coming frosts . . .
I had my first herbal tea of the season yesterday . . . an herbs'n honey infusion . . . it smelled all woodsy. It brushed my mouth with whispers of spearmint, eucalyptus, fennel and wild oranges . . . laced through with the mildest touch of honey. It was good.
As I sat and sipped it's earthy warmth . . . I heard the song of autumn days . . . embroidered with the dazzling colour and light of the changing leaves . . . infused with th glow of scarlet maples and garnet oaks . . . thickets ablaze with pale gold and cinnamon . . . the music of a trillion rustling trumpets in the autumn breezes.
I closed my eyes for a moment and let the waning autumn sun warm my face as I sat in the back garden which is really beginning to lose it's glory now . . . for just a moment I was back in Kent, walking with Jess and Todd through the orchards . . . golden cobnuts crunching beneath our feet, making them ache, but in a good way. The upper pastures grey green and tranquil . . . the view of the south downs stretching out before us for seemingly miles and miles . . .
Orange and ruby branches flamed against skies as soft as the breast of a dove . . . old grey stone ledges holding whatever warmth from the sun that they could . . . the light of the waning sun golden on fallen burrs . . . that lay there longing for adventure . . . clinging to our socks in their bid to hitch a ride to places they have hitherto only dreamt of going . . .
Yesterday was such a golden day . . . I found myself thinking there would not be many more days like this . . . not in this year at least. The air was warm and filled with the musty odour of fallen leaves and blue woodsmoke.
Autumn
is
my favourite season . . . and it matters not if I am down in the wilds of Kent or here in the suburbs of Chester . . . or wandering amidst the maples back home. October
is
the jewel set in the hand of time . . .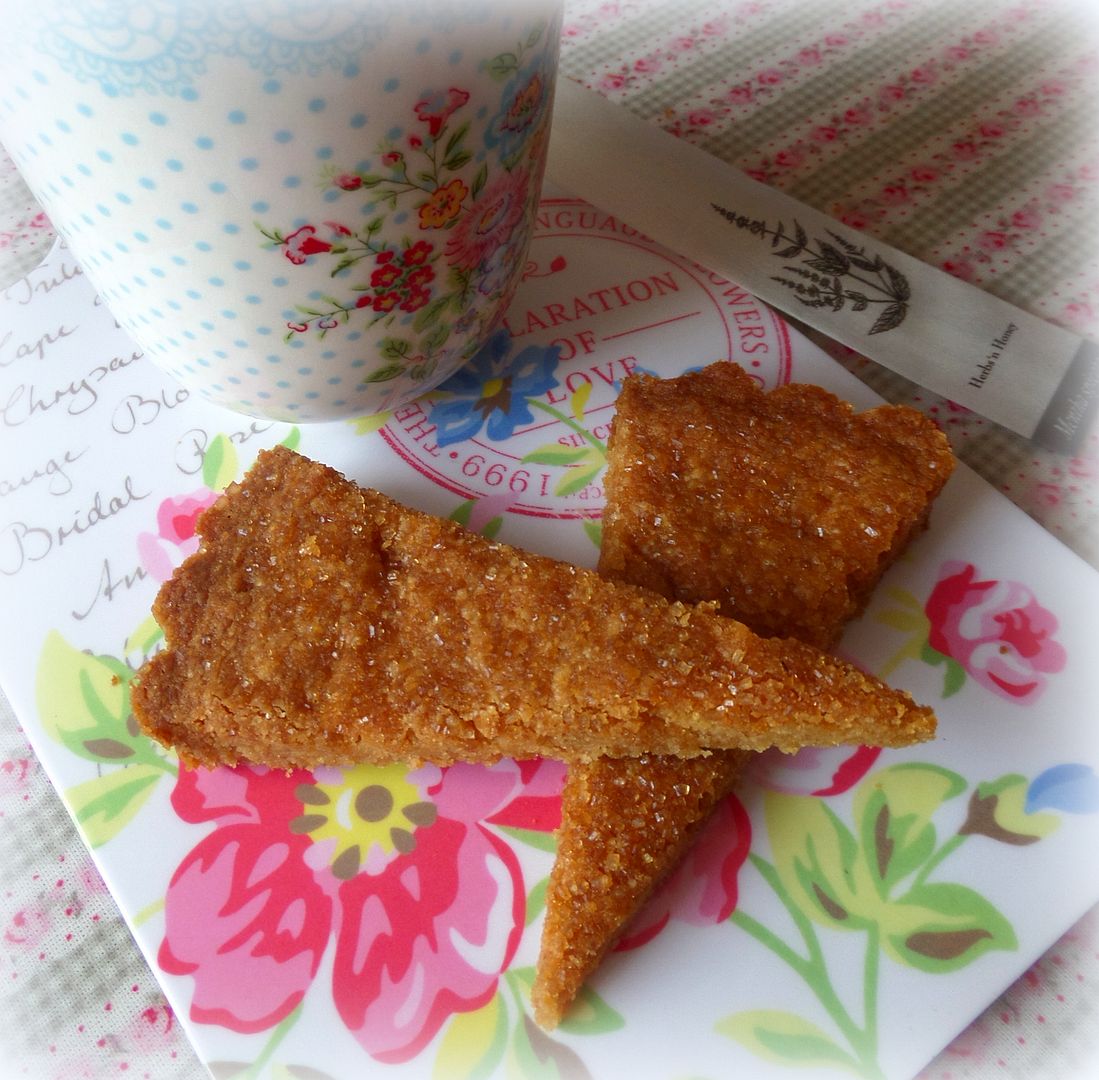 Baking in The English Kitchen today . . . .
Brown Sugar Shortbread
. Simple, easy and oh so delicious!
═══════════ ღೋƸ̵̡Ӝ̵̨̄Ʒღೋ ═══════════ ⊰✿░L░O░V░E⊰✿⊰✿⊰✿⊰✿⊰✿⊰░Y░O░U░⊰✿
═══════════ ღೋƸ̵̡Ӝ̵̨̄Ʒღೋ ═══════════
May your Saturday be truly blessed. We shall be watching THIS later on today. Won't you join us? Come listen to a prophet's voice. You may be pleasantly surprised.