A few of the wow moments, or things I discover each week that tickle my fancy. I hope that they may inspire or tickle yours too!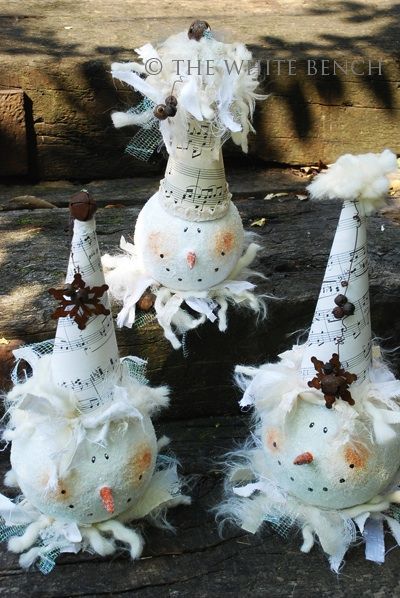 Is it too early to think about making Christmas Decorations/crafts? I don't think so! Found on
Design Dazzle
a complete tutorial on how to make these adorable snowmen. By Monica of
The White Bench
.
Glass Jar Snowmen. This is just the lid for one jar. A D O R A B L E !! There is a video tutorial on
Joggles
. So cute!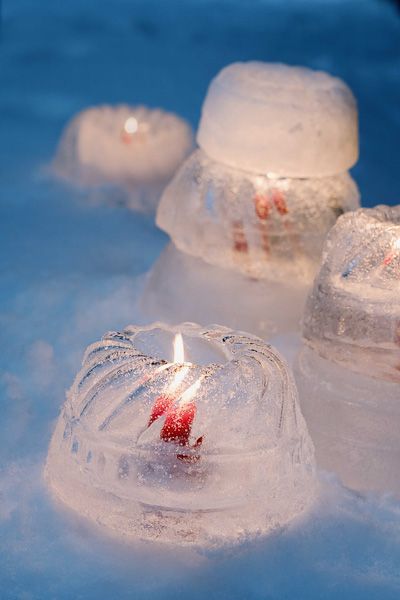 No instructions or source, but it looks like they have used mini bundt tins to freeze water in to use as votive holders. Wouldn't this be a beautiful way to line the pathway into your home for a special party during the holidays? Lovely.
How to make a teacup candle. I have one of those a good friend gave me. I love it. This is totally sweet and they look really easy to make. Found on
Homemade Crap
. Novel name. Obviously the author has a unique sense of humor.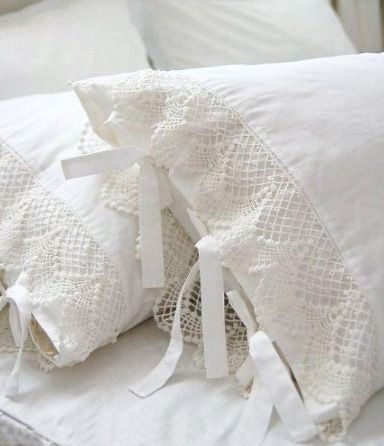 Again no source, but I really love these pillows. I am crazy about white pillow slips anyways, and the addition of lace and ties is really beautiful here. I love, LOVE them! Don't you?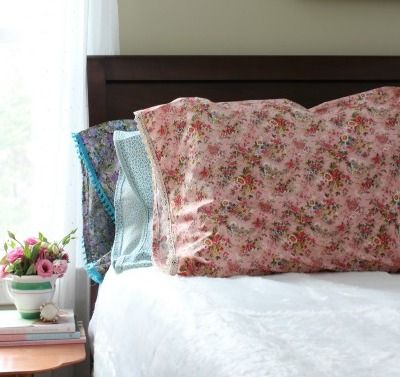 These are probably more within the realm of my expertise however. From
At Home On The Bay
, a delightful complete tutorial on how to do your own lace trimmed pillow slips. I love the bright colours!
DIY Spray Painted Lace Lamp Shade! Paint the lamp shade- yellow first, then wrap the lace around and spray it blue/gray. Remove the lace..and this is what you get! beautiful. I love it. Found on
Stay At Home Artist.
DIY Collar Necklace Ideas. There is a complete tutorial on
Style Hive.
I think it's very pretty and what a unique idea!
Oh how I wish I had nice ankles and slender feet, because I just adore this idea for shoes.
Found on Stars for Streetlights
. That is one pretty saavy lady. She does all sorts. These button shoes though . . . I adore buttons and these are just so sweet!
(
source
)
Sigh . . . just throwing these in for your viewing pleasure. Can you imagine these in red? Double sigh . . . I love the stockings too.
Speaking of red . . . sigh, from
Lauren Conrad
. I think you can
buy them here
. Of course they are way out of our budgets, but a gal can dream. While I am at it I will dream about having calves trim enough to wear a pair of these as well.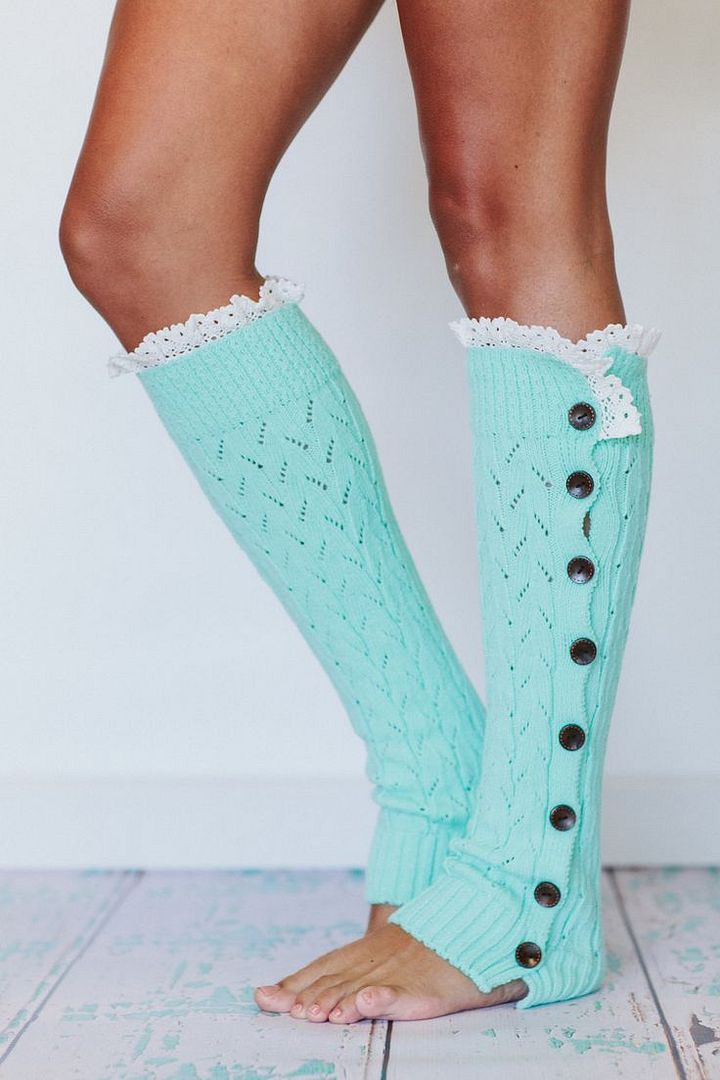 These leg warmers/button up socks from
Three Bird Nest
are so sweet. It's getting to that time of year when every little bit of layering helps. I have had to put the heaters on in the bathroom and Ariana's bedroom, as she just finds it too cold. I suppose there is a shockingly big difference between here and the South of Spain.
And that's my finds for this week. Sorry I went off on a bit of a tangent with the footwear/leg things. But they were just so adorable and I had to share!
A thought to carry with you through today . . .
¸.✻´´¯`✻.¸¸.Ƹ̴Ӂ̴Ʒ..
"Those who bring sunshine to the lives of others
cannot keep it from themselves."
¸.✻´´¯`✻.¸¸.Ƹ̴Ӂ̴Ʒ..
~
J M Barrie
Cooking in The English Kitchen today . . .
Herb and Garlic Baked Cod
. This is quite simply delicious!
═══════════ ღೋƸ̵̡Ӝ̵̨̄Ʒღೋ ═══════════ ⊰✿░L░O░V░E⊰✿⊰✿⊰✿⊰✿⊰✿⊰░Y░O░U░⊰✿
═══════════ ღೋƸ̵̡Ӝ̵̨̄Ʒღೋ ═══════════
Have a wonderful Friday!!