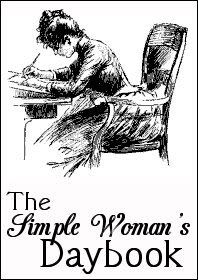 FOR TODAY, December 8, 2008 ...

Outside My Window...
Because we are having the long winter days now it is pitch black, which is what you would expect at this early time of the day. It's funny . . . in the summertime the sun is coming up about now and the birds are starting their morning chorus, but now with winter on our doorstep all is still and quiet. The earth lays in it's mantle of frost and I expect the birds are all huddled together in their little nesting places trying to keep warm. That is a miracle to me. When I am out in the cold I shudder and shake with the cold, but these tiny little creatures puff themselves up and weather the cold . . . the rain . . . the wind . . . whatever nature throws their way.
I am thinking...
This morning I am thinking of my youngest son and daughter. It is my son Bruce's birthday today on the 8th, and my Amanda's birthday tommorrow. There is 9 years age difference between them. There is seven years between Bruce and my next oldest child, Douglas. Bruce came as a huge surprise to all of us. I didn't think I was able to have any more children and look what came along! He was a delightful surprise, and, whilst I really love and enjoyed my other children, I enjoyed Bruce in a different way. When the other four were small, there was four of them being small altogether, and my hands and hours were so busy and filled that sometimes there was not a lot of time to enjoy each one individually. With Bruce, there was no other small hands clutching at my apron strings or skirt tails, and so, I had a lot more time to spend with him one on one, and so many other eager hands willing and wanting to help out and play with him. The year he was born, I had planned a birthday party for Amanda, and for some reason decided to make the cake a couple of days ahead of the party and stick it into the freezer. Good thing too coz I ended up being in the hospital! We teased her that year and told her that Bruce was her birthday present! She was semi not impressed! (a part of her was thrilled to have a baby around to fuss over!)
I am thankful for...
All the lovely testimonies that were born in church yesterday. On the first Sunday of each month we have Fast and Testimony meeting for the sacrament service. We are all charged to fast for a time on that day, and donate whatever money we would have used to feed ourselves as a fast offering. This goes into the church welfare system to help people that need it. After the sacrament has been passed, we are each invited to take a turn to come up and share our testimonies with the rest of the congregation. Some might think that is a scary thing to do, but it's not. It's so beautiful and the spirit that rests with us during the next 40 minutes or so is so special and wonderful. If you can't speak of your love of the Gospel with your friends and loved ones, then who can you speak of it with? It's my favourite meeting of the month . . .
From the kitchen...
I've got some delicious bars sitting on a plate that I'll tell you about in just a little while. I am hoping to get some more Christmas baking done this week, perhaps a cherry loaf or two, maybe even some more cookies. Don't you just love Christmas? The smells and the hustle and the bustle and the food! We are so blessed to live in a country where we have the privilege of being able to celebrate this holiday season in such an abundant way. I shall never take it for granted.
I am wearing...
Well, you would be shocked if I said I was wearing any clothes so I won't shock you and say that, for you know full well, or should do by now that I am wearing pajamas! (and a warm sweater as it's quite cold in here this morning!)
I am creating...
I am still working on those felt ornaments, but mostly what I am trying to create is the feeling of love and joy in my holiday home this Christmas Season. We have not put our Christmas Tree up yet, but I am hoping to get it up sometime this week, or weekend. But Christmas is not about the tree, or the presents or the decorations . . . it's about the love and the joy that is felt from being near loved ones and good friends. It's about reaching outside your comfort zone and letting others know you care as well. That's where the real joy comes from. Peace on earth, good will to men . . .
I am going...

We decided rather than get each other Christmas Presents this year, we are going to take a day together in London. We'll go up by train and then spend the day walking about and looking at all the Christmas Decorations, have a little lunch and then go to the Victoria and Albert Museum. I have always wanted to go there and have not gone yet, in all the eight years I have lived over here. The best part will be doing it together! I promise to take lots of pictures!
I am reading...

I am now reading, "The Heretics Daughter", by Kathleen Kent. I just love historical novels. They are my favourite kinds of books to read. When I was at school I didn't like history very much, it was so dry and un-interesting, or so I thought! I discovered when I went to University and took Canadian History that it was anything but dull!!! That is when history really came alive for me and I discovered a great love for it. I still can't rattle off dates and such, but history is so much more than dates . . . it's about people and lives and the events and happenings that have brought us here, to today. I really do love it and find it all so fascinating. (I think the only date I actually remember is that in 1492 Christopher Columbus discovered the new world)
I am hoping...
I have not heard back yet from that third card company I sent my work to. I did send some out to another one at the weekend and am putting my portfolio together to send to Hallmark. They seem to have many styles of cards, and so perhaps they are a better bet. We shall see! I am not giving up.
I am hearing...
I have my Christmas Play list playing softly in the background. I love Christmas music. I often listen to it at other times of the year. It always makes me feel all warm and cozy inside. I love Christmas, and, it's not the presents and things that make me love it so, it's all that it stands for and that special feeling that is in the air at this time of year and no other. When I hear Christmas music, it invokes those special feelings in my heart. Sometimes it's nice to remind yourself of that in July or August, so if you happen to pass by my house in the summer months, and hear some carols ringing out, don't worry . . . I have not lost my head, I'm just feeding my heart!
Around the house...

I have 4 parcels to get ready to mail. They are all packaged up, but I have to put the mailing labels on them. The 10th is the last day that they guarantee anything will get to North America in time for Christmas so I really need to get them out today or tomorrow at the latest! I should have gotten it done last week!!!
One of my favorite things...

is sitting in my chair, with Jess at my feet letting me scratch her ears and rub her belly. They say that petting an animal is very therapeutic. I can well believe it. I could sit and do it for hours, and believe me, she could sit and let me do it for hours!!! She almost purrs. She makes these little grunts and rumbles in her throat, and you just know that she is enjoying every minute of it. She is such a loving animal and has such a gentle spirit. I love her so very much.
A Few Plans For The Rest Of The Week...
It will be very busy at work this week. From Thanksgiving on we usually are quite busy up at the big house. I have a dinner party to do on Saturday night and I am really looking forward to it. I love doing the dinner parties. I get to cook more than ordinary food and I really enjoy the challenge of putting out six courses and doing it well. Mis en place. Everything sorted and organized. That is my secret to getting it all done properly. I make sure that I have all the elements of each recipe ready before I start and then when it comes time to actually start cooking it all comes together like a beautiful piece of music, with me as the conductor of the symphony. It's one of my favourite things to do! It's great to fall in bed at the end of a day and know you've done an honest day's work. Rest and sleep never feel better than at those times!
Here is picture thought I am sharing...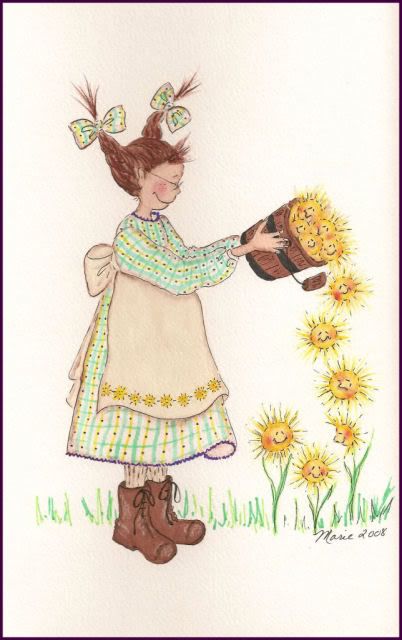 This is my latest painting. I call it Bucket Full of Sunshine. I have had this sketched for several months now and have just now gotten around to painting it. I sat here yesterday evening at the kitchen table and painted my way through Cliff Richard, Corry Street and Take That singing on the telly. I just love her little face . . .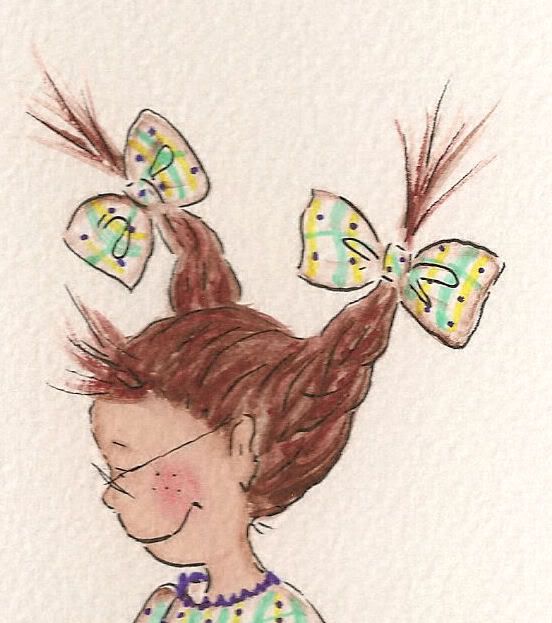 It's hard to see all the detail of her cute little face from the scan so here's a close up look!
That that's it for this week, the 8th of December! Make sure you check out some of the other Day Book entries on
The Simple Woman
. There are some real gems out there and you never know . . . you just might make a new friend or two and I don't know anyone who can't use some of those!
I did the Make Me Bake Challenge yesterday. These bars were so easy to make and smelled so wonderful when they were baking. I don't know why they are called a bar actually as they are more like a cake, but what a wonderful cake they are!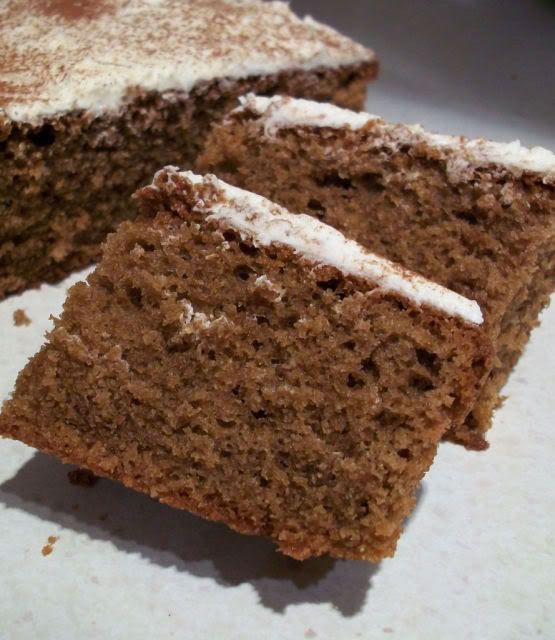 *Cappuchino Bars*
Makes 24
These are very moreish. Moist and covered in a white chocolate frosting, I bet you can't eat just one!
1 tsp cocoa powder, plus extra for dusting
(not hot chocolate powder)
2 rounded TBS coffee granules
8 ounces butter, softened
8 ounces sugar
4 large eggs
8 ounces self raising flour
1 tsp baking powder
White Chocolate Frosting:
4 ounces white chocolate, broken into pieces
2 ounces butter, softened
3 TBS milk
6 ounces icing sugar
Pre-heat the oven to 180*C/375*F. Butter and line the bottom of a shallow 11 by 7 inch oblong baking tin, or an 9 inch square one, with baking parchment or wax paper.
Mix the coffee granules and cocoa powder in a small bowl along with 2 TBS hot water until smooth. Put this mixture into a large bowl along with all of the other cake ingredients. Whisk with an electric mixer for about 2 minutes, until light and fluffy and well mixed together. Spoon the batter into the prepared tin and level off the top.
Bake for 30 to 40 minutes until risen and the top springs back when lightly touched. Remove from the oven and allow to cool in the tin for about 10 minutes then pull out of the tin and allow to finish cooling on a wire rack. Peel off the paper when cold.
To make the frosting, melt the chocolate, butter and milk together in a bowl set over a pan of simmering water. Once melted, remove and sift in the icing sugar. Beat all together until smooth. Spread evenly over top of the cake. Finish off with a light dusting of cocoa powder over top. Cut into slices to serve. Enjoy!