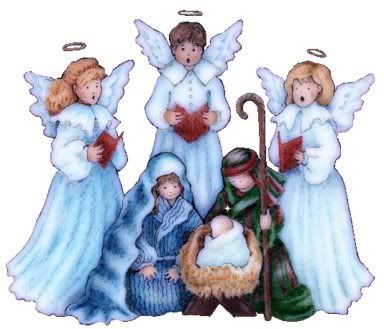 God sent the little Christ Child
So men might understand
That a little child shall lead them
To that unknown Promised Land.
For God in His great wisdom
Knew that men would rise to power
And forget His holy precepts
In their great triumphal hour.
He knew that they would question
And doubt the Holy Birth
And turn their time and talents
To the pleasures of the earth.
But every new discovery
Is an open avenue
To more and greater mysteries,
And man's search is never through.
For man can never fathom
The mysteries of the Lord
Or understand His promise
Of a heavenly reward.
For no one but a little Child
With simple faith and love
Can lead man's straying footsteps
To higher realms above!

~Helen Steiner Rice
May you day today be blessed beyond measure and may you have the peace that comes from remembering and experiencing the true meaning of Christmas. Happy Christmas to you all.
We had the missionaries here at the cottage as dinner guests last night. They called in the afternoon and asked if it would be OK if they brought another person with them. I said absolutely! The more the merrier. I always cook enough for an army anyways! What a wonderful evening we had together. The missionaries always bring a special spirit with them and I cannot think of a more wonderful way to usher in Christmas than to have them in my home. Their surprise dinner guest was a delight as well. A wonderful man from Switzerland. We thoroughly enjoyed all their company, and Todd got to practice his German. We feasted on Roast Ham, and scalloped potatoes, with baked beans, green bean casserole, roasted sweet potatoes, salad, cheese scones and sticky topped gingerbread for dessert. Yummo!!! (I didn't get a good picture of the ham though, all I got was one of it before I sliced it up, and that one's not great!!)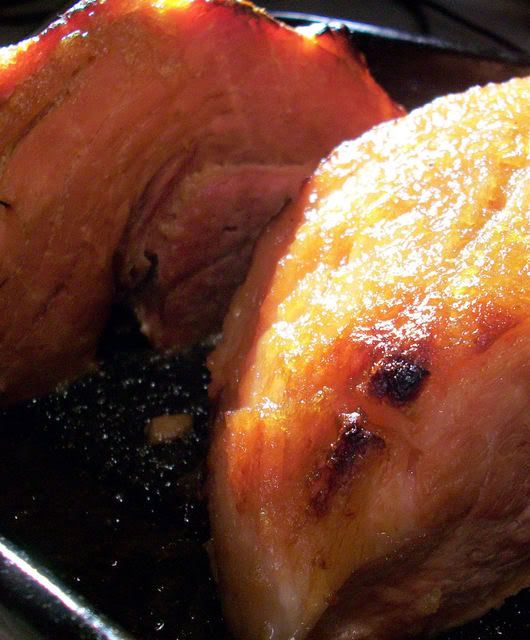 *Pineapple Honey Glazed Ham*
Serves 12 to 16
I could exactly do this as the recipe calls for as we do not get spiral hams over here. We get gammon, which is completely raw and has to be cooked first. I put the gammon in a large pot and then poured in a bottle of ginger ale, and then topped that off with water so that the gammon was covered. I then added one small onion, peeled, a large cinnamon stick and a few cloves. I brought that to the boil, then reduced the heat to a simmer and covered it. I allowed it to simmer for about 2 hours before I removed it from the simmering water to a roasting pan and proceeded as follows. It was delicious!
Glaze:
one 8 ounce tin of crushed pineapple
1/2 cup set honey
1/4 cup packed brown sugar
1/4 cup Dijon mustard
1/4 tsp ground cloves
Pre-heat the oven to 160*C/325*F. Place the ham flat side down in a shallow roasting pan.
Stir all the glaze ingredients together in a small bowl.
Spread half of the glaze over the ham. Bake for about 45 minutes, spooning the remaining glaze over top, every 15 minutes or so. After 45 minutes, increase the oven temperature to 205*C/425*F. Spoon the last bits of glaze over all and then bake for 15 to 20 minutes until the glaze is set and the internal temperature of the ham is 60*C/140*F. Place on a carving board or platter to serve.