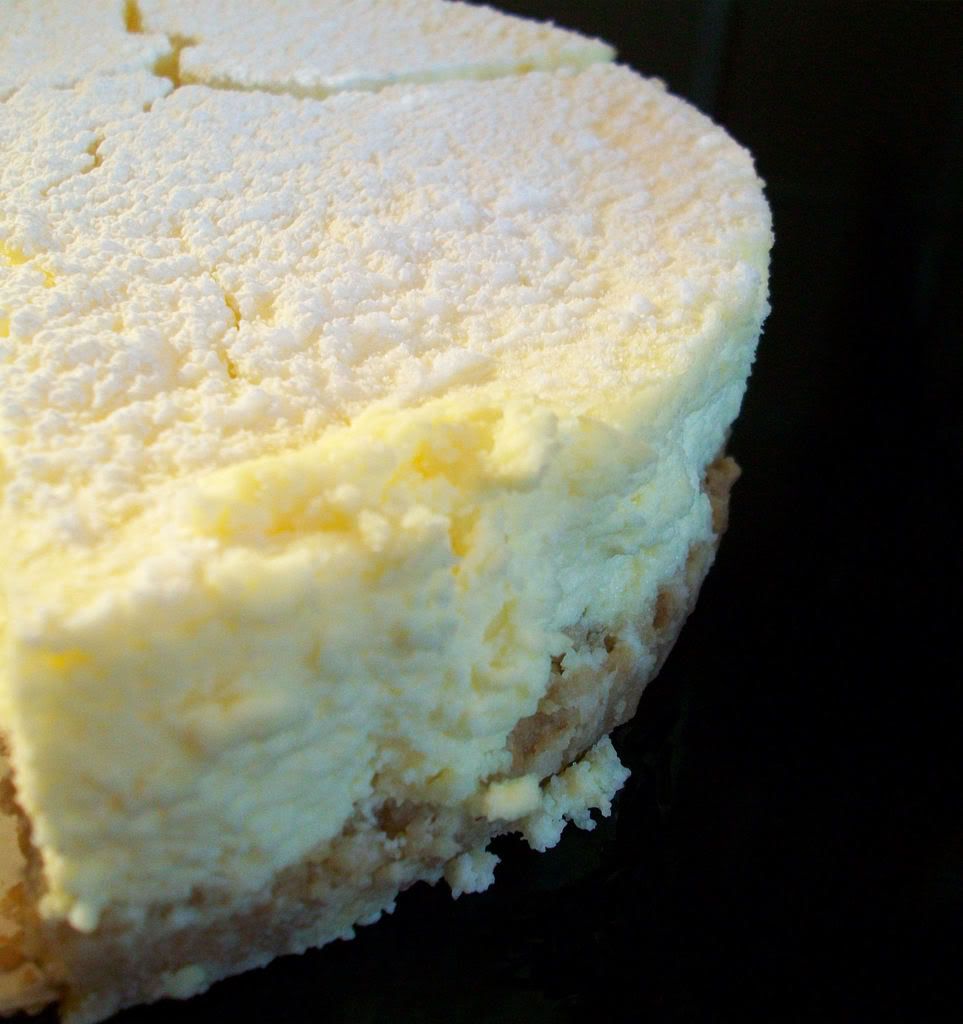 Cheesecake, cheesecake, you're so dreamy
With your filling, oh so creamy.
Atop a crust, all crunchy and sweet
You're the best dessert on the street.
You make me gasp with pure delight
And sneak downstairs in the middle of night.
To eat that last piece in the fridge
oh please, oh please, just one more wedge.
I love you more than cake and jelly
even if you add to my ample belly
With trembling lips
and widening hips
You make me utter sounds of joy!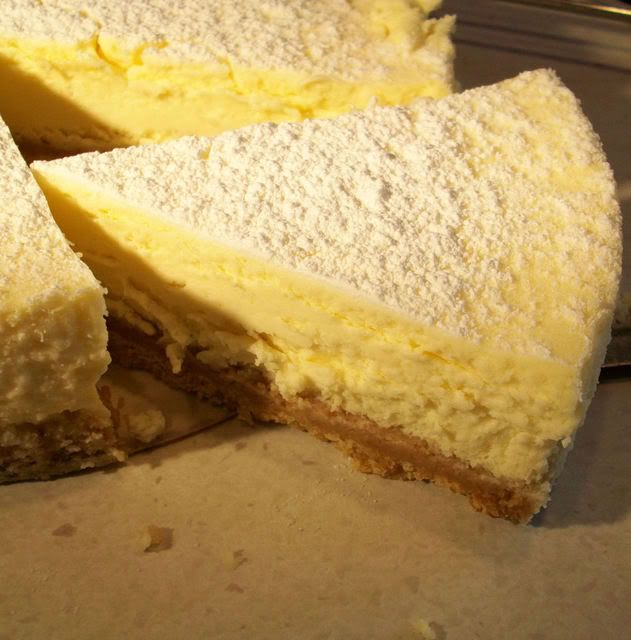 Okay, so a poet I ain't, but I know good cheesecake when I taste it. This latest recipe of Dorie's has to be my favouritest yet, and made me want to wax all poetic about it! I know, I know . . . I was supposed to save it for New Years Eve, and I fully intended to do just that . . . but how could I write about it before I had even tasted it, so I just had to cut one piece so that I could fully do it justice here today. (that's my story and I'm sticking to it!)

Welcome to
Tuesdays With Dorie
, that delightful baking group, soon to be one year old, that bakes together every week, albeit in spirit and around the world, one delicious recipe . . . the same delicious recipe from that wonderful baking book, *Baking, from my home to yours*,written by that equally wonderful cookery book author and bakestress,
Ms Dorie Greenspan
herself. This week Anne of
AnneStrawberry
chose Tall and Creamy Cheesecake on pages 235-237. As God is my witness . . . my life will never be the same . . .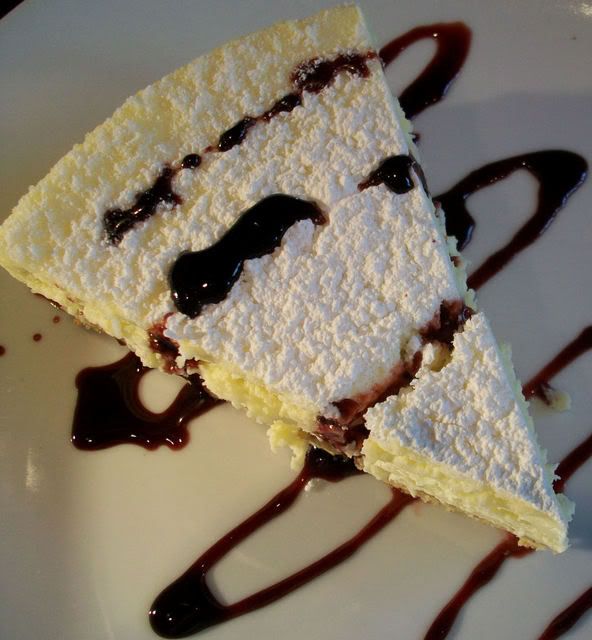 I toyed with the idea of flavouring the cheesecake with things such as eggnog, or salted caramel . . . but then in the end executed the recipe exactly as written by Dorie with no variation, the only exception being that I used crushed digestive biscuits in the crust as graham crackers are not widely available over here. I have actually come to love digestive biscuits more.
After reading on the Dorie page about some people having had water from the water bath leak into their cheesecakes when baking, I made sure that I wrapped my spring form pan doubly in foil. It worked a charm as I had no such problem.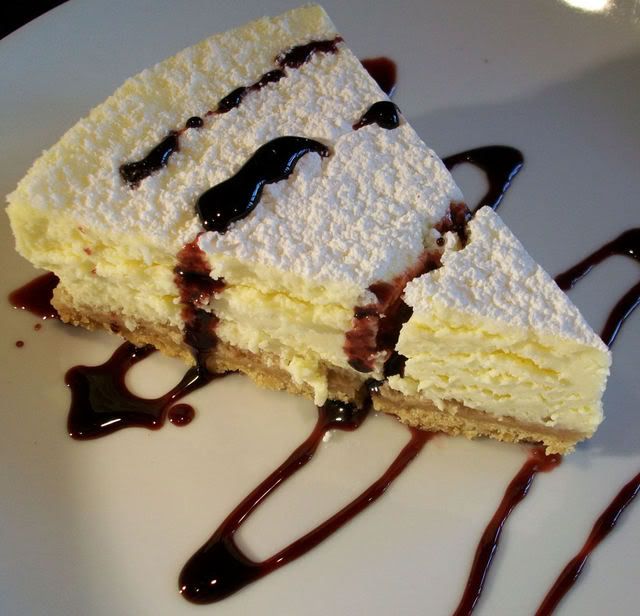 Easy to make and easy to bake this is a wonderful cheesecake recipe. From beginning to end I had no problems whatsoever with it. My only problem came when I removed it from the pan and it cracked a bit, but not to worry. I dusted the top thoroughly with icing sugar, thinking that would hide a multitude of sins, but it did not . . .
I decided to make a black current and port syrup to grace and gild this precious lily. Tart and sweet with just a hint of booziness it, it ended up being the perfect accompaniment to what will be the cheesecake recipe that I use from now on. I love, Love, LOVE this cheesecake! I dare say I may have to bake another dessert for New Years Eve as there may not be any of this left . . . ahem . . .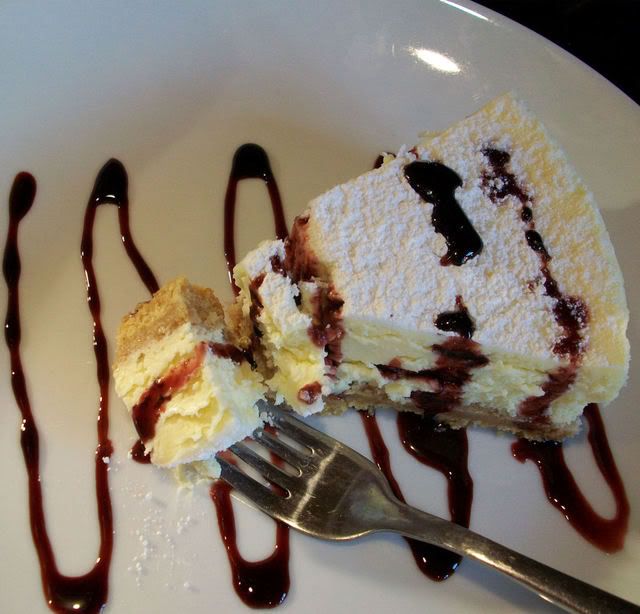 The recipe can be found on Anne's page,
Anne Strawberry.
Do go and check it out!! She did a tall and creamy Peppermint Bark version that looks fabulous. Please drop by and check out all the other luscious entries on the Dorie Blog Roll as well! Looking doesn't hurt and it doesn't put on pounds either! Now where was my fork???
When I make this again, and trust me . . . I will . . . I am going to play around with the other variations . . . perhaps a gingersnap crust with a lemon and candied ginger filling. Oh, that is calling my name!
Next week's recipe will be the
French Pear Tart
on pages 368 and 369, as chosen by
Ms
Dorie Greenspan
herself!! How exciting! What a wonderful way to celebrate the one year anniversary of
Tuesdays With Dorie
!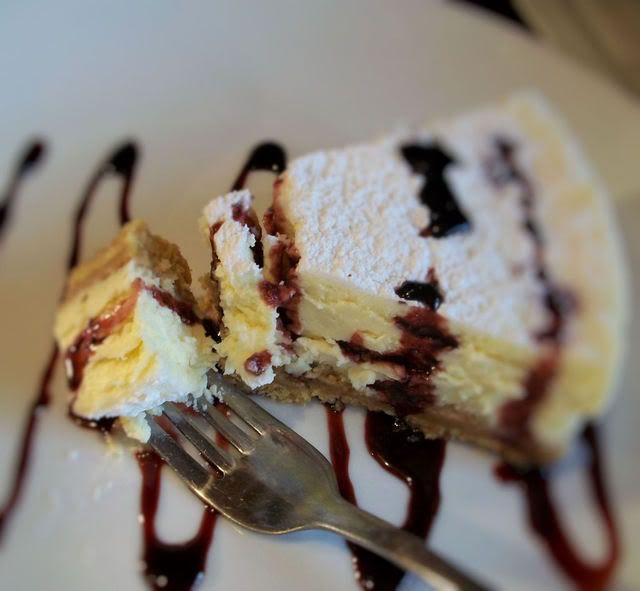 In the meantime, here's the recipe for the Black Current and Port Syrup I made to go with it. It's also pretty tasty over Ice Cream or even rice pudding . . . hmmm . . . snow pudding, Spanish cream . . . this sauce goes pretty well over anything like that!
*Black Current and Port Syrup*
Makes about 1 1/2 cups
I saw a bottle of this in the store the other day, but at £5 a bottle I thought it was a bit pricey. I decided I would make my own. I'm not sure how it compares, but the one I made was pretty tasty indeed. This goes very well over a creamy dessert, and it was absolutely delicious drizzled over this cheesecake!
8 ounces of black current juice
6 ounces of white sugar
4 ounces of good quality port wine
the juice of half a lemon
Put all the ingredients into a non reactive saucepan and cook and stir over medium heat with a wooden spoon, until the sugar is completely dissolved. Bring to the boil, then simmer for 5 to 10 minutes until thick and syrupy.