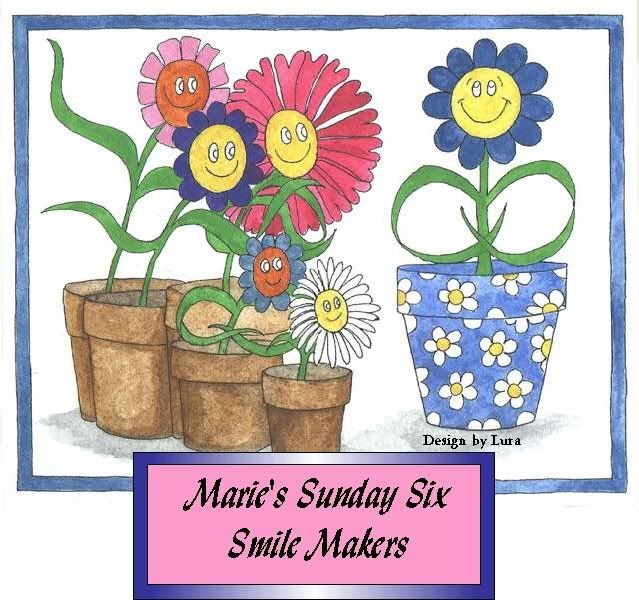 Here it is Sunday again. The weeks just seem to fly by! Time again for my Sunday Six Smile Makers. (Thanks Lura!!) Just saying that makes me smile. It's a wonderful thing to be able to go back over your week just gone, and think about small blessings and special things that have brought a smile to your face over the past few days. There's ever so many more than just six, but these are special ones that stand out in my heart.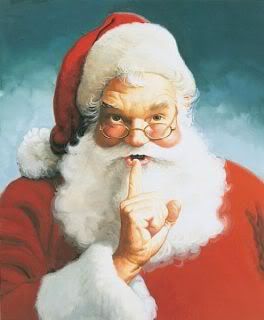 1. Earlier this week we delivered a little letter from Santa through the post box next door for the little boy that lives there. I've told you about our
Zac
before. He's a real little treasure to us. I'm sure that his parents would agree, although probably not all the time! (The nice thing about borrowing children is you get to hand them back when they get annoying!!!) This week, I made up a little letter to him from Santa. We filled it full of Christmas confetti and attached 2 candy canes to the outside and slid it through their letter box and then waited. He was some surprised when he got home later in the day and found it. When he came over later on to tell us, I could hardly contain my own excitement over the excitement he expressed to us! Of course I had to tell him about the streak of red that we had seen through the hedge earlier in the day and the bells I heard tinkle as it passed . . . there won't be too many more years we will be able to get away with this, he's 8 now!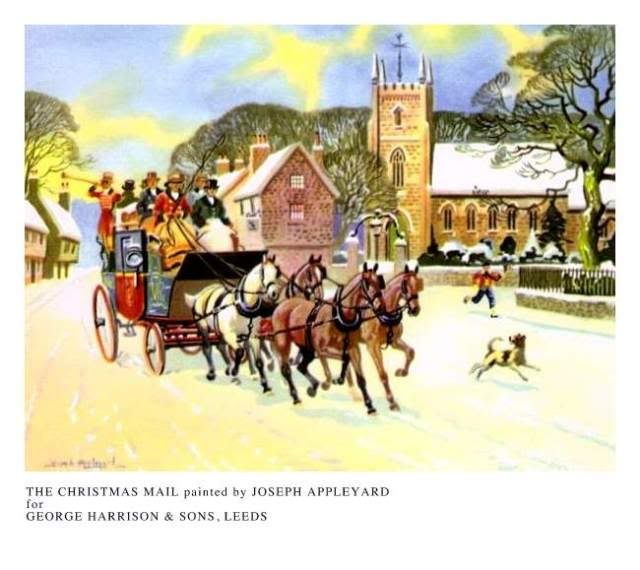 2. Christmas Post. Christmas Post makes me smile. Each day this week lovely cards and greetings poured in through our own letter box, each one a gift of love from a faraway friend. We have them strung up by string around our kitchen and
every time
I look at them I smile. It's so wonderful to be loved like this, and to hear from much loved friends. Christmas love is one of my favourite kinds of love!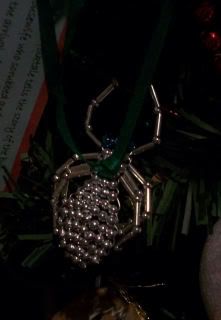 3. Unexpected kindnesses. Not only have cards been pouring through the door but other little
surprises
as well. One day this past week I received a lovely little note from a friend, thanking me for the card I had sent to her. It brought tears to my eyes to think that my Christmas Card to her had meant as much as it had. I'm so glad she let me know. Then another day, I went in to work and the Daughter of my boss had left a little gift for me on the countertop in the kitchen as a
thank you
, two lovely cookbooks. They are just wonderful, (Leith's Bakery Bible and Nigella's Christmas) and amazingly enough, I didn't already have them, but what meant the most was knowing that my efforts were appreciated in a special way. Yesterday the postman dropped a small package off, and tucked inside were two lovely
mementos
from a friend in America . . . a lovely little beaded spider decoration for my tree and a wonderfully fragrant lavender
tussie
for my dresser drawer. Thanks so much Ginger! I could go on and on, but unexpected kindnesses followed me around all week, not all of them tangible things I could touch with my hands . . . but all of them things that touched my heart . . . comments left, words said . . . they are all special to me, and very much treasured.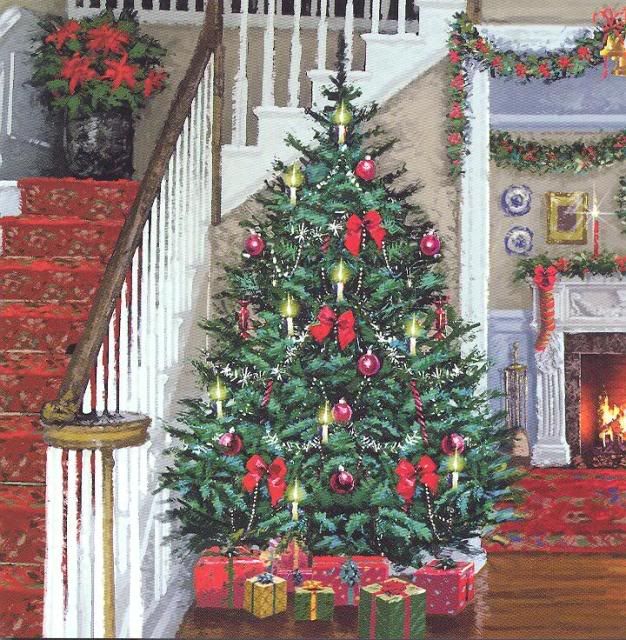 4. It is not often that you have a shopping experience these days when you come away feeling like somebody out there in the retail world actually cares! Earlier this week, we had occasion to shop in Curry's for something, and the young man that waited on us was wonderful!! He was attentive, polite and very helpful and made our shopping experience into a pleasant experience instead of a nightmare, which is more often than not the case. As soon as we arrived back home again, I made a point of telephoning their head office and letting them know what a gem they have in this young man. We are all too often eager to complain about something when it disappoints or goes wrong. I think it's nice to give credit where credit is due and recognize when something good happens as well!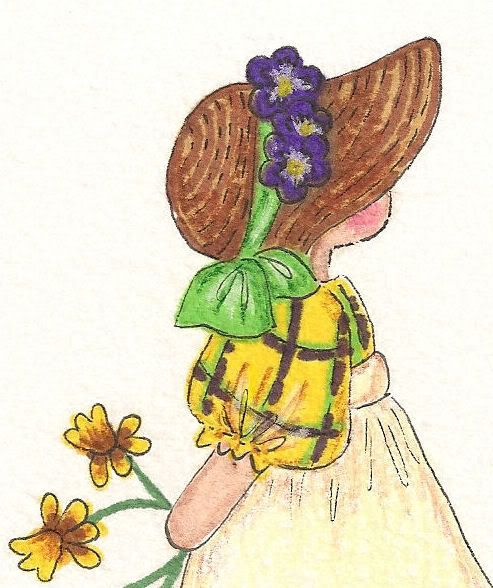 5. I got a little Sprintime Easter Painting done. I know . . . it's Christmas and Easter is probably the furthest thing from our minds, but I like to be on top of things. I really loved painting this.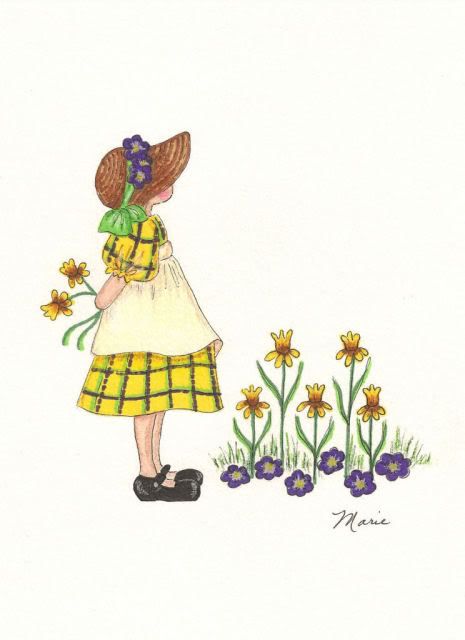 I'd done the sketch several weeks ago and I could hardly wait to bring it to life. The colours are cheery and bright and it looks so springlike! What do you think? (Of course it is available as a print or a card, just say the word!)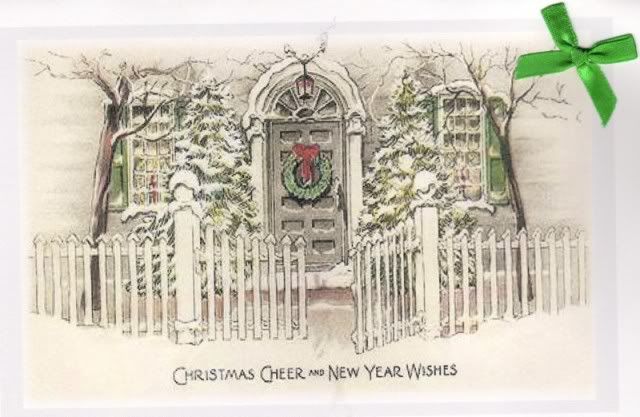 6. The works Christmas Party earlier this week, the Seminary Breakfast Supper we held on Thursday for our students, the delivering of our Gingerbread Houses with the Youth on Thursday evening, my visit to the Christmas Farm Market in the next village on Friday morning, our Scripture Study Group get-together last evening at our good friend Hazel's . . . all things this week that did my heart good, and brought a smile to my face. This is such a busy time of year for each of us I know . . . but it is good to stop for a few moments and reflect on some of these little pleasures experienced. I have placed them in my heart and in the dark,
bleak
and cold days of January and February I will take them out and visit them once more and I just know they will bring a smile to my face and a song to my heart again!
We knew we would not be home for supper last night so I cooked Todd his dinner early in the day yesterday. He'd had a very busy morning of putting together six bookcases that we had purchases earlier this week for the library and you know how that goes. Self assembly is never easy, no matter how simple you think it's going to be!!! I grilled a couple of steaks that I had in the freezer, a bonus from an earlier shop where I found some steaks marked down half price, banged a few chips into the oven and cooked some
green beans
. With this lovely
Bearnaise
butter gilding it's top, it was a real treat!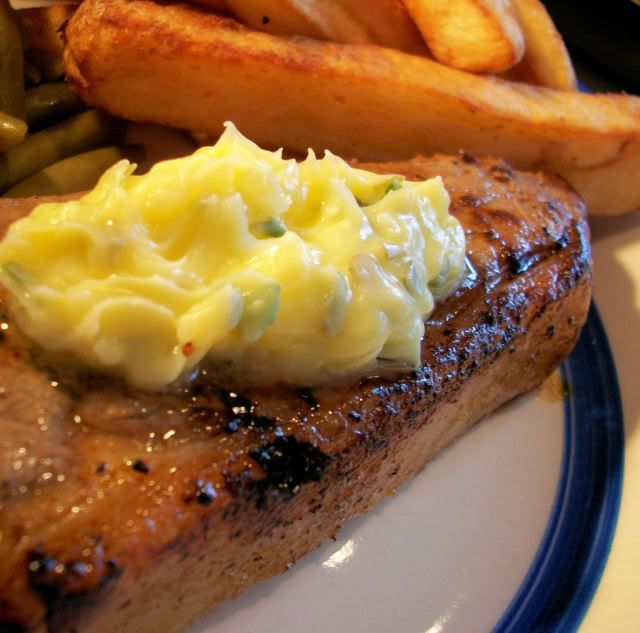 *Grilled Steaks with Bearnaise Butter*
Serves 4
This butter is so easy and so quick to make, and adds a wonderful flavour and touch to a simple grilled steak.
3 TBS butter, softened
2 tsp finely chopped tarragon leaves
You can use 1 tsp dried if you wish)
2 tsp minced shallots
1/2 tsp of fresh lemon juice
1/4 tsp freshly grated lemon zest
a healthy pinch of salt
4 steaks of your choice
a knob of butter, cracked black pepper and sea salt for grilling
Place the butter, tarragon, shallots, lemon juice, lemon zest and salt together in a small bowl. Mix well. Set aside.
Season the steaks with some salt and black pepper. Melt the knob of butter in a heated skillet until it begins to foam. Add your steaks and grill on each side until nicely browned and as done as you wish them to be. Remove to heated plates and top each with a dollop of the herb butter. Serve immediately.