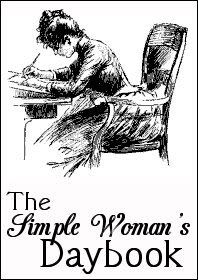 FOR TODAY, December 22, 2008 ...

Outside My Window...
It's dark and silent. The winter solstice was yesterday so the days will be getting longer now and the nights shorter, although it will be a good long while before we begin to notice anything as it's only by a few minutes a day!!! Right now it is getting dark around 4 pm and the sun doesn't begin to peek above the horizon much before 8 am. That makes for one long night. I am glad however that it is not as bad as it is much further north where they have night for several months and day for several more! I'm not sure I could sleep in daylight, but I expect I'd be so exhausted after a time, I'd get used to it . . .
I am thinking...
and dreading that I still have to go out and do my Christmas Grocery Shop . . . It's crazy out there in the grocery stores these last few days before Christmas. The cart queues will go almost to the back of the store and the shelves will be emptying faster than they can fill them up. I hate it, I really do. Each year I say I am going to book myself a delivery slot online, so that I can have them delivered to my home, and each year . . . I forget until it is far too late and all the delivery slots are booked up. This year is no different. Thank goodness I ordered my turkey and my ham from the butchers already! (There'll be a long queue there and all!!!)
I am thankful for...
Our Christmas Service that was held in our church yesterday and the Carol Service last evening. Both were very beautiful and inspiring, filled to the brim and overflowing with the spirit. That is what Christmas is for me and where it truly begins. The special songs that are sung, the special thoughts that are shared . . . the bible readings that tell us of the story of Christ's birth. They all touch my heart in a beautiful way and I am so happy that I "get" it and that I have and know my purpose in life. I am so very grateful for this most gracious and precious gift from a Heavenly Father that knows and loves . . . "ME," and for a Saviour who cared enough, and was brave and strong enough to help Him deliver it . . .
From the kitchen...
Not a lot going on right now, but I have a heck of a lot to do this week!!! We are having the missionaries for Christmas Eve and I was thinking I might make a gingerbread trifle. I am kind of making it up in my head. A gingerbread trifle with spiced pears in it. It does sound good!!! Then Christmas day we are sharing our day with another couple that are in the same boat as us. I'm really looking forward to both days. I have ordered a Turkey crown from my butchers, which I will stuff. I was thinking of a Chorizo stuffing, but then I am afraid I love traditional things so much that I will probably go with what I know and do sage and onion . . . Did you know that when you buy a turkey crown from your butcher you pay for the whole turkey anyways? Make sure you ask for your legs to be included, even if you have to stick them into the freezer to use another time. You are paying for them, you might as well have them! Just think of the delicious turkey stew you can make or even soup!
I am wearing...
a pretty blue nightie. Oh and my clunky black mules. Yes . . . did you expect anything else??
I am creating...
A special Christmas Card for you. Yes, just for you. I did the sketch yesterday afternoon and God willing I will get it painted in time!!! I also have a talk to write for next Sunday! I sure hope that I get it done! I HAVE to get it done. It's about finding a heart like Jesus. Wonderful topic. I just love to talk about the Saviour.
I am going...

grrr . . . to the shops. Oh but tommorrow afternoon it will be the fun thing!! Each year Todd and I take £10 each and go to the charity shops to see what we can find for each other. That is our Christmas gift to each other. You can get some really nice things in the charity shops. They do say that one man's junk is another man's treasure, and I find that to be so true. The charity shops in our area have some really good stuff coz there's a lot of rich people that live around here and every once in a while they get rid of some booty! I like old glass myself and little serving dishes, the older the better. Even though I don't drink tea, I love tea cups and tea pots, and tea accessories, like tea balls etc. I especially like pink glass and blue and white china.
I am reading...

I am still reading, "The Heretics Daughter", by Kathleen Kent. I haven't gotten much further than I was in it last week, only a few pages. I have been falling in to bed each night so tired that I only get a few pages read and I am beginning to fall asleep, reading the same words again and again . . .
I am hoping...
that I will hear from my children this Christmas. Most years I do not. I know they are busy and have a lot on their minds with their own little families. They will be at my ex husbands on Christmas day and I would love to call and to talk to them, but I hate calling his house. It always makes me feel uggy inside. Invariably either he or his wife answer and they just have a way of speaking to me that makes me feel bad. I can't explain it, or put words to the feeling. I guess the word "bereft" is the closest I can come to it. I have not had a Christmas with my children in 10 years. I like to think that, had the situation been reversed, I would have been much kinder to him than he has been to me . . . but I will never know for sure . . .
I am hearing...
the clock is ticking, Jess is breathing and a bit of a wind is blowing through the hedges around our cottage. It feels good to be here tucked all up inside and cosy. All is indeed right with my little world.
Around the house...

Over in the corner the lights are twinkling on the Christmas Tree. We are so lazy. We just leave them on from one year to the next . . . not plugged in, just on the tree. When we are done with it, I take off all the ornaments and pack them up carefully and then we just pull a big black garbage bag down over the tree and then tuck it away in a closet. My dad always did the Christmas lights every year. I can remember sitting on the couch while he pulled them out and then tested them before putting them onto the tree. They were the big old fashioned coloured ones and invariably one would be burnt out which made the whole string not work and so he would have to test each one before he would find the little blighter, and they would begin to work. I can remember feeling so very excited . . . the smell of pine in the air and my father's frustration with getting them all untangled and sorted . . . and how very beautiful it would all look when he was done. Then would begin the job of putting on all the ornaments and the tinsel, which, in those days, was actually made of lead. All the pretty blown glass balls and ornaments that my parents had gotten in Germany when we lived there. Inside the Christmas box was a little box that we loved to see each year. It contained a kind of a joke thing which had a little porcelain pee pot in it and a porcelain toilet with a lid that actually worked and a little verse about the olden days. I loved it because it was so tiny . . . just the right size for a fairy. There was also a little porcelain girl in German dress squatting down with her bare bottom in view and her skirts pulled up. There was a hole you know where and these little pellets you could insert . . . when a match was put to it, she would take a number two and you know what kids are like . . . we thought that was so funny . . . disgusting, but funny. I wonder if my mom still has those things.
One of my favorite things...

is being able to sit here quietly with my thoughts each morning. I never know what I am going to say or to write. My thoughts begin to gather as I crawl out of bed and hop into the shower. I usually just sit down and let the words fall out as they come. It still amazes me that you want to read them. It is my favourite part of my day, this quiet time spent with you . . .
A Few Plans For The Rest Of The Week...
well, this is the biggie isn't it! Christmas Eve, Christmas Day and then on boxing day we are invited to the home of some friends. I am looking forward to it all. Saturday is our Ward Temple Day and I am looking foward to travelling up to the Temple on that day. I just love the Temple. I hope one day I can go on a Temple Mission so that I can spend all day every day in it. what a blessing that would be!
Here is picture thought I am sharing...
I just love snowmen. Their happy faces with the carrot noses and coal black eyes. One of my favourite songs as a child was Frosty the Snowman and I also loved to watch the Frosty cartoon that would be shown each Christmas, with the song being sung by Jimmy Durante. It always made my heart sing with joy. The idea of a snowman actually coming to life was so magical. I doubt we will have any snow for Christmas as it has gotten a bit warmer this past week. Back home it always snows on Christmas Eve . . . those big fat white fluffy flakes just full of all the promise and love of the season. Christmas Eve snow has always been my absolute favourite snow of the year . . . Can you believe I have never seen, nor read "The Snowman" by Raymond Briggs??? Neither can I, but I do so love to listen to the song . . .
And there you have it, my daybook for this week, the 22nd of December, 2008! Make sure you check out some of the other Day Book entries on
The Simple Woman
. You just might find a new friend!
The recipe I am going to share with you today is not really a recipe. In fact I am almost embarassed to share it with you, but I'm going to do it anyways! Everyone always loves my carrots when they come here to dinner. I have a special way of cooking them, that is so simple and yet . . . so very delicious! Even carrot haters find themselves liking these!
*Marie's Simple Carrots*
Serves 4
This is more of a technique than a recipe, but what the heck! Your family will really love these!! I could eat a bowl of these and nothing else, but then . . . I do love carrots!
6 medium carrots
a knob of butter
a healthy pinch of sugar
sea salt and freshly ground black pepper to taste
freshly grated nutmeg to taste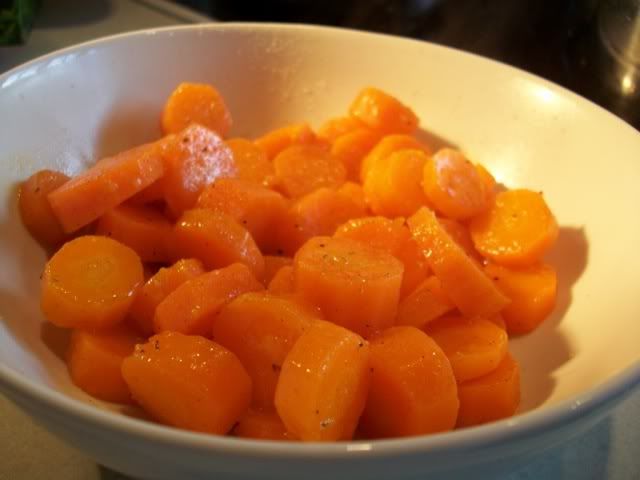 Peel your carrots and then cut them into rounds, about 1/2 inch thick. Place them into a saucepan and cover them with slightly salted water. Bring them to the boil and then cook them for 5 to 8 minutes (depending on the size of your carrots) until just crispy tender. Drain them right away and then bang them back into the hot saucepan. Place back on the heat of the burner to help evaporate any remaining water and then stir in the butter, sugar, seasonings and grated nutmeg. Serve. You will find these to be delicious. The nutmeg brings out and enhances the lovely natural sweetness of the carrots.
Happy Monday Everyone!!!