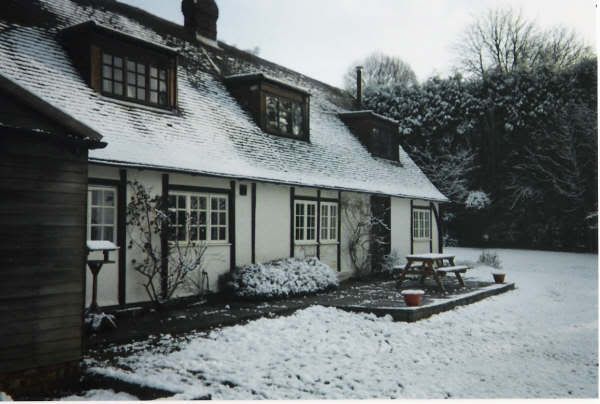 All was quiet in Oak Cottage. It was a cold winter's day, and Jess was snoozing by the fire. Todd and Marie lay back, snoozing in their chairs, after having had a very hard week, their breath slipping in and out of their open mouths in soft snores.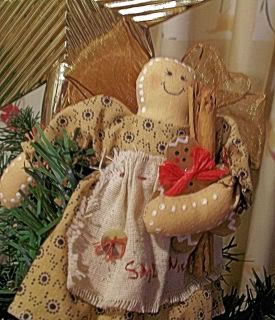 "Do you know what day it is today?" whispered the Gingerbread Fairy from the top of the Christmas tree to the other decorations in the room. "It's
Tuesday's With Dorie
day, you know, that one day of the week that Marie usually is baking up a frenzy from that lovely fat cookbook over there in the corner,
Baking, from my home to yours
, by that maven of kitchen magic, the lovely
Dorie Greenspan!
"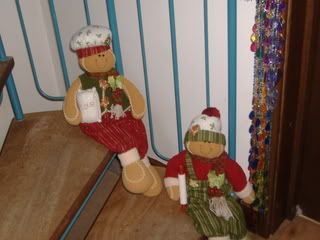 "There's no baking going on right now," grumbled the gingerbread bakers from their perch on the winding staircase over in the corner. "They're fast asleep and snoring away for England! If Marie doesn't wake up soon, she completely miss this week!"
"Not to worry," the Gingerbread fairy whispered, "We'll just have to invoke the magic rule of Christmas and help her out a bit. I hate to wake her up, she's so tired, she's worked so hard, and she's sleeping so soundly." With that she waved her magic cinnamon stick and the air filled with the tinkling sound of little bells and all the ornaments on the tree began to wiggle their arms about. Over to the kitchen counter they marched, whilst the big kitchen bowl danced across the counter and the egg beaters whirred through the air to meet it. Butter and eggs flew out of the fridge and the flour canister bounced across the floor!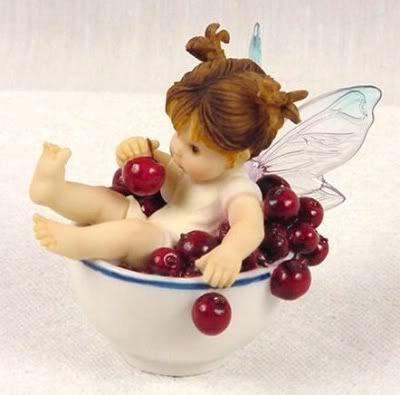 "We're cooking!" the kitchen fairy announced from her bowlie full of cherries on the windowsill, the flour on the end of her noise a dead giveaway.
"Keep it down!" hissed the Kitchen witch from her broom as she slowly rocked back and forth from her perch at the top of the kitchen window. "If you make too much noise you'll wake them up!"
Quietly and silently they went about their work. Batter was stirred and whipped.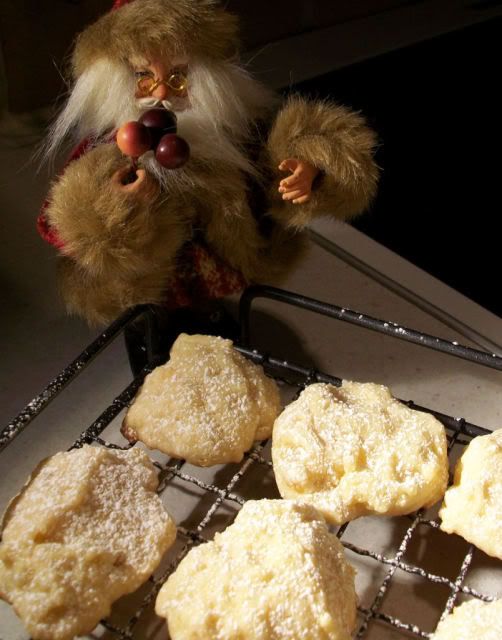 "I think this is a bit too bland." announced Santa , cookie dough stuck to his lips. "It needs something else."
"You shouldn't be eating raw cookie dough!" admonished the gingerbread fairy, "But I'm awfully glad you did." Away went the magic cinnamon stick again, and little bits of candied ginger fell into the dough, lickety split. "That should do the trick!" She announced with the surety of a fairy that knows what she's baking.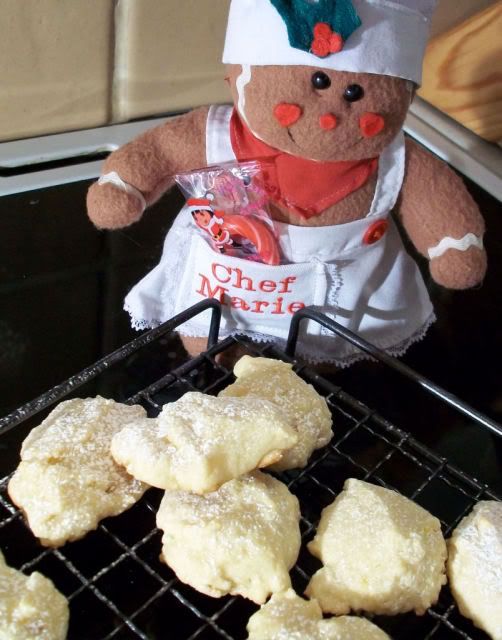 Into the oven they went and before too long, lovely smells were wafting through the air. The cookie sheets magically whisked in and out of the oven as the cookie lifter scooped finished cookies off of them and onto the cooling racks. Fairy wings whirred as they drifted a soft white scattering of magic icing sugar across the tops of the finished cookies.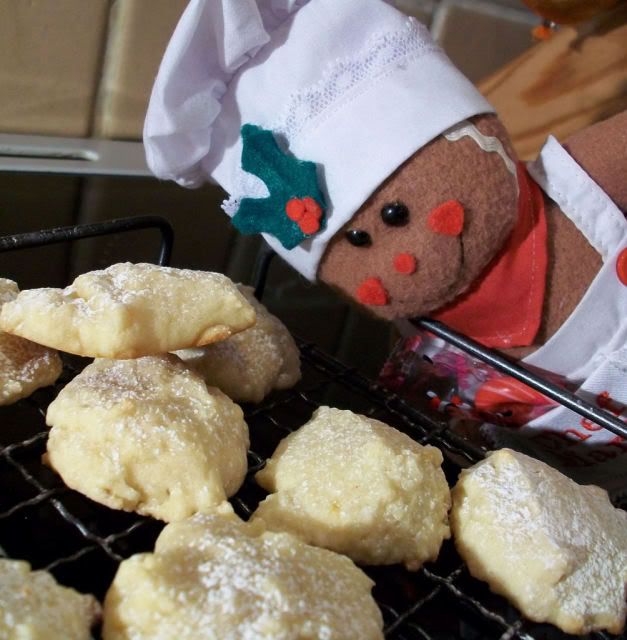 "Just perfect." declared the Gingerbread Chef as she peered down on them. "These will do just fine!"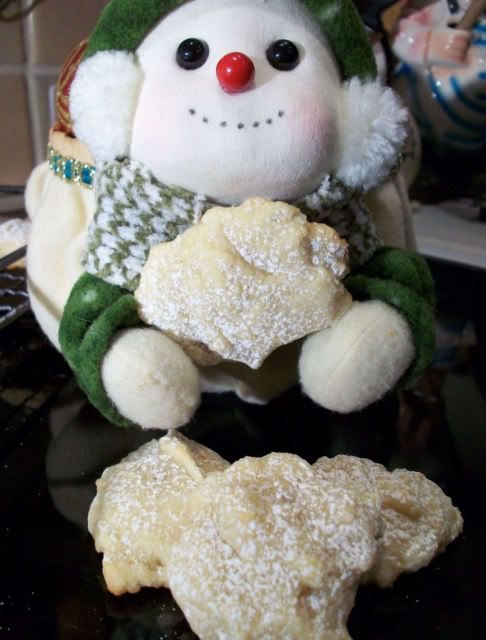 "But we need to have a bit of a taste." the snowman over in the corner hummed and hawed and clutched at a round soft and craggy cookie, the smell of which was causing him to drool and melt . . . just a tiny bit . . .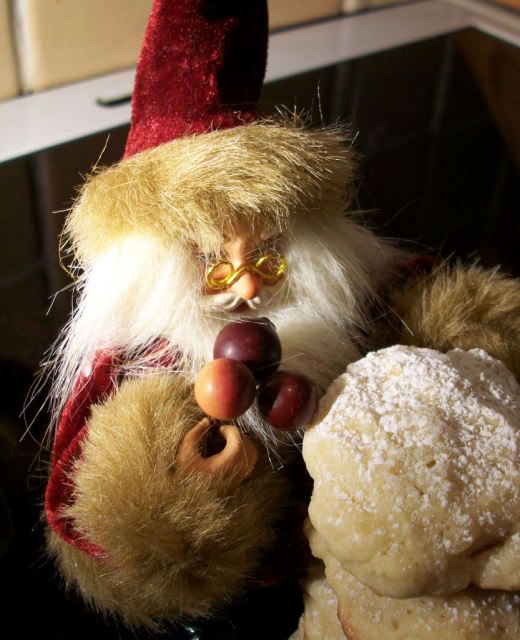 "Oh ho ho, yesss!" Santa exclaimed over his jiggling belly, "Just one, so that we know they are perfect for Marie!" His trembling lips wiggled and shook like a bowl full of jelly as he peered over his glasses at the lovely delights laying on the tray.
"Okay," whispered the Gingerbread Fairy . . . "But just one a piece mind you!" The words were dast out of her mouth when they began to tuck in.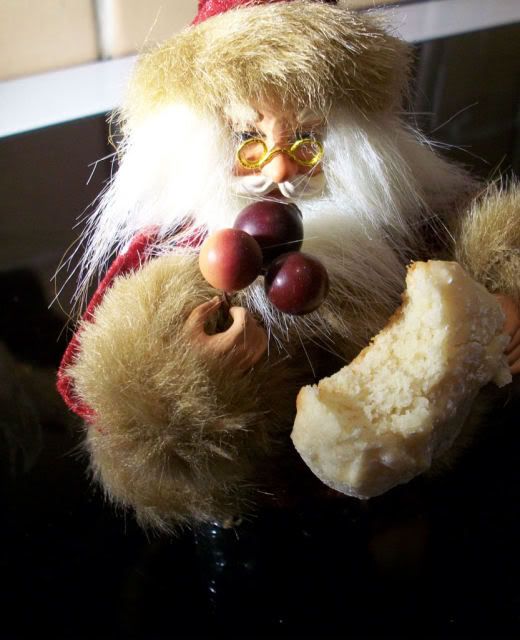 "Ho Ho how wonderful these are!" Santa shouted from atop the stove! "These are as fine a cookie as I have ever encountered on a snowy Christmas Eve!
If there was anyone ever who knew the qualities, both good and bad, of Christmas Eve cookies, Santa did. He'd tried a great many in his lifetime, as the roundness of his belly could attest!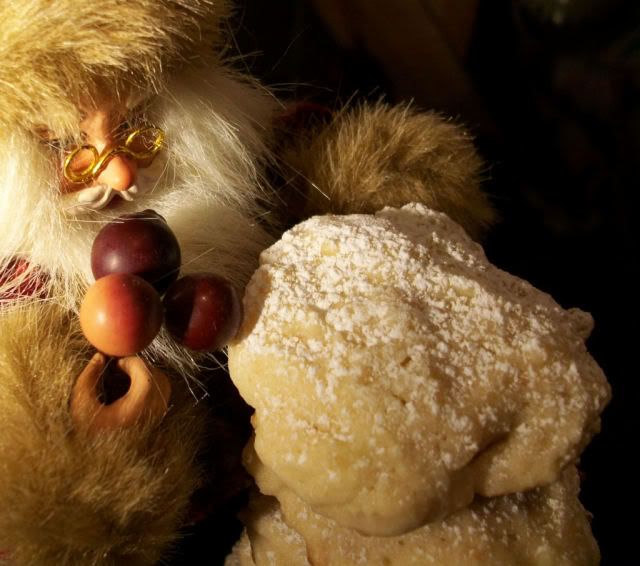 Todd mumbled a little in his sleep as his lips moved in a pantomime of a secret conversation and Jess began to silently wiggle her paws in a secret dance across the orchard meadows of her dream.
"Quick, quick!" The Gingerbread Fairy whispered. "Into the boxes you go cookies and ornaments, back into your places!! They'll be awake soon!" Her cinnamon stick waved again and cookies danced like magic into little cardboard boxes, each one lined up across the counter. All the ornaments sleepily danced back to their places on the tree. Before you knew it, all was back as it had been from the beginning.
Hmmmm . . . . Marie stretched in her chair and yawned. I must have fallen asleep, she thought to herself. " I must get up and get baking. It's Tuesdays with Dorie day and I have cookies to bake. I believe this week's recipe is Buttery Jam Cookies on page 80, as chosen by Heather of
Randomosity and the Girl.
" She sauntered over to the counter to get out her book and what to her wondering eyes should appear, but boxes of freshly baked Buttery Jam Cookies, all lined up in a row!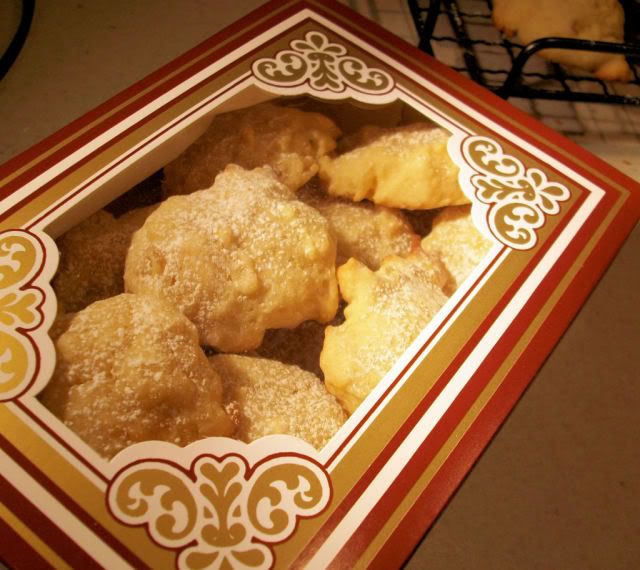 "It's a miracle," she whispered to herself as she looked down on them. Somewhere in the room a bell tinkled and the smell of cinnamon wafted through the air . . . Christmas Magic and miracles are the best kind of all . . .
~*The End*~
If you would like to try out this week's recipe please check out
Heather's Page
, and be sure to check out all the other lovely versions of this week's recipe on the
Dorie Blog Roll
! Next week's recipe will be Real Butterscotch Pudding on page 386 as chosen by Donna of
Spatulas, Corkscrews & Suitcases
.