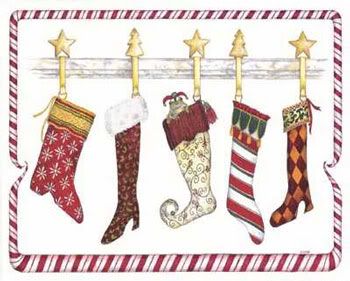 *Christmas Long Ago*Frosty days and ice-still nights,Fir trees trimmed with tiny lights,Sound of sleigh bells in the snow,That was Christmas long ago.Tykes on sleds and shouts of glee,Icy-window filigree,Sugarplums and candle glow,Part of Christmas long ago.Footsteps stealthy on the stair,Sweet-voiced carols in the air,Stocking hanging in a row,Tell of Christmas long ago.Starry nights so still and blue,Good friends calling out to you,Life, so fact, will always slow...For dreams of Christmas long ago.~Jo Geis
We never had stockings when I was a girl, although I always did long to have one, just like the ones we saw the little children on the television had . . . We had little coloured melmac bowls. They sat at each of our places at the dining room table and on Christmas morning they would be filled with an assortment of sweeties . . . a few chocolates, some nuts, some ribbon candy, hard candies and Sugar Barley Candy shapes . . . and maybe a tangerine. There were no toys and trinkets.
My children each had a stocking to put out on Christmas Eve. Lovely felt ones that I had hand stitched from kits, each one quite different from the other, all adorned with sequins and beads. They were pretty little things. I hope that they still have them somewhere and that they have not disappeared . . .
Todd and I do not have stockings, although our first year together as a married couple I did take one of his socks and fill it up with lots of little things. I wanted to make up for all the Christmas's he had spent on his own, all fourteen of them. Nobody should be alone at Christmas, and so each year we make an effort to find someone that we can invite over to share our Christmas with us. Christmas is for sharing . . .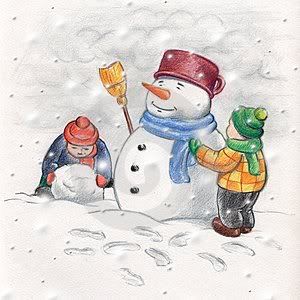 I have heard of people popping off to the shops for milk and bread and coming back with a cartload of goodies, and in fact I often do just that, only it gets much worse as I often come home without either the milk or the bread or both!!! What happens when you send your husband off to PC World to return an item for exchange? Well . . . he comes home with a metal incinerator for the garden, which to be fair we had been talking about getting for a time now . . . and a white leather two seater sofa. (Just a tad bit larger than a loaf of bread!)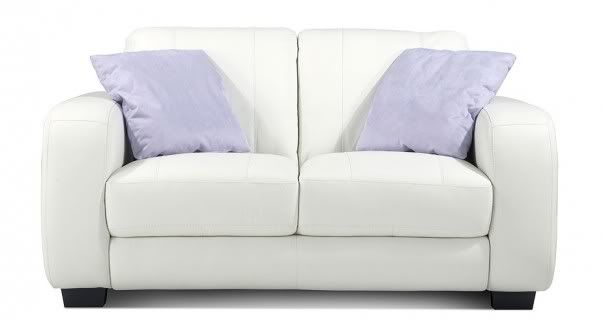 I sent Todd out yesterday afternoon, and thought he had been gone an awfully long time. I was beginning to get quite worried about him when he finally arrived back home. A few minutes after he came in, he said to me, you're going to be getting something very soon . . . I am thinking hmmm . . . what could it possibly be??? My mind went completely blank, and then he told me that in about 12 weeks time, a white leather two seater sofa would be arriving!
Apparently DFS was having a half of a half price sale, and so he got it for a very good price. Hmmm . . . funny that. Several weeks ago we had been up there and I had dragged him into DFS to look. He had balked at the idea at the time, and kept repeating, we're not buying anything the whole time we were in the shop. I had to reassure him the whole time that we were only looking. (Men and furniture stores are like oil and water . . . they just don't mix!!!)
I'm not quite sure white would have been my first choice of colour . . . but I am not one to look a gift horse in the mouth either! (My blue andwhite quilt will look rather nice draped over it I am thinking!)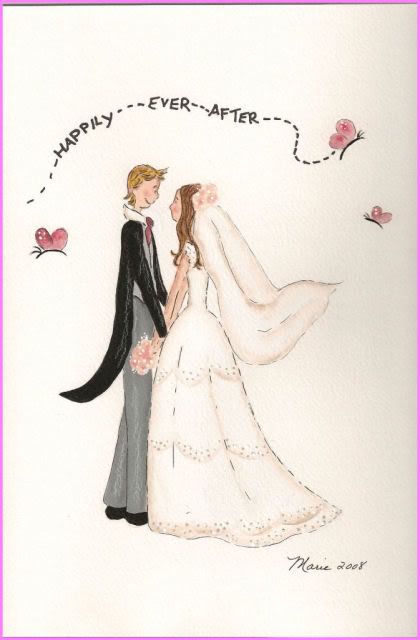 I finally finished a little painting yesterday that had been sitting as a sketch for several months, a wedding gift for a young couple. Quite late now as well, but you know what they say . . . better late then never!!! I really love how it turned out! What do you think? I hope that they like it.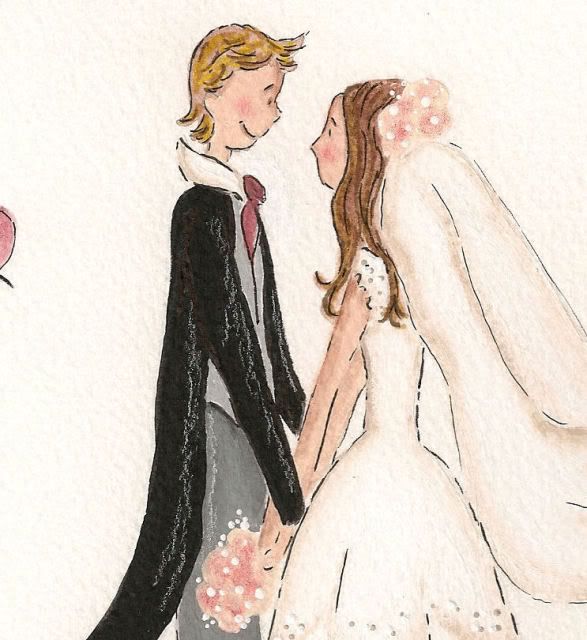 Yesterday afternoon was actually quite full of surprises. I set off to make some Mince Pie Christmas Tree thingies, a recipe from this month's Good Food magazine. They looked really cute in the magazine and I thought Todd would really love them. He loves pies and anything with mincemeat in them, and it is Christmas! I got out the puff pastry that I had especially bought just for this recipe and my jar of mincemeat. I lay out the pastry, spread it with the filling, topped it with another piece of pastry and then . . . what the heck . . . the instructions made no sense to me whatsoever! I must have read them half a dozen times and moved the pastry around here and there on the counter top, but I could still not figure the instructions out.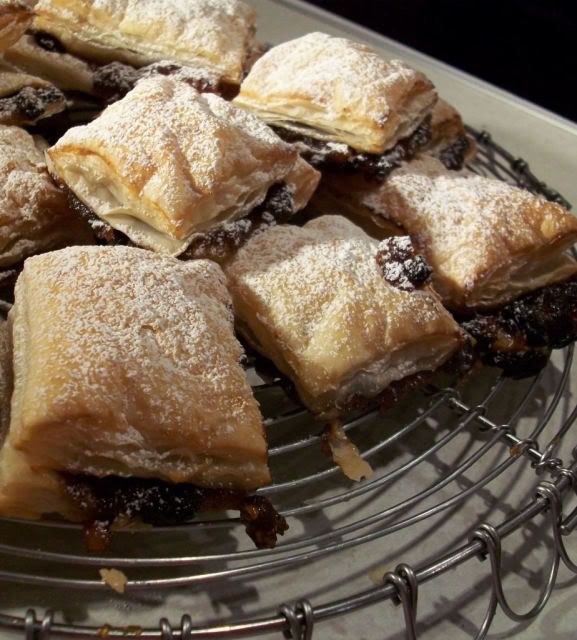 So, what you see here this morning is not pretty little Puff Pastry Mincemeat Christmas Trees . . . but lovely little square puffs filled with Mincemeat! I shall give you the recipe for the trees, and perhaps you can figure it out, but if not you can do what I did and just cut it into squares. They taste very delicious nonetheless, whether in a tree shape or in squares! (These will not be eaten on the White Leather Sofa . . . )
*Mince Pie Trees*
Makes 24
Make sure your pastry is well chilled for this. Puffy little cloud like bites, filled full of delicious gooey and spicy mincemeat.
Plain flour for dusting
425g pack of ready rolled puff pastry
(the one with 2 sheets in the pack)
350g jar of mincemeat
1 egg, beaten
icing sugar for dusting
Pre-heat the oven to 200*C/400*F. Line two baking sheets with parchment paper.
Lightly dust the counter top with some flour. Lay out one of the pastry sheets, with the long edge nearest to you. Spread with mincemeat. Top with the second sheet of pastry, then cut it in half width ways, down the middle.
(Now here's where it lost me)
For each piece, cut into 4 strips down, measuring 6 cm, 4 cm, 2 cm and 2 cm in width. Next, cut across evenly to make 12 *ladders* of pastry. Dip the knife in flour if it sticks. Brush with egg and then chill for 10 minutes.
Build the trees on the baking sheets. Stack the strips, mincemeat middles facing up, starting with the longest and finishing with the smallest.
Once stacked, squash with your hand to flatten into a tree shape. Bake for 20 minutes, or until the pastry is golden and the mincemeat is bubbling. Leave to cool on the tray for five minutes, before lifting off onto a wire rack with a palette knife to finish cooling. Dust with icing sugar to serve.
**If you are like me and cannot for the life of you figure out what exactly they want you to do, just cut it into 24 equally sized squares, pop them onto the prepared baking sheets, and bake as noted.