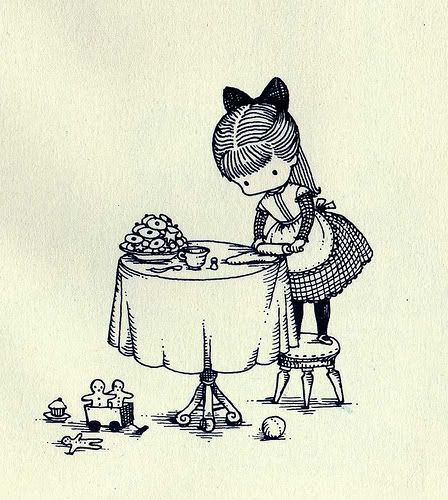 "Mom is making Christmas"

Cookies baking in the kitchen -
The smell floats through the air,
Mom is making Christmas
With her usual merry flair.

The house she gaily decorated
Each gift she stitched with love
and we'll gather around the Christmas Tree
For an evening of old fashioned fun.

This evening she'll sing a carol for us
with her Angel's voice,
Yes, mom is making Christmas -
A true reason to rejoice.
~Vicky A Luong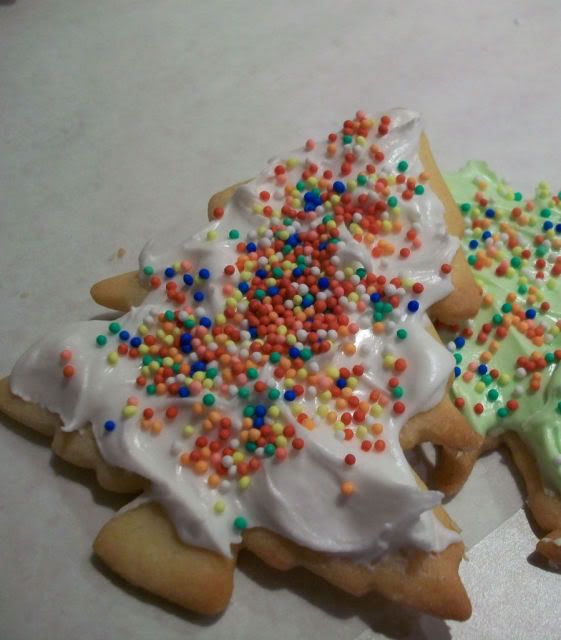 One thing that I have long loved to do is a little Christmas Baking. I no longer do it on the scale that I used to do it on when I had five children wrestling with each other at my feet and lots of family living nearby and knocking on my door. Back then, I used to start baking in November, and filling up my freezer with lots of goodies to share. Now . . . there is just Todd and myself, and we live far too far away from family of any sort. Todd only has a very small family, and mine are all in Canada, so there is really nobody much to bake for . . . ceptin Todd and I.

I was thrilled however, when last week I had the opportunity to bake some lovely Christmas Cookies for our Annual Christmas Party at the church I go to!!! Welcome to
Tuesday's With Dorie
, the weekly baking group that is baking their way through the lovely baking book. "Baking, from my home to yours, by the equally as lovely
Dorie Greenspan!
This week's recipe was Grandma's All-Occasion Sugar Cookies on pages 146-147, as chosen by Ulrike of
Küchenlatein
.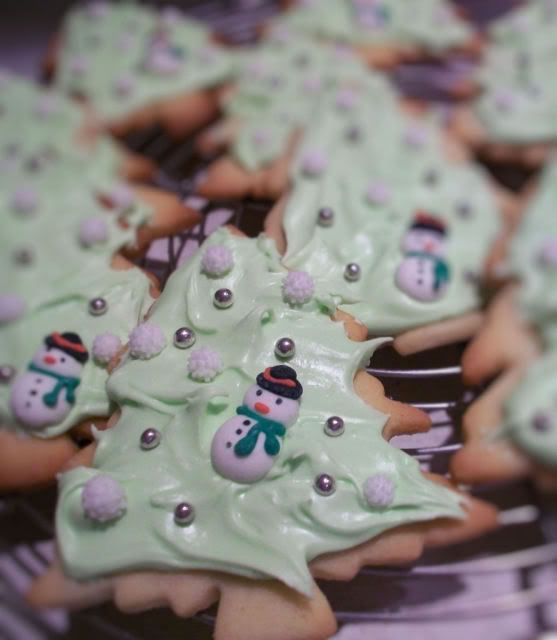 Thanks so much Ulrike for choosing such a delightful recipe! I love making Christmas Cookies, especially sugar cookies that I can decorate with flair!!! The only hard decision I had to make was . . . hmmm . . . should I make them all different, or should I make them all the same? I decided to make them all the same. I got a new Christmas Tree cookie cutter earlier this year and I was just gagging to use it!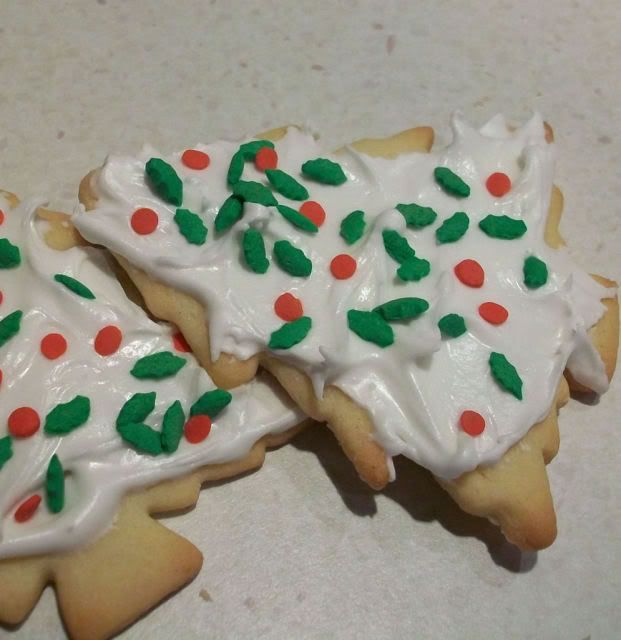 Dorie's recipe is, quite simply . . .
L
-
O
-
V
-
E
-
L
-
Y
. Simple and without any artifice, the dough went together quite easily, and in no time at all, I had it made and resting in the refrigerator. It rolled out like a dream when the time came to roll it out, and before you know it, I had several trays of beautiful looking Christmas trees waiting to go into the oven! They baked up beautifully! Just perfect . . . well . . . all except for the tray that I got distracted by one of the gardeners that was up here helping Todd to find out where the main phone line into this house was. That tray got extra dark, but they did taste good anyways, at least the middle bits did! *blush* We won't talk about that . . .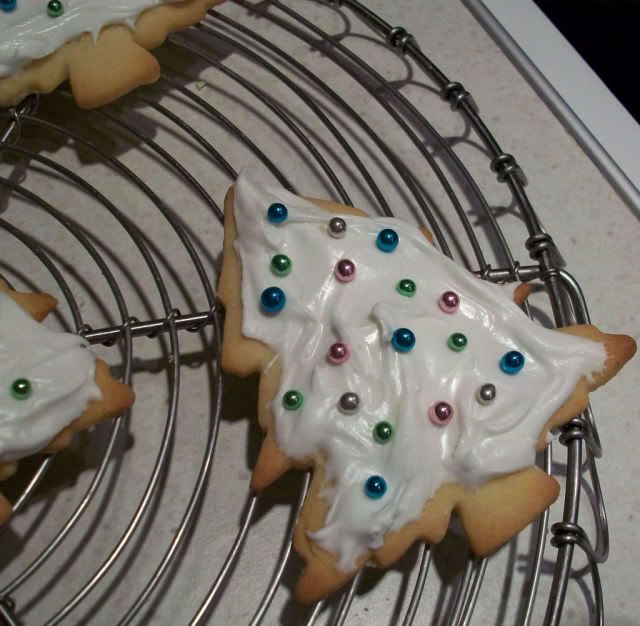 That night I got down to the business of making some royal icing to ice them with and dug out all my
*Christmassy*
type of cake decorations to adorn them with. I've never been able to master Martha's method of flooding the cookies so I just dabbed it on and made it look all
*foresty*
and then dropped the decorations on. I got a bit carried away at the end and had some really psychedelic ones going on!
I just loved this recipe, and judging by the empty plate I brought home at the end of the evening Saturday night, so did everyone else!!!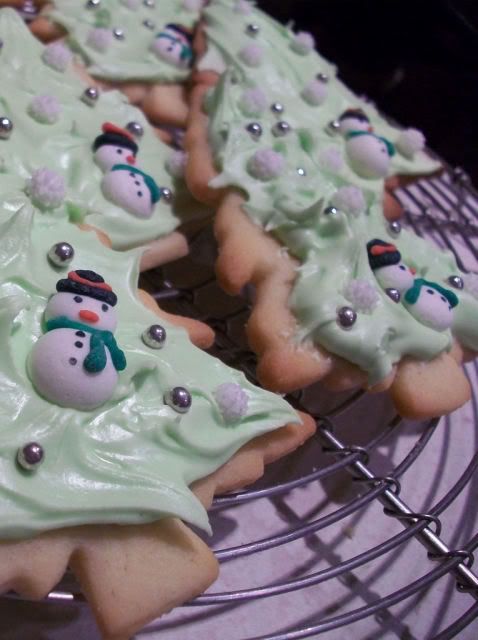 Next week's recipe is Buttery Jam Cookies on page 80 as chosen by Heather of
Randomosity and the Girl.
Yummo!!! I love butter. I love jam! I love cookies!!!! Don't you just love Christmas??? It was the one time of the year when I was growing up that we could eat as much as we wanted and there was lots around to eat. Nothing has changed!
If you would like the recipe for the cookies, please check out
Ulrike's page
later today and make sure you check out the
Dorie Blog Roll
so that you can see some of the other beautiful creations as well. There are sure to be some really incredible cookies to look at!
In the meantime, here's my recipe for the Royal Icing I used to decorate these little gems with!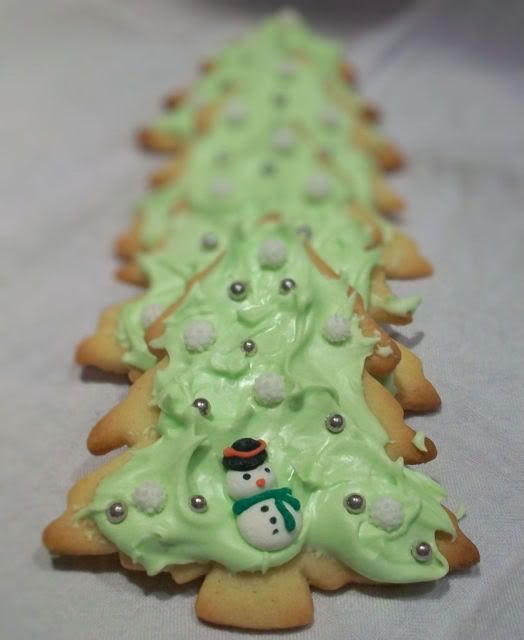 *Royal Icing*
Makes about 3 cups
You can substitute meringue powder for the egg whites if you wish. Follow the package directions.
3 egg whites
5 1/4 cups confectioners sugar
juice of 1 large lemon
In a large bowl, using an electric mixer, beat the egg whites until still and glossy on medium high. Stir in the sugar and the lemon juice. The icing should be dense but spreadable. If the icing is too thick, add a drop or two of water. It it's too thin, add more sugar. Tint whichever colour you wish with a few drops of food colouring. Cover until you are ready to use it.
You know . . . there is only one problem with baking cookies to take to a party that are so delicious . . . you end up having to bake more!