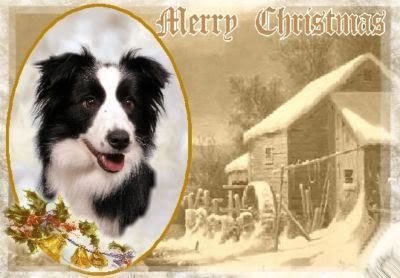 I've come down with a bit of a head cold, which is rather annoying. I have not had a cold in a very long time, but there seems to be a particularly virulent bug going around right now, several of our friends have it and, well . . . it would seem that I now have it too. I am supposed to be giving a talk in church tomorrow so I had really hoped that this bug would have held off until after that, but oh well, I will try my best to do my best, regardless.
I received this lovely e-mail a time back. I have a folder that I keep special things like this in because I often like to go back and read them. I thought I would share this one with you today as I am a bit fuzzy headed. It's well worth the read. As the owner of a beautiful Border Collie, it really touched my heart and, as I know a lot of you are also pet owners and lovers, I thought you would really appreciate it as well. It's possible you may have already read it, but this is so heart-warming it deserves to be read more than once. It just makes you feel so good to know that there are kind people like this out in the world, and don't we all need to hear a little good news for a change??
"This is one of the kindest things I've ever experienced. I have no
way to know who sent it, but there is a kind soul working in the dead
letter office of the US postal service.
Our 14 year old dog, Abbey, died last month. The day after she died,
my 4 year old daughter Meredith was crying and talking about how much
she missed Abbey. She asked if we could write a letter to God so that
when Abbey got to heaven, God would recognize her. I told her that I
thought we could, and so she dictated these words:
Dear God,
Will you please take care of my dog? She died yesterday and is with
you in heaven. I miss her very much. I am happy that you let me have
her as my dog even though she got sick. I hope you will play with her.
She likes to play with balls and to swim. I am sending a picture of
her so when you see her you will know that she is my dog. I really
miss her.
Love, Meredith.
We put the letter in an envelope with a picture of Abbey and Meredith
and addressed it to God/Heaven. We put our return address on it. Then
Meredith pasted several stamps on the front of the envelope because
she said it would take lots of stamps to get the letter all the way to
heaven. That afternoon she dropped it into the letter box at the post
office. A few days later, she asked if God had gotten the letter yet.
I told her that I thought He had.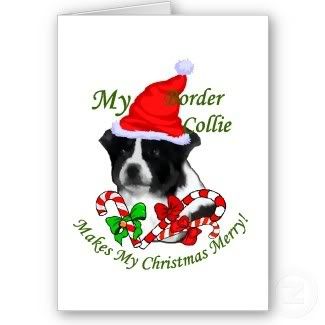 Yesterday, there was a package wrapped in gold paper on our front
porch addressed, "To Meredith" in an unfamiliar hand. Meredith opened
it. Inside was a book by Mr. Rogers called, "When a Pet Dies." Taped
to the inside front cover was the letter we had written to God in its
opened envelope. On the opposite page was the picture of Abbey &
Meredith and this note:
Dear Meredith,
Abbey arrived safely in heaven. Having the picture was a big help. I
recognized Abbey right away. Abbey isn't sick anymore. Her spirit
is here with me just like it stays in your heart. Abbey loved being
your dog. Since we don't need our bodies in heaven, I don't have any
pockets to keep your picture in, so I am sending it back to you in
this little book for you to keep and have something to remember Abbey
by.
Thank you for the beautiful letter and thank your mother for helping
you write it and sending it to me. What a wonderful mother you have.
I picked her especially for you. I send my blessings every day and
remember that I love you very much.
By the way, I am wherever there is love.
Love, God "
Isn't it great to know that there are such kind and thoughtful people in the world? What a beautiful blessing this must have been both to Meredith and her mom, and also to the special person that thought to do such a kindness for an unknown little girl . . .I, personally, think they were inspired. God does work in mysterious ways His wonders to perform . . .
As you know I like to eat Vegetarian from time to time. This tasty dish is very similar to a war-time dish called "Woolton Pie", but I like to think I have improved upon it somewhat.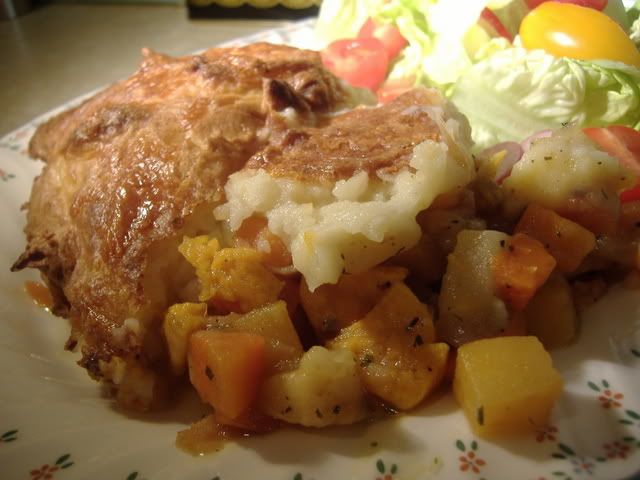 *Winter Garden Pie*
Serves 6
This all vegetable pie might be filled with humble ingredients, but there's nothing humble about the taste. This makes a delicious lunch or supper dish. It's also a great accompaniment to roast beef or lamb if you really must have some meat, but trust me when I say that it is truly satisfying on it's own.
FOR THE FILLING:
1 kg (2.2 lb) assorted mixed winter vegetables (an onion, a celery stick, a large carrot, a large piece of swede, ½ a cauliflower, a couple of Jerusalem artichokes, a small celeriac, sweet potato, etc. whatever is available)
2 TBS olive oil
Vegetable Stock
Salt and black pepper
½ tsp summer savoury or mixed herbs
FOR THE TOPPING:
2 pounds of floury potatoes, peeled and cut into chunks
(use a King Edward, Maris Piper, or good Idaho potato)
2 ounces butter
¼ cup of sour cream
1 TBS finely grated onion
Salt and pepper to taste
4 ounces grated strong cheddar cheese
A little warmed milk if necessary
Pre-heat the oven to 220*C/450*F.
Peel and chop the onion. Peel and dice all the other vegetables into a uniform dice. Heat the olive oil in a large skillet. Add the onion and vegetables and cook them over medium high heat, stirring from time to time until they just start to colour. Add enough stock to just barely keep them from sticking to the pan and reduce the heat to medium low and cook, stirring occasionally until all the liquid has evaporated and the vegetables are still crispy tender. Season them to taste with some salt and a good grinding of pepper. Stir in the herbs, and then pop the whole mixture into a pie dish. It may seem a bit dry, but not to worry, the final baking in the oven will release all those delicious vegetable juices.
For the topping put the potatoes into a pan of salted boiling water and cook them until they are fork tender. Drain well and return the potatoes to the pan. Give them a good shake over the still warm burner to dry them out a bit and then mash them well along with the butter and sour cream. Stir in the cheese and grated onion. Add only enough milk to make them nice and fluffy. You don't want the mixture to be too loose. Season to taste with salt and black pepper. Pile the fluffy mash on top of the cooked vegetables and bang the pie dish into the heated oven. Cook for about 15 to 20 minutes until the topping is nicely browned. Serve hot.