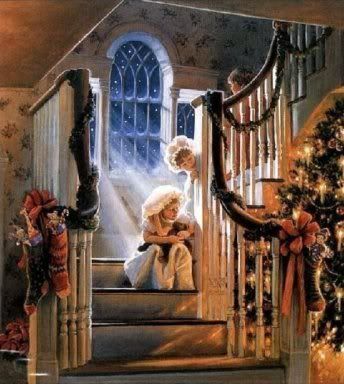 "The whole world is a Christmas Tree,And stars it's many candles be.O, sing a carol joyfully,The world's great feast in keeping;For once on a December night,An angel held a candle bright,And led three wise men by it's light,To where a child was sleeping."~unknown
We had a lovely time at the staff Christmas party yesterday. A beautiful meal had been cooked to perfection and everyone was in a cheerful mood. Twas lovely to be able to sit down together as friends, break bread and share some Christmas cheer together. The staff where I work never used to do that before I started working there. That first year I suggested that we do it and we've done it ever since. It's become something that we all enjoy and look forward to each year.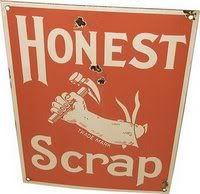 I discovered yesterday that my friend Ally, from The
Rabbit Hole
had chosen me (amongst others) to hand over this very unsual award to. It's called the "Honest Scrap" and it's given to bloggers you feel are honest in their words and dealings with others. I take it as a huge compliment that Ally feels this way about me. I try hard to be as honest as I can with others, it's just something I do. Thanks so much Ally. This award comes with a meme. I have to tell you ten honest things about me. I'm not entirely sure I can come up with ten things about me that you don't already know, but I 'll give it a good attempt!
1. I used to be afraid of the dark up until I had children of my own. I am ashamed to say that I used to ask my mother, right up until I was quite old, to bring me drinks of water in the night. I am proud to say that my mother loved me enough to do it.
2. I'm a bit of a hypocondriac. That's why I can't watch television shows like ER or Casualty. They scare me to death practically and I sometimes find myself imagining symptoms of the patients on the shows. It is better for me to just not watch them at all, so I don't.
3. Even though they are thousands of miles away and living their own independant lives, I still worry about my children. I think about each of them a bazillion times during the day, and whenever their name crosses my mind, I say a little prayer for that one in particular. I keep them covered in prayer.
4. I am uber responsible and find myself apologizing at times for things that aren't even my fault or of my doing. I sometimes wish I could just say what the heck and let things slide . . . but being able to do that is just not in my chemical make up. I wonder if it is the curse of being the eldest child?
5. I love Christmas. It's my favourite holiday. I love the music, the sights, the sounds. I love to give presents to my loved ones and friends, but am often quite embarassed to get gifts back. I don't know why. I prefer to savour them in private but not in public. I do appreciate them, but they make me feel uncomfortable. I wish I understood why.
6. I love black folk art and black baby dolls. When I was a little girl I longed to have a black baby doll, except I called it a chocolate baby doll then. I would still love to have a black baby doll.
7. I have always wanted a doll's house. A proper, big, wooden doll's house that I can decorate from top to bottom in any way I want. Except that I am impatient and I would want it done right now.
8. Yes, I am impatient and it's something that I really have to work on. I want things done now and not tommorrow. Is that a woman thing? or is it just a me thing? When I ask someone to do something . . . I hate to have to ask them more than once. I would prefer they just say no, and then I can do it myself, rather than to have to ask them over and over again. It feels like I am nagging . . . ok, so I
am
nagging. Please don't make me nag. Either do it, or tell me you don't want to.
9. I have a fear of getting lost. It is that fear of getting lost that helps me to remember directions very well. I usually only have to go somewhere once, and I am able to tell you how to get back to that place another time. This fear of getting lost makes me a pain in the arse to go anywhere with that I don't know where I am going.
10. I'm fat because I eat too much, and don't get enough exercise. If I ever try to tell you anything different I am lying both to myself and to you.
So there you have it, ten somewhat quirky, soul searching honest things about me. Now comes the fun part where I get to tag and gift some of you. Awww . . . don't run away so fast!!
Seven bloggers I think are honest:
1. Nicole from
Poppins
A gutsy young lady who's seemingly not afraid of anything, not even sky diving.
2. Lura of
Grammy's News
This gal is a lovely lady who shares freely of her love and her heart and her feelings.
3. Chris of
Ravings of a Misplaced Geordie
The title of her blog says it all. She's a great lady who's not afraid to say it like it is.
4. Traci of
Life of a Transplanted Yankee
I just love Traci and her girls. She always tells it like it is, the good and the bad. She's not afraid to be real.
5. Angie of
Can You All Hear Me At The Back
Go visit her blog and you will see what I mean. She faces life head on and with a sense of humour.
6. Miranda of
A Duck In Her Pond
I fell in love with Duckie's prose the first time I visited her page. Why this girl hasn't been picked up by a great publisher remains a mystery to me. I think she's so talented.
7. Jan of
What Do I Want To Cook Today
Jan tells it all. Her successes, her failures and she shows them to us as well, and it's all about cooking.
The Rules:
♥ list 10 honest things about yourself
♥ pass the award onto 7 blogs that you find brilliant in their content or design
♥ link to the blogger who gave you this prize
♥ link to the blogs receiving the prize
♥ notify the recipients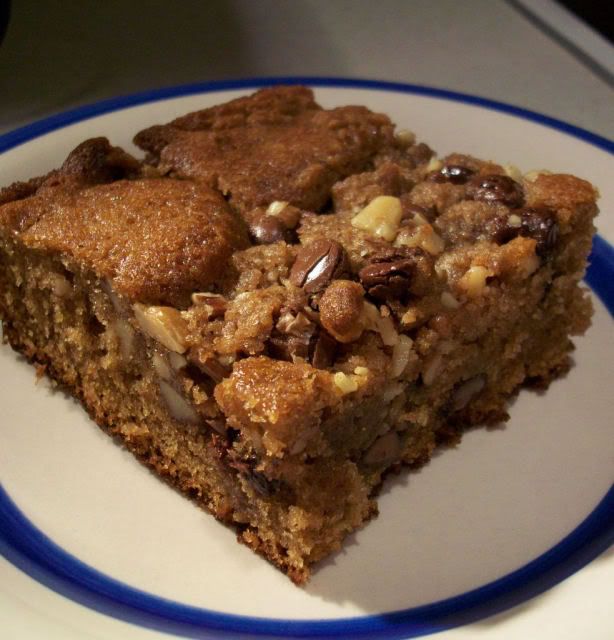 Now if you've been brave enough to plough your way through all the crud I've thrown your way this morning you will now get your just reward! Here's the delicious coffee cake you all chose for me to bake in my Cookbook Challenge last week. (Yes, today I will be putting up another poll!)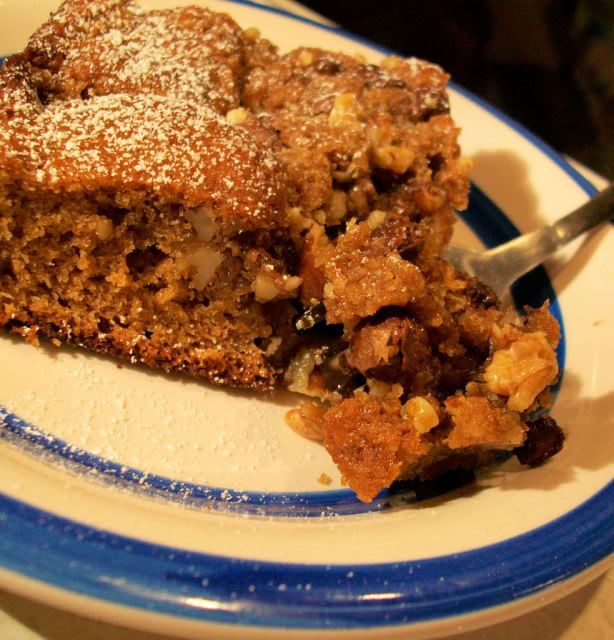 *Chocolate Chip Pecan Crumb Cake*
Makes one 9 by 13 inch cake, or two smaller ones
Mmm . . . this cake embodies everything I love about coffee cakes . . . a delicious rich batter topped with a wonderfully spicy streusel filled with lovely chocolate chips and crunchy nuts. I have played with it a bit so will add my changes in brackets.
Streusel:
1 cup butter, cut into pieces
1 1/4 cups packed dark brown sugar
1 TBS pumpkin pie spice (I used 1/2 TBS of cinnamon, 1/2 tsp of ginger, 1/2 tsp freshly
grated nutmeg and 1/4 tsp mace)
1 1/2 cups flour
1 cup chopped pecans (I used 1/2 cup chopped pecans, and 1/2 cup chopped walnuts)
1 cup semi sweet chocolate chips (I used a mixture of semi sweet and milk chocolate chips)
Cake:
2 1/4 cups flour
1 tsp baking powder
1 tsp baking soda
1/2 tsp salt
2 tsp pumpkin pie spice (I used 1 tsp cinnamon, 1/4 tsp ground ginger, 1/4 tsp ground mace and 1/2 tsp freshly grated nutmeg)
1/2 cup butter, softened
3/4 cup packed dark brown sugar ( I used a mixture of dark and light)
1/2 cup white sugar
3 large eggs
1 1/4 cups buttermilk
1 tsp vanilla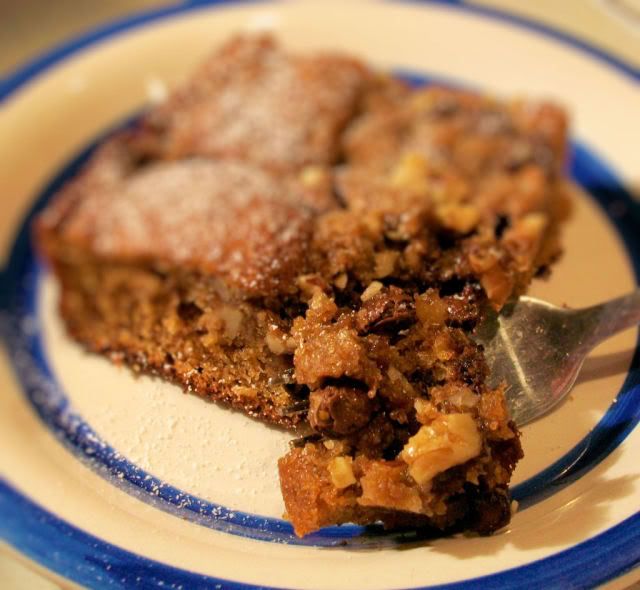 Pre-heat the oven to 180*C/350*F. Butter and flour one 9 X 13 inch baking pan. (Or two 8 inch square ones) Set aside.
Make the streusel by combining the flour, spices, butter and sugar. Rub them together to make large crumb like pieces. Stir in the nuts and chocolate chips. Set aside.
Cream together the butter and the sugars for the cake until very light and fluffy. Sift together the dry ingredients. Beat the eggs into the creamed ingredients along with the vanilla. Add the dry ingredients to the batter, alternating with the buttermilk, mixing only until the batter is just mixed together, without over mixing.
Spread the batter evenly into the prepared pan (s). Evenly sprinkle the crumb topping over top. Bake for 40 to 45 minutes, or until the top of the cake feels firm and the streusel is crisp and bubbling. Let cool slightly in the pan on a wire rack. Serve warm, cut into squares.
Variation: You can omit the chocolate chips in the topping if you desire and add instead one peeled, cored and chopped apple or pear to the batter. Substitute almonds or walnuts for the pecans.