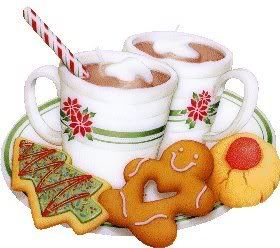 Can it be that there are only 13 days left until Christmas this year? The time is just flying by!!! I thought that I would share a few ideas with you this morning of some of the ways that you can make this holiday season a tad more festive for you and your family. Some are practical and others are just plain fun. None are expensive to do, and I think there's a little bit of something in this list for everyone!
String dried apple and orange slices for your country Christmas tree. Simply loop a piece of twine through the slice, hang and enjoy. It is also fun to dust the dried apples with cinnamon. They make the tree look and smell wonderful.
If sending large round homemade cookies to a family member for Christmas, send them in a Pringles container. They fit perfectly! Wrap the container with Christmas paper or have the kids draw and decorate plain brown paper and wrap it in that!
To make holiday napkin rings, use red and green curling ribbon to tie your napkins and decorate with holly or pine.
Include a family snapshot with all of your Christmas cards for a personal touch.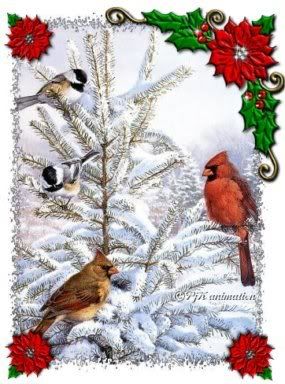 String popcorn and cranberries on dental floss to decorate the Christmas tree. Thread a large sewing needle with waxed floss; it's very strong and the wax helps the popcorn and berries to slide on more easily. After the holidays, put the berry/popcorn garland outside on the bushes in your garden as a special treat for the birds. They'll love you for it!
With all the cooking during this time of year, you are bound to be using plenty of onions. To rid your hands of the smell, simply hold a stainless steel knife in both hands and run them under cold water. Presto! No more onion smell!
Place apples and oranges in muffin tins and decorate with fresh greens and holly for a wonderful centrepiece. What's even nicer than that is making a small hollow in each apple and orange and inserting a small votive candle into each. Simply wonderful.
Fill a large mayonnaise jar about ¼ full of sand, and place a red votive candle in the centre. Leave the lid off and enjoy the flicker of candle light.
Hang artificial garland around the inside of your kitchen windows and place gingerbread men cookies in amongst the greenery, along with some red ribbon bows. Looks adorable and smells heavenly!
Take your Christmas Cards as they arrive and build a Christmas Tree on the inside of your front door. Each time you go to answer the door, you will see all the warm wishes from family and friends. The very first card is the top of the tree! Put two under that, then three or four in the next row, and so on and so on . . .
Don't forget the thousands of servicemen and women away from home for the holidays in Iraq and other places. Start a new tradition and adopt a serviceperson every Christmas.
Make a tree skirt to remember your children or grandchildren. Choose plain fabric, put a fringe or border on to your liking. With chalk, trace each child's handprint. Embroider the hand, child's name and year over this. You can add on to this forever, and what a beautiful keepsake it will be.
Take a large saucepan and fill it half full of water. Add whole cloves, cinnamon sticks, orange rind and allspice, and gently simmer. The whole house fills with a delicious aroma, and the potion can be used again and again.
String tiny coloured lights on an outside tree, bringing the Christmas spirit out to the backyard as well as inside. Turn the lights on in the afternoon and have fun watching the birds sit in the tree amongst the twinkling lights.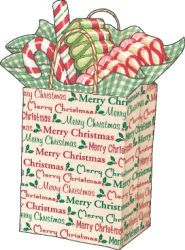 Heat paraffin and old candles (with crayons added for colour) in a heavy pan. Pour an inch into metal muffin tins. Set a medium sized pinecone into each cup, bottom first, and stand straight. When cooled completely, remove and you have fire starters for your fireplace that are quite pretty and practical.
Children love to help decorate at Christmas. Place a small live or artificial tree in their rooms and let them trim the tree to their hearts content. They will always remember their special tree.
Learn to say "no." We all try to do more than is humanly possible during the holidays. Don't feel as if you have to do everything. Pick a few things you really want to do and indulge yourself in them. If you love decorating, then go all out. But simplify some other things.
A nice way to spend Christmas Eve is to have each family member share a favourite memory of times past, read a short story or poem, or sing a Christmas song.
String pretty Christmas ribbon or yarn across windows and hang Christmas cards on it to create a "garland."
Invite friends and family to church for Christmas Eve services. If it weren't for Jesus' birth, we'd have nothing to celebrate. Remember Jesus is the reason for the season!
Make or buy a fabric covered Photo Album (Christmas colours or fabrics of course!) and keep your Christmas photos separate from the rest, by putting them into this album. Set it out on the coffee table at Christmas time and let everyone see how the family has changed and grown.
Purchase calendars for the new year and fill in birthdays, anniversaries and other important dates. Everyone really appreciates the gift and uses it all year long.
Buy your Christmas Cards for next year in the sales after Christmas. Address them in January or February each year and then fill them out closer to the holidays. It saves a lot of time and work, and money.
That's enough of my tips for today. I hope that you found some of them helpful and perhaps you may even decide to use one or two of them. Every little helps!
When I was 17 years old, I started buying myself a set of cookbooks from Better Homes and Gardens. It was a whole cookbook library. They came one a month and I can remember saying my hard earned babysitting money to pay for them. There was a meat cookbook, a chicken one and quite a few others. My favourite one has always been the "Good Food On A Budget" one. It's full of lovely low cost and tasty recipes. This particular recipe has always been one of my most loved through the years. It's very quickly put together and "spot on" for those nights when you don't have a lot of time to fuss with dinner. Just perfect for these pre holiday days when we all are running a little short on time and energy. You can have a tasty, delicious and nutritious meal on the table in just a little over half an hour! A tossed mixed salad is the perfect accompaniment.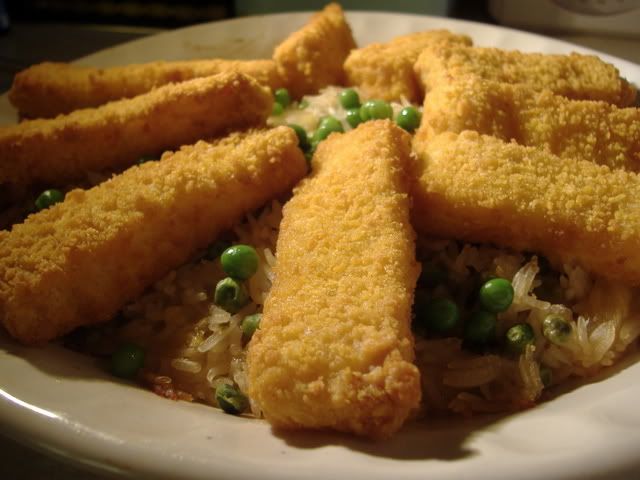 *Fish Sticks Polynesian*

Serves 4
This tasty casserole makes good use of leftover rice and is very quickly put together. If you don't have any leftover rice, one of those pouches of pre-cooked microwavable basmati rice that you can buy in the grocery stores works out really well. I always have several of those in my larder in a variety of flavours. I'd use the plain for this though.
1/3 cup sugar
2 TBS cornflour (cornstarch)
1 (425g) tin of pineapple chunks
2 tsp soy sauce
1 tsp vegetable bouillon
Pinch salt
2 TBS rice wine vinegar
1 ½ cups cooked or leftover rice
10 ounces of frozen peas, thawed
1 family sized packet of frozen fish sticks
Pre-heat the oven to 180*C/350*F. Lightly grease a 1 litre round casserole dish and set aside.
In a medium saucepan, combine the sugar and cornstarch. Drain the pineapple chunks, reserving 2/3 cup of the pineapple juice from the tin. Gradually stir the reserved juice into the sugar mixture. Add the soy sauce, vegetable bouillon and salt. Cook, stirring constantly over medium heat until bubbly and thickened. Remove from the heat and stir in the vinegar. Add the cooked rice, thawed peas and pineapple chunks. Mix all together well. Turn into the prepared casserole dish.
Arrange the fish sticks, spoke fashion, around the top of the rice mixture. Bake in the pre-heated oven for 15 to 30 minutes. Delicious!
PS - If you think this is a repeat from my old Marie's Muses Blog on AOL, you would be right. It is, but then again . . . I did work all night so I hope you don't mind! I'm off to bed now to catch some zzz's! Have a great day everyone!