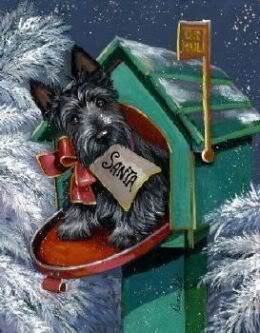 I really didn't think I was going to be able to get around to making this week's
T
uesdays With Dorie
Challenge, Real Butterscotch Pudding on page 386 , as chosen by Donna of
Spatulas, Corkscrews & Suitcases
. This is a busy week for me, well, for everyone really. I had decided to brave the shops yesterday afternoon instead of cooking. Over here braving the shops at Christmas is a real chore. I think everyone waits til the last minute to do any kind of food shopping. One can hardly blame them, as it's nice to have really fresh veg and stuff for Christmas. I don't ever remember it being as bad as it is here, back in Canada. Todd had gone into town earlier in the day yesterday to put some money into the bank, and when he came home he told me . . . "They're queueing up to get into the Waitrose parking lot all the way down the main street." That's when I decided that shopping would have to wait . . . and I'd have enough time to do the pudding. I may be nuts, but I'm not crazy . . .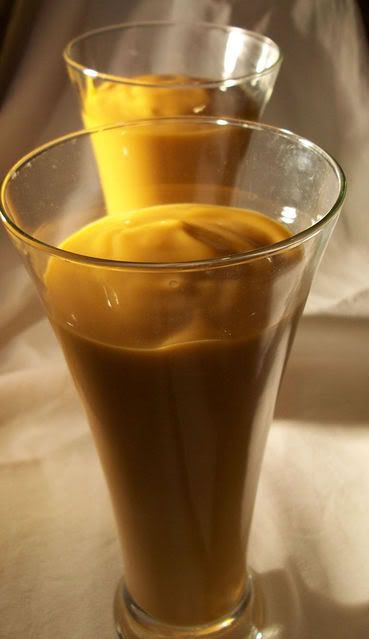 I have always loved butterscotch anything. My dad used to keep a little tub of butterscotch wafers in his top dresser drawer. Every once in a while I used to like to go into my parents room when nobody was looking or paying attention. I'd stand there and I'd slowly pull the drawer open, quietly as I could, and I would just crack the lid of these butterscotch wafers open and sniff for a few minutes, and sniff and sniff and sniff. I was very good . . . though . . . I never took one . . . well, shhh . . . hardly ever anyways . . .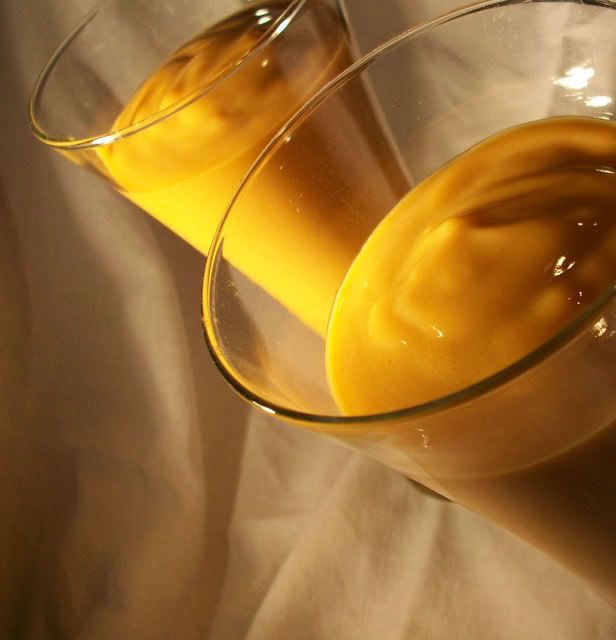 Dorie, Dorie, Dorie . . . you have to stop doing this to me!!! Every single recipe that I have baked out of your lovely book,
Baking, from my home to yours
, has been totally and decadently delicious. I have loved each one thus far, and this lovely pudding was no exception. In fact, I have found a new obsession . . . but we'll get to that later!!!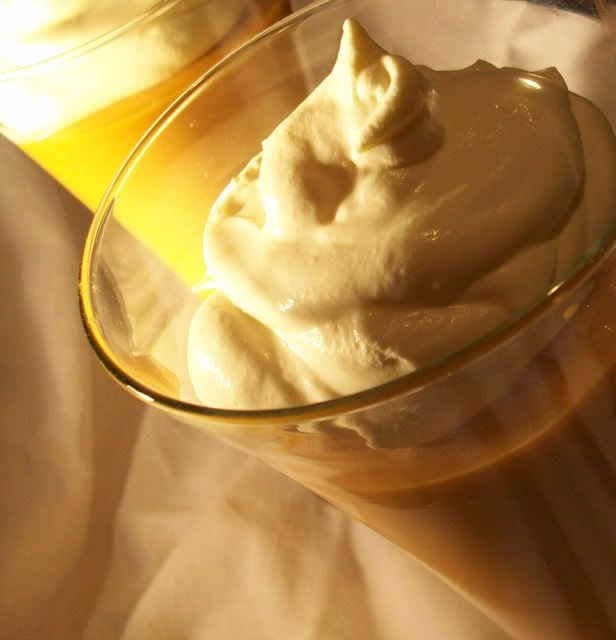 Dorie likes to make her cornstarch puddings by using a combination of her food processor and stove top heat. I have a beautiful new food processor, my old one having given up the ghost, and I don't have a problem with using it or making dirty dishes. I have a 70 year old dish washer that does a fantastic job of clearing up dishes, well, just so long as he gets to eat what I have cooked, and he always does! I love the silkiness of the pudding having been blended in the food processor, but I know a lot of the gals just used their hand mixers and or immersion blenders, which worked out just fine for them too . . . now on to my new obsession . . .
I didn't use the scotch called for in the recipe. It's just not something we have in the house, us being Mormon's and all . . . but I did use a bit of extra vanilla to make up for it, but that's not my new obsession . . . I've already been obsessed with vanilla for a long time anyways . . .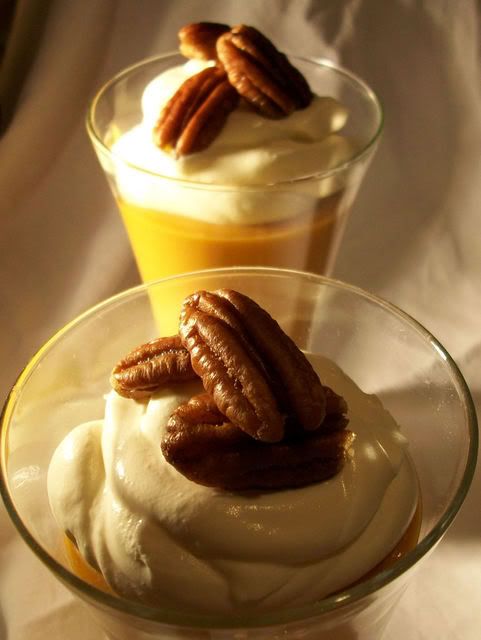 OBSESSION
= two words =
BUTTERED PECANS
!!!
When I was a kid my mom used to buy us butter pecan ice cream once in a while, but it never really twigged with me that you could actually make buttered pecans. I am not sure where I thought the buttered pecan flavour in the ice cream came from. Perhaps I thought it was magic or just a name. I have now experienced the reality of
BUTTERED PECANS
and I am in love . . . sigh . . .
Who knew that a knob of butter, a hot skillet and some nuts could create something so wonderfully and deliciously exciting and moreish???? I can tell you who knew . . . Dorie knew!!! My life will never be the same!!! If you make this pudding, and I really hope that you will, make the buttered pecans for on top. just
DO IT
! You won't be regretting it. I promise!!!
If you would like the recipe for this lovely pudding dash on over to
Donna's page
, where she is sure to have it posted. In the meantime do be sure to check out the
Tuesday's With Dorie Blog Roll
to see what the other members have been up to . . . duckie, I hear there's pie!! Next week's recipe will be Tall and Creamy Cheesecake on pages 235-237, as chosen by Anne of
AnneStrawberry
. Oh goodie!!! Just in time for New Years Eve!!!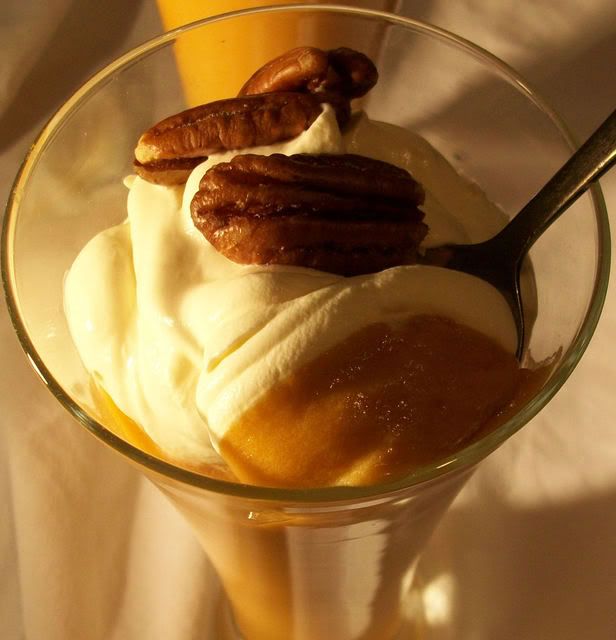 Psst . . . you know you really should buy this book. It's fabulous, not a dud in the bunch.
Baking, From My Home To Yours
by
Dorie Greenspan
. Well worth it's weight in gold, and let me tell you now, it's a very heavy book!!!
Tommorrow . . . Herb and Sausagemeat Stuffing, just in time for Christmas. (You will need, soft breadcrumbs, a good quality sausagemeat, fresh sage, thyme, onions and streaky bacon)