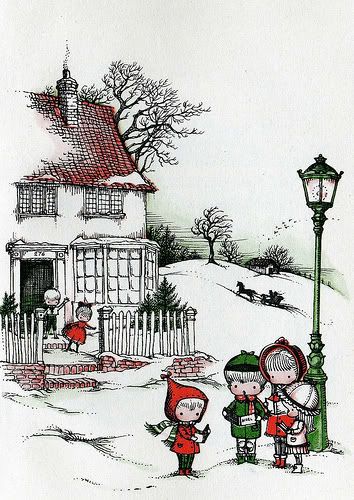 In all the hustle and bustle that surrounds us during the Christmas season it is easy to forget what Christmas is all about. Christmas is really a time to celebrate the greatest gift ever given us in the birth of the Christ Child, and to take time out of our frantically busy lives to re-enforce our family and social bonds. It's not meant to be a time of craziness and hectic activity. There are really only a few things that truly matter, the rest is not really all that important, so relax and enjoy and let's put a few things into perspective . . .
Christmas Family Motto's
1. Reach Out To Others
It's not always possible to have all your family members or friends to be with you at Christmas for one reason or another. My own family is across the ocean in Canada and it has been 10 years since I have been able to spend Christmas with any of them. It would be really easy to feel alone and homesick for them at this time of year. The way I combat that feeling is to reach out to others. I have my Todd and our Jess, of course, but each year we try to share our Christmas lunch with other people that we know are in the same boat as us. Todd has children over here of course, but for various reasons (read D I V O R C E) they have nothing to do with him and so it can be quite a lonely time for him as well. We do have each other and that is pretty wonderful, but it's nice to be able to reach out and share that love with others as well. If doing that is not a possibility then why not consider going to the Salvation Army and helping them to prepare and deliver the meals that they put on for many homeless and lost people on Christmas Day. The best way to find yourself and start truly living your life is to begin to give it away, and that is done through service . . .
2. Appreciate what you have
This is the perfect time of year to sit down and reflect on all the blessings that have come your way over the past twelve months and the moments you have truly enjoyed, moments that have brought you pleasure , or taught you new things about yourself. It's easy to look at others who appear have a lot more than we have and to feel deprived or hard done by, but the truth is we, each one of us have things that are worth far more than anything we can hold in our hands. If we are healthy. If we are loved. If we have shelter over our heads and clothes on our backs. If we are warm and fed . . . the rest is only the icing on the cake.
3. Appreciate who you have

He may not be Brad Pitt or George Clooney, but he's mine and he loves me, and I love him. Jess may be furry and not a child, but she's the most loyal and faithful companion anyone could ever ask for in a pet. We have wonderful friends both in real life and invisible blogging friends. This is the perfect time of year to let those you know how grateful you are to have their presence in your life. Take a few moments to let them know how much they mean to you. Tis the gift that keeps on giving . . .
4. Think Harmony
It's quite easy to take little things that are said in the wrong context and to respond in a like manner. This is the time of the year to give the benefit of the doubt to others and to respond to what you hear, not to what you imagine is being said or done. Peace on earth and good will towards man and all that . . . when your Auntie Sheila asks you how you are, she really wants to know how you are . . . it does not mean she is taking a jibe at the fact that you still aren't married or whatever . . . It is a lot easier and healthier to think well of others than to think the worst! Be the bigger person. Lay down your slings and arrows.
Think
L-O-V-E
.
Even in the trenches during the first world war they stopped on Christmas Eve to sing Silent Night together . . . no longer enemies, if only for a moment.
5. Appreciate Yourself

Take a few moments to pamper yourself, as selfish as it may seem. Take a candle lit bubble bath. Go into a quiet corner and just close your eyes and think about all that is good about you. Book a manicure or a pedicure, or both! Crack open a package of smoked salmon and a mini bottle of bubbly and put on your favourite Christmas movie, lay back and watch and enjoy . . . either alone or with someone you love. Give yourself a foot bath. Fill a basin with some Epsom salts and warm water and then plunge your feet in for 15 minutes or so. Add a few large marbles or pebbles to massage the tender areas of your feet.
R-E-L-A-X

This is the season of
JOY
. Grab all that you can.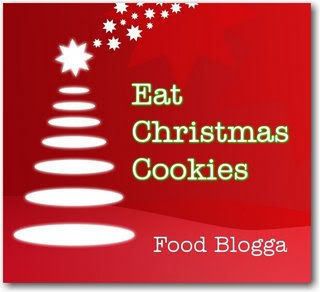 I spent a lovely day yesterday just lounging around in my pajamas and watching cheesy movies with Todd on the Movies For Men channel. (cheesy, really cheesy, but requiring no thought and for once it didn't matter if I snoozed through most of them) I did make the pecan pie for the dinner party I am cooking for tonight and then last evening I had a mini burst of energy and made my Christmas Short breads. A good friend of mine called Leona showed me how to make these years ago and they are the easiest short breads you could ever want to make. I never make them any other way now. These are the best! Thanks Leona!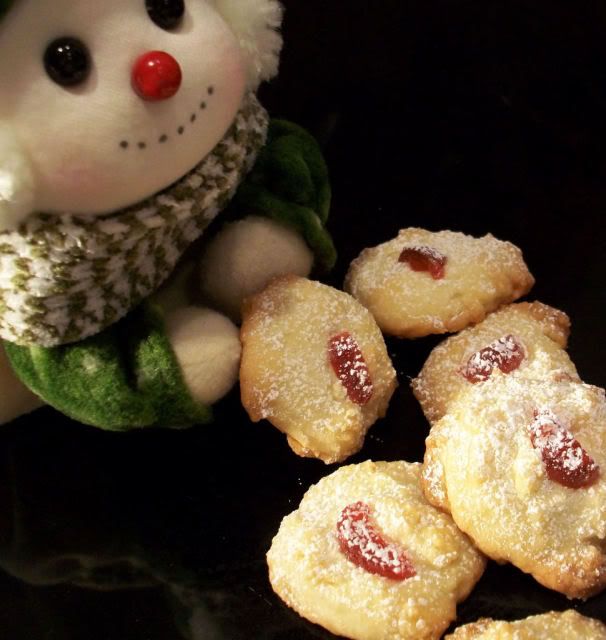 *Leona's Whipped Short breads*

Makes about 36
What can be easier than dumping everything into a bowl and then beating it together? Low on effort, but mighty big on flavour. Use the best butter that you can, these are well worth it.
1 cup butter, softened
1 1/2 cups flour
1/2 cup sifted icing sugar
To decorate:
bits of candied cherries and fruit
icing sugar to dust over the finished cookies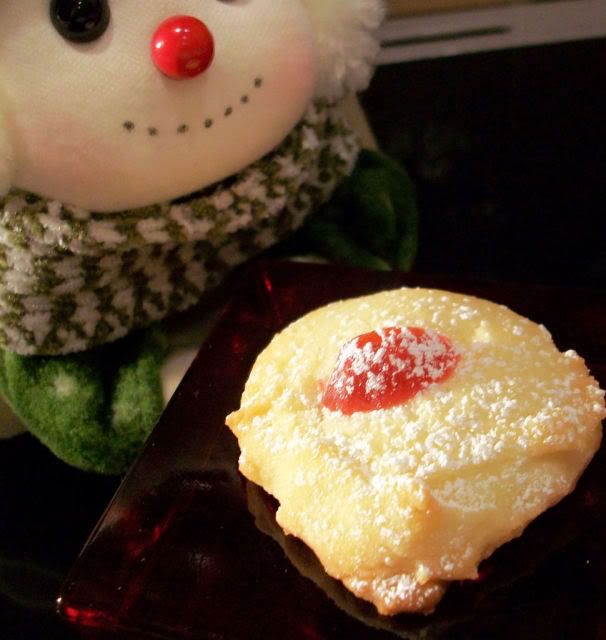 Pre-heat your oven to 180*C/350*C. Line two baking sheets with some parchment paper and set aside.
Place the butter, flour and icing sugar into a large bowl and then turn on your electric mixer. Beat for 10 minutes. At first it will seem all lumpy and you won't be able to imagine them ever being a cookie, but persevere. After a bit they turn into a lovely silky mass.
Drop by teaspoons onto the prepared baking sheets, about an inch apart. Decorate the top of each blog with a bit of candied cherry or fruit.
Bake for 15 to 17 minutes until the bottoms of the cookies are lightly browned. Remove from the oven and scoop onto wire racks to finish cooling. Dust with some icing sugar just before serving.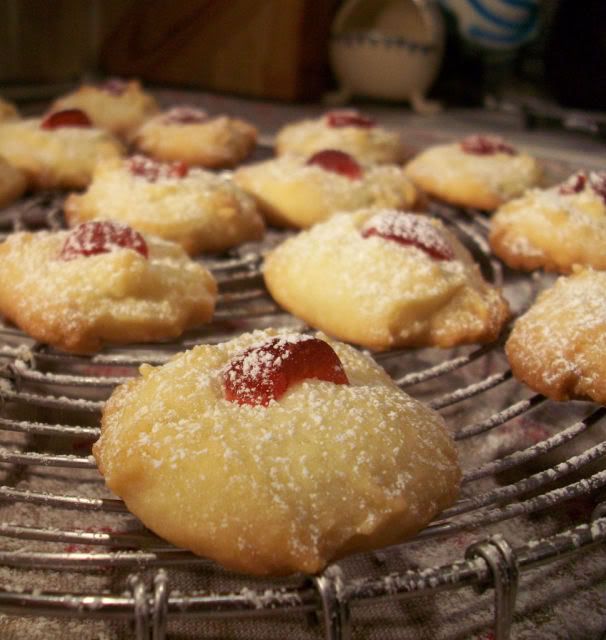 These delicious cookies are headed over to
Food Blogga's Christmas Cookie Blogging Event
. . .
Eat Christmas Cookies
. Be sure to
check it out
often as new cookies are being added every day as they are received! Why not get into the spirit of things and bake your own favourite Christmas Cookies to share!!!
Want to know what else I got up to yesterday???? Click
HERE
to find out. I know, I'm incorrigible!!!