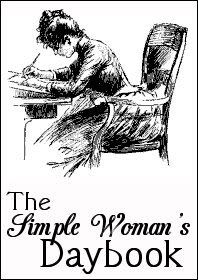 FOR TODAY, December 15, 2008 ...

Outside My Window...
All is calm and all is bright, just like in the carol Silent Night. Actually the Relief Society, a women's group in our church, sang that carol at the end of our sacrament meeting yesterday. They sang the first verse in German. The whole congregation joined them to sing the last two verses in English. It was all pretty special and wonderful.
I am thinking...
that it's hard to believe that Christmas is only a week and a half away! I still have to order my turkey!!! I am thinking I will do a turkey crown this year and stuff it. I found a lovely recipe in this month's Good Food Magazine for a Chorizo stuffing that sounds delicious. I may go with that, or I may go all traditional and have plain ordinary stuffing. Well, I am a traditionalist after all . . . so it will probably be plain! Go with what you know!
I am thankful for...
having been able to hear Michael sing in church yesterday. I toyed with the idea of not going to church yesterday, because I was just soooo very tired after having worked so late the night before. Sometimes when I work really late like that, I have a very difficult time coming home and going to sleep. My brain just doesn't seem to be able to tick over into neutral. That's what it was like for me on Saturday night, and so I didn't sleep all night. I was really tired yesterday morning, but I just could not miss Michael singing. I knew how beautiful it would be as I had heard him sing this very same song at Thanksgiving. So, I made myself go, and I am so thankful that I did. Yes, I was tired and practically dozed all the way through church, but what a blessing to have been able to hear this wonderful song sung so beautifully.
From the kitchen...
Ohh, I have so much to do this week!!! It is the week before Christmas after all! I want to bake a batch of my fudge walnut Brownies to send to a young man from our ward that is on a mission right now, to share with his companion of course! I have cookies to bake, not to mention my Make me Bake challenge which is yummy stuffing. (We'll call it a trial for Christmas day!) I still have not made my regular fruit cake and I have some goodies I want to be baking for some friends. I just love giving hand baked goodies to the people I care about at Christmas. It's too bad you all don't live closer!!!
I am wearing...
P-A-J-A-M-A-S! I have added my robe though as it's quite chilly these mornings and too cool to just sit here in my jammies and slippers!
I am creating...
I have several card orders to get ready for posting and I have a new painting I am itching to get at, perhaps this afternoon if I have the time. It's an Easter one! I just love the sketch and can't wait to put my ink and paint to it and bring it to life!
I am going...

to our work's Christmas Party tomorrow afternoon. I can't wait! Every other year I have cooked the Christmas lunch for the party, except for one year that we all went to a pub and got all disappointed! This year one of the other girls is cooking it, which is lovely and means I get to rest! Food always tastes better when someone else cooks it, don't you think? They said that they wanted me to be able to just sit back and enjoy it this year instead of having to cook it, so that was really sweet of them. You don't think they are tired of my cooking do you? I sure hope not!!! I prefer to think they just want me to have a rest!
I am reading...

I am still reading, "The Heretics Daughter", by Kathleen Kent. It's really good. I am about halfway through and it is a real page turner. I feel I have been transported back to puritan New England. I highly recommend!! I am also reading the December issue of "The Ensign", our church magazine. Very good articles this month, and yes . . . I say that every month! Actually last night we had been going to sit back and watch our Church Presidents Christmas Devotional on the computer, but we were both so tired we were in bed by 8!
I am hoping...
to hear back from Simon Elvin. I hope it's not another rejection. I shall just keep trying nevertheless, and re-sending new stuff to the companies I have already tried as well. Sooner or later they are bound to like something I have done, right? Besides the squeaky wheel gets the grease!
I am hearing...
All is quiet except for the ticking of the clock and Jess's soft little snores by my feet. I love this time of day. It changes depending on which time of the year it is. In the spring, summer and early autumn I am serenaded by the morning chorus, and the rest of the year it is silent and all I can hear is the noises a house makes, like ticking clocks and cracking seams, unless it is a stormy day of course, then there's a lot of wind and rain to listen to!
Around the house...

Amazingly enough it is pretty tidy right now! We put our Christmas Tree up on Saturday afternoon and Todd hung up some of his Christmas tat. He does like to make it look a bit like Santa's grotto and I don't mind. It would seem really bare without it I think. So all is sparkly and hung with coloured garlands. The Christmas cards are all hung on their string and waiting for more to join them. I did a really nice centre piece for my Kitchen table, which I should take a picture of to show you and tell you how I did it. It was quite simple, and involves a huge candle and some cinnamon sticks. Shhh . . . that's for another day!
One of my favorite things...

Is watching old films. I am a real classic film buff. I don't care if they are black and white, I just love them! Some of the acting can be a bit cheesy, but I love the simple values that are so prevalent in them. I especially love Micky Rooney and Judy Garland together . . . ohhh and any film with June Allison in it! I have a rare gem that is my favourite film of all time though. It's called "Our Vines Have Tender Grapes," and it stars Edward G Robinson, Agnes Moorehead and a young Margaret O'Brien. It's the story of family life in an immigrant farming community in rural Wisconsin just prior to and at the beginning of WW2. It's pure magic and the acting in it is fantastic. I could watch it over and over again and do!!! My youngest son used to love sitting in bed with me and watching it with me when he was really small . . . perhaps that is another reason why I love it so . . . coz it reminds me of special times spent with him.
A Few Plans For The Rest Of The Week...
I have nothing too out of the ordinary planned for this week. We have the Christmas Party tomorrow afternoon, and then my visiting teachers are coming tomorrow night, which I am really looking forward to. I love my visiting teachers and I really enjoy their visits. Then on Thursday night we are taking the young women around to deliver the Gingerbread Houses that we made together last week. We are taking them to some of the auxiliary leader's homes in our ward that have young children. I think they will really enjoy them! I can't wait to see the children's faces. Then on Saturday evening we are having our Christmas Scripture Study group get-together. That should be a special evening as well!
Here is picture thought I am sharing...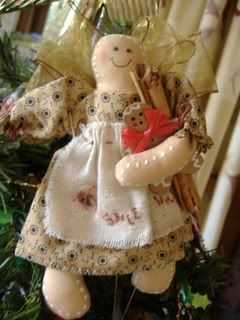 This is the angel that sits at the top of my Christmas Tree, just beneath the gold star on the top. She is a gingerbread angel I made a number of years ago. I just love her. She is holding a little cardboard gingerbread man and cinnamon stick in her arms and on her apron I embroidered the words "Spice is Nice." Her wings are made from a pretty gold wired ribbon tied up into a bow. I only ever made the one of her, so she is quite unique in every way. I kept wanting to make more, but never ever did get around to it . . .
That that's it for this week, the 15th of December! Make sure you check out some of the other Day Book entries on
The Simple Woman
. I just love to read about what's going on in the other gal's lives!
Here is a simple dish I made for Todd and I for supper one night last week. I was so busy most of the week we really only ate quick things like egg and chips, and beans on toast, but one night I did manage to throw together a proper meal for him and this is what I made.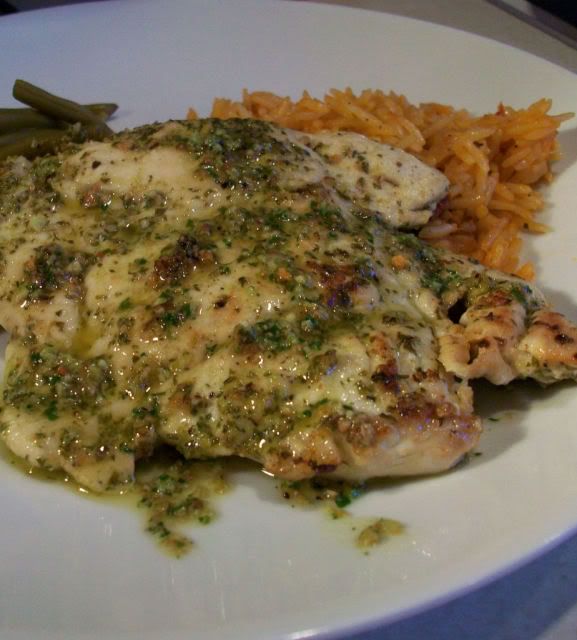 *Chicken Fillets with a Pistachio Pesto Vinaigrette*
Serves 4 to 6
I like to pound the chicken fillets thin for this dish. It makes them really tender and they cook quite quickly with a minimum of fuss. The Pistachio Pesto Vinaigrette makes for a very tasty and surprisingly easy sauce!
1/3 cup of basic vinaigrette
(see below)
1 TBS of Pistachio Pesto
(see below)
6 large skinless, boneless chicken breasts
1 lemon halved
1/4 cup more of the Pistachio Pesto
sea salt and freshly ground black pepper
olive oil spray
In a small bowl combine the vinaigrette and the TBS of pistachio pesto. Whisk together until well blended. Set aside.
Take the chicken breasts and, one at a time, place between two heavy pieces of cling film or into a heavy plastic freezer bag and then pound them using a meat mallet or a rolling pin until they are about 1/4 of an inch thick. Place them on a baking sheet and squeeze the lemon juice over them on both sides and season them well with salt and pepper. Spread each with a thin layer of the remaining pesto on both sides as well.
Heat a large nonstick skillet over medium high heat and spray lightly with some olive oil. Fry the chicken pieces, in batches, for about 2 to 3 minutes on each side, or just until cooked through.
Place on heated serving plates and spoon a little of the pesto vinaigrette over each. Serve immediately. Delicious!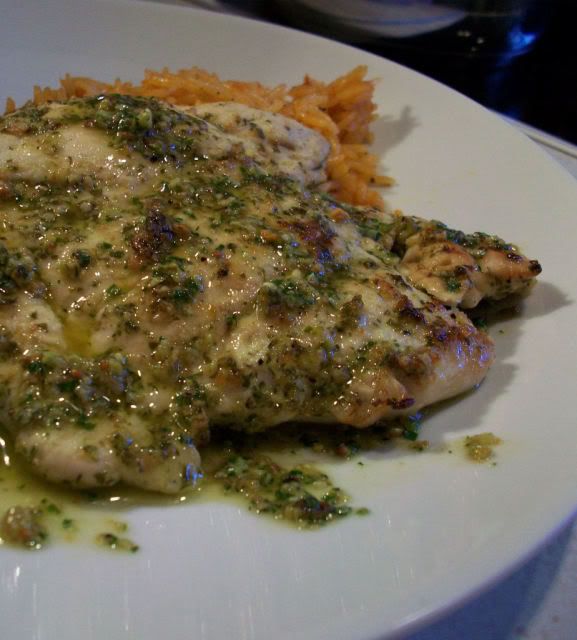 *Pistachio Pesto*
Makes about 1 1/4 cups
1/2 cup raw pistachio nuts, shelled
3 medium garlic cloves, peeled
1 1/2 cups firmly packed fresh flat leaf parsley leaves
3 TBS finely chopped fresh chives
2 TBS fresh dill weed leaves
2 TBS fresh mint leaves
Grated zest of 1 lemon
1/2 cup olive oil
freshly ground black pepper
1/4 cup freshly grated Parmesan Cheese
1/4 cup freshly grated Pecorino Romano Cheese
Toast the pistachio nuts on a small rimmed baking tray in a 180*C/350*F oven for about 5 minutes until lightly browned and fragrant. Set aside.
Put the garlic cloves into a food processor and process until minced. Add the herbs and lemon zest and process until finely chopped. Add the nuts and blitz again until the nuts are finely chopped. With the motor running add the olive oil through the hopper in a fine stream. Scrape down the sides of the bowl and blitz it again. Season with pepper and then add the cheeses and process again. Taste for seasoning. It is now ready to use.
*Basic Vinaigrette*
Makes 1 cup
1 medium shallot, peeled and finely chopped
1 garlic clove, peeled and minced
1 tsp of grainy mustard
3 TBS red wine vinegar
1 TBS fresh lemon juice
3/4 cup olive oil
salt and freshly ground black pepper to taste
Whisk together all the ingredients except for the olive oil until well blended. Slowly drizzle in the olive oil, whisking continuously until all are well blended and amalgamated. Season to taste with salt and pepper. This will keep for about a week in the fridge. Bring to room temperature and whisk well before using.