FOR TODAY, September 13th, 2016
Outside my window ...
The sun is up. I am late getting started this morning. I slept until almost six, and then got distracted going through my e-mails. I've done really well keeping them down to below 100 since the beginning of the year proving that you can indeed teach an old dog new tricks.
I am thinking ...
My elbow has been really sore since yesterday. I hope and pray that I am not getting the shingles again and that it is just residual neuralgia from when I had them before Christmas last year.
In the kitchen ...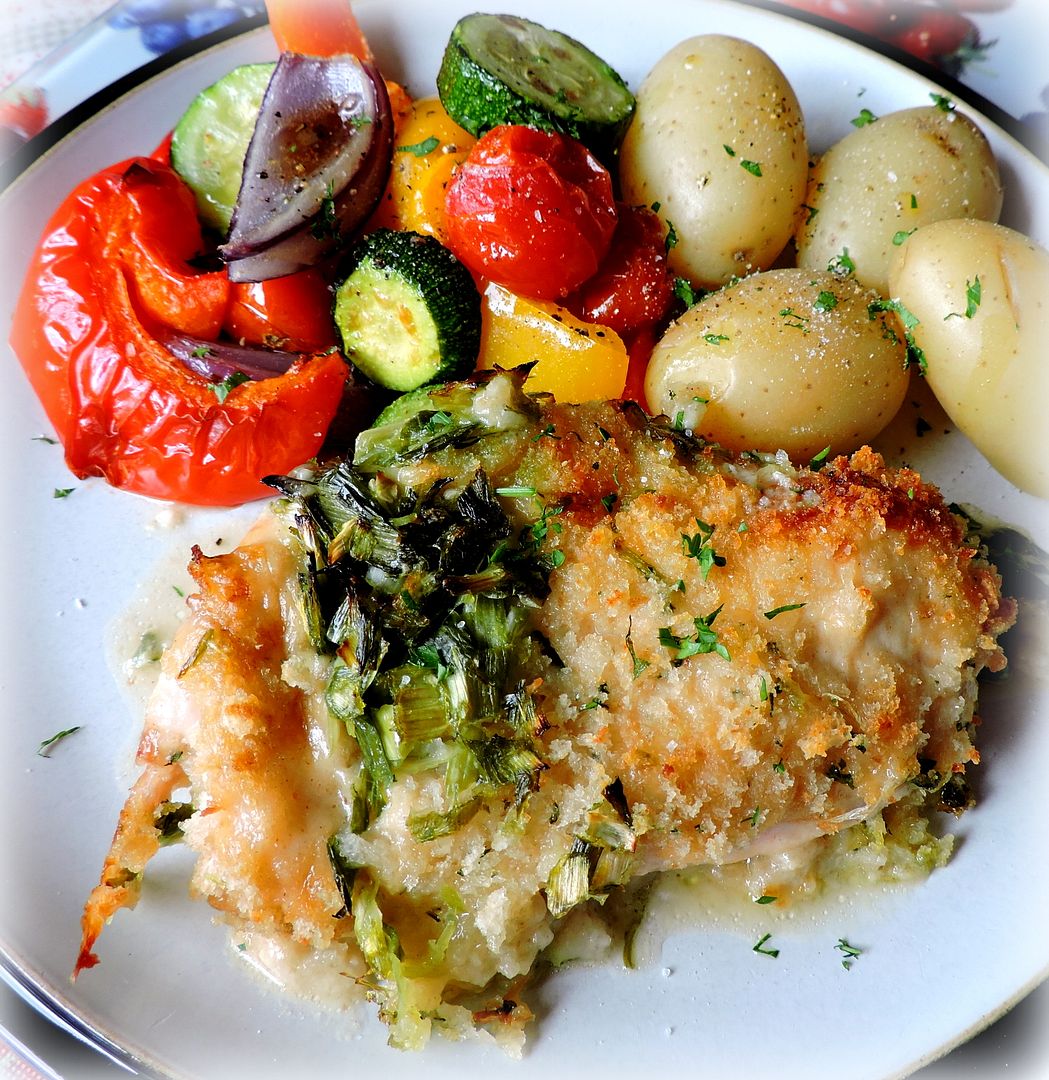 Chicken with Cheesy Leeks and Spinach.
One of those delicious things you come up with when you open the fridge door and you have chicken breasts, some leeks and a bag of spinach to work with. This was fabulous!
On my "To Cook" list ...
Easy Tomato Jam. This intrigues me. From
The Suburban Soap Box
.
Good to know ...
Mamavation Sisterhood
. Interesting article.
I am creating ...
Bought
this pattern
yesterday and I am crocheting small stockings.
I really want to make a mini album using toilet paper rolls and tags. If I could only keep Todd from throwing the toilet paper rolls away . . . sigh . . .
From G45
. I love their papers.
Holly Leaf Bunting. Again crochet. So cute.
Rainbow Holly Garland
.
From
lmagine Gnats,
a really sweet flannel hooded scarf.
From
Mollie Makes
. 20 minute tote bag tutorial.
I am reading ...
One Thousand White Women
, the Journals of May Dodd, by Jim Fergus
One Thousand White Women is the story of May Dodd and a colourful assembly of pioneer women who, under the auspices of the U.S. government, travel to the western prairies in 1875 to intermarry among the Cheyenne Indians. The covert and controversial "Brides for Indians" program, launched by the administration of Ulysses S. Grant, is intended to help assimilate the Indians into the white man's world. Toward that end May and her friends embark upon the adventure of their lifetime. Jim Fergus has so vividly depicted the American West that it is as if these diaries are a capsule in time.
I love books with historical backgrounds. This is fascinating.
I am looking forward to ...
Getting the results of my DNA test. I am on tenterhooks waiting in anticipation!
I am learning to ...
Be patient. But it ain't easy! I am a very impatient person. I can see why patience is a virtue.
Dreaming about ...
Screen doors, front porches and rocking chairs . . .
Old dirt roads leading to . . .
Serendipity . . . its a beautiful word.
Taking a trip . . . somewhere . . . somehow . . . sometime . . .
The here and the now . . .
A favourite quote for the day ...
(¯`v´¯)
`*.¸.*´Ƹ̵̡Ӝ̵̨̄Ʒ ¸. •´¸.•~♥♥♥~•.
~ ღϠ₡ღ¸. ✻´´¯`✻.¸¸.Ƹ̴Ӂ̴Ʒ. ( ¸.
❀⁀ ⋱‿✿"` * .¸.* ✻ღϠ₡ ღ¸.✻´´¯`✻.¸¸.Ƹ̴Ӂ̴Ʒ..
A time is coming when people will no longer listen to sound and wholesome teaching.
They will follow their own desires and will look for teachers who will tell them
whatever their itching ears want to hear. They will reject the truth and chase after
myths. ~1 Timothy 4:3-4
Makes me smile ...
The love between Poldark and his wife . . .
One of my favourite things ...
Autumn colours . . .
Corners of my kingdom ...
An interesting cloud I saw outside my back door early yesterday morning just as the sun was rising. It looks like a baby's foot . . . with pudgy little kissable toes . . . and then down in the lower right hand corner, the outline of a man's face with a big nose . . .
I love cloud watching.
And that's my daybook for this week!
⋱ ⋮ ⋰
⋯ ◯ ⋯ Take time to enjoy the small *´¯`.¸¸.☆
⋰ ⋮ ⋱ blessings in life.*´¯`.¸¸.☆
✿¸.•*¨`*•..¸✿ ✿¸.•*¨`*•..¸✿ ✿¸.•*¨`*•..¸✿
╬♥═╬╬═♥=╬╬═♥╬╬═♥╬╬═♥=╬╬♥═╬
░░░░░░░░░░░░░ ░░░░░░░░░░░░░
Wherever you go and whatever you do, I hope there's a great day ahead of you! Don't forget!
═══════════ ღೋƸ̵̡Ӝ̵̨̄Ʒღೋ ═══════════ ⊰✿░G░O░D⊰✿⊰L░O░V░E░S⊰✿⊰░Y░O░U░⊰✿
═══════════ ღೋƸ̵̡Ӝ̵̨̄Ʒღೋ ═══════════
And I do too!