When I was a small child I used to believe in "Happily Ever After" and "Heroes on White Horses." I somehow thought that magically one day a Prince would carry me off to a future as beautiful as a magnificent palace filled with endless treasures and joys. I believed that happiness could only be found in a perfect life filled with beautiful things and pleasures . . . in a plastic bubble that nothing bad could ever touch . . . where sorrow and disappointment and pain could and would never exist.
That is the fairy tale . . . the child-like dream. Oh how very different life is than that. How grateful I am that I grew up and was able to move beyond that child-like dream and to recognise the value of "nows." How easy it would have been to miss what has been a beautiful life in waiting for my Happily Ever After and my Hero on a White horse. How easy it would have been to feel cheated in life because I never ended up rich, or famous, or beautiful, or popular, or any of a bazillion other things that some people equate with happiness.
Instead I have . . .
Loved and lost, and loved and lost and loved some more. I've had my heart broken many, many times. I've felt like true love's kiss would never ever be mine. I've disappointed and been disappointed. I've hurt and been hurt . . . but I would not change any of it, not one iota. Losses and gains are all a part of who I am and who I have become . . . of the process of becoming a better me, of learning. I would like to be able to say that I have been with my partner for thirty, or forty or someday even fifty years. That didn't happen. Instead I messed up not once but twice, only to make it right the third time around.
And my Prince didn't come charging in on a white horse . . . not any of the times . . . and my idols have had clay feet . . . but I have loved and been loved . . . and each had its pain and its value and its joys.
Forever is composed of nows . . .
Experienced mornings and days filled with feeling so nauseated that I never thought I would ever feel well again, months of sleepness nights where I could not find a comfortable position to sleep in, days and weeks when just walking or doing the simplest of chores was difficult, and endured countless hours of pain and agony . . . . not once but five times . . . culminating each time in the miracle of holding a wee precious soul in my arms, with a love in my heart that swept away all of the nausea, sleeplessness, uncomfortable days, difficulties and pains . . . all to be forgotten in an instant. All forgotten in a heart so filled with love that it could almost break open with the fullness and the wonder of it all.
Forever is composed of nows . . .
I've had cakes fall and I've had cakes rise. I've experienced loss and defeat . . . the sadness of having dreams broken and never coming to fruition . . . failure . . . sorrow . . . the pain of the loss of loved ones dear. In fact, a great deal of my life has been a struggle in one way or another. I've never not had to worry about bills being paid . . . had to rely on a 10p car to get me here and there. For most of my life I have not had anything that is new, only used. But I have had a car, and a bed and a television, new or not . . . and I have never been homeless, or hungry, or truly cold, or truly without any of the basic necessities of life. I have learned the value of wanting what you already have versus the value of having what you want . . . and wanting what you already have is infinitely more valuable. It is a gift.
Forever is composed of nows . . .
I've tripped through fields of buttercups . . . peered through the magical mists of fog dampened mornings . . . smelt the wonder of "after rain" in the air . . . caught and tasted precious snowflakes on my tongue . . . felt the beauty and warmth of a sunny day on my cheeks and brow . . . experienced the crunch of acorns beneath walking feet . . . sniffed furry toes scented of popcorn, been just hungry enough to appreciate what's been put in front of me, and a myriad of other wonders that some might take for granted, but for which I have blessedly been able to see and value for what they really are . . . the mystical moments of "Now."
Forever
IS
composed of nows . . .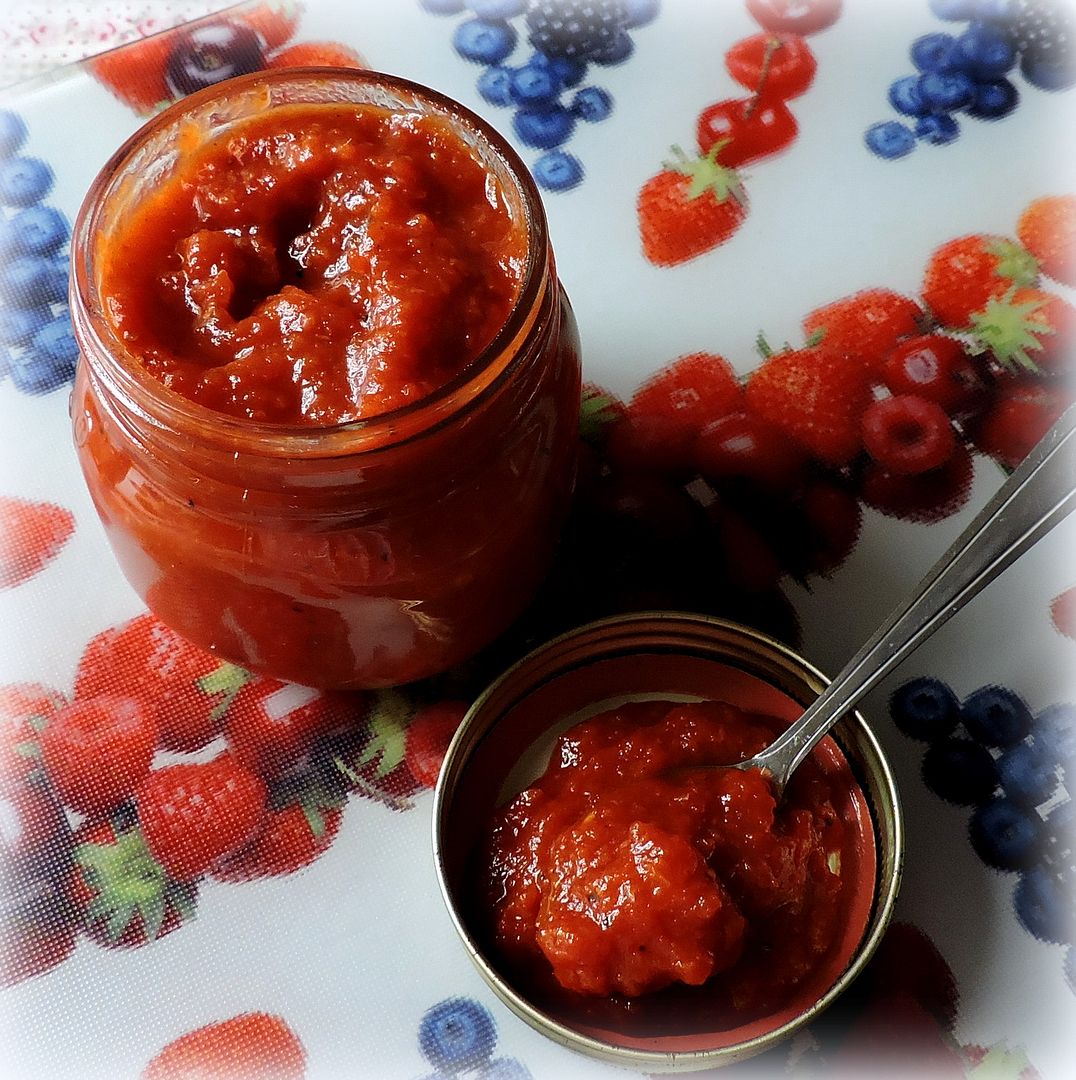 Cooking in The English Kitchen today . . .
Tomato Jam
. Not made from fresh garden tomatoes this time around, there were too few, but delicious all the same.
I've gotten up about an hour later than usual these past few mornings, proving that it is indeed the light of day which wakes me up more than anything, but leaving me with less time to write. I must be about my day and you must be about yours . . . . wherever you go and whatever you get up to don't forget!
═══════════ ღೋƸ̵̡Ӝ̵̨̄Ʒღೋ ═══════════ ⊰✿░G░O░D⊰✿⊰L░O░V░E░S⊰✿⊰░Y░O░U░⊰✿
═══════════ ღೋƸ̵̡Ӝ̵̨̄Ʒღೋ ═══════════
And I do too!