I am sure that I have told you before, but here I go again . . . I have the most vivid dreams when I sleep. I dream in colour and great detail. They're pretty amazing dreams.
Last night I had a particularly vivid one. I wish I knew what it meant. (I think our dreams can tell us things if we let them.) In my dream there was this man, and he was a nice man. He was wearing Harry Potter glasses. He handed me a thick envelope which was stuffed to overflowing with things. I started to look at what was in the envelope and it was pages and pages of writing, in a beautiful script, mostly in pencil upon lined pages. The pages were a pale yellow in colour and there were instructions on the pages, such as catch this train at this place at this time and go visit this. And I said to him, but I don't have the money to do this and he said, don't worry it is all covered. Every single trip etc. on every page, every event, etc. is covered. You won't have to pay for any of it. Just go and do it. Its a gift. Just remember to tell people about it.
In the dream I felt like all my Christmas's had come at once. Totally amazed and just like you would feel if you had won the lottery. It was just a wonderful feeling, and then as I investigated the envelope more in depth I learned about the man who had given me the envelope and his history and the history of this gift, but I cannot remember now exactly what that was . . . but I can still see the writing and I can see a photo that was in the envelope of a figurine of a woman looking up towards a large face that was leaning down from the heavens and they were touching lips.
And then I was in my house and my youngest daughter had left a pot on to boil, she was boiling an egg and she hadn't gone to school and I turned off the stove and my oldest and middle sons came running in and they had a gift for me, a frog . . . it was all knobbly and olive green in colour and I remember feeling a big horrifed that they had brought it into the house and left it on my rug . . . then it hopped over and crawled into a crack underneath the front window, but I could see it in there looking out. Then I woke up.
See . . . vivid. I almost didn't want to wake up, but I did.
I wonder if this has anything to do with watching Game of Thrones before I went to bed?
Do you have very vivid dreams and do you remember them? I can remember dreams I had when I was a girl, not a lot, but a few with great clarity. I am not sure what that says about me, if anything at all. I used to dream about bears a lot, and stair cases and flying.
I flew home on a loaf of bread once. It was a loaf of store bought bread in a bag and I was holding onto the tail end of it as it pulled me through the air flying home from the store.
Another time I dreamt that I had a certain doll and it seemed to be so real to me that when I woke up I went and looked in my toybox expecting it to be there, but . . . of course . . . it wasn't. Cue extreme disappointment here.
Here is a question one of you might be able to answer. On facebook, is it possible that you can block someone from seeing your posts and still keeping them as a friend? So that if they look at your page they will not know you aren't seeing their posts, but they will just think that you haven't posted anything new? ie. hiding your posts from someone without them knowing it?
I am just wondering. I don't want to hide my posts from anyone, but there is a family member who used to post a lot, several times a day, and all of a sudden there is nothing from them, although my feed says they have two new posts, or one new post, etc. when I go to look, there is nothing new there. It has me baffled. And then if it is possible to do that I am now thinking why would they do that to me?
Wierd. Maybe I am just being paranoid.
I best leave you with a thought for the day . . .
⊰✿⊰⊰✿⊰⊰✿⊰⊰✿⊰⊰✿⊰
Someone once asked me,
"Why do you insist on always
taking the hard road?"
I replied,
"Why do you assume I
see two roads?"
~Unknown
⊰✿⊰⊰✿⊰⊰✿⊰⊰✿⊰⊰✿⊰
Spiritual Enlightenment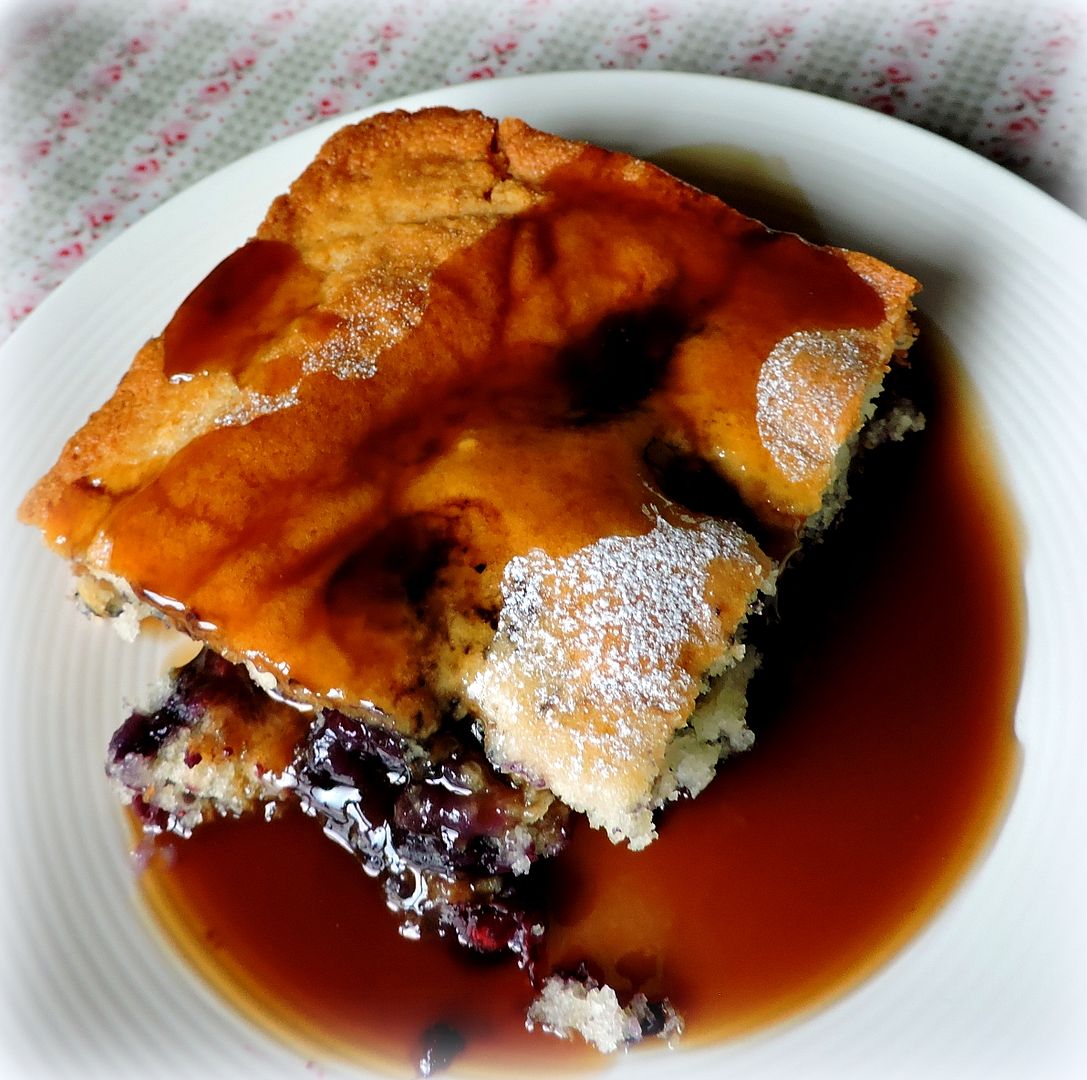 Baking in The English Kitchen today . . . .
Nan's Blueberry Cake with a Brown Sugar Sauce
. This cake is delicious served warm with the warm sauce spooned over top. You could also add a scoop of icecream for an even tastier treat.
I hope that you have a beautiful Sunday filled to overflowing with love and blessings. Don't forget . . .
═══════════ ღೋƸ̵̡Ӝ̵̨̄Ʒღೋ ═══════════ ⊰✿░G░O░D⊰✿⊰L░O░V░E░S⊰✿⊰░Y░O░U░⊰✿
═══════════ ღೋƸ̵̡Ӝ̵̨̄Ʒღೋ ═══════════
And I do too!