Like a bazillion other people I was really saddened this week to learn that Mary Berry wouldn't be moving to Channel 4 with the Great British Bake Off when it moves over there next season. I could handle Sue and Mel not going, but when an icon like Mary begs off it kind of makes me think that an era has ended. Paul Hollywood is moving with the show, but methinks it will never be the same.
I am a late comer to the GBBO. I only started watching it in earnest last year, and I am not sure why that is . . . I just never thought it was a show that would appeal to me I guess, but I was so wrong. I started watching it last season and I was hooked and wondering why I hadn't watched it before. I really hope that Channel 4 is able to do it justice, but . . . in my opinion . . . they will have to go a very long way to be able to replace Mary. She is iconic and the type of cook/person/baker I would trust with all of my baking tools, ingredients, recipes, kitchen, life . . .
Did you know that you can buy some of her desserts ready-made?? You can!
Earlier this week I spied her Mother's Bread and Butter Pudding in the grocery shop and it looked to good and I trusted her so much that I knew it would be fabulous and I just couldn't resist buying it. Todd and I enjoyed some of it last night, warm from the oven, along with the leftover peaches and custard from having had the Zone Leaders over from tea the night before. We sat there munching it while we were watching "The Time Traveler's Wife." And IT WAS THE BEST BREAD AND BUTTER PUDDING I HAVE EVER EATEN! No kidding. I don't think I could make one that good myself. Well . . . maybe I could, but this was literally the best store bought bread and butter pudding I have ever tried.
And no wonder . . . 1/5 of the box has 306 calories in it. DUH. Why did I not notice this before we ate it. We each had a third of the box. Plus custard. Plus tinned peaches.
Its a good thing that was our whole supper! On top of the Big Mac I had in town for our lunch, I think I am doomed . . . woe is me . . .
I treated myself to a new bag yesterday. I got it at Accessorize. Its a mini back pack/bag/purse. I have had a Cath Kidston handbag for several years now and while I have loved it, I have always bemoaned the fact that it is just too small for what I want to lug about. I can fit my wallet in it and that's about it. As cute as it is, it just isn't practical. I am not entirely sure this bag is the answer either, but we will see . . .
I will be able to sling it across my back if I want. The Cath Kidston one makes my lower back hurt when I am out and about. (I have a lot of lower back problems going way, way back.) Or I can just carry it by the handle if I want. Mine is a dark grey. It just might end up being a dark abyss for things to get lost in, but time will tell.
I also treated myself to a pompom key fob/ring. That shouldn't be too hard to find in a larger bag I don't think!
Besides . . . its cute. And I can't resist cute.
I quite liked Accessorize. I will have to go back sometime and have a boo around the shop when Todd isn't with me. He's a bit of a wet blanket when it comes to window shopping. I think that when I say ohh, I like this, he automatically goes into terror mode and things that because I like something I will want to buy it. Now. He doesn't quite understand the idea of browsing and liking things without wanting to buy them.
Perhaps its a man thing. I don't know.
Another thing I have been enjoying lately is The Polish Bakery Chef Polski, Sunflower Seed Bread. Its a natural sour dough bread, without any preservatives and its really very, very good. it has a lovely rye bread flavour and is just stogged full of sunflower seeds. You can hear them crackling when its in the toaster. I like it toasted with a thin layer of peanut butter spread over it. Or cheese spread. Its a bit heavy for sandwiches I would think, but in every other way, its perfect. I love it.
Something else I tried this week is these . . . and me no like-ee. Uh Uh. Bacon I would like. Ketchup I would like. Together they just don't work for me. I wanted to like them, but I didn't. I miss ketchup potato chips from home, not to mention the Dill Pickle ones and don't get me started on All Dressed. I thought these might be similar, but they just don't taste the same, close, or even good. They are kind of vinegary and it just doesn't work. You can't taste bacon, or at least I can't. Probably a good thing because I shouldn't be eating them anyways. Look at that red high fat icon on the bag. The only thing they are low in is sugar . . . with the green light.
Likewise these . . . You can't taste the cheese. The worcester sauce is far too overwhelming.
The Ham and Mustard however . . . not too bad, although I don't think they will ever replace my love for the plain old salted ones.
Yes, I am just an old fashioned girl at heart.
They also have Sausage and Brown Sauce (HP sauce), Cheese Cucumber and Salad Cream, and Roast Chicken and Mayonnaise. They call them their Sarnie (sandwich) flavours. These three appeal to me in NO way whatsoever.
What else is new this week . . . . hmmm . . . oh, the most EXCITING news ever is that on the 15th October we will be travelling up to Manchester and spending time with an Apostle of the church. Elder Russell M Nelson. We are both really pumped for that. He is 92 years old and is the President of the Quorum of the Twelve. I have always enjoyed his talks. I am really looking forward to meeting him. Bishop Gerald Causse, the presiding Bishop of the church will also be there. (I have seen him speak before when we lived down South) Also Elder Dale G Renlund, one of the newest Apostles and Elder Paul V Johnson, a member of the 70, whom I have also heard speak in person on several occasions. It promises to be a very exciting morning. We will have to be leaving here by 7 am in order to get to the Temple to be seated on time. I guess we will have to try to get the Sisters to come and stay here overnight the night before because it would mean a far too early start otherwise if we have to backtrack to Buckley to pick them up.
Good times!
Oh, and I sold one of my calendars and the recipient was
very
happy with it. That made me very happy. I guess I am far too critical of my own work. But then, I think we all are super critical of the things we do ourselves. Its what keeps us humble. In any case I was so pleased that she was pleased. I am trying to decide if I want to order more. I am thinking about it . . . by the time I give one to my mom and my dad, and to a couple of friends and a couple of kids, I have no more, in fact I would have to order a few more to do just that. We will see.
So . . . between wrecking my computer, two fish dying, (well we think two died. We could only find one, the other one completely disappeared like the shrimp the other week. Maybe we have a cannibal in the tank.), having the zone leaders for supper on Thursday (ham and cheese sliders), going to the Dentist for a check-up/clean (Look ma, no cavities) having my flu shot (and my arm is still sore and has a hard hot knot in it), Todd's cholesterol check, and all of our Missionary duties and visits, we have had a super busy week. AND its not over because we have a Baptism today and I must finish writing the talk I am giving at it.
So I will now love you and leave you with a thought for the day . . .
Today its a picture one . . .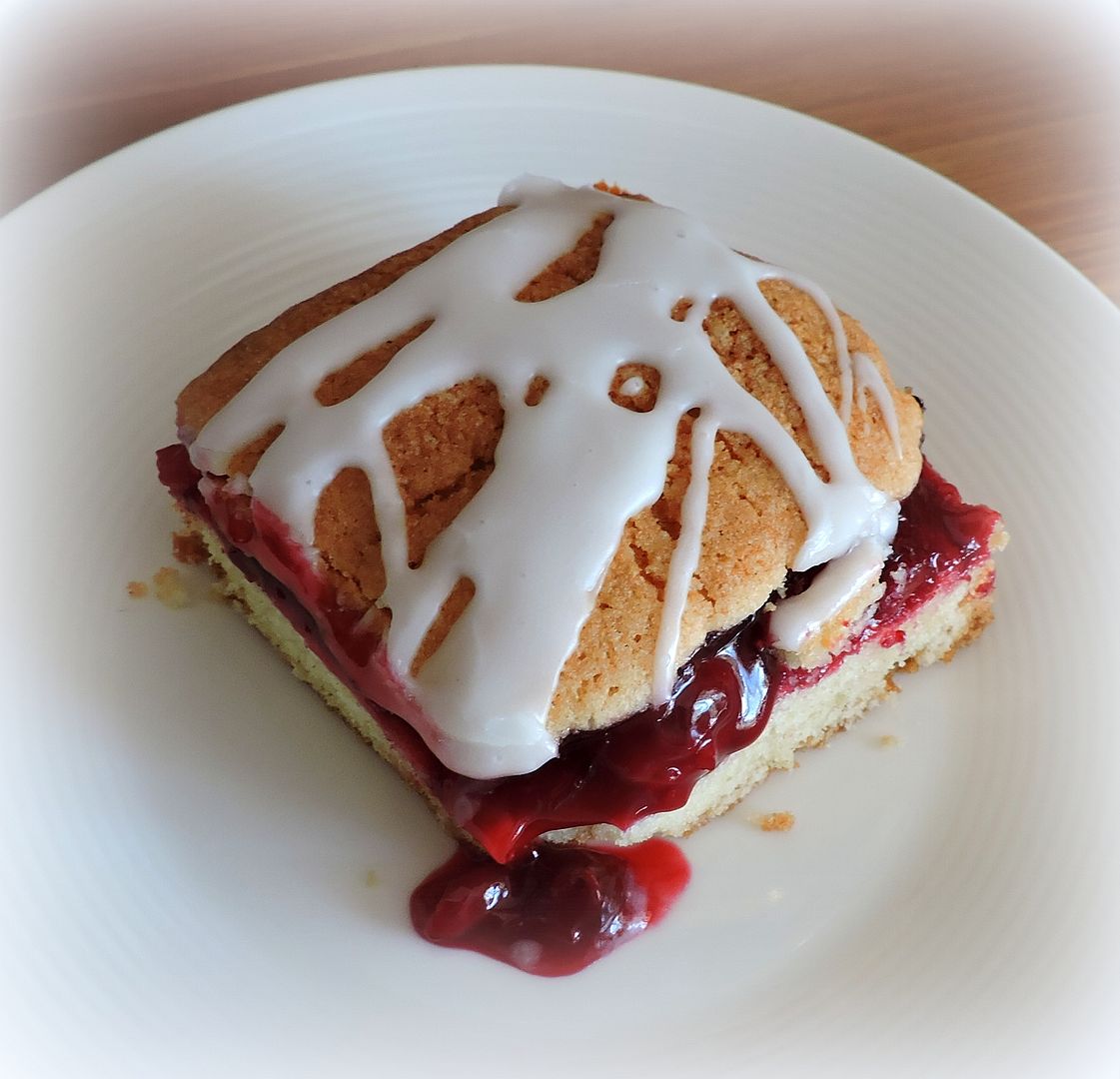 In The English Kitchen today . . .
Cherry Kuchen
, with a from scratch cherry filling. Delicious!
I hope you have a great Saturday. Whatever you get up to, please know that . . .
═══════════ ღೋƸ̵̡Ӝ̵̨̄Ʒღೋ ═══════════ ⊰✿░G░O░D⊰✿⊰L░O░V░E░S⊰✿⊰░Y░O░U░⊰✿
═══════════ ღೋƸ̵̡Ӝ̵̨̄Ʒღೋ ═══════════
And I do too!