FOR TODAY, March 15, 2016
Outside my window ...
The sun is already coming up and the sky is getting a bit lighter on the horizon. The days are noticeably lengthening now. The pond was covered with frogs again yesterday. I didn't see them, but Todd said it was pretty amazing.
I am thinking ...
My first Mother in Law, Lois, passed away yesterday at the age of 100. My oldest son is understandably upset as she was his nan. They just celebrated her 100th Birthday in February. She had been a widow for 41 years which is a very long time to be on your own. She was always very good to me. As a newly married Bride she taught me a lot about cooking and then when I had my son she was very helpful with him also. I had next to no experience with taking care of babies. He was so special to her. She was an expert cook, probably from being a farm wife for many years. There wasn't anything that she couldn't make taste good, or can . . . or put up. She grew her own veg, fruit, flowers, etc. She was a beautiful rug hooker and quilter, always making her own patterns. She inspired me craft wise as well. I learned an awful lot from her during the few years I was a member of her family. May she rest in peace.
I am thankful for ...
All of the inspiration that Lois gave me and the lessons she taught me. She was a special woman.
In the kitchen ...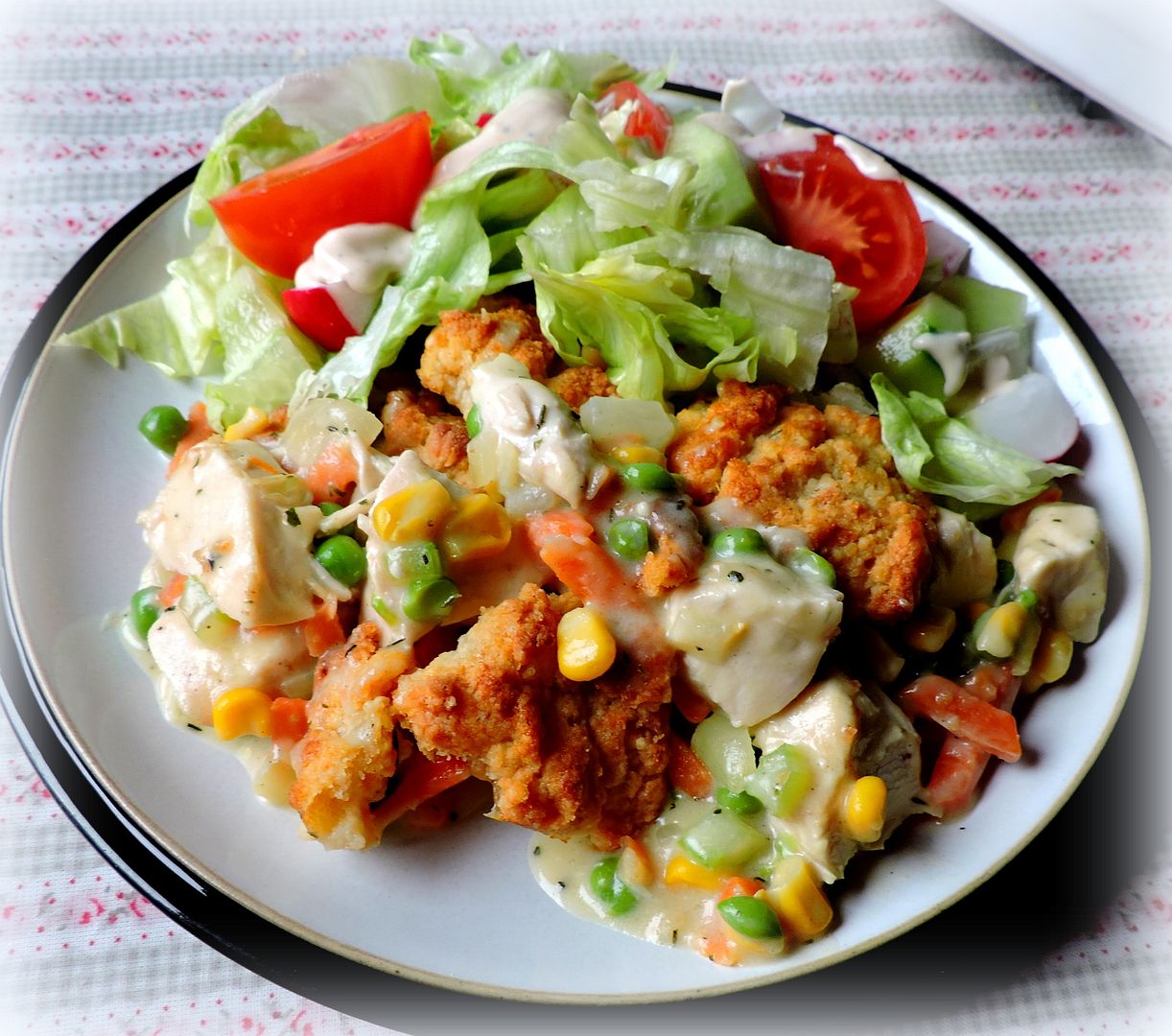 Chicken Crumble Pot Pie.
This was delicious. (I made it last week. Yesterday I simply roasted a chicken which we had with new potatoes (which I could eat peeled) and I cooked some vegetables for Todd.)
On my "To Cook" list ...
This Chicken Parmesan looks incredibly delicious. From
Chef Savvy.
I am creating ...
My tea cosy so far. I am almost done the one side and will probably start on the second side today. I like the way it is turning out. I want to do a hot water bottle cover next!
From
Dabbles and Babbles
, a DIY Polymer Clay Crochet Hook Handle Tutorial.
This little bunny doll is just the cutest thing. From
The Ardent Sparrow.
Vintage Ticket Printables from
Mulher Preciosa
.
I could not find a source for this, but isn't it cute? ADORABLE
Things to do with buttons. From
Lily Bean Paperie
.
I am reading ...
The Residence
,
Inside the Private World of The White House
, by Kate Andersen Brower
A remarkable history with elements of both In the President's Secret Service and The Butler, The Residence offers an intimate account of the service staff of the White House, from the Kennedys to the Obamas.
America's First Families are unknowable in many ways. No one has insight into their true character like the people who serve their meals and make their beds every day. Full of stories and details by turns dramatic, humorous, and heartwarming, The Residence reveals daily life in the White House as it is really lived through the voices of the maids, butlers, cooks, florists, doormen, engineers, and others who tend to the needs of the President and First Family.
These dedicated professionals maintain the six-floor mansion's 132 rooms, 35 bathrooms, 28 fireplaces, three elevators, and eight staircases, and prepare everything from hors d'oeuvres for intimate gatherings to meals served at elaborate state dinners. Over the course of the day, they gather in the lower level's basement kitchen to share stories, trade secrets, forge lifelong friendships, and sometimes even fall in love.
Combining incredible first-person anecdotes from extensive interviews with scores of White House staff members—many speaking for the first time—with archival research, Kate Andersen Brower tells their story. She reveals the intimacy between the First Family and the people who serve them, as well as tension that has shaken the staff over the decades. From the housekeeper and engineer who fell in love while serving President Reagan to Jackie Kennedy's private moment of grief with a beloved staffer after her husband's assassination to the tumultuous days surrounding President Nixon's resignation and President Clinton's impeachment battle, The Residence is full of surprising and moving details that illuminate day-to-day life at the White House.
If you are a fan of fly on the wall, biographical, historical types of books, then this is for you.
I am looking forward to ...
Getting everything over with on Thursday and putting it all behind me. NO pun intended.
I am learning ...
As much as I may think I know it all, I really don't know it all. lol Being humble. It's a good thing.
Dreaming about ...
Fabric covered buttons . . .
Bread with butter and jam . . .
Old fashioned rocking chairs . . .
Cat socks . . .
Grey and white dishes . . .
Granny Grey Hair . . . loving it.
A favourite quote for the day ...
(¯`v´¯) `*.¸.*´Ƹ̵̡Ӝ̵̨̄Ʒ ¸.
•´¸.•~♥♥♥~•.~ ღϠ₡ღ¸. ✻´´¯`✻.¸¸.Ƹ̴Ӂ̴Ʒ.
( ¸.❀⁀ ⋱‿✿"` * .¸.* ✻ღϠ₡ღ¸.✻´´¯`✻.¸¸.Ƹ̴Ӂ̴Ʒ..
Raise your words, not your voice.
It is rain that grows flowers, not thunder . . .
~Rumi
Makes me smile ...
Little mouse brooches . . .
One of my favourite things ...
Beatles Music . . .
A peek into my day ...
Whenever I see this I have to stop whatever I am doing and have a belly snuffle. I simply cannot resist . . . cheers the heart like nothing else on earth . . .
And that's my daybook for this week!
⋱ ⋮ ⋰
⋯ ◯ ⋯ Take time to enjoy the small *´¯`.¸¸.☆
⋰ ⋮ ⋱ blessings in life.*´¯`.¸¸.☆
✿¸.•*¨`*•..¸✿ ✿¸.•*¨`*•..¸✿ ✿¸.•*¨`*•..¸✿
╬♥═╬╬═♥=╬╬═♥╬╬═♥╬╬═♥=╬╬♥═╬
░░░░░░░░░░░░░ ░░░░░░░░░░░░░
Wherever you go and whatever you do, I hope there's a great day ahead of you! Don't forget!
═══════════ ღೋƸ̵̡Ӝ̵̨̄Ʒღೋ ═══════════ ⊰✿░G░O░D⊰✿⊰L░O░V░E░S⊰✿⊰░Y░O░U░⊰✿
═══════════ ღೋƸ̵̡Ӝ̵̨̄Ʒღೋ ═══════════
And I do too!!