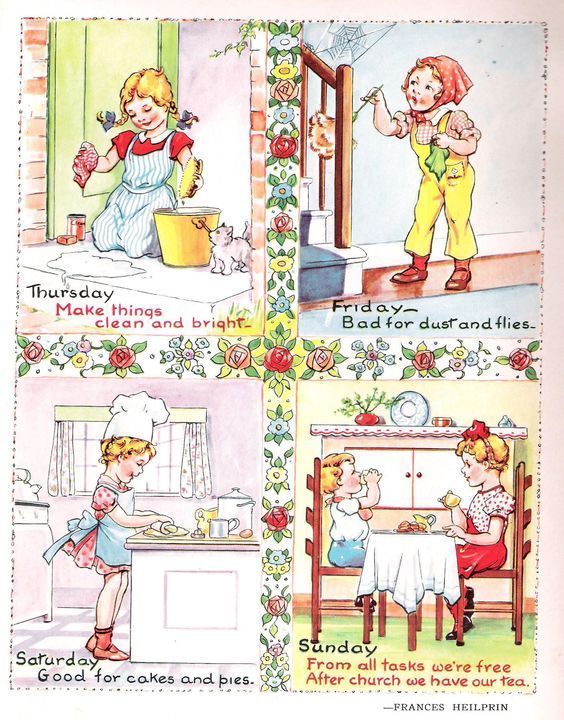 I've had a fairly quiet week this week, not wanting to go very far or do very much outside the house. On Monday I should have gone to a Time Out for Sisters at the Man South Chapel, but I did not go. Because I am on such a limited diet these past couple of days I knew that there would be too much temptation around me and also because I am a diabetic I was not sure how it would affect me to be on such a limited diet. There would be nothing worse than being far away from home and taking a spell or some such and Todd not being there . . . then yesterday there was Zone meeting in Rhyll . . . again the same fears and so we stayed home. Now today I begin my purge ('nuff said) and again I will not be moving very far from the house or one room in particular I would think . . . I even dreamt about that last night, it has been so much on my mind . . .
but here are a few things I have been doing! (Just so you know I've not been completely useless!)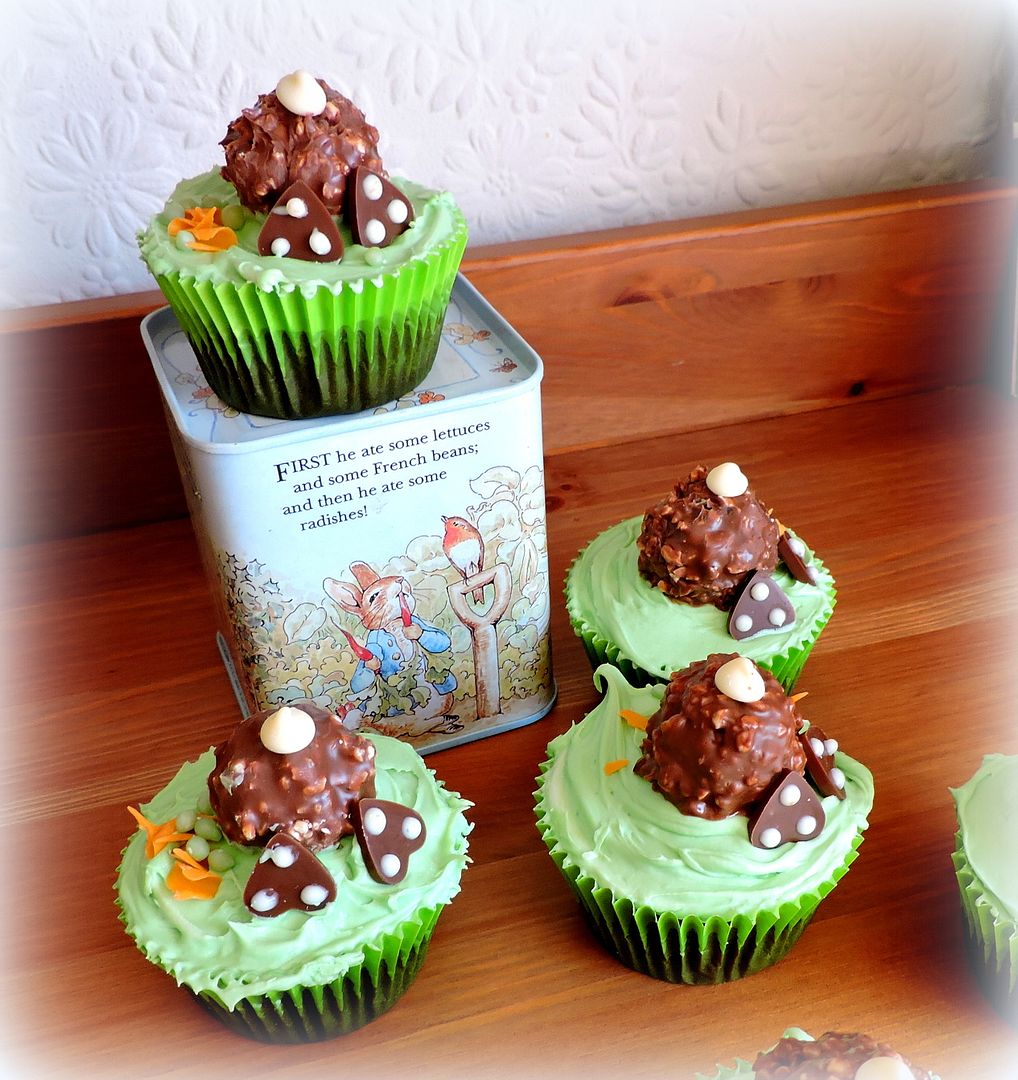 On Monday I made Bunny Bum Cupcakes. A challenge set for me by Dr. Oetker.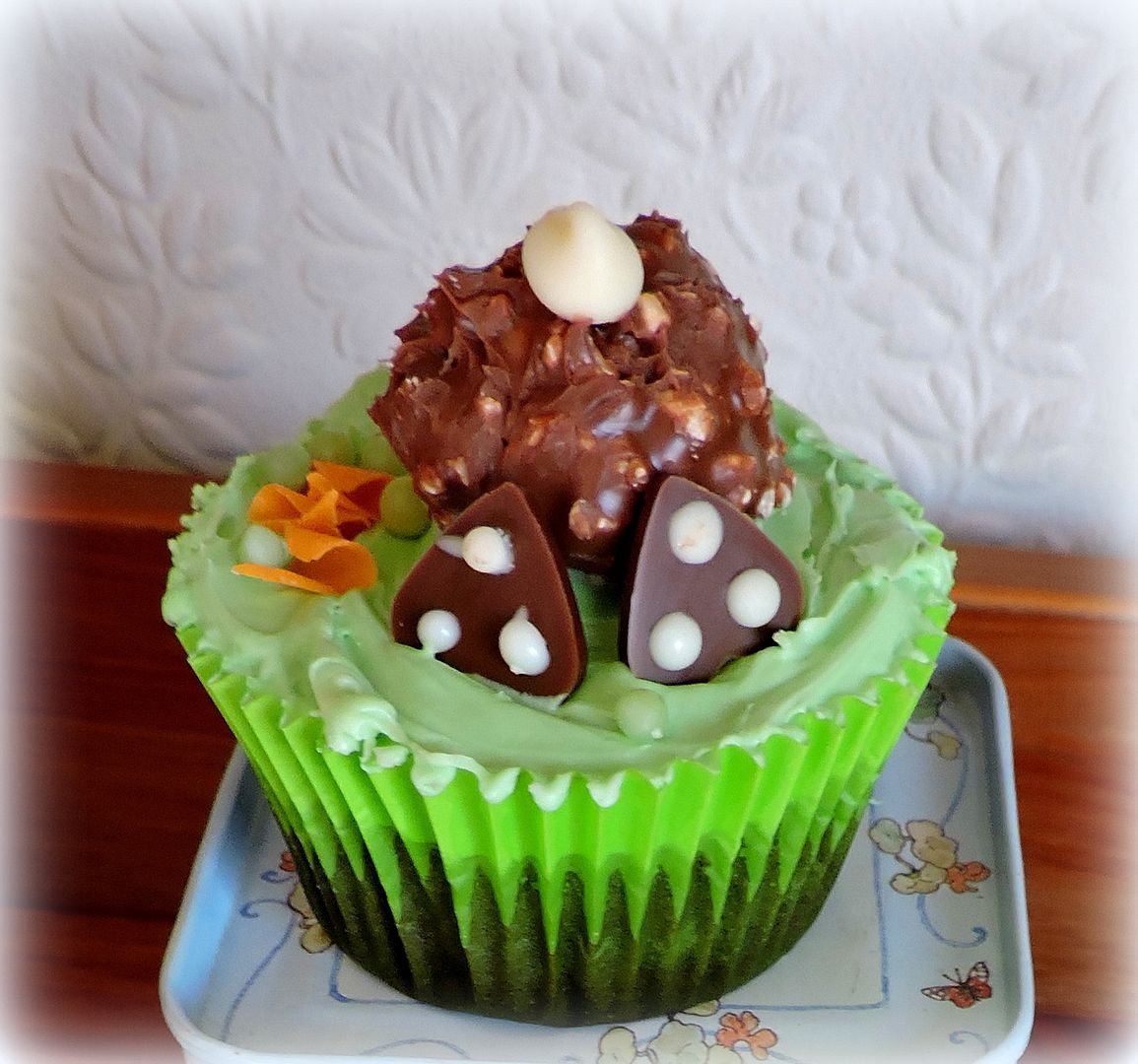 Aren't they cute? Its a bit of a riff on their own cupcakes which are similar. I used some other ingredients and methods (theirs of course) and I think came up with an even simpler way to do them That truffle is the bunny bottom, a white chocolate chip his tail, and white chocolate dotted chocolate hearts the feet. I was quite pleased with how they turned out. I sent them next door because . . . again, far too tempting to have in the house.
I have managed to finish the first side of my tea cosy and am now working on the second. I cannot wait to see it finished. I am going to top it with either a multi coloured pompom, or a big black one. What do you think I should do? I am torn between the two ideas. I think multi-coloured would be nice, but maybe it would be too much colour? Help!
I am thinking this might be my next project. A hot water bottle cover. What do you think? It looks easy enough and we do need one. Not sure what colour it will be. I do love a hot water bottle when I am not feeling well, or when I am cold. We do have a couple of wheat bags that we also use, but they are not quite the same as a hot water bottle I don't think. However I do love to throw them into the bed beneath the covers on a cold night whilst I am brushing my teeth etc. That way when I crawl into bed it is nice and cosy and warm. Almost as comforting a feeling as keeping your socks on until the last minute and then taking them off once you are in bed. Love, LOVE that feeling on my toes.
I was also thinking of making some of these egg cosies. I have quite a lot of yarn there and I can just see them in bright colours to match the tea cosy . . . I also have a lot of pretty beads etc. that I could sew on the top of them. I would not do these striped all over I don't think . . . perhaps just a black stripe on the bottom and then a solid colour all the way up . . . or maybe just a solid colour. I haven't made up my mind yet . . .
The main thing is I am enjoying having found my knitting mojo again. Have not knit in years, and none of it is very complicated . . . simple stuff I can cope with. I do not think I could manage a pair of socks or anything like that which would involve more than two needles.
Crochet is much more my area of expertise. It is a skill that my sister taught my mother and I on the sofa on a rainy afternoon back in the early 1970's, and I am not sure where she learned how to do it. I fell in love with crochet from the start and I am so grateful for my sister's tutelage. I was thinking the other day about all the things I have learned from my dear sister. Things like crochet . . . patience in sewing . . . how to make nachos . . . zucchini casserole . . . and many, many other things.
I can remember the first time I tasted her zucchini casserole. She was living in Windsor, Ontario and we were both in our 20's. It was such a simple bake and so delicious. I can still see her standing in her kitchen putting it together. I had never ever even eaten a zucchini . . . let alone cooked with one. I can't tell you the number of times I have made this delicious casserole since then. It became a family favourite with us. There is never a time I make it that I don't think of us being together and the good times spent.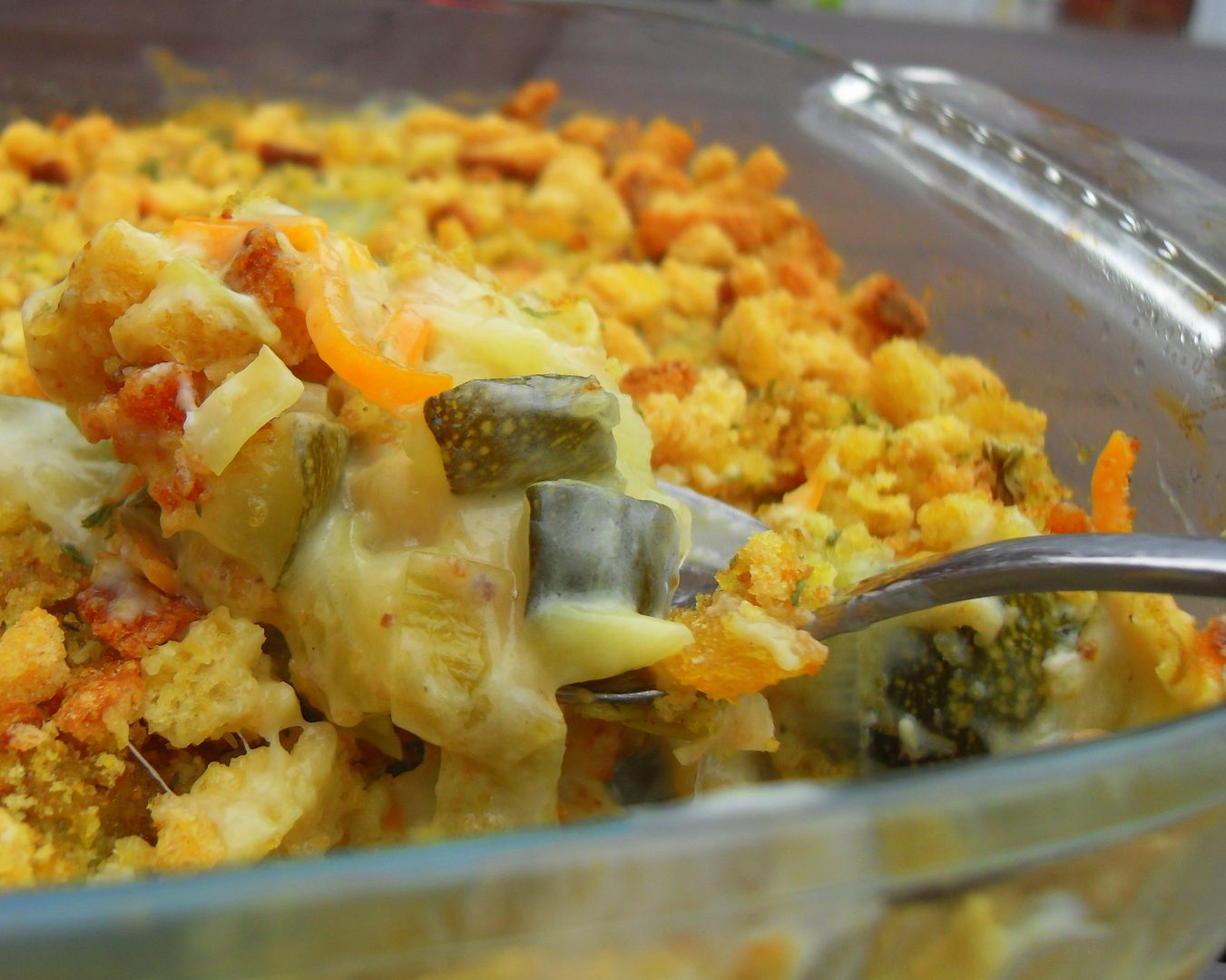 *Zucchini Casserole*
Serves 4
Printable Recipe
This tasty casserole is one of our favourites and comes in very handy this time of year when there is a glut of zucchini in the garden.
4 medium zucchini, washed, dried and sliced 1/4 inch thick
1 medium onion, peeled and thinly sliced
1 medium carrot peeled and coarsely grated
1 tin of Campbell's cream of chicken soup, undiluted
1 cup of sour cream
salt and pepper to taste
6 TBS melted butter
2 1/4 cups of bread stuffing cubes, or (In the UK)
2 1/4 cups of lightly crushed seasoned croutons (I like the herb and garlic ones)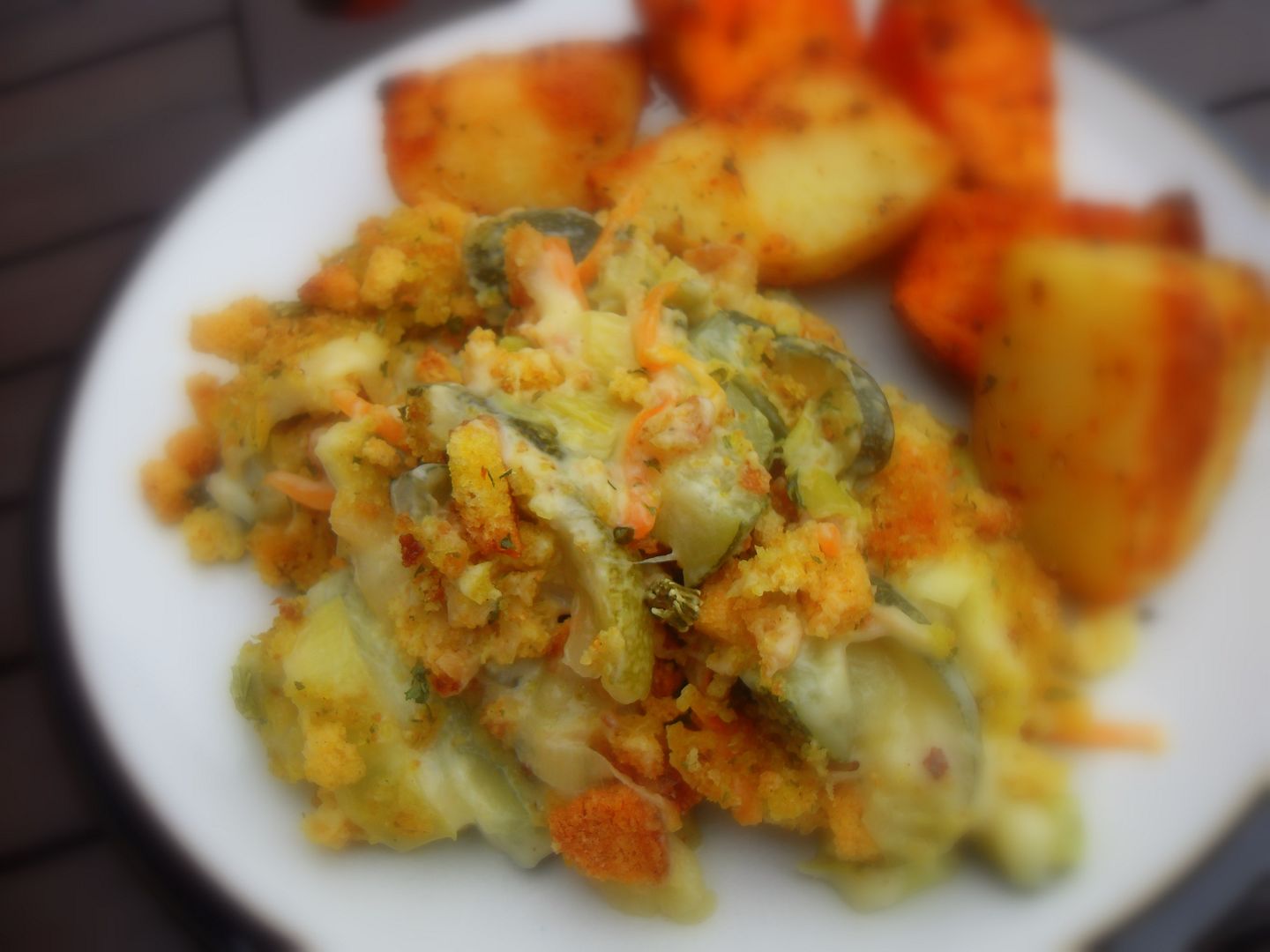 Preheat the oven to 180*C/350*F/ gas mark 4. Lightly butter a 1 litre baking dish and set aside.
Heat a large skillet on top of the stove and add a few TBS of water. Add the zucchini and lightly sauté until crispy tender. Add the onion for the last five minutes of cooking so that it gets tender as well. Drain well in a colander. Put the drained vegetables into a large bowl and mix together with the grated carrot. Stir in the cream soup and the sour cream. Season with a bit of salt and pepper to taste.
Melt the butter in a small saucepan or in the microwave. Toss with the bread stuffing cubes to coat. Layer half of the buttered crumbs in the bottom of the baking dish. Pour the zucchini mixture over top and then layer the rest of the buttered crumbs on top. Cover tightly with tinfoil and then bake it in the heated oven for approximately 45 to 50 minutes. Uncover and bake for another 10 minutes or until the zucchini is tender and the casserole is bubbly and nicely browned. Remove from the oven and let sit for about 10 minutes before serving. Delicious!
The Elders came over last night with a young woman they are teaching and we watched the film 17 Miracles together. She is such a lovely young woman. She is from a Middle Eastern Country, which one I hesitate to tell you, as quite possibly her life would be in danger if it was known that she was taking our lessons, and it is even possible that ours could be as well did it become known. I really admire the courage of this amazing woman who is willing to take such a risk to discover the truth for herself, and I truly pray that she (and we) will be safe. This is such a tender moving film, and it is based on true stories, taken from the journals of the Mormon pioneers who made the trek across American pulling handcarts to get to the Salt Lake Valley, and of the miracles they experienced along the way.
I am always so moved by their experiences. We are all Pioneers . . . we converts who take the leap to be the first in our families to join the church. We may not have to pull a handcart across a continent to get to Zion but I know first hand that it is a decision which often involves great sacrifice on the part of the convert . . . and why do we do it? Because we must. For me, there is and was no other way. I can testify however, from personal experience . . . that the sacrifices are always more than worth it. Truly.
Look what fell through our letter box. YES! Our series is now complete with the latest one as well as the Christmas Special. I love, love, LOVE this show. I love the values it espouses . . . and the era it embodies. We have over-complicated our lives methinks . . .
These are the eggs I have been using this week. They were new at the shops the other day when I was there and I could not resist picking them up. I fell in love with the box, but that is not all . . . there is an RSPCA Monitored Freedom Food stamp of approval on them. I saw the other day . . . the conditions of some of our so-called "Free-Range" egg production barns . . . and it was digusting to me that they would be called free range. If I could afford it I would have rescue hens. I cannot, but I
can
afford to buy good eggs . . . eggs that have the approval of the Royal Society for the Prevention of Cruelty to Animals. I feel good about that. And more than half of them have been double yolkers. (Is that the mark of a happy hen?) All that . . . and a cute box too!
We are going to Cornwall for a week in May with our friends Audrey and Peter. And we are taking Mitzie with us. I am so excited about that. We will take a week off from the Mission to do this. Peter stopped by yesterday to ask us if we would go with them. It will cost us nothing but our food. We said yes of course! We are quite excited about that. After all of the ill health I have experienced over these past few months, I really need a break away from it all. Cornwall is on my bucket list of places to go. The last time we went on holiday with Audrey and Peter it was to the South of France and we had a lovely time. I cannot wait. ♥
And finally on Friday when I am able to eat somewhat normally again . . . I am going to bake us some of these for the weekend. Sigh . . . .
I probably won't be here tomorrow morning as I have to be at the hospital early in the day. I'll try to pop on after all is said and done to let you know I'm okay. God willing.
A thought to carry with you through today . . .
Okay . . . I'm officially excited about it all. Can you tell?
Spiritual Enlightenment
I wish I had known then what I know now, because I would have told them . . .
There is an
Irish Meal
in The English Kitchen today . . . with soup, main and a dessert. Happy St Patricks Day! (tomorrow)
Have a fabulous Wednesday. Wherever you go and whatever you get up to, don't forget . . .
═══════════ ღೋƸ̵̡Ӝ̵̨̄Ʒღೋ ═══════════ ⊰✿░G░O░D⊰✿⊰L░O░V░E░S⊰✿⊰░Y░O░U░⊰✿
═══════════ ღೋƸ̵̡Ӝ̵̨̄Ʒღೋ ═══════════
And I do too!