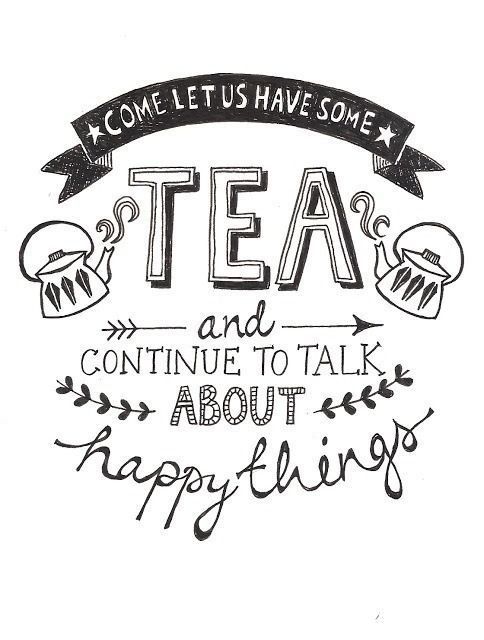 Well, what a whirlwind week I have had this past week. Nothing spectacular mind, and not one I would really want to repeat again either . . . but they do say that the best way to get through anything is to just keep putting one foot in front of the other and before you know it you are through it, and so that is just what I did.
And they (whoever they are) were right. I got through it.
Last night I had the strangest dream. I was on a journey . . . flying through the air, sharing a swing seat with my ex Mother in Law, Elizabeth. (She is still very much alive, it was the other one who passed this week.) Elizabeth and I have always been very close so it was not really strange to me that we would be together, but it was a most unsual mode of transport. I could actually feel the mist on our faces as we passed through the clouds . . . and I saw very clearly the structures on the ground . . . I could see the rust on an old water tower . . . its colour . . . and the colour of the ground. We were not afraid. We were simply on a journey. When I have vivid dreams like that I always wonder what they are about. Nothing bad I hope . . .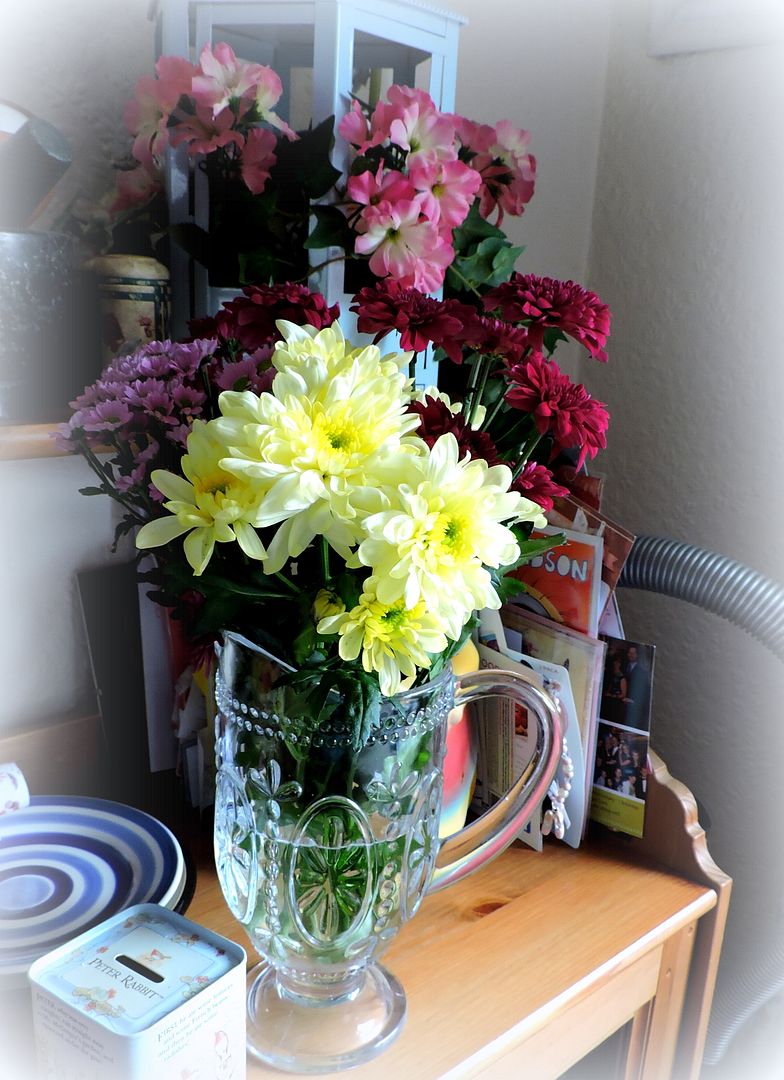 These are my "just because" flowers. (Ignore the tat in the background. I really need to put that stuff away.) They were a nice surprise from my Todd this week. He does love me, he really does. I know they meant a lot to him too, because he is not one to spend money frivolously . . . so I know I must be worth it to him. The thought of that makes me smile.
We had such a lovely day yesterday. We went in to town together. It is usually just him. He goes in on his own, and sits in a cafe, has a drink, reads his book. He says a change of scenery is as good as a holiday and so yesterday . . . I went on a holiday with him. There was really an extra bounce in my step all day through yesterday. I was out and on my way to the bus stop before you could say "Jack Rabbit."
Did you know that on the bus they now have a television screen where you can see not only ads, but also views of the bus. I saw myself sitting next to Todd on it. Probably this is a good thing, and will help to prevent any anti-social behavior.
It wasn't a really sunny day yesterday, but it wasn't raining either, so that was good. I just loved being in town and with Todd. The man was there doing his sand sculptures. He was doing a lizard yesterday, which is an improvement from his usual dog, but basically looks . . . just like his usual dog, but with scales instead of fur. "A+" for effort, however.
I always like to stop and look at the Disney Store window. Yesterday it was filled with Disney Princess outfits and I was tempted . . . but I didn't . . . I resisted . . . and then I went inside to look at the dolls. I have wanted a "Anna" doll (Frozen) for years now, but . . . so expensive. Then I saw Micky and Minnie mouse pillows and they were on sale. I said to Todd, wouldn't they be cute in the bedroom on our bed, and I was so
very
tempted to get them, but I didn't, because it would have been a
very
frivolous thing indeed, but they sure would have been cute.
I had some Birthday cards to buy and I wanted to get them in Paper Chase. I love that shop. I could spend ages in there looking around . . . and I did spend a while. I love paper as you know, and I love cards. It is my idea of a heaven shop.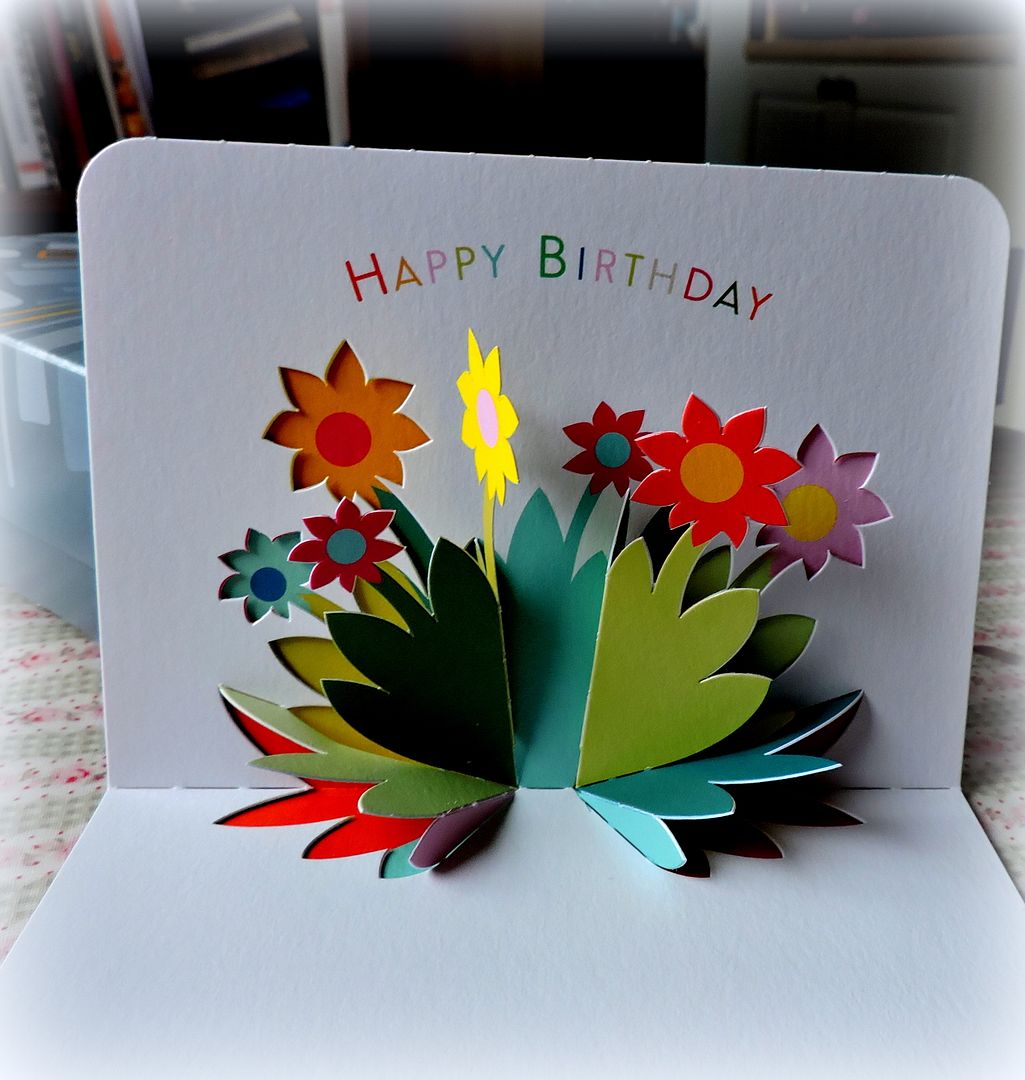 Look at this card when you open it up! It is Sister J's birthday on Monday so I picked this up for her. She and her husband are going back to America in 3 1/2 weeks, having come to the end of their mission. I will surely miss her when they leave. She has been a good friend while she has been here. They will both be missed very much by a lot of people and they've done such a wonderful job while they have been here, bringing two families back into activity. That's not an easy feat, but they did it.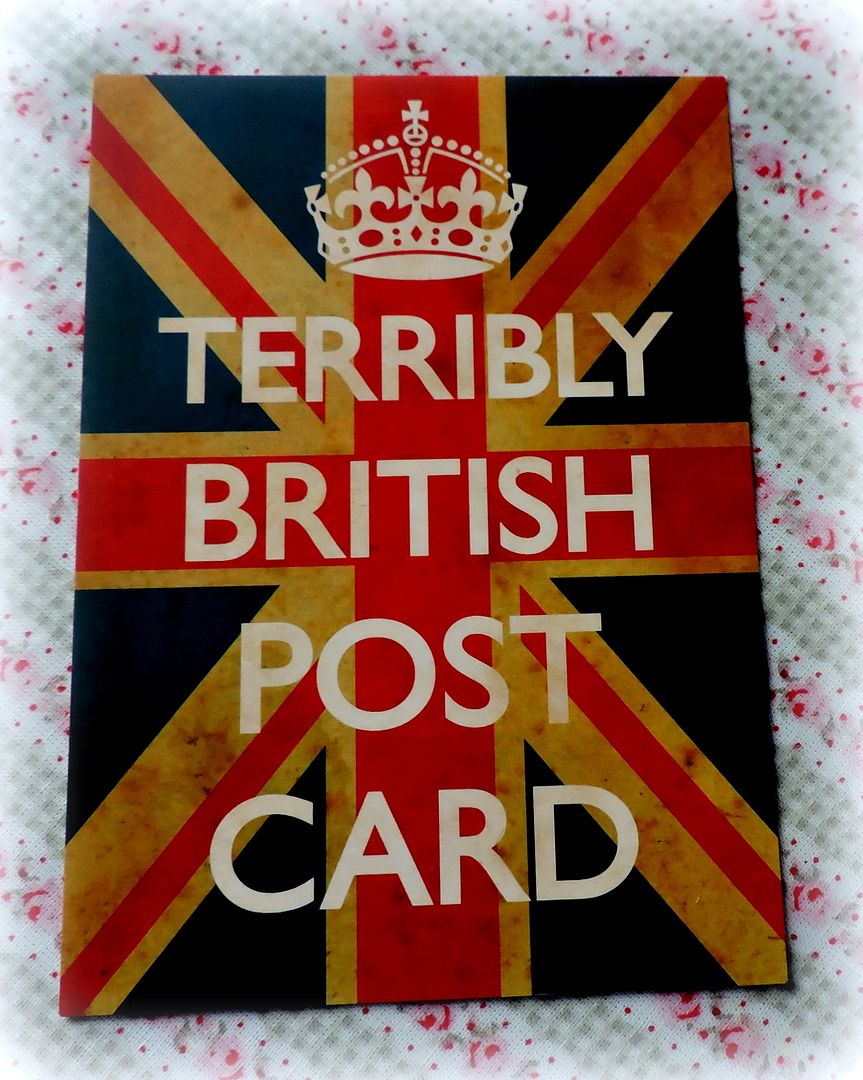 I got this post card as well . . . because it is just so terribly British. You must say that in your head with a British accent . . . "Terribly British Post Card" . . . in Lord Grantham's voice or better yet Lady Mary's. Do you get it? I love, LOVE this post card.
How could I resist!
A hot chocolate and a slice of cake in the M&S cafe. Yes please! Actually I did not have the cake, but they have completely revamped the cafe since I have been in it which was ages and ages ago. I really like the M&S cafe's. The last time we went into town we had a chocolate at BHS and it was like chocolate flavoured dishwater and cost a bomb. I said to Todd . . . did we really want chocolate flavoured dishwaster again and he said no and so we went to M&S. I had things to get there anyways. Oh, the chocolate was so tasty . . . and their hot cross buns are on two packages for £2.50 in the Food Hall. They have fabulous hot cross buns. I know you can get hot cross buns all year round these days, but I only ever buy them at Easter because to me hot cross buns and Easter go together like peas and carrots doncha know!
M&S Luxury fruited hot cross buns. The best.
I had wanted a new nightdress since before Christmas and the M&S nightdresses were on sale. (Actually there were all sorts of sales in the clothing departments) I managed to pick one up for only £7 down from £18 so that was a real bargain. I love M&S night dresses. I only ever buy theirs now. They are always really good value for money and wash like rags. And they are very well made. I can't get in to pj's. I prefer nightdresses for some reason. I always take them off before I get into bed anyways. I just sleep in my underwear. (Sorry mom!) I don't like the way night clothes pull on your arms, or gets all twisted, etc. when you are sleeping. it wakes me up.
I also wanted to cash in on their two can dine for £10 deal. I love the food from M&S (Marks and Spencers). It's always very good. I don't think you can get better in ready meals, and their two can dine for £10 deals are always excellent with a great variety of mains, sides and desserts to choose from. You can also either get a bottle of plonk or a bottle of juice. I use wine for cooking so it's always worth it to me.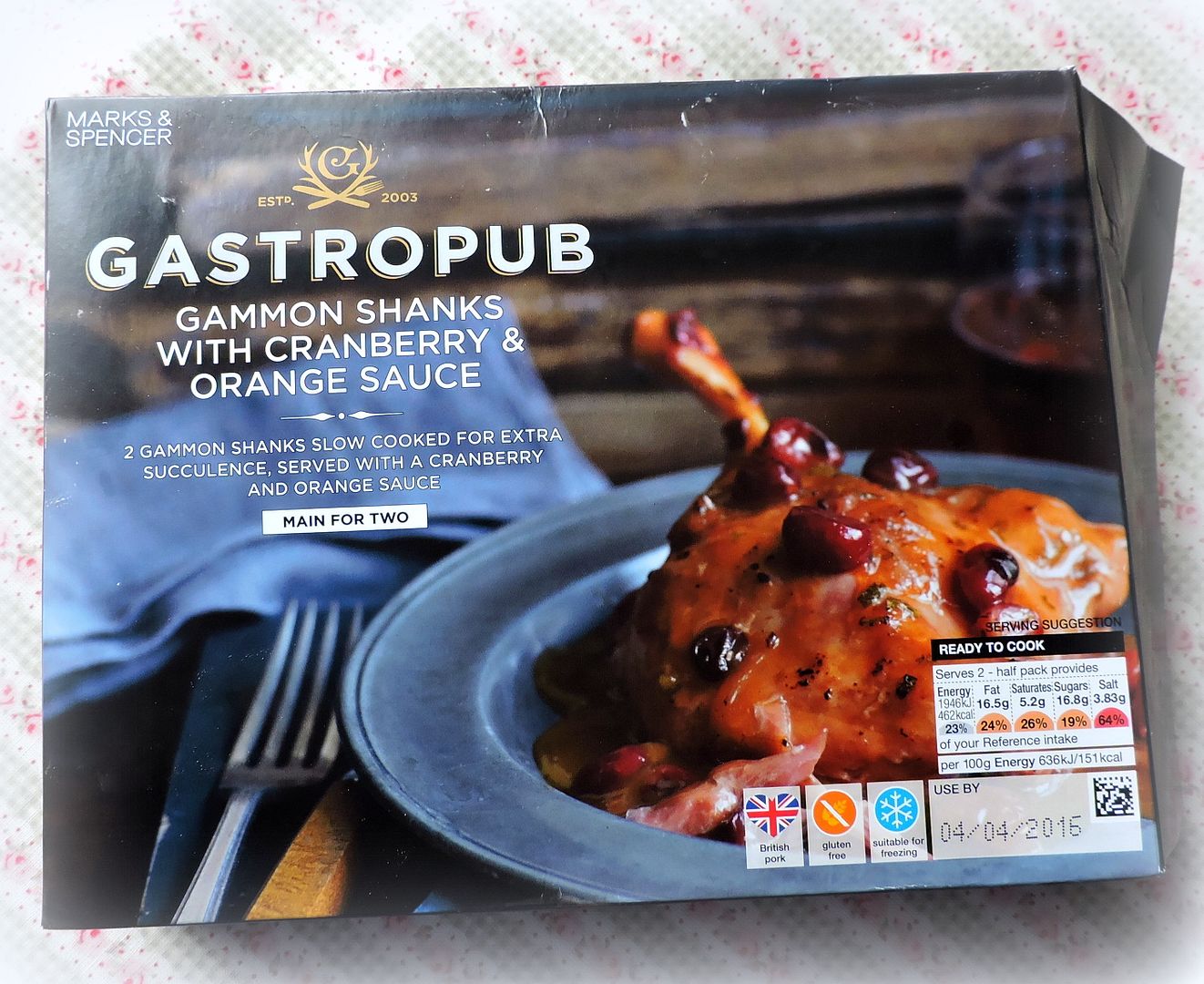 This is what I chose as our Main. Gammon Shanks with Cranberry & Orange Sauce. It looked really good. We got them and some herbed new potatoes for a side, the wine and a Timperely Rhubarb and Custard Trifle (serves 4) for the dessert. I also picked up a packet of mixed veg for on the side because, well . . . you got to have your veg don't you!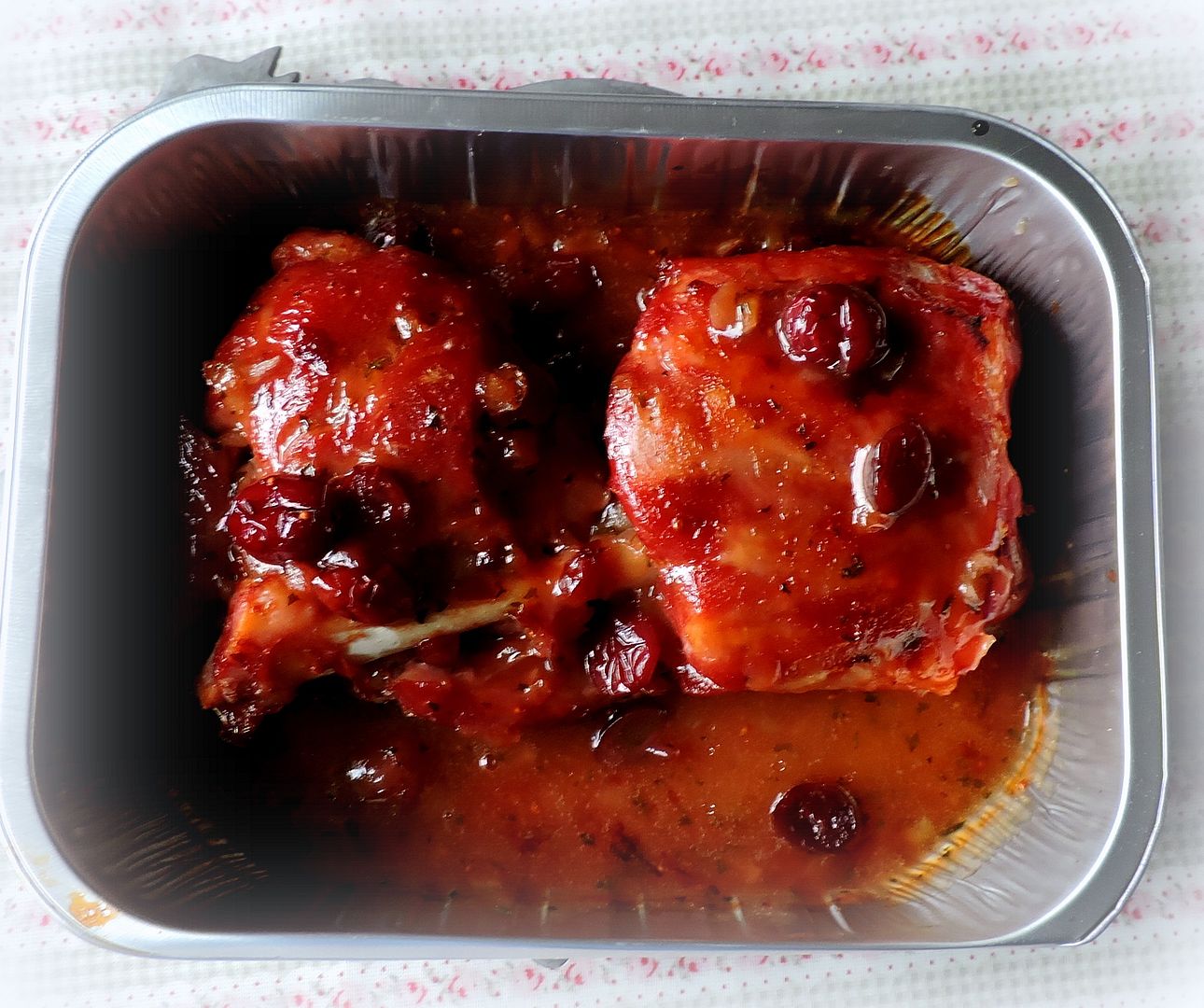 This is what they looked like out of the oven. Doesn't that look delicious! They did not disappoint!
It was a fabulous meal altogether. I couldn't finish what was on my plate. I did eat all my veg like a good girl should, but I only ate half the gammon shanks and potatoes. I didn't have any of the trifle at all, but Todd made a big dent in it. He loves trifle, and said it was very good . . . but then M&S . . . you would expect it to be good.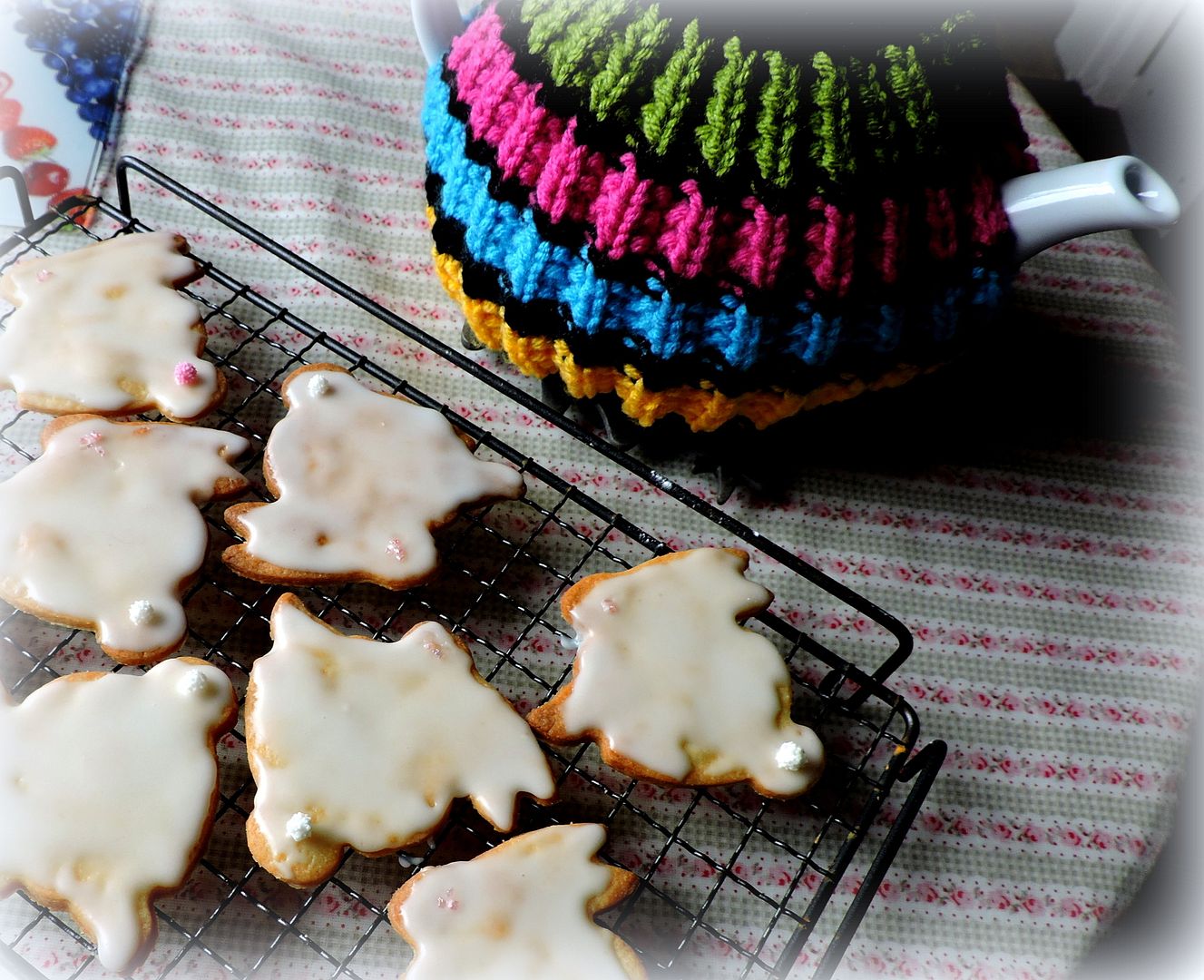 I also baked some cookies yesterday. Lemon kisses . . . and I had thought to do bunnies also, and sandwich them together with some lemon curd . . . I cut all the bunnies out, forgetting that I would need to reverse some for the bottom halves . . . so we just cut cut out bunnies, glazed and lightly decorated. Yes . . . that is my tea cosy all finito!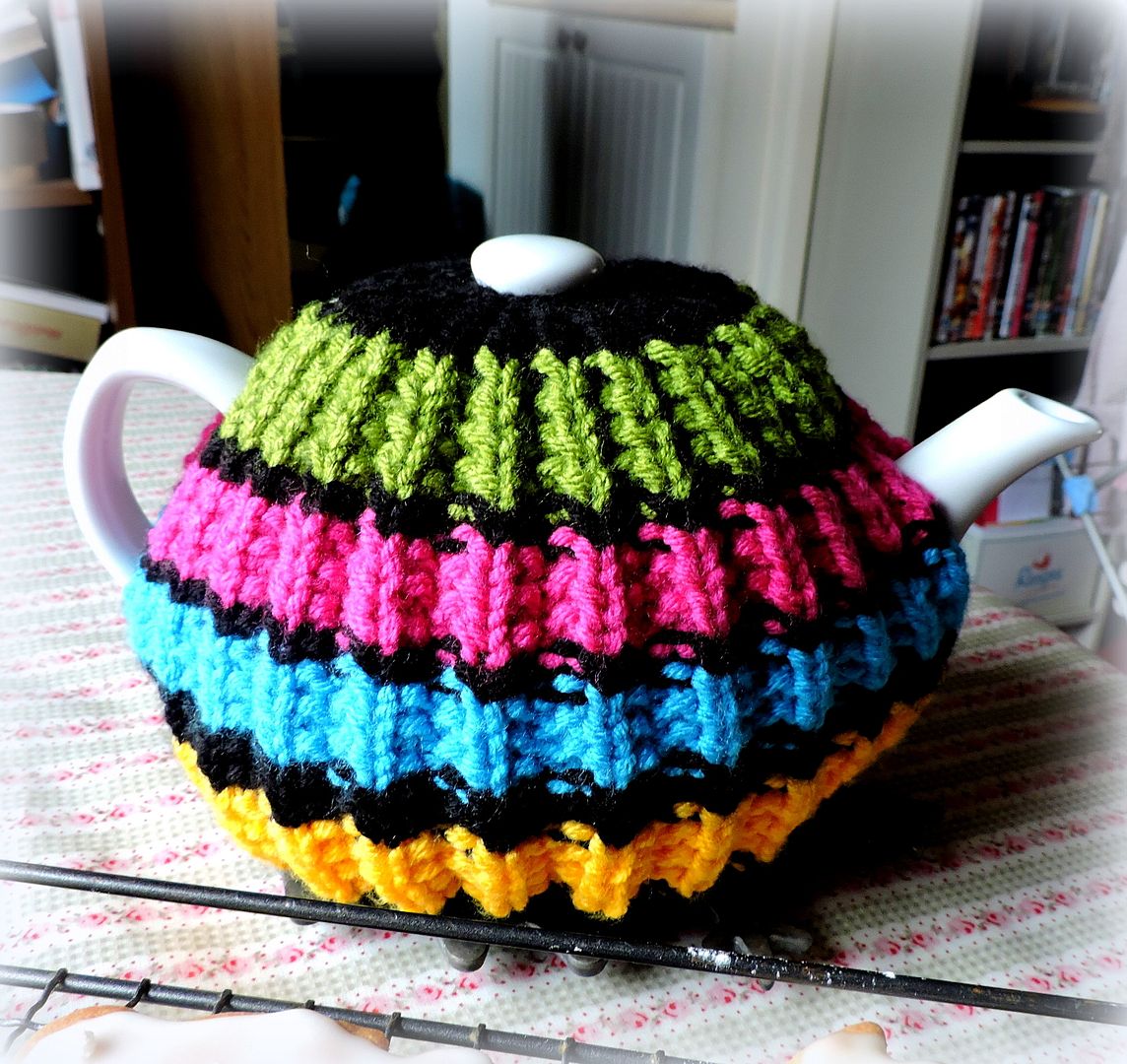 I decided not to put a pompom on top at all. I like it just as it is. Now for my next project. Haven't made my mind up yet, but you'll be the first to know.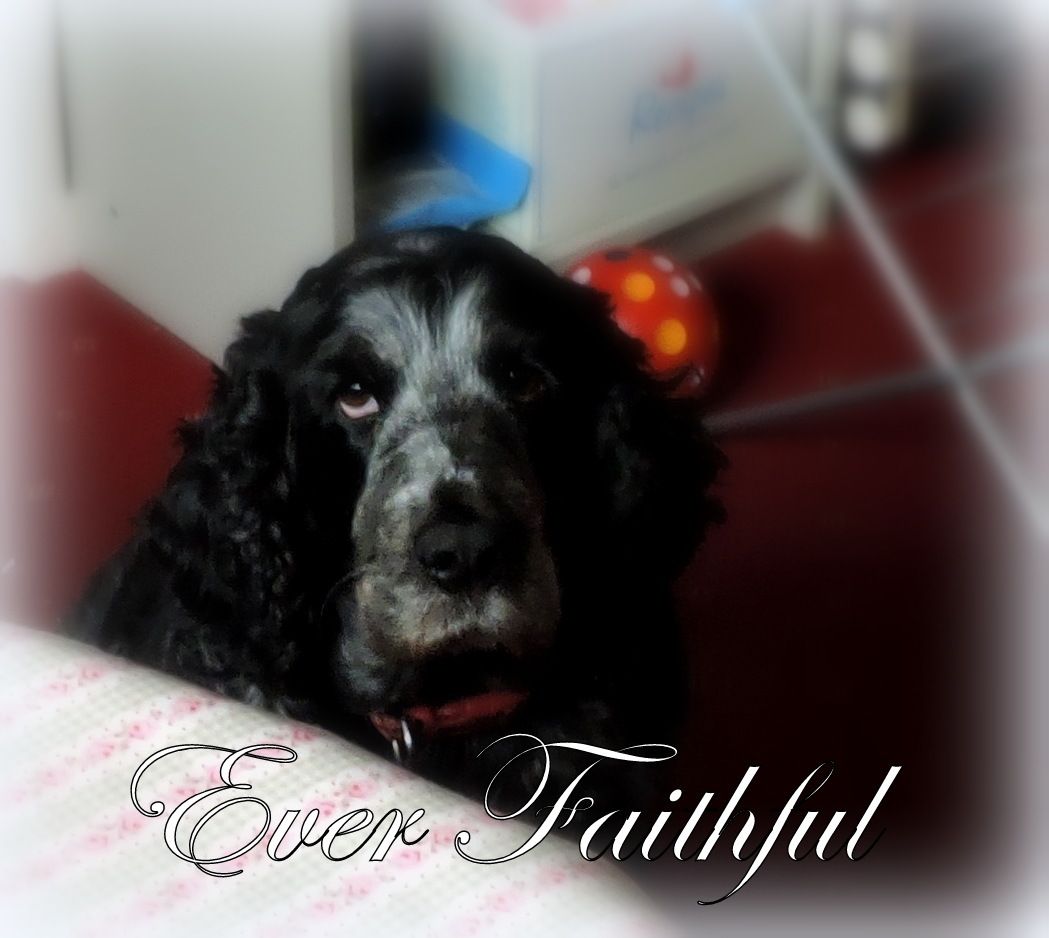 She was my close companion through it all . . . hoping I would drop a cookie or a gammon shank I think . . . she's so funny. And so diligent in her watchful caring.
And the two Chester Elders stopped by to see how I was. I said to them as they came in the door . . . "How did you know I had baked cookies!" They both enjoyed them very much. I do so love to have them in our home. The Sister's called last night to see how I was doing also, so very thoughtful are these youngsters. I do so appreciate them.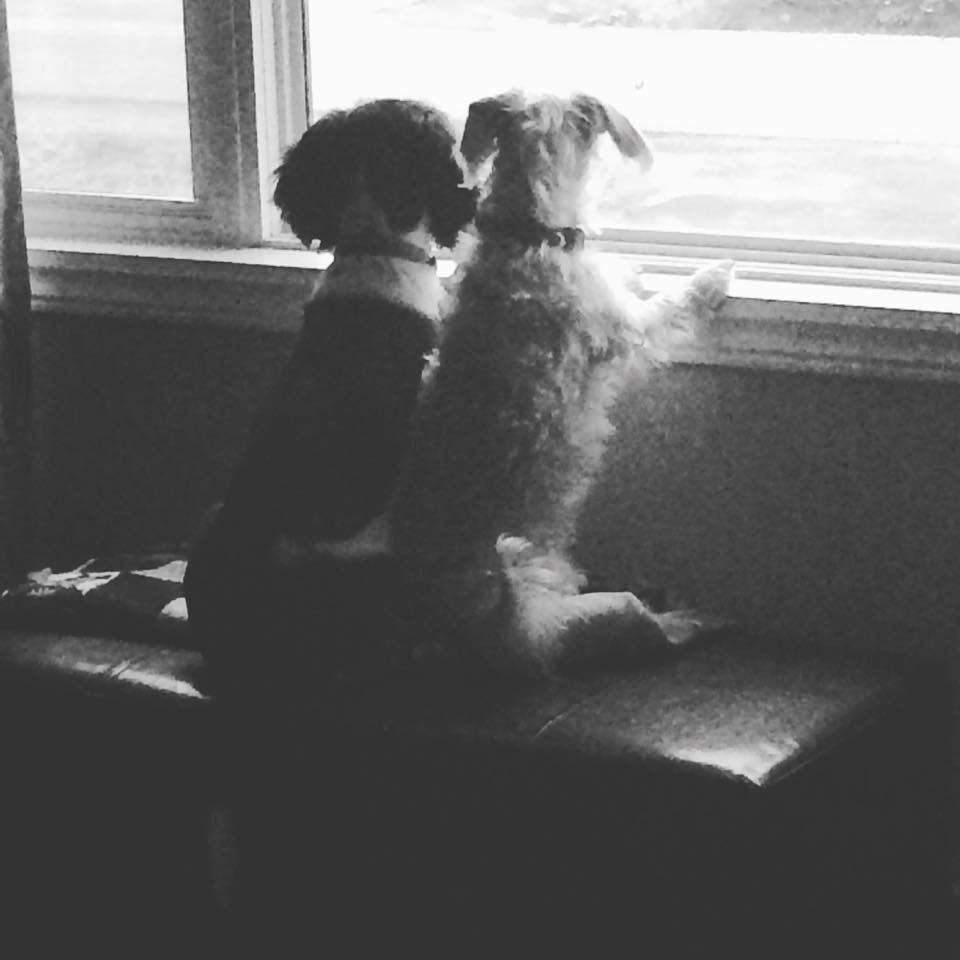 Isn't this sweet? Baxter and Lucy waiting for our Bruce to come home from the gym. Quite simply adorable.
Oh what would we do without our furry family members. Life just would not be the same.
A thought to carry with you through today . . .
.. ✻´´¯`✻.. ✻´´¯`✻..
Happiness comes as
we learn to enjoy
every season.
~Ardith G Kapp
.. ✻´´¯`✻.. ✻´´¯`✻..
Spiritual Enlightenment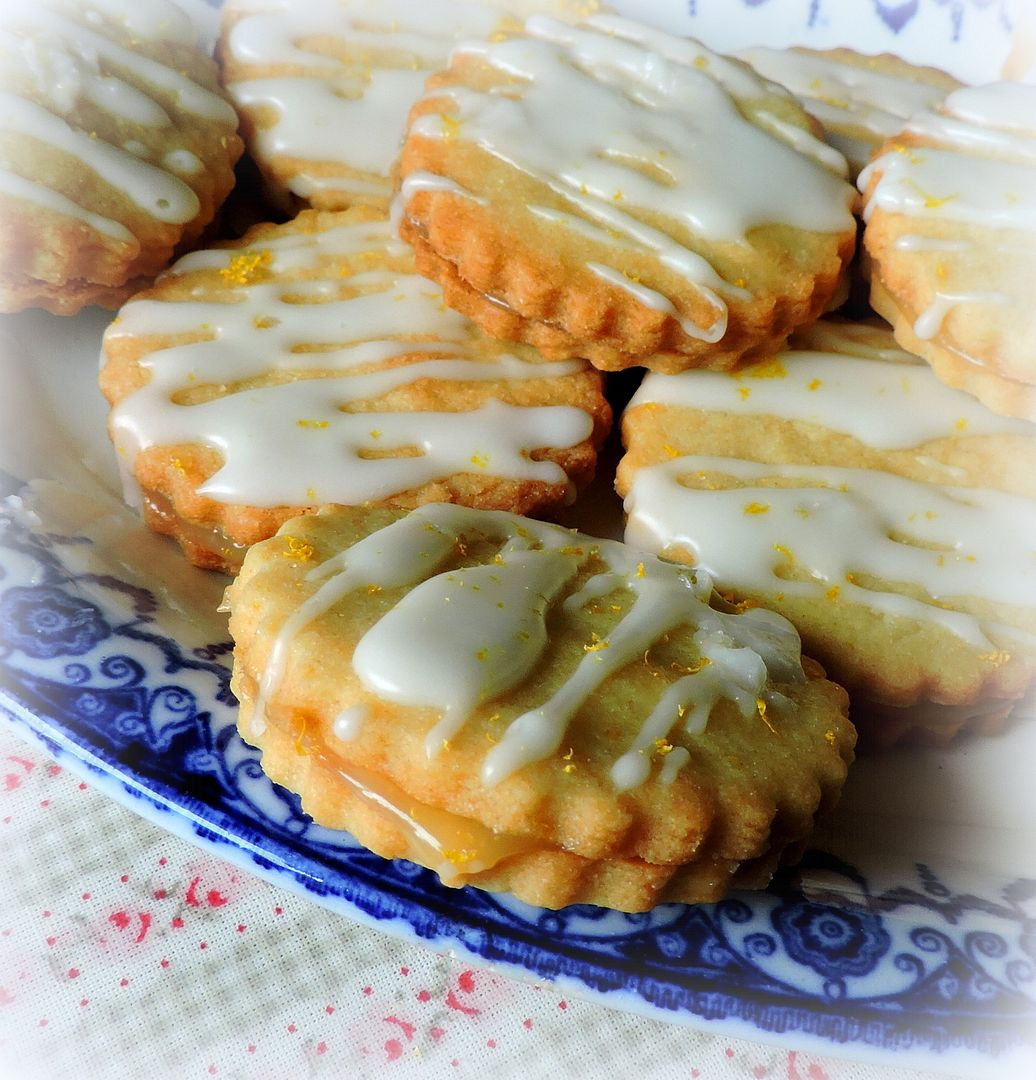 In The English Kitchen today . . .
Lemon Kisses
. . . the cookies the Elders enjoyed.
I hope there's a great Saturday ahead of you! Don't forget!
═══════════ ღೋƸ̵̡Ӝ̵̨̄Ʒღೋ ═══════════ ⊰✿░G░O░D⊰✿⊰L░O░V░E░S⊰✿⊰░Y░O░U░⊰✿
═══════════ ღೋƸ̵̡Ӝ̵̨̄Ʒღೋ ═══════════
And I do too!!