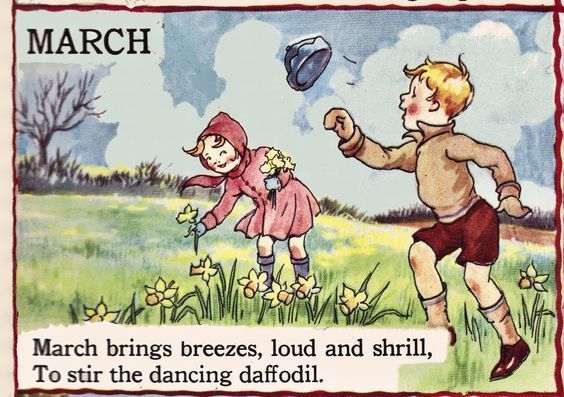 With cold, ear ache and chest infections still ongoing, I didn't do a lot of Missionary work this week really. You can't be out and about spreading your germs, and in all honesty a lot of the people we work with are somewhat elderly and spreading cold germs amongst them is not a very good thing. I cannot believe that here it is two weeks later and my ear is still blocked and hurting. I think I need antibiotics, but who am I. Just a lay person and not a medical professional . . . but I do think if I had had antibiotics it would have cleared up a lot sooner than this and I would not could not still be suffering.
We took advantage of the sunny day yesterday and went for a drive in the Cheshire Countryside.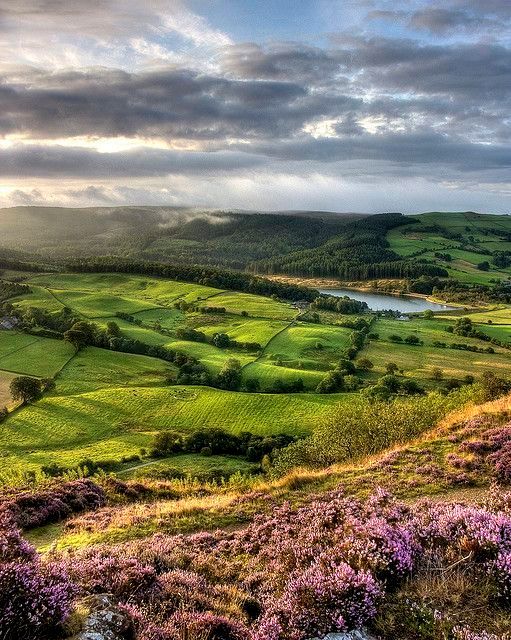 I have always maintained that there is no place more beautiful than the British Isles on a sunny day. It was quite a bit warmer, so much so that we had to take our coats off in the car. It was nice.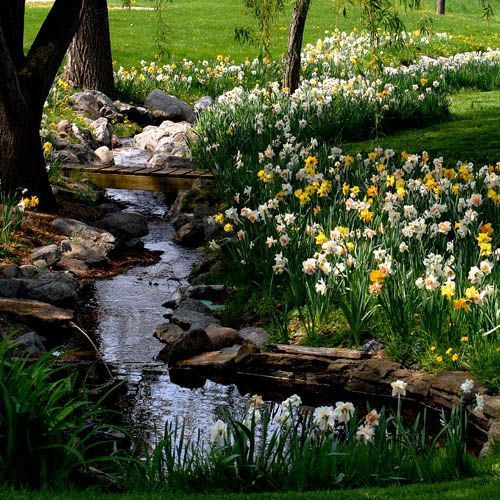 This is the season of the Daffodil . . . I fear unless I do it soon I will miss the Daffodils at Ullswater . . . I may have to drag Todd up there more sooner than later . . . before it is too late. Perhaps Monday . . . we shall see.
We took ourselves over country lanes and through rolling hills . . . past greening fields and ivy laced cottages . . . ending up at "The Pheasant Inn" at Burwardsley, and decided to treat ourselves to lunch, which is a really rare thing. It's not far from the Ice Cream Farm and has real fires, great food and the very best views in Cheshire, all surrounded by beautiful National Trust land with stunning walks for those who are so way inclined. From the patio and windows of the Inn you can look out over the Cheshire countryside for miles and miles. When we arrived two horse riders were sunning themselves on the patio with drinks and their horses . . . beautiful animals. Where else but here in the UK would you get to see and experience beautiful things such as this???
I love doing things like this with Todd. My ex always brought a newspaper with him wherever he went . . . and would spend the whole time reading it. With Todd I get scintillating conversation and great company. I had the fish and chips (I always do) and he had the chicken and tarragon pie. We were both happy. The food was fabulous but even better was the company. Oh I do love spending time with him. I am so very blessed to be having these years of wedded bliss together . . . just he and I.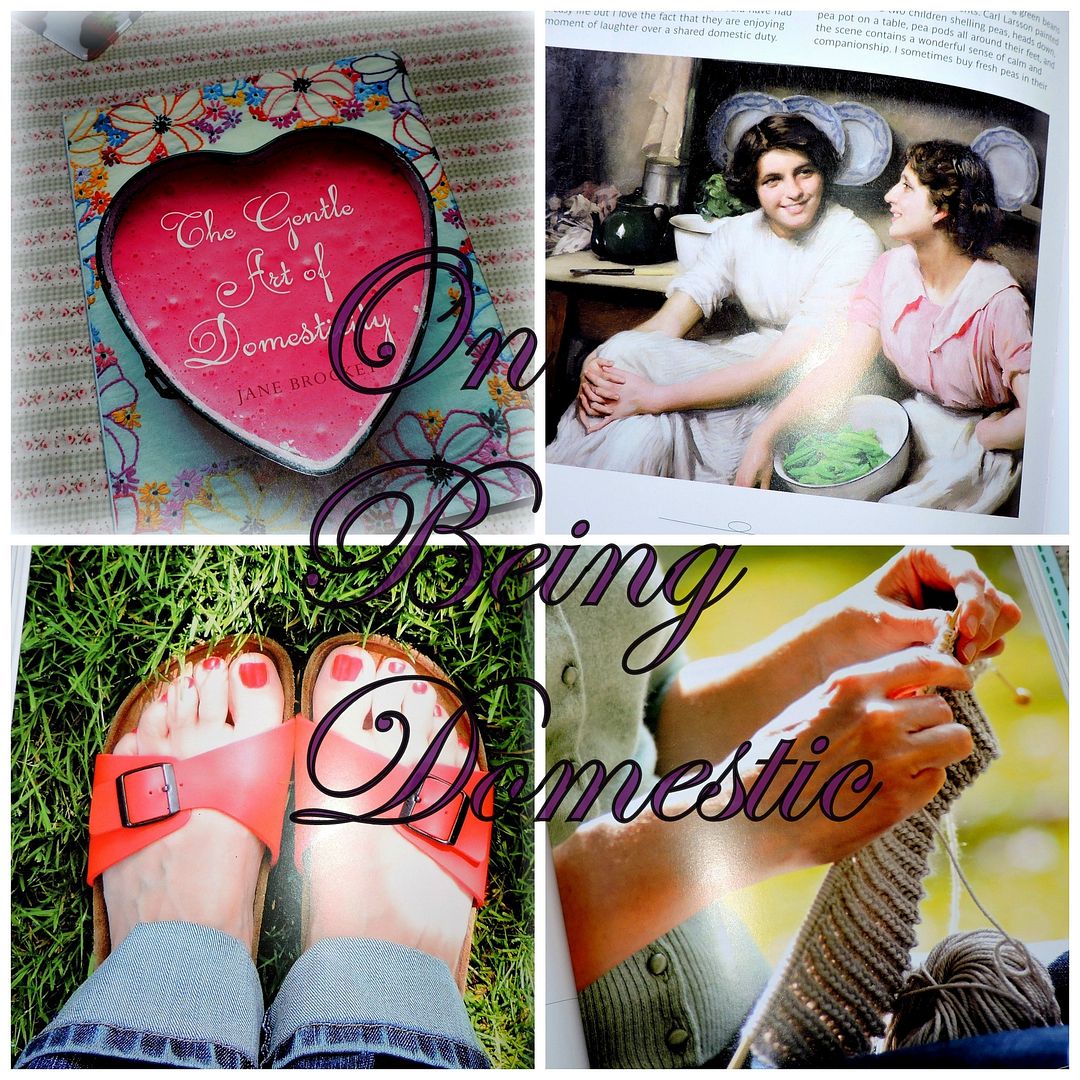 One thing this week has brought has been an opportunity for me to be a bit more domestic than I have been in recent months. I have really been longing for this and to change the focus of my life in some ways . . . perhaps away from the idea of being a master at food blogging and becoming a blogger for bliss instead. Don't get me wrong . . . I will always have my food blog and will always be posting recipes on it and food pictures . . . but I am taking the blinders off and will be doing it now . . . just for the bliss of doing it. I am giving up on the idea of ever, ever being able to make a living at it. I just lack the technological skill at doing so and I give up. Having seen others start at it much later than I have and post far less frequently than I have . . . becoming much more successful at it, being able to make a living at it . . . has taken a bit of the wind from out of my sails. I put all this work into it and . . . well, perhaps that is why it isn't so successful. I have looked at it as being a job rather than as a pleasure.
At the age of sixty I now want to do things for the pleasure of doing them and nothing else . . . oh, yes I have enjoyed it all . . . but I haven't much enjoyed the deadllines and the hijacking of my blog for this product or that product . . . nice but work, and unpaid work at that. I am going to learn to say no.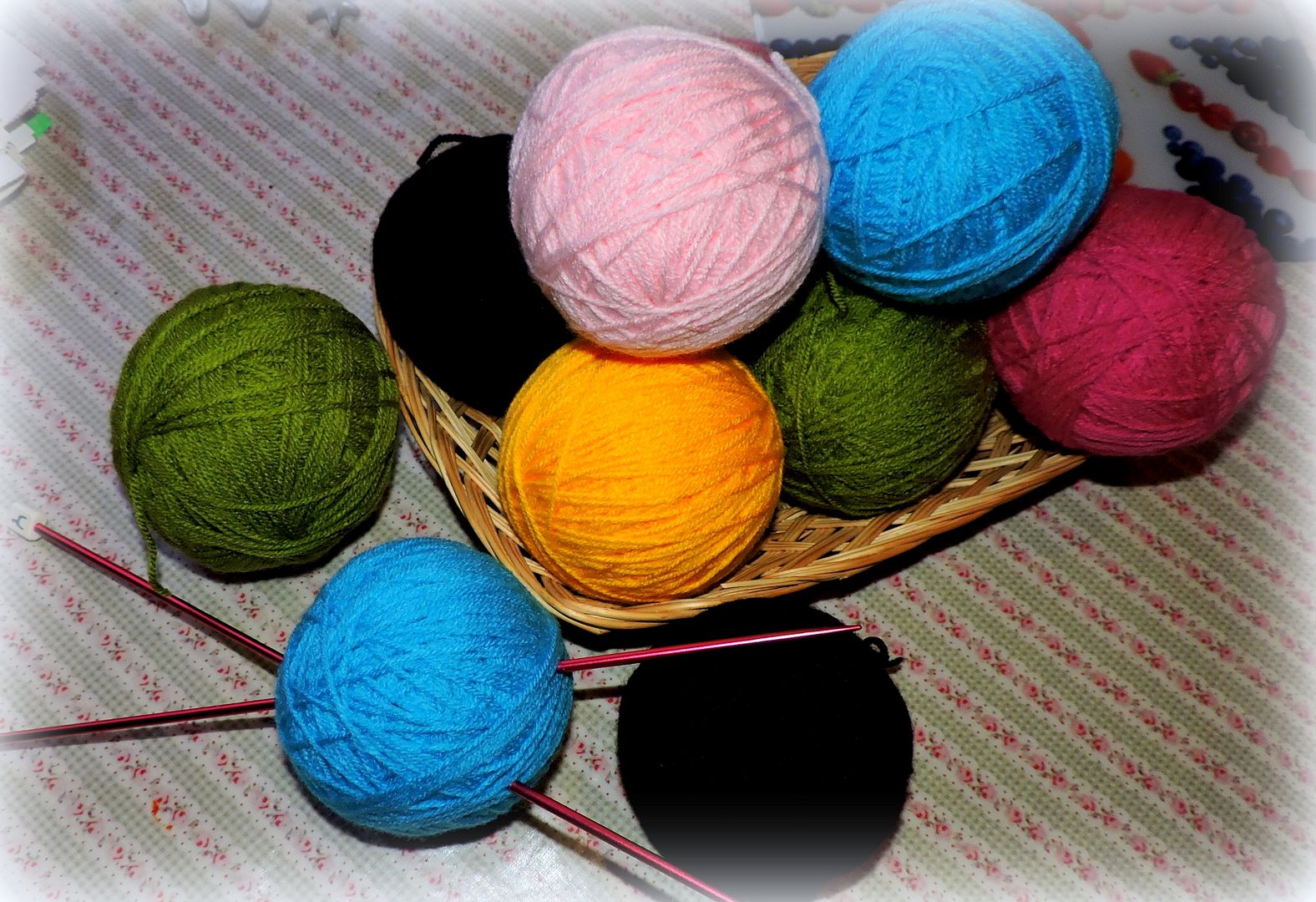 I also spent several hours yesterday rolling my yarn into balls. I have two of each colour, so twelve balls in all. The colours are a lot brighter than what they look here and hold so much promise . . . new knitting needles . . . coloured yarns. What do I see in my future? It's quite exciting really . . .
quite
exciting. I have not knit anything in years, and I may not be very good at it. I made my mother a lovely black cardigan back in the 1980's, and I knit a pullover for my then husband, but I have never knit anything for me or for my home. We shall see what happens next . . .
Gathering supplies for some Easter baking. Cupcakes I think . . . loving the bright colours, so spring-like in their promise. Once again . . . time will tell. I hope it will all turn out.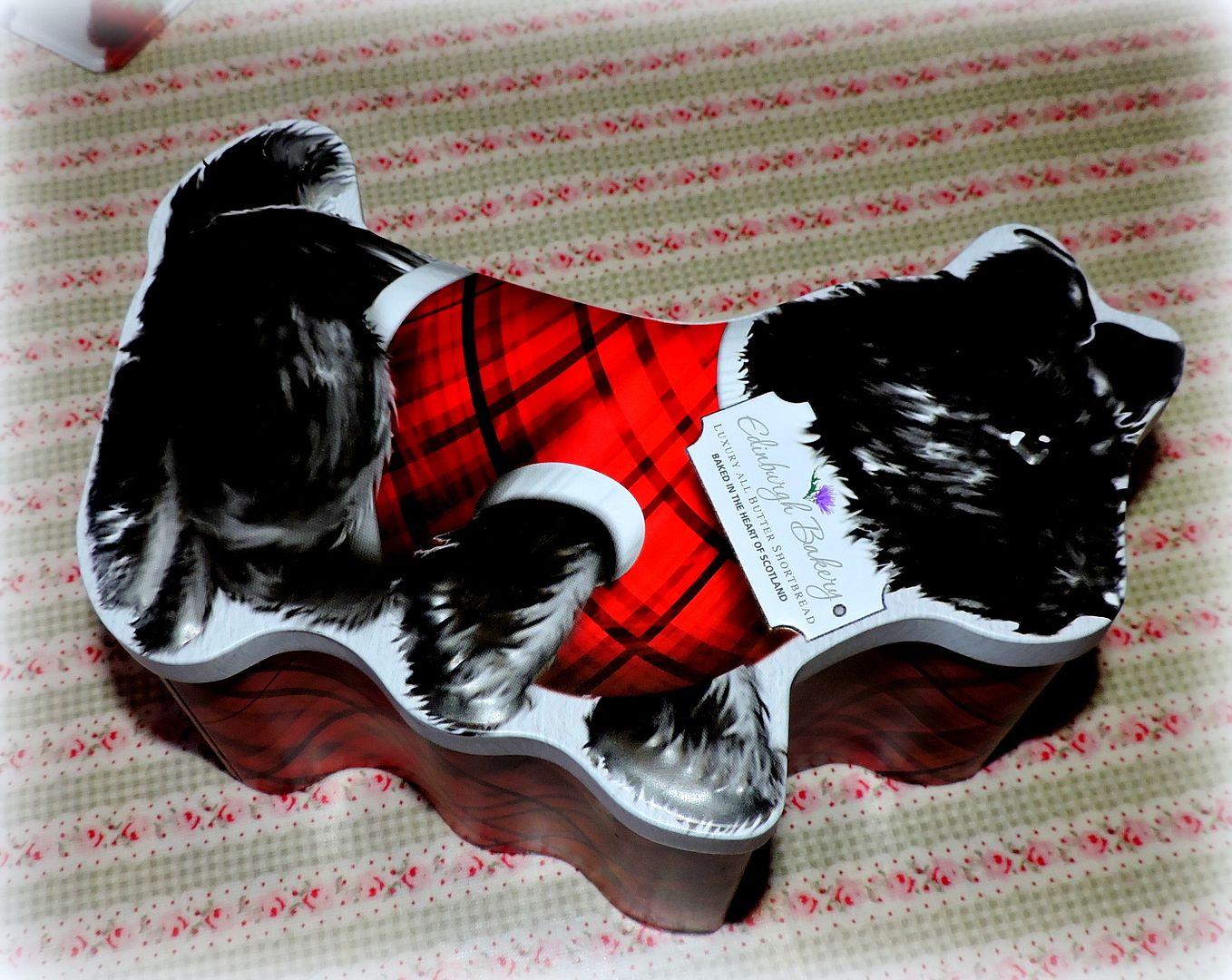 I bought all of these shortbread tins at Christmas time . . . not for the biscuits. Store bought shortbread are always largely disappointing when compared to home baked shortbread. I bought them for the tins . . . about 8 of them, with the idea in mind that I would do something with them. I think I will make one into a mending tin . . . filled with an assortment of things to do with mending. Ahhh . . . the genteel art of mending and making do. Darning socks . . . sewing up tears . . . hemming . . . the mindlessness of it all is quite relaxing. I thought to turn another into a little house, for a little dog. We shall see.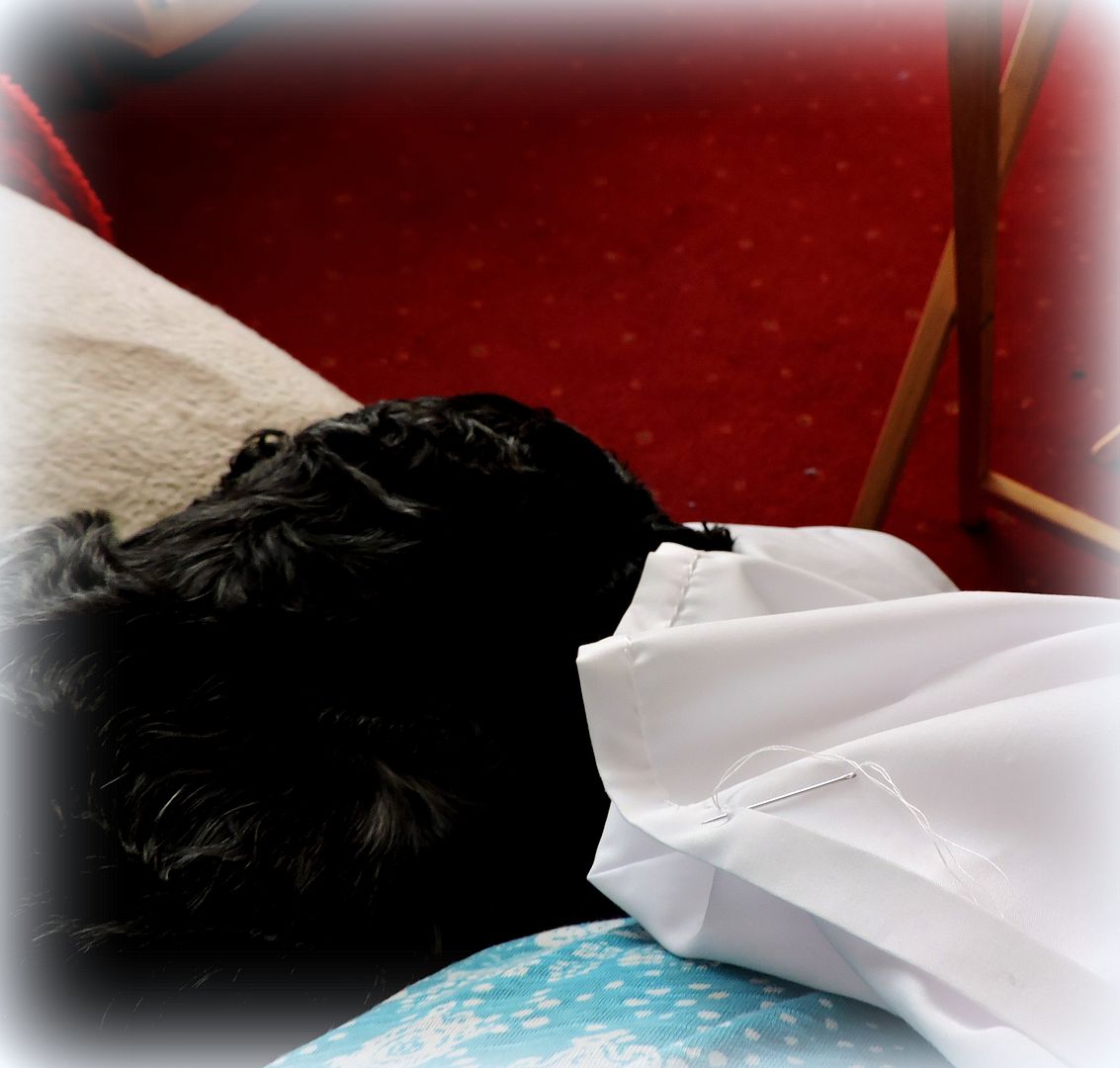 I hemmed a shirt for a friend this week, with Mitzie snuggled right into my side as we sat together on the sofa. Oh sure . . . I could have dug out the sewing machine and had it all sewn up in a jiffy, but there was something very therapeutic about us sitting there together in close companionship . . . my fingers slipping the needle and thread mindlessly in and out of the fabric . . . Mitzie snoring away next to me . . .
It was a very simple pleasure and indulgence and very, very fulfilling in it's own way . . .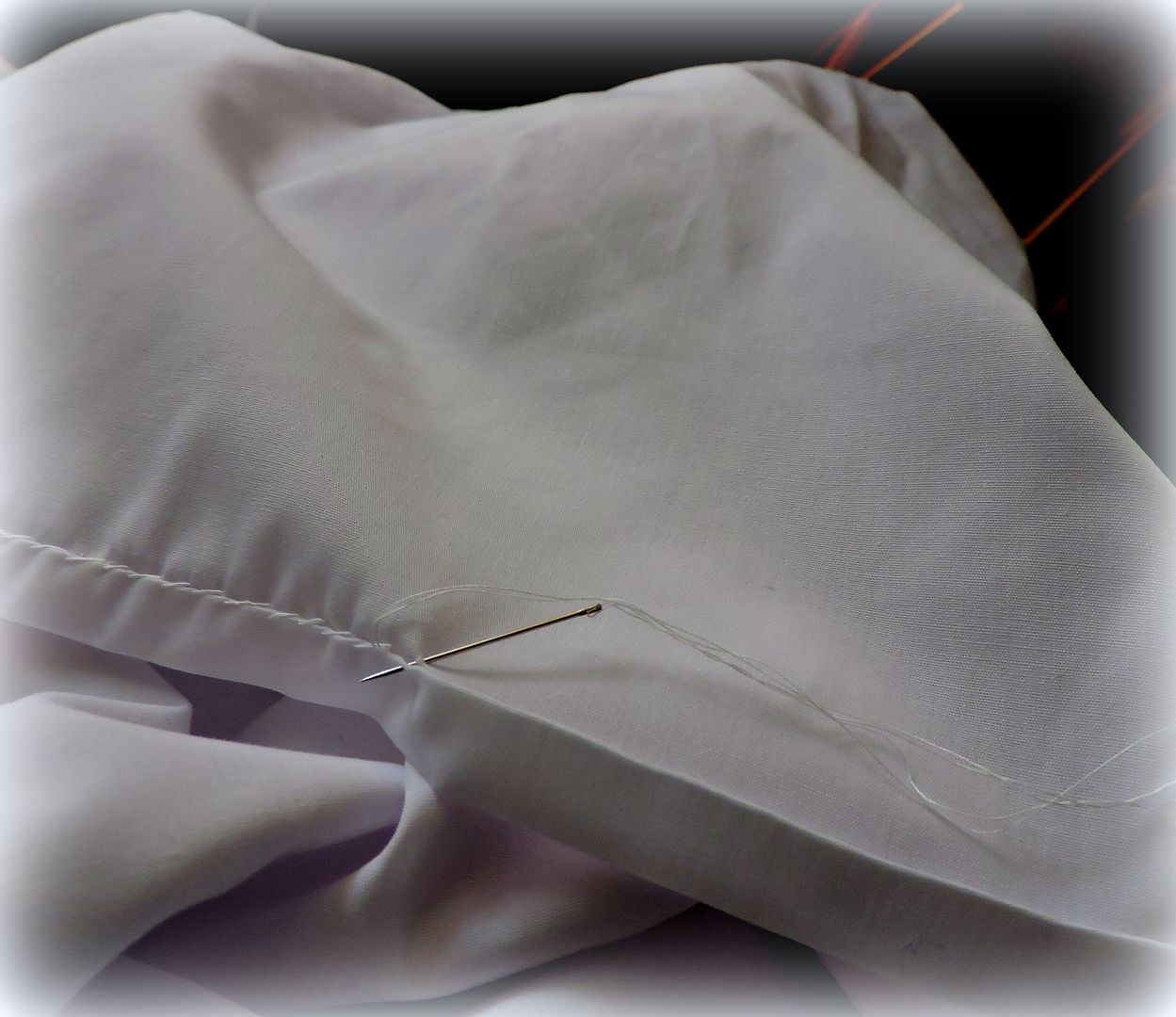 A job well done is it's own reward.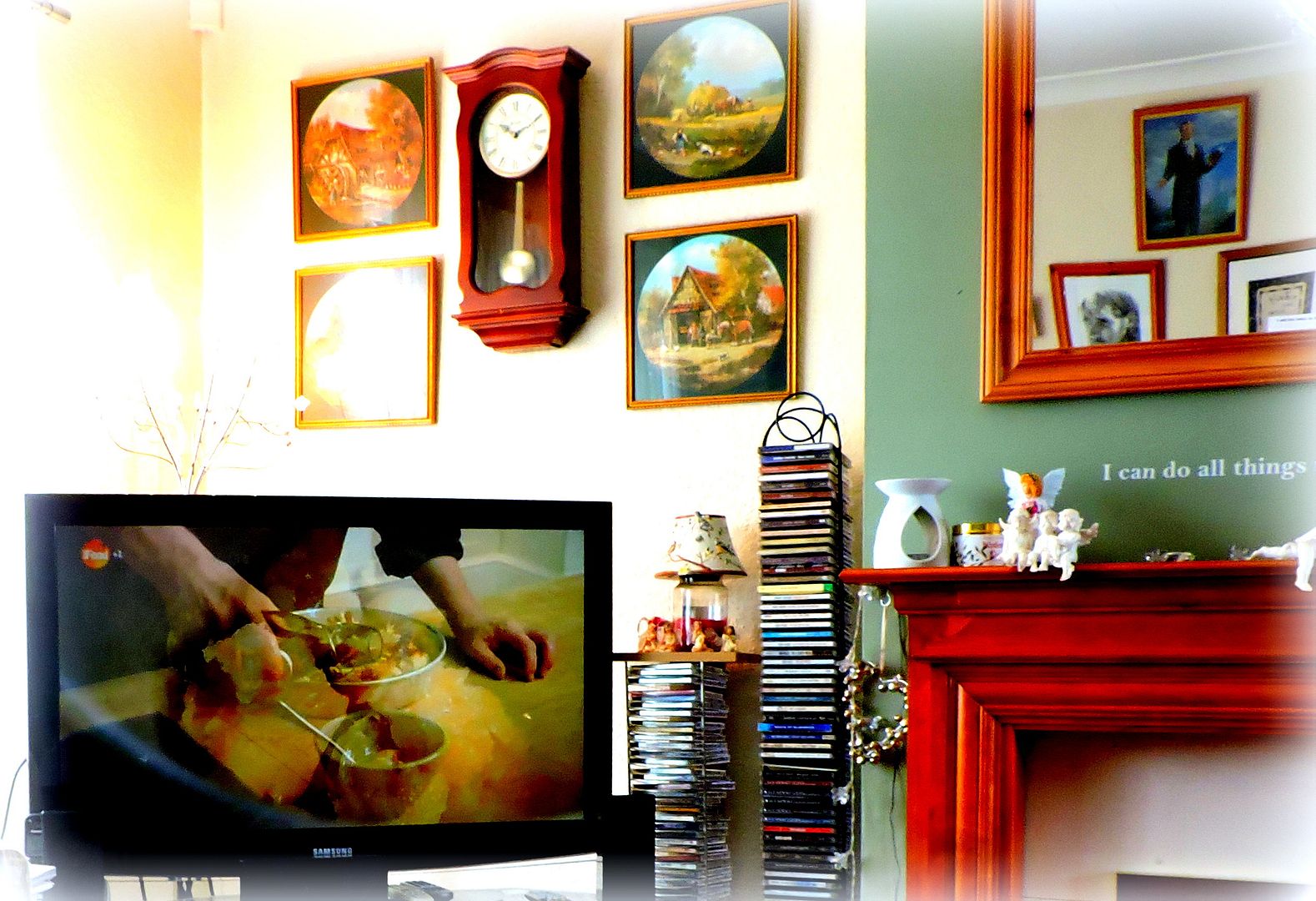 I watched and listened to Nigel Slater cooking on the telly as I worked. I could watch him for hours. He loves what he does and in turn makes you love it too . . . the clock ticking on the wall . . . chiming out the hours in Westminster chiming time . . . such a peaceful life.
It is a blessing to be living this life. I don't think I would be suited to any other . . .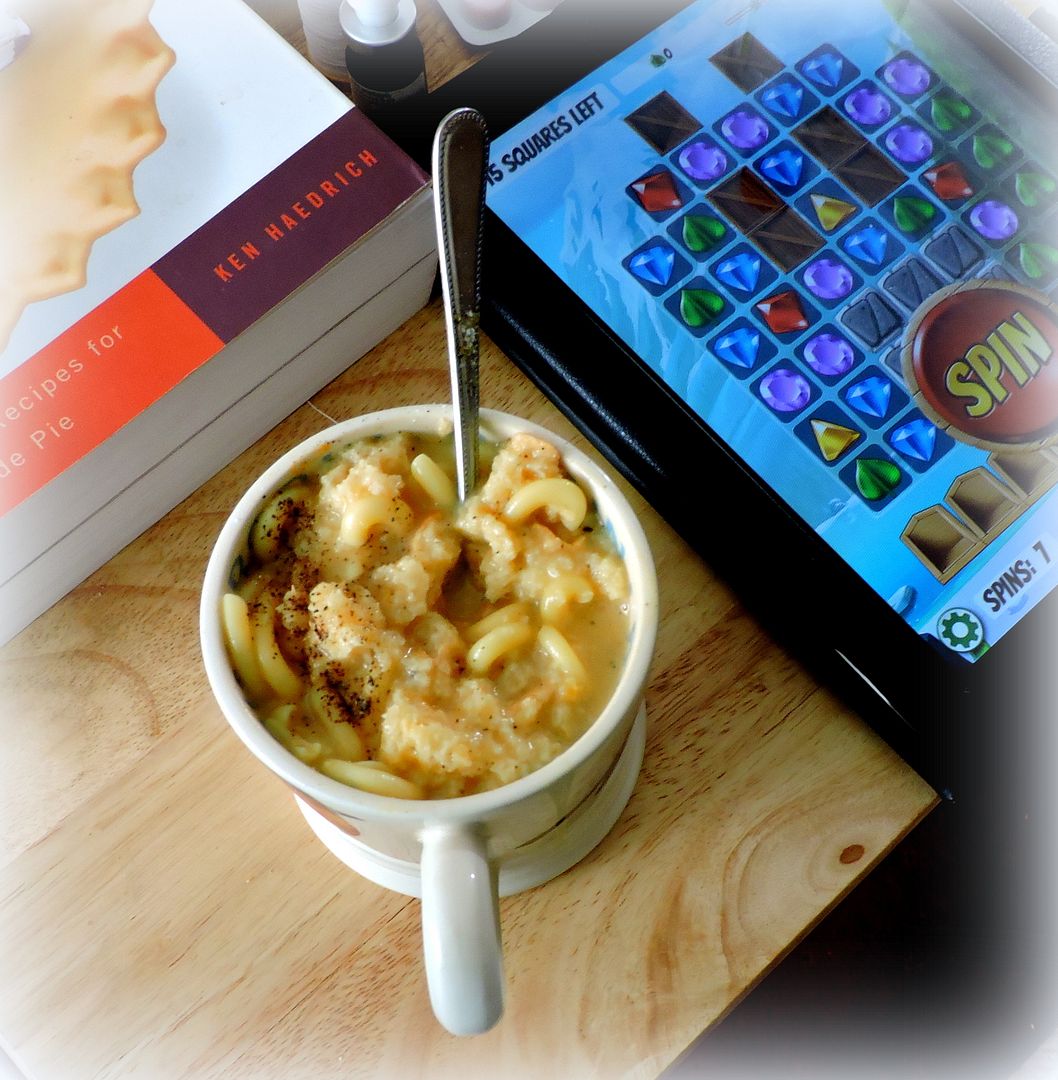 Oh yes . . . I even took some time to enjoy a simple lunch of a mug of instant mac and cheese and a game of Cascade on the iPad. These games are good for the brain. They make you think. I had to crumble in a portion of a buttered stale bread roll and add a healthy dose of pepper to the mac and cheese before it tasted good . . . but then it was the best, and I really truly enjoyed it, so much so that I might do it again one day.
But I bet it will never again taste as good as it did on that day.
and there was some traditional baking going on . . . a seed cake. Dorothy Wordsworth's favourite cake. I remembered our day spent at Dove Cottage whilst I was baking it . . . I enjoyed it with a hot drink afterwards. The caraway seeds were quite pleasant to the taste . . .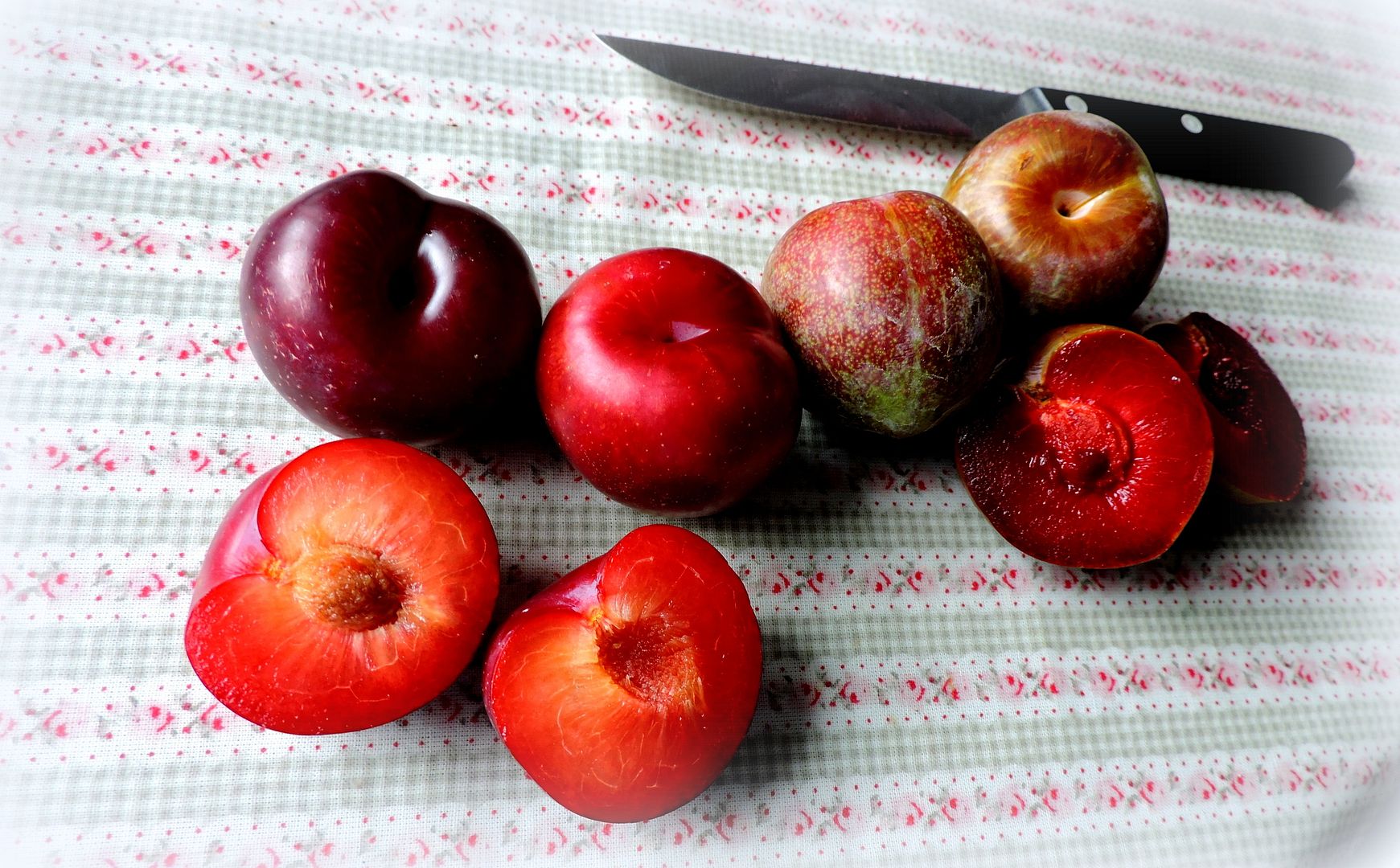 And I enjoyed sweet plums . . . did you know that plums almost have a perfume-like flavour? I think if you sit and really taste one as you are eating it . . . drinking it in . . . savouring it slowly, you will see that I am right. That is another blessing in life . . . being able to eat just for the pleasure of it all . . . and not just for the life giving sustenance it brings.
And as I look back at my week I see that I had a week filled with many pleasures despite my not feeling entirely well and some of them very tasty ones indeed . . . with crisp beer battered haddock and savoury thick hand cut cooked chips . . . crisp and hot, with mushy peas and a delicious tartar sauce . . . delicate seed cake eaten and enjoyed in paper thin slices along with a hot cup of red berry tea . . . instant mac and cheese with a stale buttered roll and lots of pepper served in a Emma Bridgewater robin half pint mug . . . and beautifuly scented and perfume flavoured red plums, savoured and enjoyed for all that they were.
And how did you spend your week?
A thought to carry with you through today . . .
Ƹ̵̡Ӝ̵̨̄ƷღೋღೋƸ̵̡Ӝ̵̨̄Ʒ
"I testify that every human being
born into this world
is born with the Light of Christ
in his or her soul."
~Jeffrey R Holland
Ƹ̵̡Ӝ̵̨̄ƷღೋღೋƸ̵̡Ӝ̵̨̄Ʒ
Spiritual Enlightenment
In The English Kitchen today . . .
Traditional Seed Cake
. So good!
Wherever you go and whatever you get up to today, may it bring you joy. Be safe and be happy and don't forget . . .
═══════════ ღೋƸ̵̡Ӝ̵̨̄Ʒღೋ ═══════════ ⊰✿░G░O░D⊰✿⊰L░O░V░E░S⊰✿⊰░Y░O░U░⊰✿
═══════════ ღೋƸ̵̡Ӝ̵̨̄Ʒღೋ ═══════════
And I do too!