We only have a small patch of it in our garden . . . tis not really indigenous to back gardens, unless you live in the wilds or moors or rolling heath . . . Heather. I am waiting patiently for it to bloom. It's such a tiny bloom and people don't really pay it all too much attention but when you chance upon rolling hills of it when out on a Sunday drive . . . it fair takes your breath away. with it's wild beauty.
That is what happened to us a few summers ago. We somehow got off the beaten track on our way back from Betwys-y-coed when all of a sudden we found ourselves amidst a rolling pink and purple coloured landscape. It was most beautiful. I decided then that I had to have some in our garden and the next year we bought ourselves a small pot and whenever I see it blooming I am reminded of the wonder of that moment we chanced upon the heathered hills in Wales.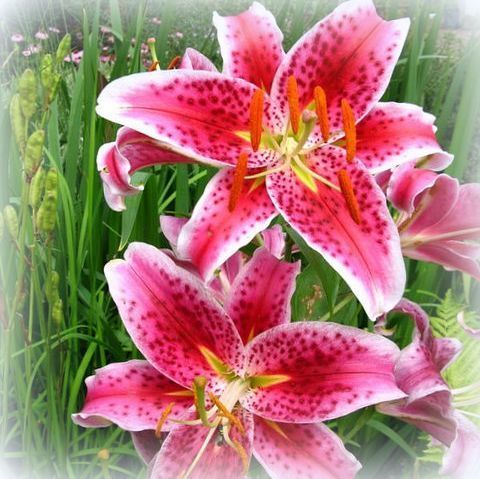 Our lilies are blooming. We had no idea what colour they were going to be when we bought them. There were only two pots left and the blooms were tightly closed but they were lowered in price and so I asked Todd could we give them a home and he said yes. I am not fond of bouquets of lilies in the house . . . it's the smell and the pollen from the stamens that annoy me . . . but in a garden they are just beautiful.
I remember a neighbor's house when I was a child . . . the whole front was encapsulated with big orange tiger lilies. They made an obvious impression on me, for I remember them still . . . and I was a child long, long ago.
In any case these beautiful star gazer lilies are delighting me now.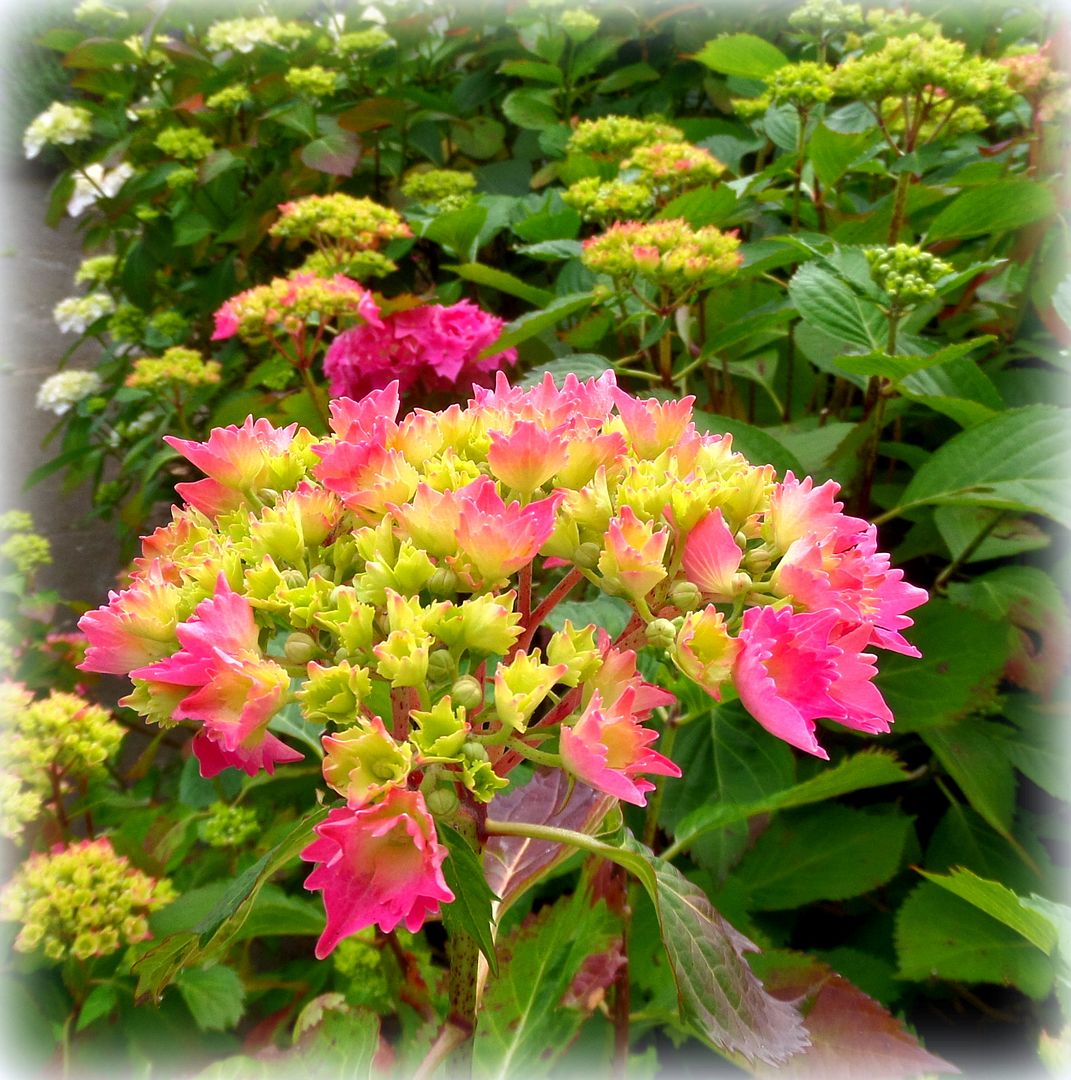 The garden is a riot of colour at the moment. It's like all of the blooms can't wait to burst into colour and flatter us with their presence. I said to Todd yesterday that all of the blooms on our hydrangea seem smaller this year . . . and indeed, one is not blooming at all. Could it be the lack of rain? We have not had a lot . . . which is most unsual.
Todd carries pots of water out to the front of the house at the end of each day. It's a lot of work for him. To use a hose would involve running the hose right through the house from back to front and I am not overly fond of that idea. Too many leaks. Terraced house . . . it makes things like that a tad bit awkward.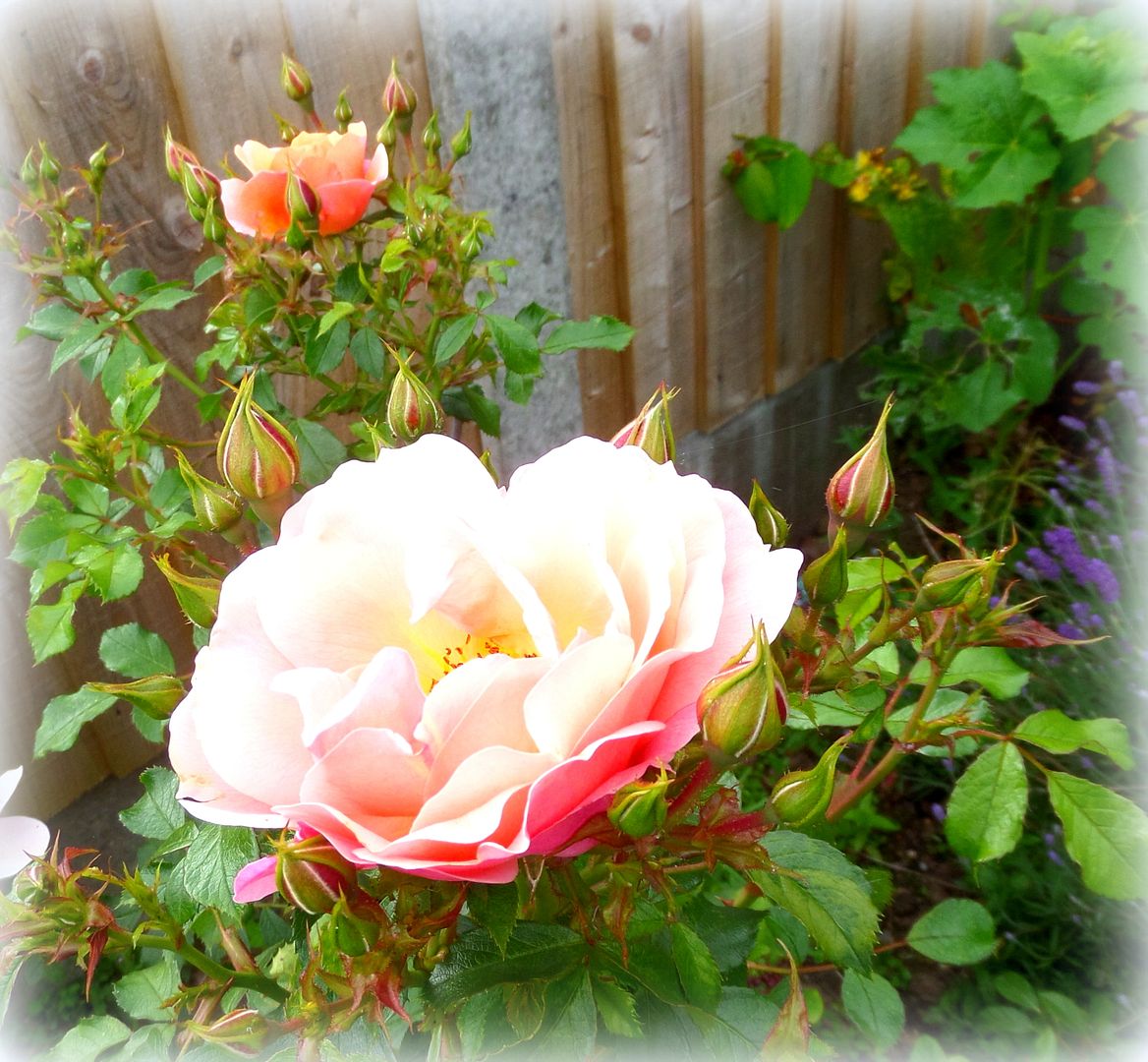 The roses are so beautiful at the moment . . . a riot of bloom and colour. We had to cut down one rose bush completely. It was old and had hardly any leaf or flower on it this year, or indeed years past. I had been wanting to pull it out for a long time now and finally this year Todd agreed with me. It's been replaced by a pot filled with things for now and we will decide over the winter what we will plant in it's stead.
Things like this require thought.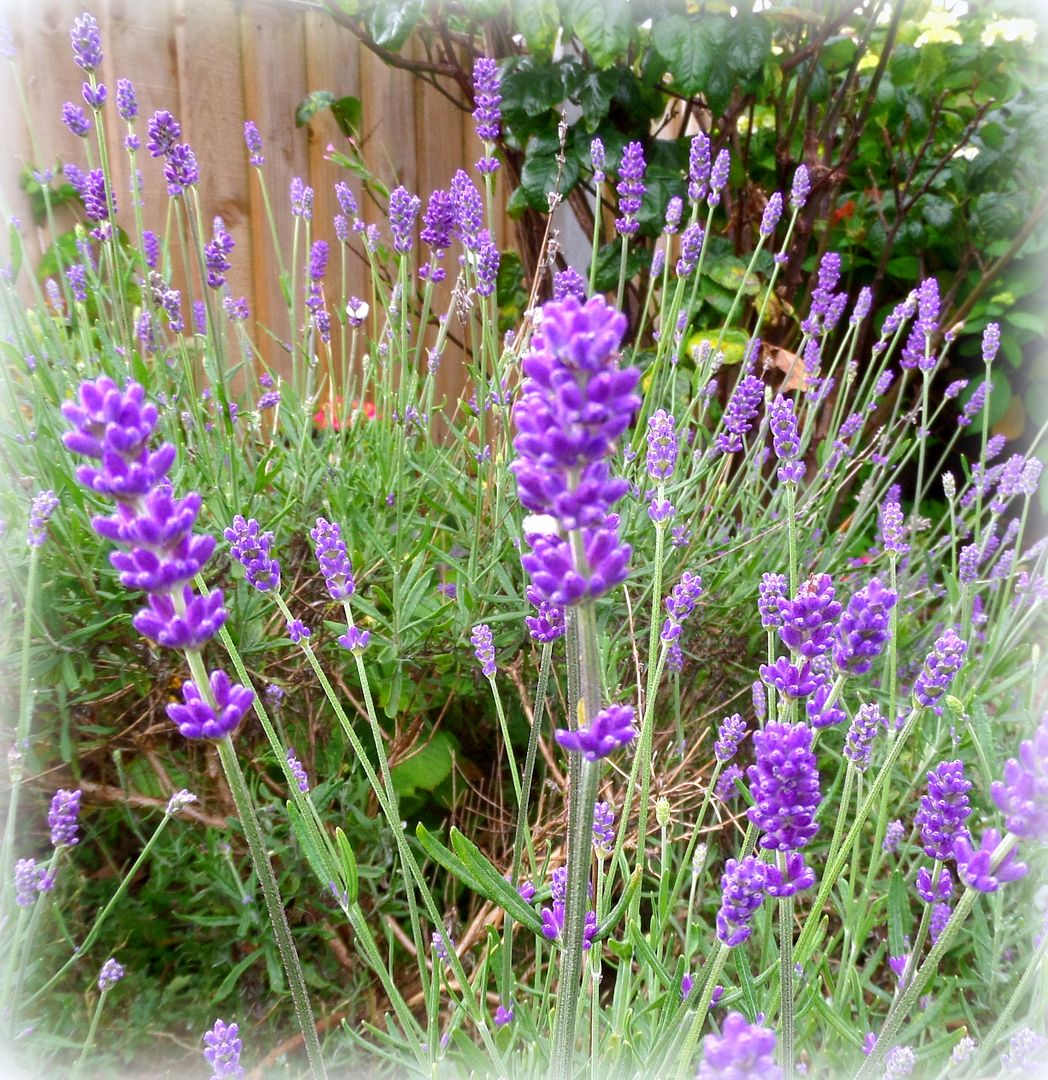 Lavender delights at the moment as well. It is humming with bees. I keep thinking I am going to go out and photograph them, but then . . . I forget. Perhaps I will get a chance today. The bees are fat and rambling little yellow and black powder puffs . . . their leg sacs bulging with pollen. You look at them and think to yourself . . . what a miracle of creation they are . . . with their tiny wings and those huge bodies. They should not be able to fly . . . and yet they do.
Who says God doesn't have a sense of humor . . . these things mystify me, and fill my heart with gratitude.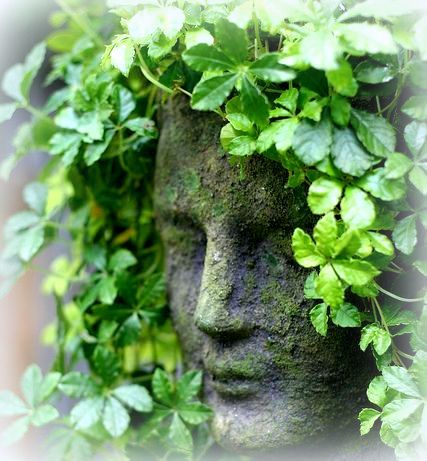 The Summer's zenith has been passed,
The longest day has come and gone,
The fields are mown, the hay is stacked,
Oh . . . why must time go rolling on?
The corn has ripened in the sun
The fruit turs red upon the spray.
If only I could stop the clock
And hold this fair and lovely day . . .
I have a really busy day ahead of me today. I am off Visit Teaching at 9 this morning (which means I need to hustle) and then this afternoon Todd and I are doing visits ourselves. We don't seem to have much success visiting people in the morning and so we are going to try afternoons. If that fails then it will be evenings . . . then tonight, we have a meeting at the chapel. I am enjoying this busy-ness of my days.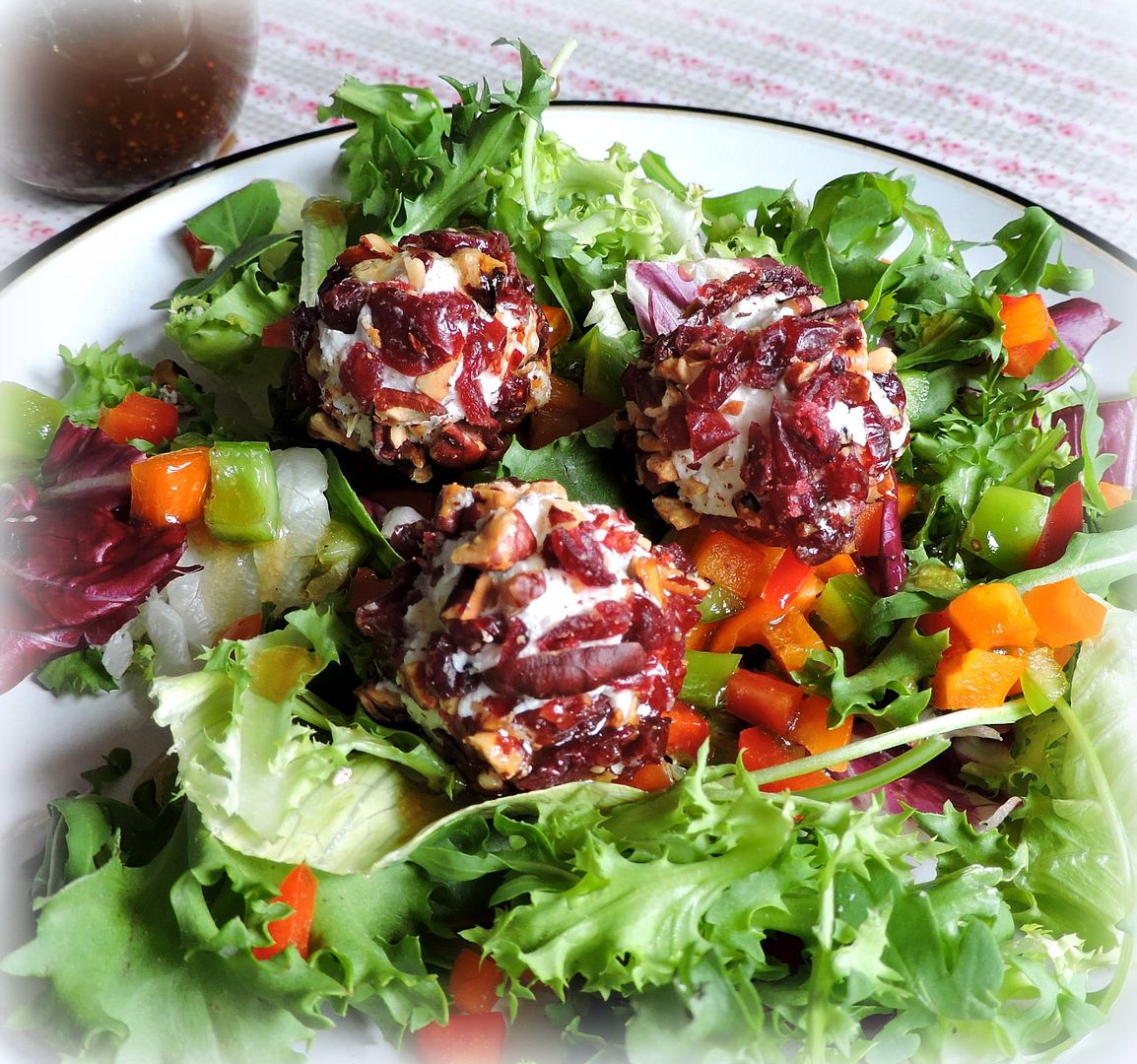 Cooking in The English Kitchen today . . .
Mixed Greens with Goats' Cheese Truffles and a Honey and Lemon Vinaigrette.
A feast for the eyes and tummy.
Have a wonderful Wednesday, no matter what you get up to. Stay safe and stay happy and don't forget!
═══════════ ღೋƸ̵̡Ӝ̵̨̄Ʒღೋ ═══════════ ⊰✿░G░O░D⊰✿⊰L░O░V░E░S⊰✿⊰░Y░O░U░⊰✿
═══════════ ღೋƸ̵̡Ӝ̵̨̄Ʒღೋ ═══════════
And I do too!