FOR TODAY, July 19, 2016
Outside my window ...
The sun is up and you can tell it is going to be a scorcher. Bring it on. We don't get many of those over here.
I am thinking ...
Thank God, I feel a whole lot better this morning than I did yesterday morning. I was in severe pain all day yesterday. Still tender, but today feels a lot better. So far, so good, fingers crossed.
I am thinkful for ...
A husband who loves and cares for me.
In the kitchen ...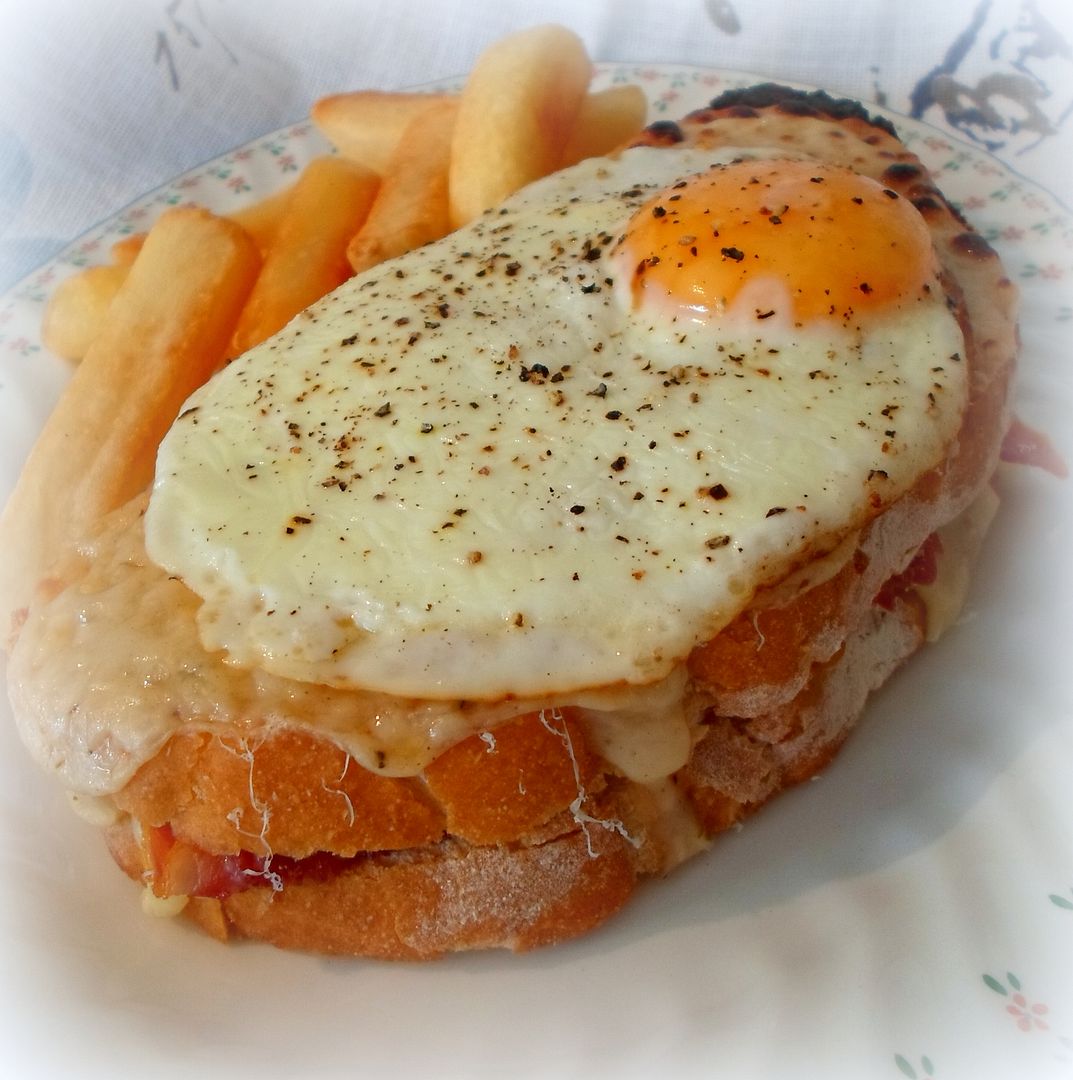 A
Croque Madame
. A repost from an earlier date, because, lets face it . . . yesterday I wasn't cooking anything for anyone.
On my "To Cook" list ...
From Slow Roasted Italian.
Summer Berry Cheesecake Salad
.
I am creating ...
A Day At the Beach. This one has a lot of minute details. It took me over a week to finish. I think if you click your mouse on it, it will get bigger so you can see.
A Mini Flower Garland . . . from
Silly Old Suitcase.
So sweet.
Still looking for a simple and easy pattern to knit for a baby This one is very unusual for a sleeper bag. From
Craftsy
. I love it.
Sea Shell Mosaic ornaments. From
Fun Crafts Kids.
Finger Puppets. No source, but really cute.
A Ketchup Bottler Bird Feeder. From
Wildlife Gadget Man
.
I am reading ...
In The Unlikely Event
, by Judy Bloom
This is a richly textured and moving story of three generations of families, friends and strangers, whose lives are profoundly changed by unexpected events.
In 1987, Miri Ammerman returns to her hometown of Elizabeth, New Jersey, to attend a commemoration of the worst year of her life
Thirty-five years earlier, when Miri was fifteen, and in love for the first time, a succession of airplanes fell from the sky, leaving a community reeling. Against this backdrop of actual events that Blume experienced in the early 1950s, when airline travel was new and exciting and everyone dreamed of going somewhere, Judy Blume imagines and weaves together a haunting story of three generations of families, friends, and strangers, whose lives are profoundly changed by these disasters. She paints a vivid portrait of a particular time and place — Nat King Cole singing "Unforgettable," Elizabeth Taylor haircuts, young (and not-so-young) love, explosive friendships, A-bomb hysteria, rumors of Communist threat. And a young journalist who makes his name reporting tragedy. Through it all, one generation reminds another that life goes on.
In the Unlikely Event is a gripping novel with all the hallmarks of Judy Blume's unparalleled storytelling.
I am looking forward to ...
Hopefully feeling much better today than I did yesterday.
I am learning to ...
Say no. It is hard when you have always said yes.
Dreaming about ...
A kitchen I can move about it . . .
red check curtains and flowers in pots . . .
A comfy chair and puffy footstool to put my feet up on and relax . . .
Timber floors . . .
Pretty window coverings . . . .
A favourite quote for the day ...
(¯`v´¯) `*.¸.*´Ƹ̵̡Ӝ̵̨̄Ʒ ¸.
•´¸.•~♥♥♥~•.~ ღϠ₡ღ¸.
✻´´¯`✻.¸¸.Ƹ̴Ӂ̴Ʒ. ( ¸. ❀⁀ ⋱‿✿"` * .¸.*
✻ღϠ₡ ღ¸.✻´´¯`✻.¸¸.Ƹ̴Ӂ̴Ʒ..
Weeping may endure for the night,
But joy cometh in the morning.
~Psalm 30:5
I love the Psalms . . .
Makes me smile ...
Maryn, three years ago with her monkey Eee Eee.
One of my favourite things . . .
Pretty co-ordinated fabrics . . .
Corners of my Kingdom ...
Cosmos reaching for the sky . . . wildflower garden . . .
And that's my daybook for this week!
⋱ ⋮ ⋰
⋯ ◯ ⋯ Take time to enjoy the small *´¯`.¸¸.☆
⋰ ⋮ ⋱ blessings in life.*´¯`.¸¸.☆
✿¸.•*¨`*•..¸✿ ✿¸.•*¨`*•..¸✿ ✿¸.•*¨`*•..¸✿
╬♥═╬╬═♥=╬╬═♥╬╬═♥╬╬═♥=╬╬♥═╬
░░░░░░░░░░░░░ ░░░░░░░░░░░░░
Wherever you go and whatever you do, I hope there's a great day ahead of you! Don't forget!
═══════════ ღೋƸ̵̡Ӝ̵̨̄Ʒღೋ ═══════════ ⊰✿░G░O░D⊰✿⊰L░O░V░E░S⊰✿⊰░Y░O░U░⊰✿
═══════════ ღೋƸ̵̡Ӝ̵̨̄Ʒღೋ ═══════════
And I do too!!