FOR TODAY, July 26, 2016
Outside my window ...
Its overcast, but you can tell it is going to burn off and be a dry day. I could be wrong however, so don't quote me on that! That's one thing you can rely on in the UK and that is that the weather is totally unpredictable!
I am thinking ...
I woke up this morning to news about yet another mass stabbing/killing/shooting. This time near Tokyo. This is insanity. It is almost becoming a daily occurrence. Not sure how much more my heart can take.
I am thankful for ...
The Gospel in my life and my faith in God which helps me to stay grounded and gives me hope in a better life and future. Satan may rule the earth at the moment, but I know he cannot and will not win. Good will prevail and conquer.
In the kitchen ...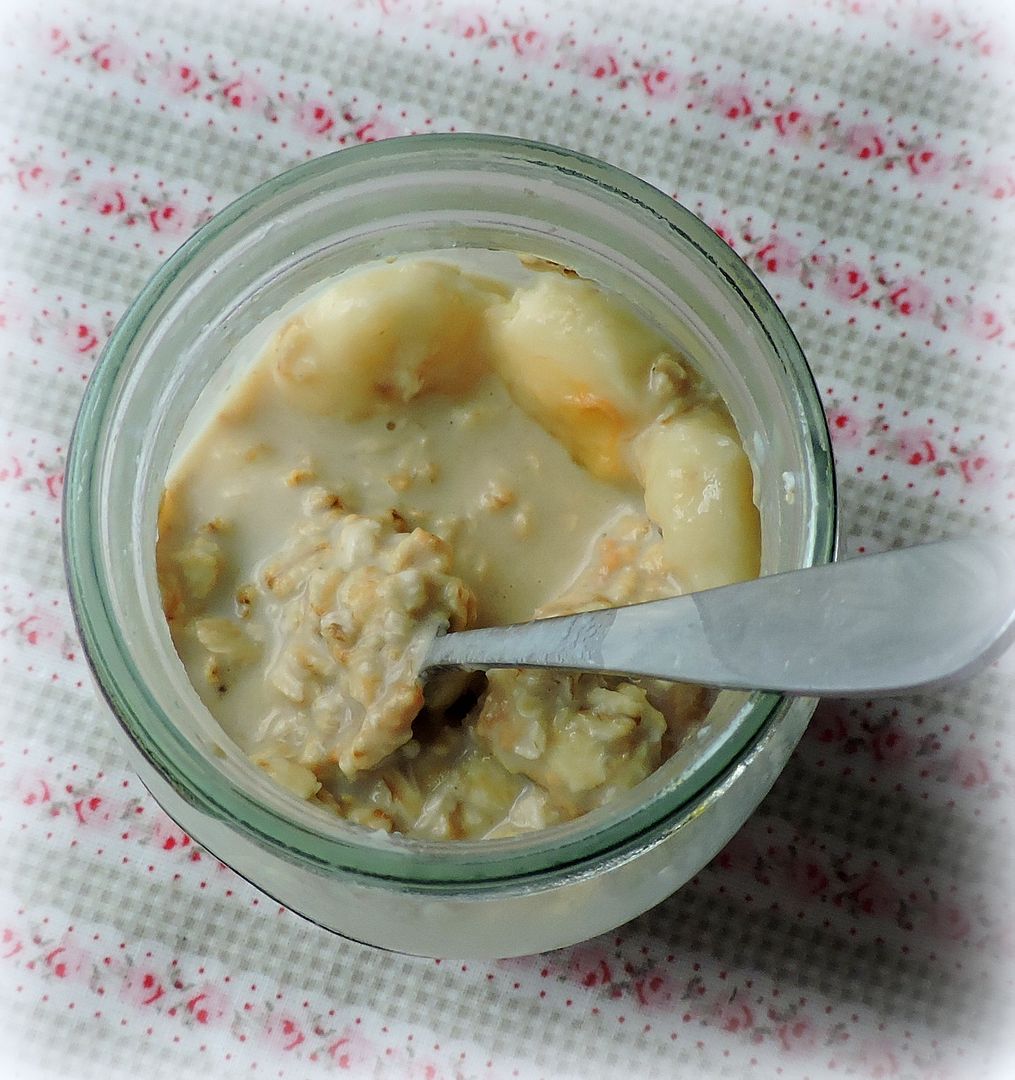 Overnight Peanut Butter and Banana Oats.
I've been doing this every day for the last week, with variations. Its delicious. This morning I have Overnight Oats with strawberries, blueberries and yogurt. Such a simple breakfast, but tasty and healthy also.
On my "To Cook" list ...
Poached Icelandic Cod. From
Food on the Monon
. It looks delicious and very much like a cod dish I used to bake for my family when I was growing up. My mother loved it.
I am creating ...
I have one picture called "Blackberrying" finished, which I haven't scanned yet and am working on one about going back to school days . . .
I love the colour palatte in this blanket . . . From
Cherry Heart
.
Still looking for a pretty baby sweater. This one is sweet. From
Ravelry
.
I love, LOVE this Dachsund. It's a
downloadable pattern
on Etsy. So cute! A little bit pricey though.
Easy women's boxer shorts, with a free pattern. Comfy for sleeping during the summer months. A coloured t-shirt and you're all set! From
The Sewing Rabbit
.
16 one skein crochet patterns. You can never have too many of those. Found on
Tips for Women
.
Anthropologie, inspiration only. I could do this . . . now to find a sweatshirt jacket.
I am reading ...
The Other Child
, by Lucy Atkins.
Thirty-nine-year-old British photographer and single mom Tess has a good life that revolves around her nine-year-old son Joe and her thriving career. Things look even better when she meets Greg, a charismatic American pediatric heart surgeon, on a photo shoot. The two of them are instantly attracted to each other, and it isn't long before they get married.
When Greg is offered a dream job in Boston along with a part-time teaching position at Harvard, they discuss a possible move to America. Tess is initially reluctant about uprooting her son and leaving behind her friends and family. Plus there is an added complication: she is pregnant, something the couple had definitely not planned on. But they agree that this position is a once-in-a-lifetime opportunity, and decide to go.
Greg seems happy to be back in America and the job is even better than he had hoped, but Tess and Joe have a hard time adapting to life in a new city. More worryingly, Tess notices that their new neighbors, and even some strangers, seem to recognize her husband, which he waves off as coincidence. As these strange encounters continue to occur, however, she begins to suspect that something is not quite right. In secret, she starts to look into Greg's past and discovers more questions than answers about the man she has followed across the ocean--the man who is the father of their new baby daughter.
Loving it!
I am looking forward to ...
We are going to do visits this afternoon. Looking forward to putting my Missionary Badge on and getting stuck in!
I am learning to ...
Ignore the news. I can't watch it. There is just too much carnage and sadness and negativity about. Its becoming an every day thing. It makes me so sad.
Dreaming about ...
Having a vegetable patch to be proud of . . .
An Edible Landscape.
An Ivy covered shed . . .
A Pantry Cupboard from an old armoire . . .
Cottage Style . . .
Bookcase wall? Yes please . . . .
A favourite quote for the day ...
(¯`v´¯) `*.¸.*´Ƹ̵̡Ӝ̵̨̄Ʒ ¸.
•´¸.•~♥♥♥~•.~ ღϠ₡ღ¸.
✻´´¯`✻.¸¸.Ƹ̴Ӂ̴Ʒ. ( ¸. ❀⁀ ⋱‿✿"` * .¸.*
✻ღϠ₡ ღ¸.✻´´¯`✻.¸¸.Ƹ̴Ӂ̴Ʒ..
Yesterday I was clever,
so I wanted to change the world.
Today I am wise,
so I am changing myself.
~Rumi
Makes me Smile ...
Our Doug sent me a bunch of photos yesterday. I was so pleased. Three little Super Heroes. From left to right, Josh (8), Jake (6) and Jon (10). Jon looks less than impressed. Had a brilliant Facetime with Doug and Jake yesterday and Jon also, but mostly Jake. I got to hear for a first time, "I love you Grammy." Made my heart sing!
One of my favourite things ...
Sunflowers . . . they make me smile.
Corners of my kingdom ...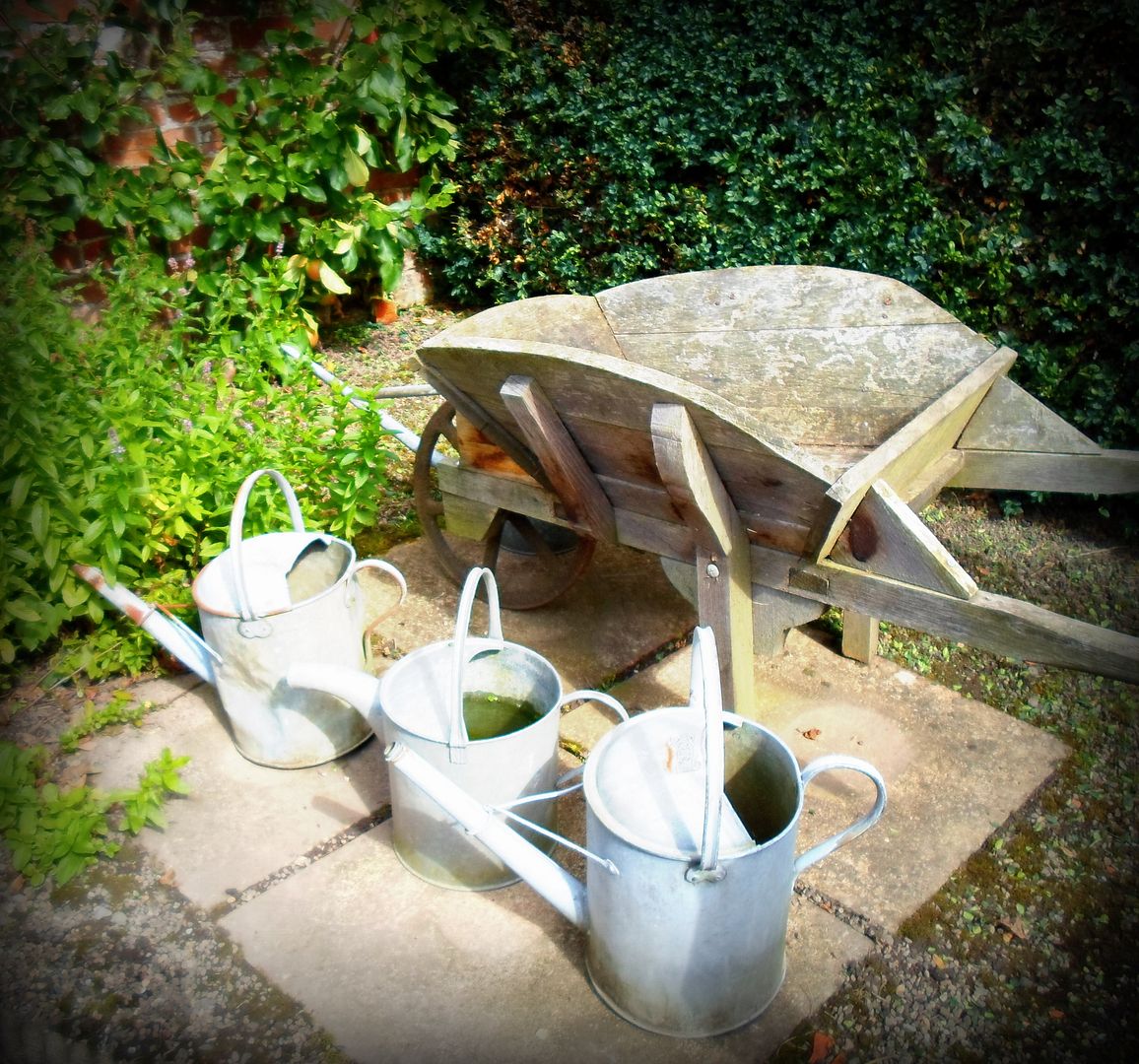 Three watering cans in a row . . .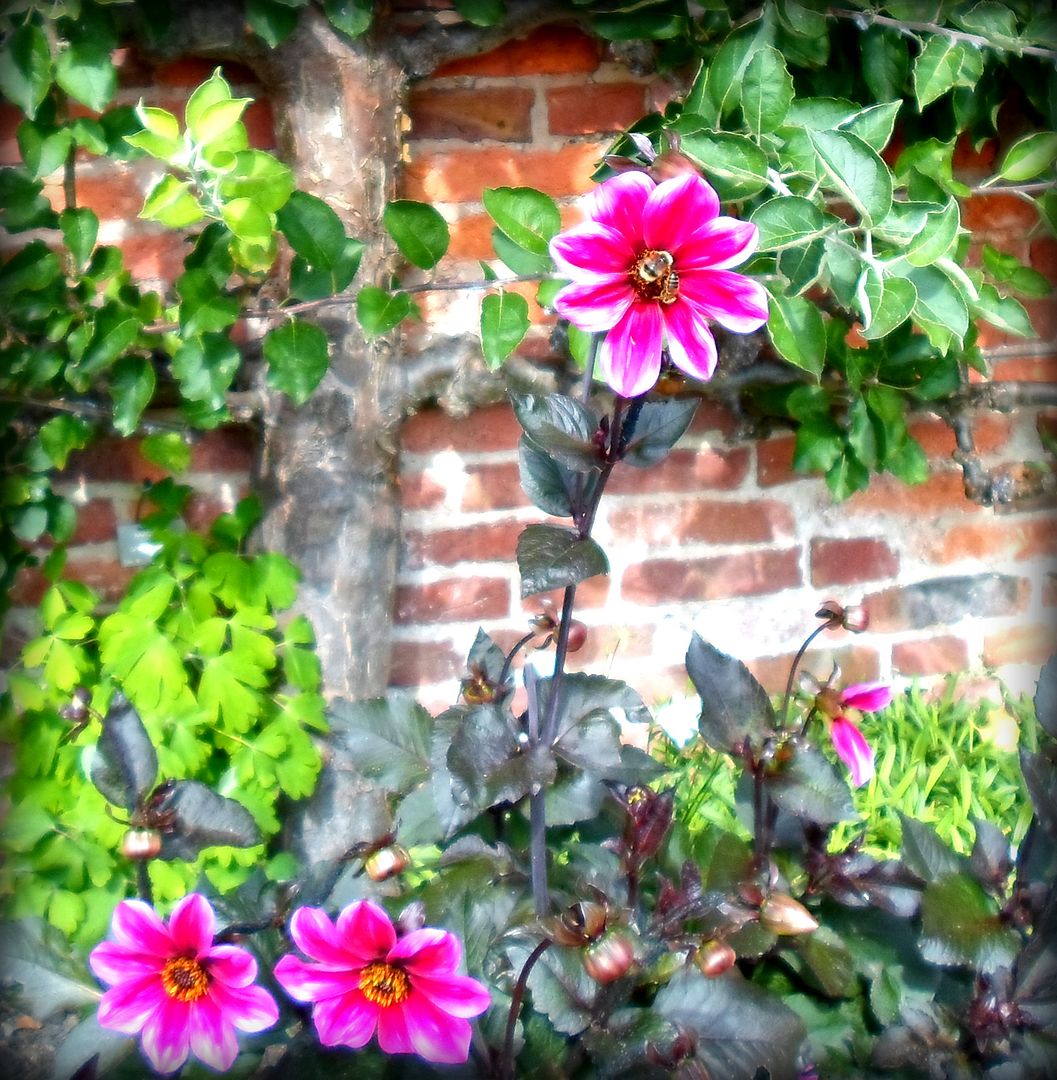 Against a wall . . .
And that's my daybook for this week!
⋱ ⋮ ⋰
⋯ ◯ ⋯ Take time to enjoy the small *´¯`.¸¸.☆
⋰ ⋮ ⋱ blessings in life.*´¯`.¸¸.☆
✿¸.•*¨`*•..¸✿ ✿¸.•*¨`*•..¸✿ ✿¸.•*¨`*•..¸✿
╬♥═╬╬═♥=╬╬═♥╬╬═♥╬╬═♥=╬╬♥═╬
░░░░░░░░░░░░░ ░░░░░░░░░░░░░
Wherever you go and whatever you do, I hope there's a great day ahead of you! Don't forget!
═══════════ ღೋƸ̵̡Ӝ̵̨̄Ʒღೋ ═══════════ ⊰✿░G░O░D⊰✿⊰L░O░V░E░S⊰✿⊰░Y░O░U░⊰✿
═══════════ ღೋƸ̵̡Ӝ̵̨̄Ʒღೋ ═══════════
And I do too!!