FOR TODAY, July 12, 2016
Outside my window ...
Its cold and overcast and it is raining. Feels like October, not July. But the garden is in full bloom so pretty. The breeze carries with it the smell of roses and sweet peas.
I am thinking ...
More days than not I don't recognise this world I am living in. It is very different than the world I grew up in. There is so much selfishness and hatred for others about. Was it always there?
I am thankful for ...
My four walls and the Gospel of Jesus Christ, which give me shelter and hope.
In the kitchen ...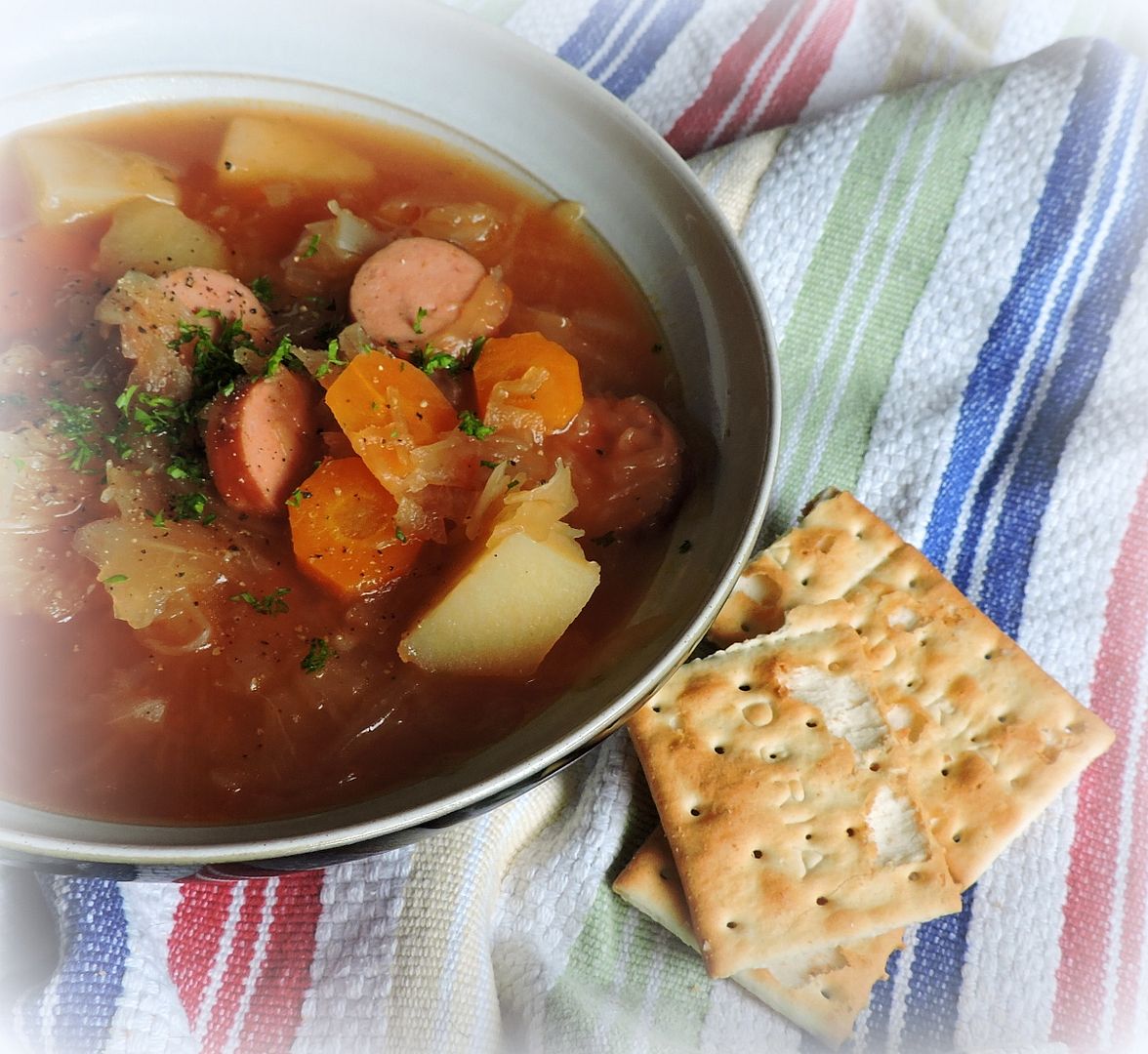 Crockpot Sauerkraut Soup
. Not only is this simple to make, but its totally delicious and keeps your kitchen nice and cool. Not that that is a problem here at the moment!
On my "To Cook" list ...
From
Cafe Delights,
One Pan Bruchetta Chicken Pasta Salad. This looks soooooooo delish!
I am creating ...
Nobody is expecting, but I reckon if I start a baby sweater now, it might be finished by the time someone is. In a neutral colour. This one is really pretty. From
Ravelry
.
But, I also really like this one. Also from
Ravelry
. I like the garter stitch yoke and the floral lining, and of course the self covered button.
These Crochet Slippers are nice. They look like they might actually stay on instead of fall off all the time. Downloadable pattern from
Etsy.
Make a bird feeder from a plastic bottle.
Cute DIY Projects
.
DIY Dinosaur Tooth Brush Holders. From
DIY Joy
. What a novel idea.
I am reading ...
In The Unlikely Event
, by Judy Bloom
This is a richly textured and moving story of three generations of families, friends and strangers, whose lives are profoundly changed by unexpected events.
In 1987, Miri Ammerman returns to her hometown of Elizabeth, New Jersey, to attend a commemoration of the worst year of her life
Thirty-five years earlier, when Miri was fifteen, and in love for the first time, a succession of airplanes fell from the sky, leaving a community reeling. Against this backdrop of actual events that Blume experienced in the early 1950s, when airline travel was new and exciting and everyone dreamed of going somewhere, Judy Blume imagines and weaves together a haunting story of three generations of families, friends, and strangers, whose lives are profoundly changed by these disasters. She paints a vivid portrait of a particular time and place — Nat King Cole singing "Unforgettable," Elizabeth Taylor haircuts, young (and not-so-young) love, explosive friendships, A-bomb hysteria, rumors of Communist threat. And a young journalist who makes his name reporting tragedy. Through it all, one generation reminds another that life goes on.
In the Unlikely Event is a gripping novel with all the hallmarks of Judy Blume's unparalleled storytelling.
I have only just started this. The first few chapters are a bit confusing as she puts all the characters into place, but once you get past that, it all begins to fall into place. I am really enjoying it.
I am looking forward to ...
Todd would like to take a day and drive to Aberystwyth this summer. (If we ever get any summer) It's in Wales, on the coast. We will see.
A day out and about is something to look forward to, however. ☺
I am learning to ...
Trust my instincts more.
Dreaming about ...
Flea Market Bedrooms . . .
Having some girls . . .
Picnics for two . . .
Toasting marshmallows over campfires . . .
Secret escapes . . . singing in the woods . . . cool grass and bare feet . . .
A favourite quote for the day . . .
(¯`v´¯) `*.¸.*´Ƹ̵̡Ӝ̵̨̄Ʒ ¸.
•´¸.•~♥♥♥~•.~ ღϠ₡ღ¸.
✻´´¯`✻.¸¸.Ƹ̴Ӂ̴Ʒ. ( ¸. ❀⁀ ⋱‿✿"`
* .¸.* ✻ღϠ₡ ღ¸.✻´´¯`✻.¸¸.Ƹ̴Ӂ̴Ʒ..
Some people feel the rain, others just get wet.
~Bob Marley
Makes Me smile ...
A gathering of Raggedys . . .
One of my favourite things ...
Toast and butter . . .
Corners of my kingdom ...
They reach for the sky . . .
And that's my daybook for this week!
⋱ ⋮ ⋰
⋯ ◯ ⋯ Take time to enjoy the small *´¯`.¸¸.☆
⋰ ⋮ ⋱ blessings in life.*´¯`.¸¸.☆
✿¸.•*¨`*•..¸✿ ✿¸.•*¨`*•..¸✿ ✿¸.•*¨`*•..¸✿
╬♥═╬╬═♥=╬╬═♥╬╬═♥╬╬═♥=╬╬♥═╬
░░░░░░░░░░░░░ ░░░░░░░░░░░░░
Wherever you go and whatever you do, I hope there's a great day ahead of you! Don't forget!
═══════════ ღೋƸ̵̡Ӝ̵̨̄Ʒღೋ ═══════════ ⊰✿░G░O░D⊰✿⊰L░O░V░E░S⊰✿⊰░Y░O░U░⊰✿
═══════════ ღೋƸ̵̡Ӝ̵̨̄Ʒღೋ ═══════════
And I do too!!