It actually wasn't raining yesterday afternoon, so I thought I would take a few photographs out front of the house while Todd was taking a few things down to the tip. This was taken from the pavement/sidewalk out front. Everything is so beautiful at the moment, with the lavendar in full bloom and all of the hydrangea and roses blooming as well.
We have several kinds of hydrangea. The ones with the huge double blooms, in both pinck and white and then these purple ones which have a really different type of bloom . . .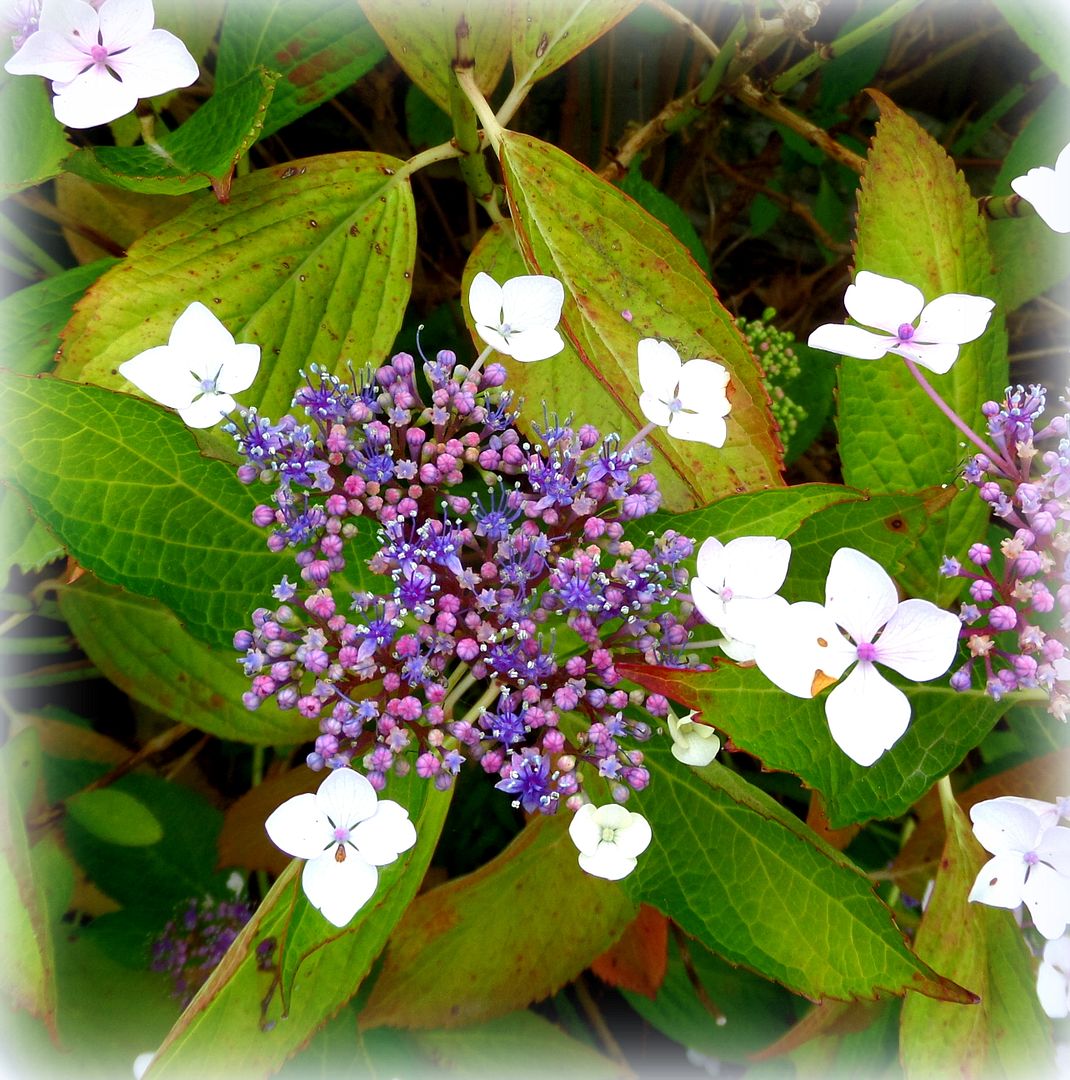 They have these really tight little purple flowers in the centre, which are surrounded by larger white flowers. Really very pretty.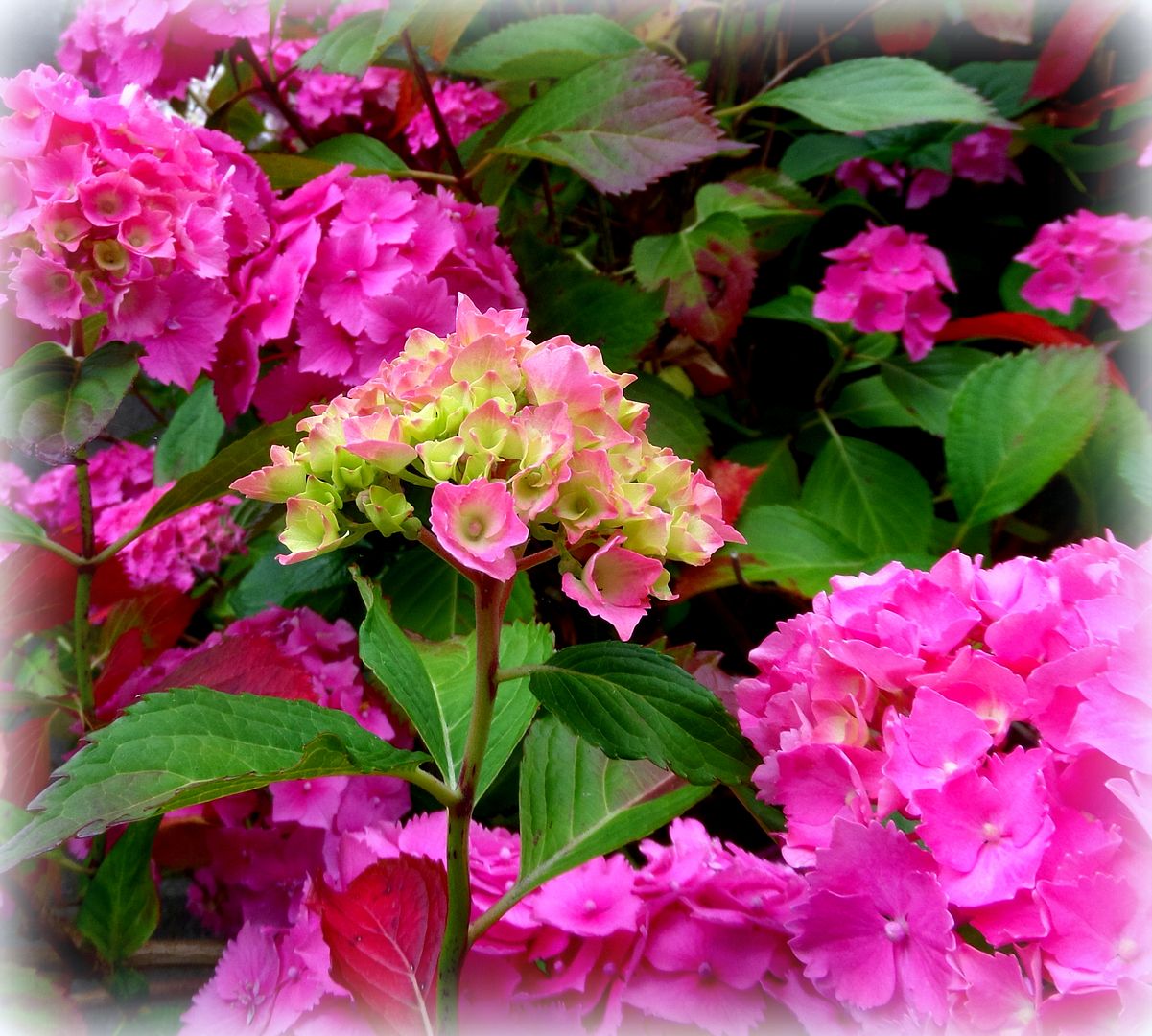 Altogether they are gorgeous and put on a really lovely show.
I was trying to capture a photograph of the bees which were buzzing amongst them, their hind legs are bright yellow and swollen with pollen. They move very quickly from one bloom to another so its really hard to do . . . there are several different kinds visiting . . . this one was a bumble type of bee, all fat and fuzzy, but with a white bottom . . .
Then there is this smaller type . . . I believe they are honey bees . . . they love, LOVE the lavender.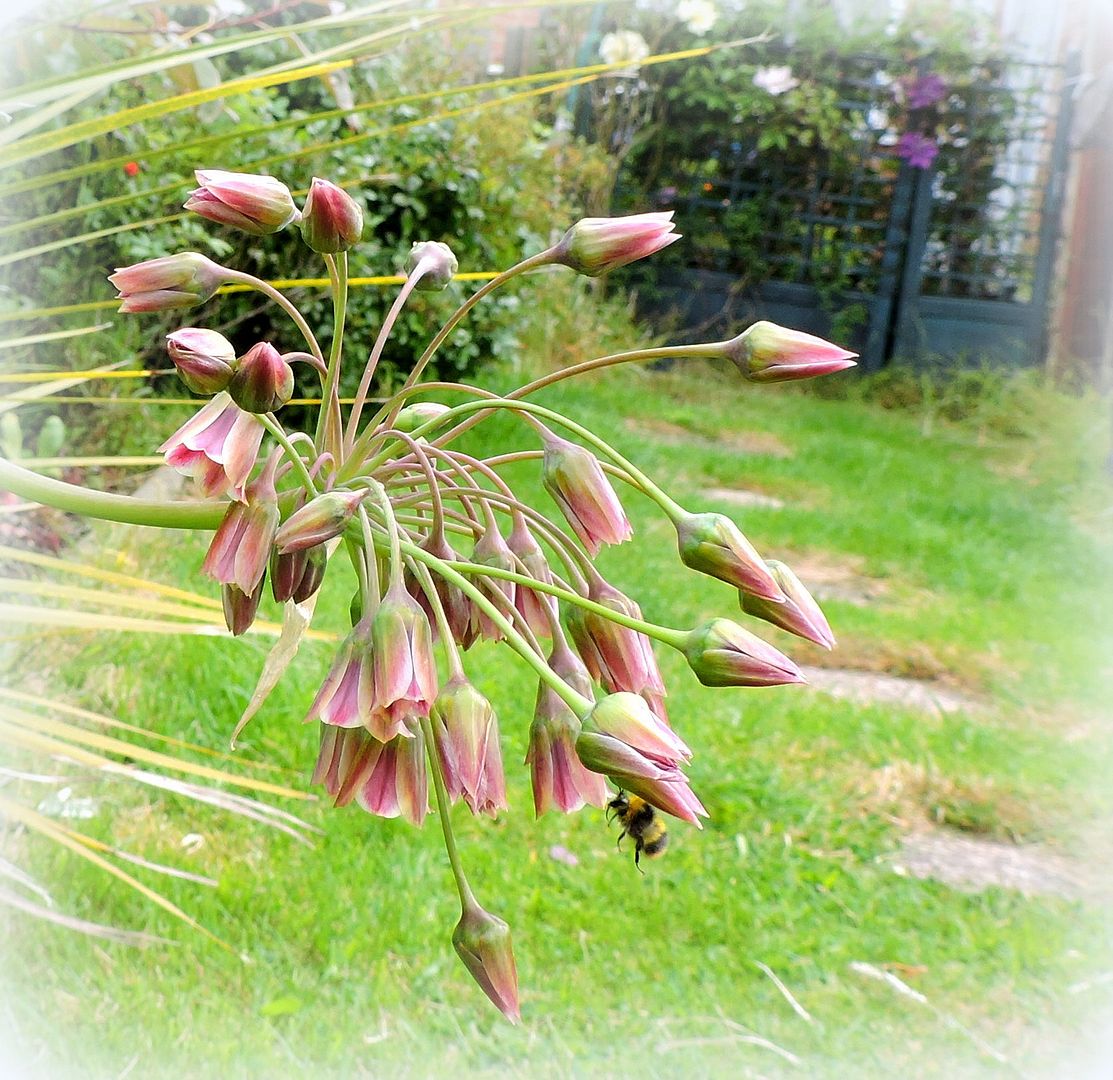 They also love this, but I forget what it is called . . . its a type of allium . . .
And of course so many roses in bloom . . . in all sorts of colours . . . I love these peachy pink ones the most of all . . .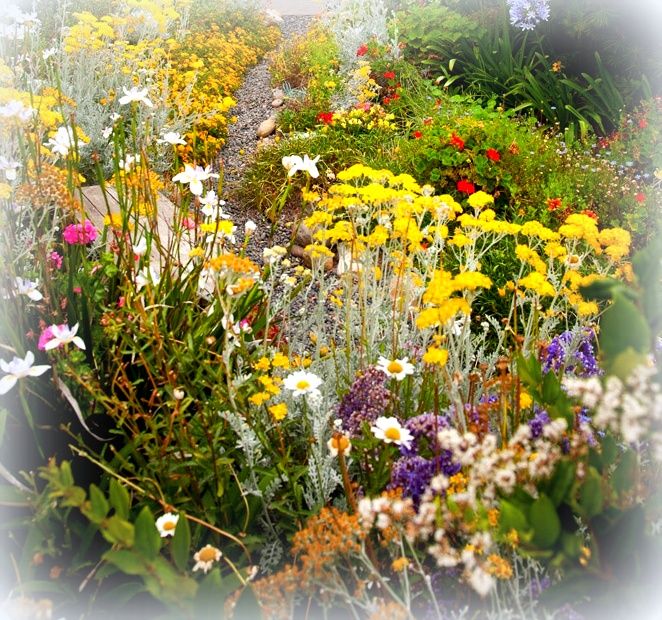 And the wild flower garden at the back is going potty. Crazy with bloom . . .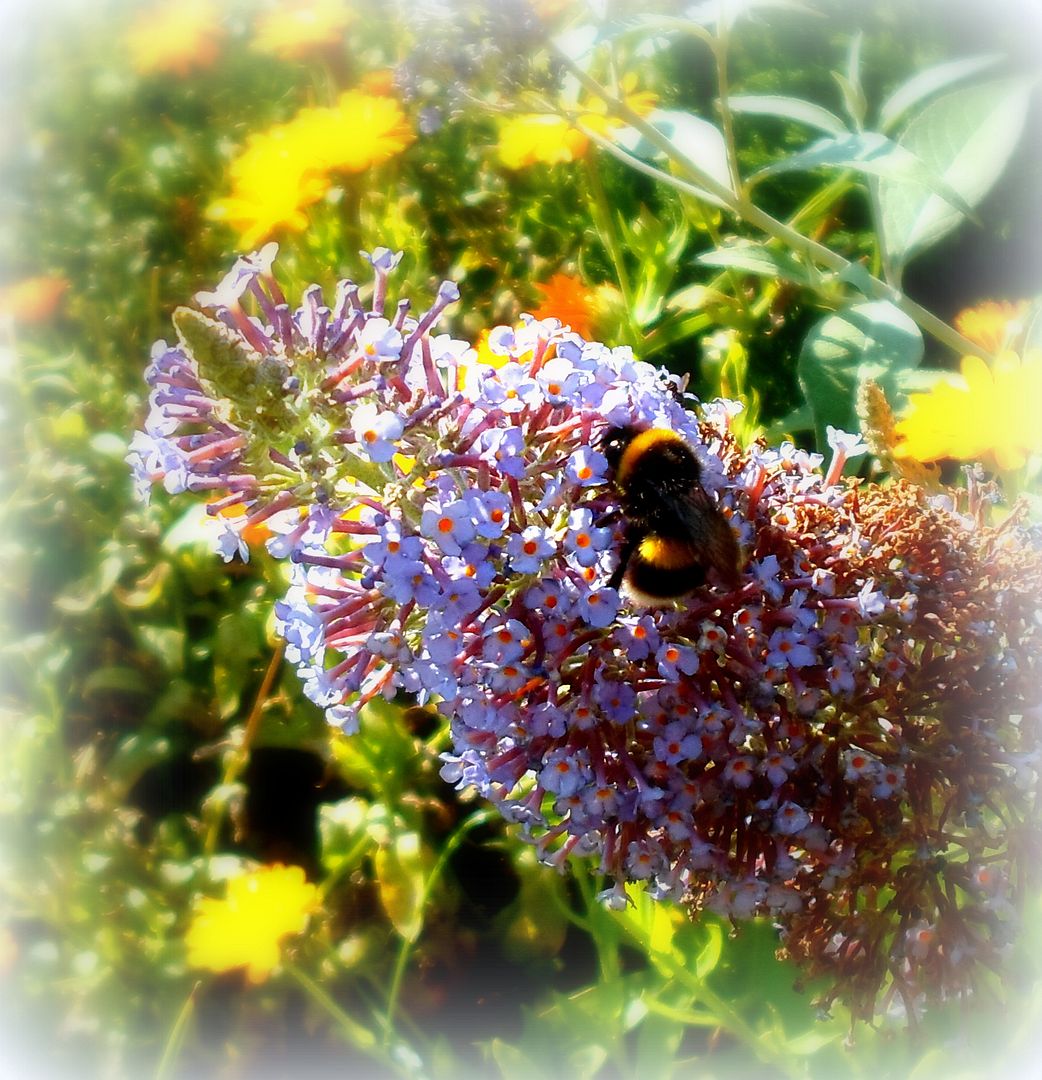 And the Butterfly bush . . . the bees love it too . . . another one with a white bottom . . .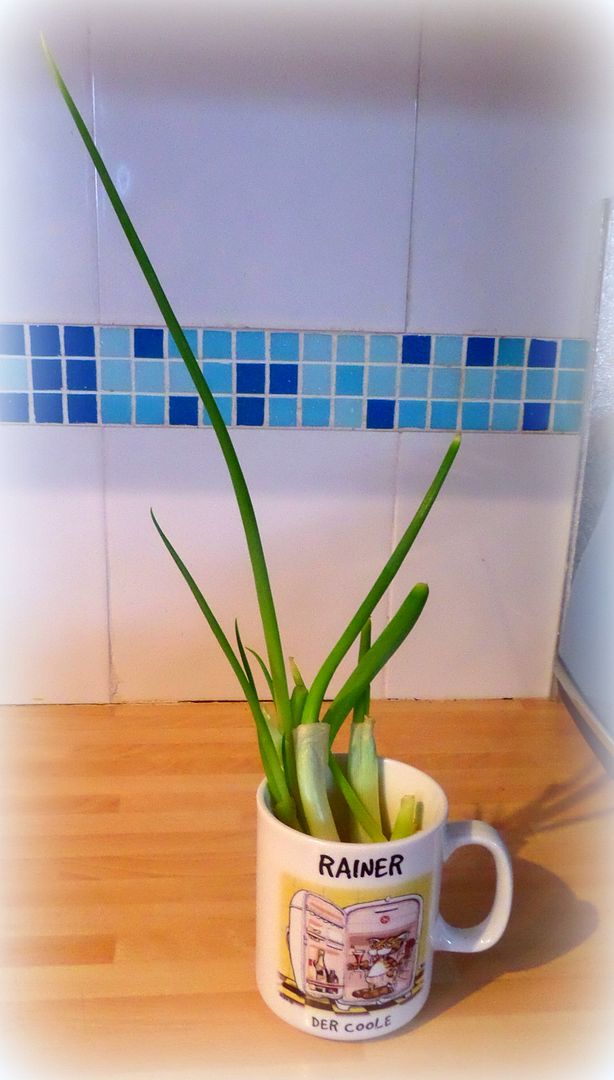 And yes . . . it works. I got this from Pinterest and tried it You take the root ends of spring onions/scallions and put them in water and they grow new tops.
Our newest acquisition. Its a fish tank. We don't have any fish in it yet. We have to do it in stages. First the tank and the gravel for in it and a few small bits . . . and then later the fish. That will give the water time to settle, etc. and our bank account time to recover, lol. Actually its just a small one and it was on sale so it didn't cost very much. We plan on getting a fantail gold fish, a black molly and then about 4 tiny fish. So not a lot. We'll also want some algae eaters . . . I could watch goldfish for hours. Its so relaxing . . .
Its tipping it down this morning . . . you can't really tell how much from this picture . . . but you can see all the rain which is pelting against the back window in the dining room. I hope it clears because I have an appointment in town for my eyes. I know they will be putting those drops in that make it so I can't see very well, and it is a very long walk from there to the bus station to get home, so I am praying that its not still tipping it down. But on the other hand I also don't want bright glaring sunshine either . . .
And we have the Sister Missionaries coming for their tea. They called last night just as we were getting into bed to ask if they could come over for tea today. There are three of them at the moment . . . Sister Doncheva is going home next week, so they have sent us a new Sister from the Philippines, fresh from the Missionary Training Centre, so until Sister D leaves there are three. I am not sure what I will cook yet, but it will all have to be done this morning so I can just pop it into the oven before they come this afternoon, as I won't be able to see very well then! Exciting stuff!
Oh . . . and apparently I am only allowed to ask my oldest daughter two questions per conversation we have on chat. So, once I say . . . What's up Buttercup? (my usual greeting.) I only have one left.
Who knew???
She gets annoyed with me if I ask any more than that. I better rethink this . . . and make my two questions count! No more "What's up Buttercup!" (She's so funny. Makes me smile. Love her to bits.)
A thought to carry with you through today . . .
`*.¸.*´Ƹ̵̡Ӝ̵̨̄Ʒ`*.¸.*´Ƹ̵̡Ӝ̵̨̄Ʒ`*.¸.*´
There is no greater agony
than bearing an untold story
inside of you.
~Maya Angelou
`*.¸.*´Ƹ̵̡Ӝ̵̨̄Ʒ`*.¸.*´Ƹ̵̡Ӝ̵̨̄Ʒ`*.¸.*´
Spiritual Enlightenment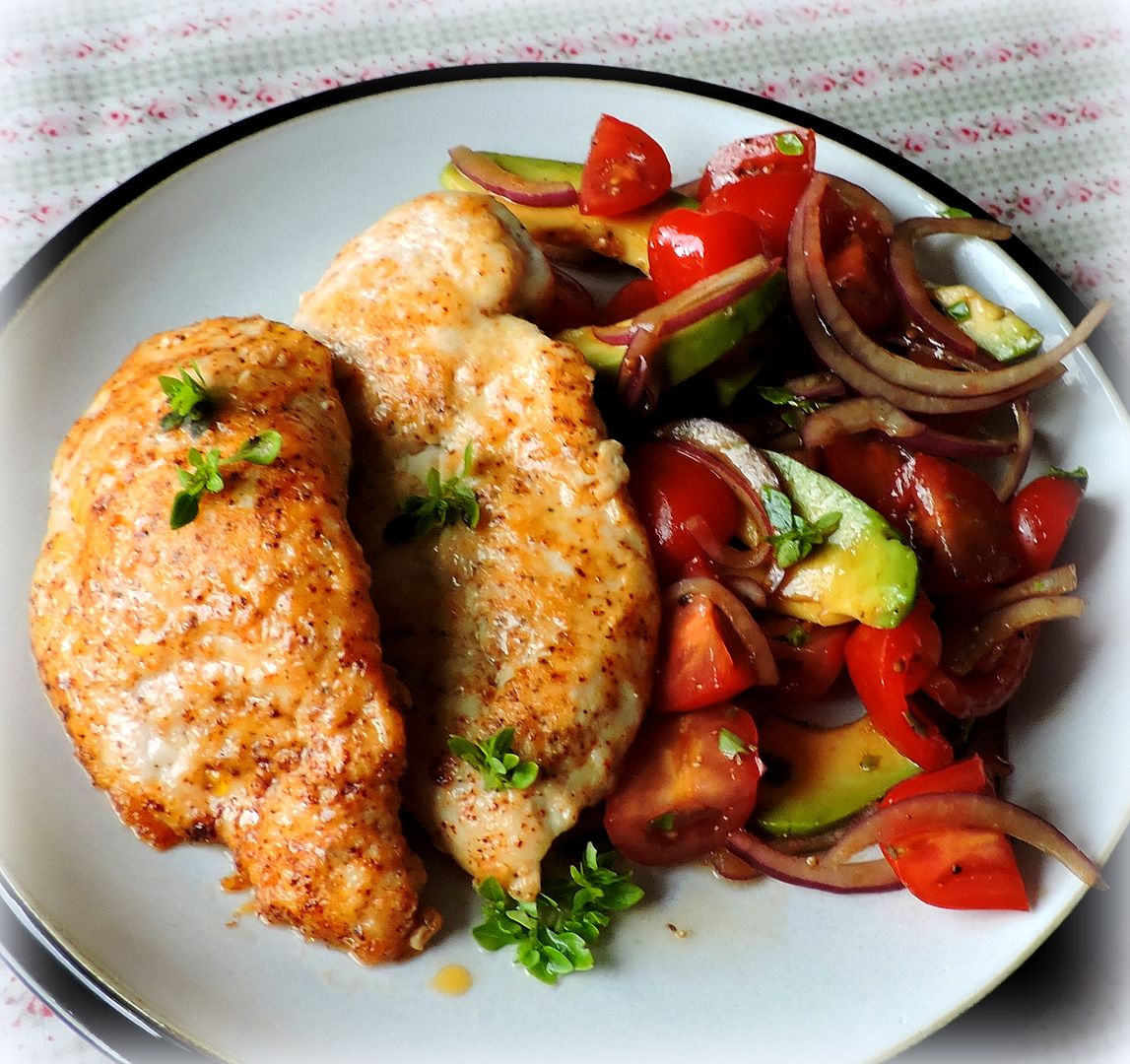 In The English Kitchen today . . .
Parmesan Chicken with an Avocado and Tomato Salad
. Scrumptious!
Have a great Wednesday. I hope the sun shines on you! Wherever you go and whatever you get up to, don't forget!
═══════════ ღೋƸ̵̡Ӝ̵̨̄Ʒღೋ ═══════════ ⊰✿░G░O░D⊰✿⊰L░O░V░E░S⊰✿⊰░Y░O░U░⊰✿
═══════════ ღೋƸ̵̡Ӝ̵̨̄Ʒღೋ ═══════════
And I do too!