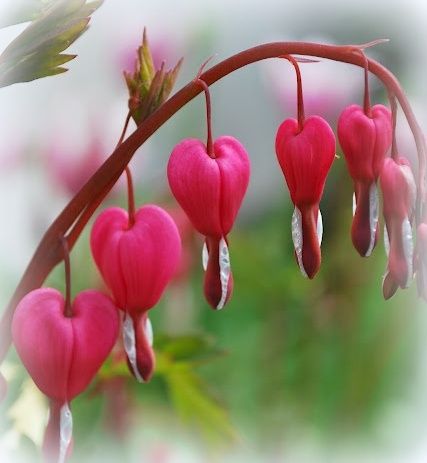 The Bleeding Heart bush is blooming in our garden now. It's branches arch just so . . . dripping with little pink hearts . . . one can almost hear them tinkling in the wind like a delicate chime . . . they have a story to tell it seems . . .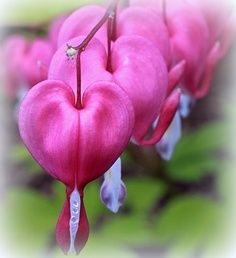 As is the common name, the botanical name of this plant is aptly descriptive - Dicentra, from Greek, meaning "two spurs," and spectabilis, meaning "worthy of notice," or "spectacular," which this plant certainly is.
No other plant bears perfect heart-shaped flowers like those of the Bleeding Heart. If you press the flowers between the pages of a heavy book, you'll have papery-thin little hearts to adorn letters or valentines. If you turn a flower upside down and pull the two halves apart, you'll see a lady in a pink bathtub, or perhaps you'll see a white lyre with slender strings of silk . . .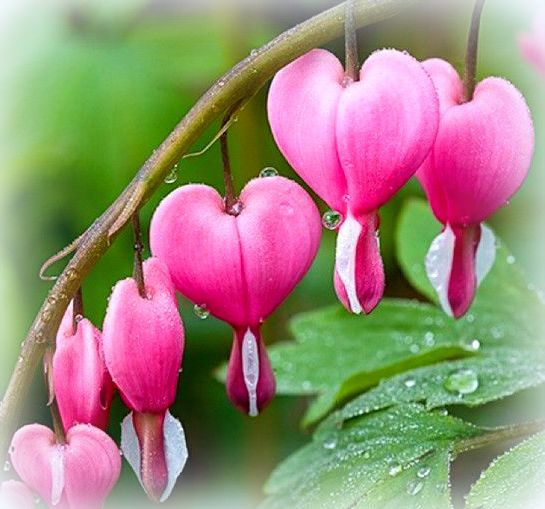 There is, they say . . . contained within it's heart . . . a tragic tale of unrequited love . . .
Long ago there lived a noble prince who tried in vain to win the heart of a very beautiful princess. The prince had brought the princess wonderful gifts from his travels far and wide. Yet she had taken no notice of him. One day the prince returned from a long journey with very special gifts to surely win the love of the princess. First he presented her with two magical pink bunnies.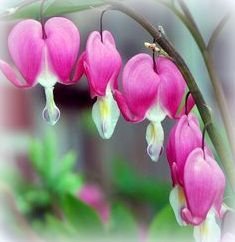 The princess only sighed and barely looked at the little bunnies. The hopeful prince had one more gift saved for last - he presented a pair of beautiful enchanted earrings.
Again, the princess hardly noticed the prince's gift. Now the poor prince was utterly heartbroken. He could try no more to win the heart of the princess. He rose up, pulled a dagger from his sheath and stabbed himself in the heart.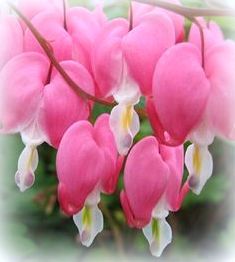 The princess was overcome by the dedication of the dying prince and his unending love for her. She realized too late that she loved him also. "Alas," she cried out. "I have done wrong, my own heart is broken also. I shall bleed for my prince forever more!" And her heart bleeds to this very day.
You can take the petals from a bleeding heart and separate them into the various things . . . first peeling off the two outer pink petals and laying them on their sides, where they are said to resemble perfectly two pink little bunnies . . . and then inside two slender dangling white earrings . . . and at the very centre of the flower, a small heart with a green dagger like stamen protruding. I could not bring myself to pluck a blossom from it's stem to show you, so you will have to take my word for it . . .
I love folklore and whether it is true or not . . . there is an unsung mystery at the heart of every flower, a story which begs to be told and to be heard . . .
My favourite one is the story of the forget me not, which are also blooming now . . .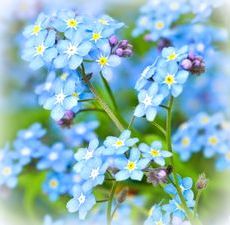 It is said that in the act of creation our Heavenly Father had finished creating and naming all of the flowers, except for one small blue bloom, who delicately whispered to him . . . "Oh Father . . . Forget me not." And that is how it got it's name.
I love that thought and every time I look at the small blue petals of a forget-me-not, I remember that I have a Heavenly Father who knows me by name and loves me . . . and who will never forget me.
A thought to carry with you through today . . .
(¯`•´¯)☆
*`•.¸(¯`•♥•´¯)¸.•♥♥•
☆ º ` `•.¸.•´ ` º ☆.¸.☆¸.•♥♥•¸.•♥♥•¸.•♥♥•
"It is the LORD who goes before you.
He will be with you;
he will not leave you or forsake you.
Do not fear or be dismayed."
~Deuteronomy 31:8
º ☆.¸.☆¸.•♥♥•¸.•♥♥•¸.•♥♥•
º ☆.¸.☆¸.•♥♥•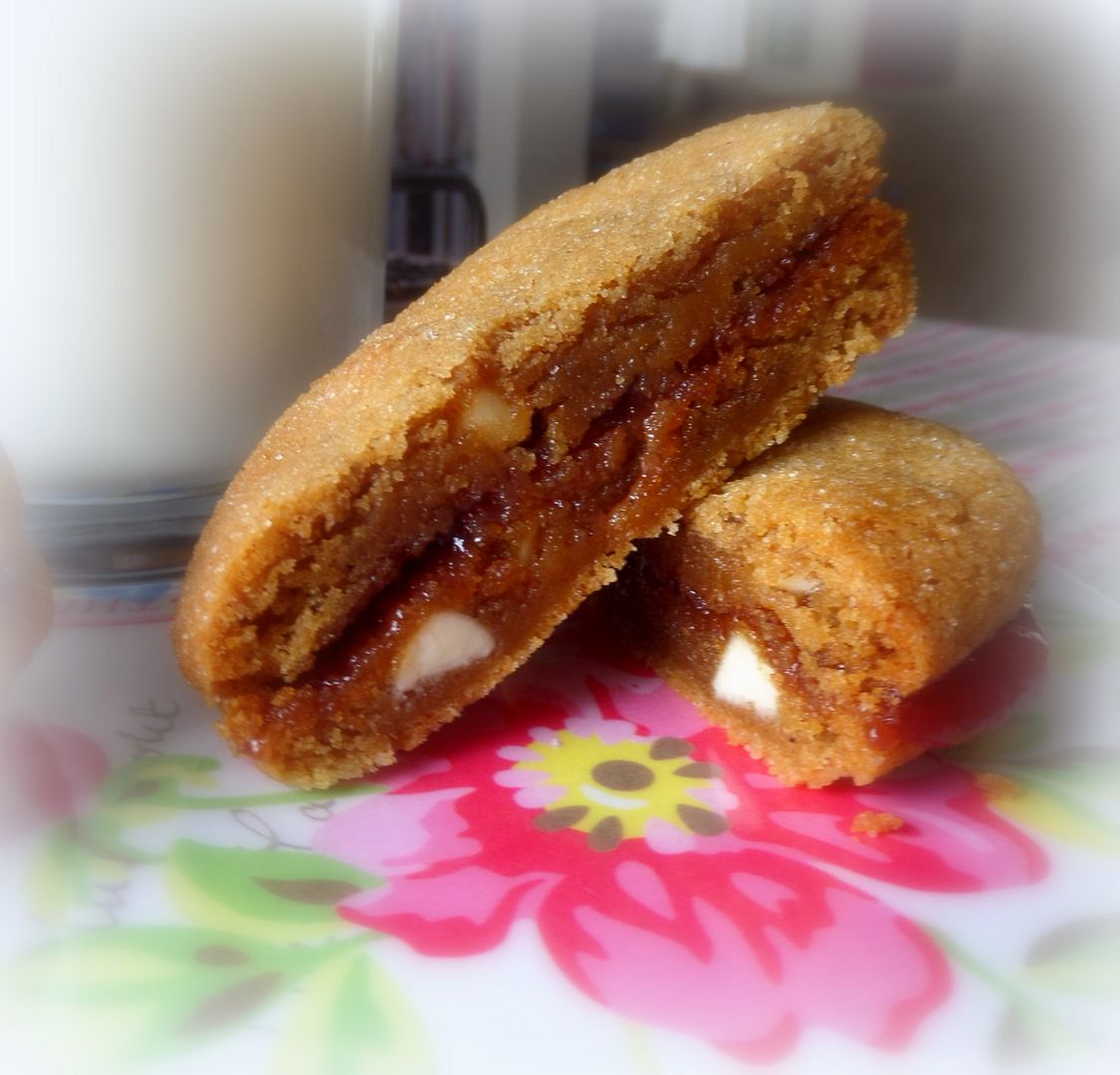 Cooking in the English Kitchen today . . .
Gingerbread, White Chocolate Chip and Raspberry Jam Sandwich Cookies
. Sooooooooooooooo good!
Have a wonderful Saturday!
═══════════ ღೋƸ̵̡Ӝ̵̨̄Ʒღೋ ═══════════ ⊰✿░L░O░V░E⊰✿⊰✿⊰✿⊰✿⊰✿⊰░Y░O░U░⊰✿
═══════════ ღೋƸ̵̡Ӝ̵̨̄Ʒღೋ ═══════════