"The world is fairly studded and strewn with pennies cast broadside from a generous hand. But who gets excited by a mere penny?...It is dire poverty indeed when a man is so malnourished and fatigued that he won't stoop to pick up a penny. But if you cultivate a healthy poverty and simplicity, so that finding a penny will literally make your day, then, since the world is in fact planted with pennies, you have with your poverty bought a lifetime of days. It is that simple. what you see is what you get." ~Anne Dillard

A few of the small and wonderful things which bring untold joy into my life. It's the small things in life which truly mean the most. Simple abundance . . . it's the best.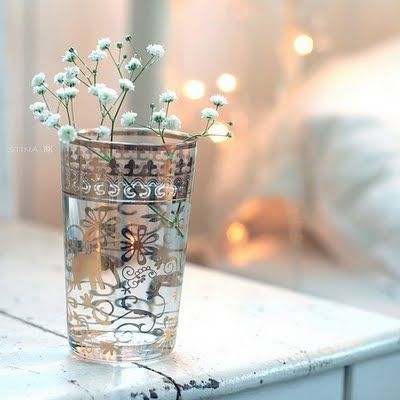 I am feeling much better. It was a rough couple of days. I still have a very tight cough, which makes me almost choke each time I cough. I may have to go to the Doctor and get something for it, but for now my cold seems to be almost better. Very happy for that.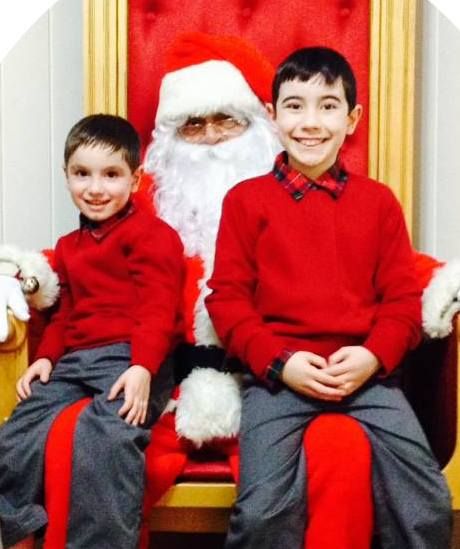 Visits to Santa. I can't believe how big Gabriel and Luke are getting! They look so very grown up in their matching trousers and sweaters, shirts. I think Red is their colour. They look like they are enjoying their visit with Santa Claus. Two very handsome boys.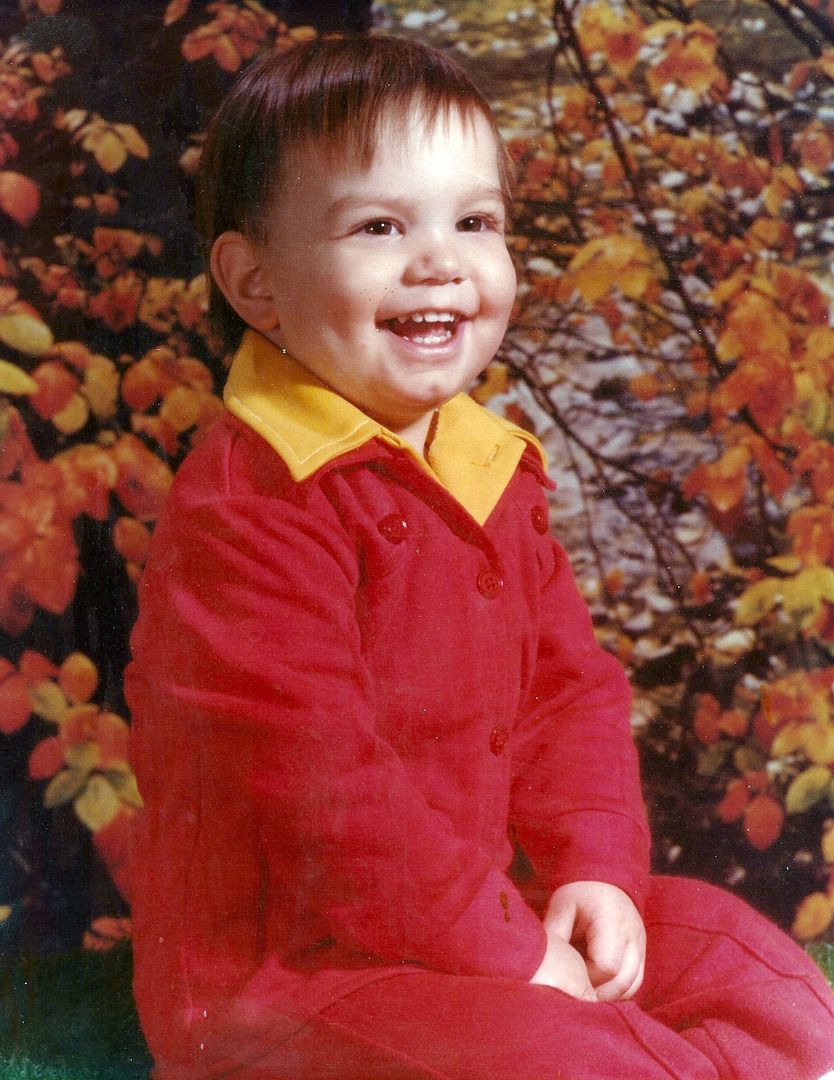 Their dad always looked good in red . . . I think Anthony was about eighteen months old here. I remember that little red suit. It cost me a bomb. I used to belong to a children's clothing of the month club and each month I would get sent a nice outfit. That one was particularly nice with a jacket, pants and a shirt. I thought he was quite handsome in it. He's still quite handsome.
Still no job. It looks like the job interview he went on fell through, so please continue to keep him in your prayers. This little family needs a break soon.
Visits to the creche at the Cathedral in town. I am grateful that they are being taught about Jesus and the true reason for the season. That does this Grandmother's heart good.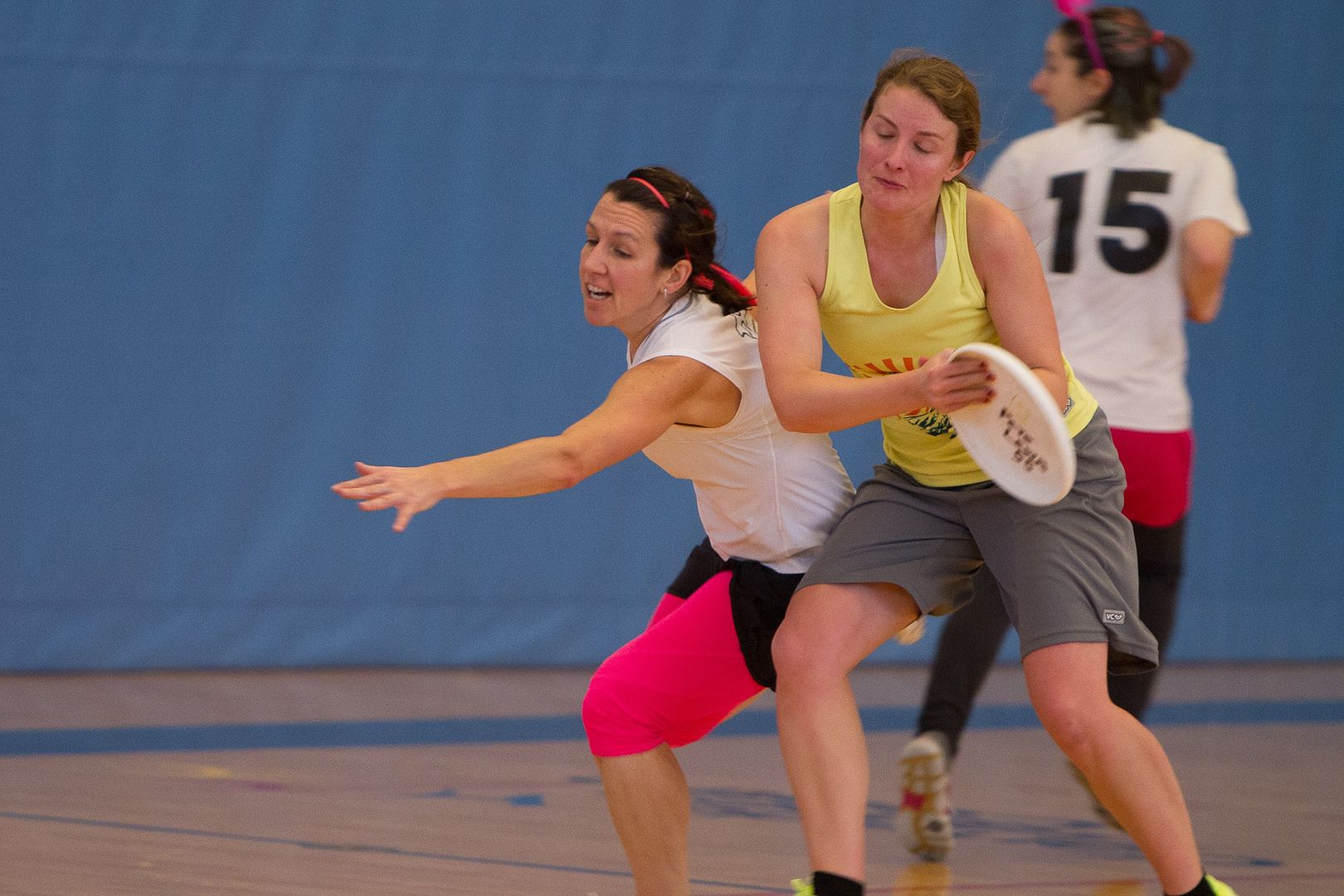 Having a daughter who is really fit. That is our Amanda in the pink and black shorts. She plays ultimate Frisbee and is on a team. She's very atheletic. She always has been. She likes to stay in shape.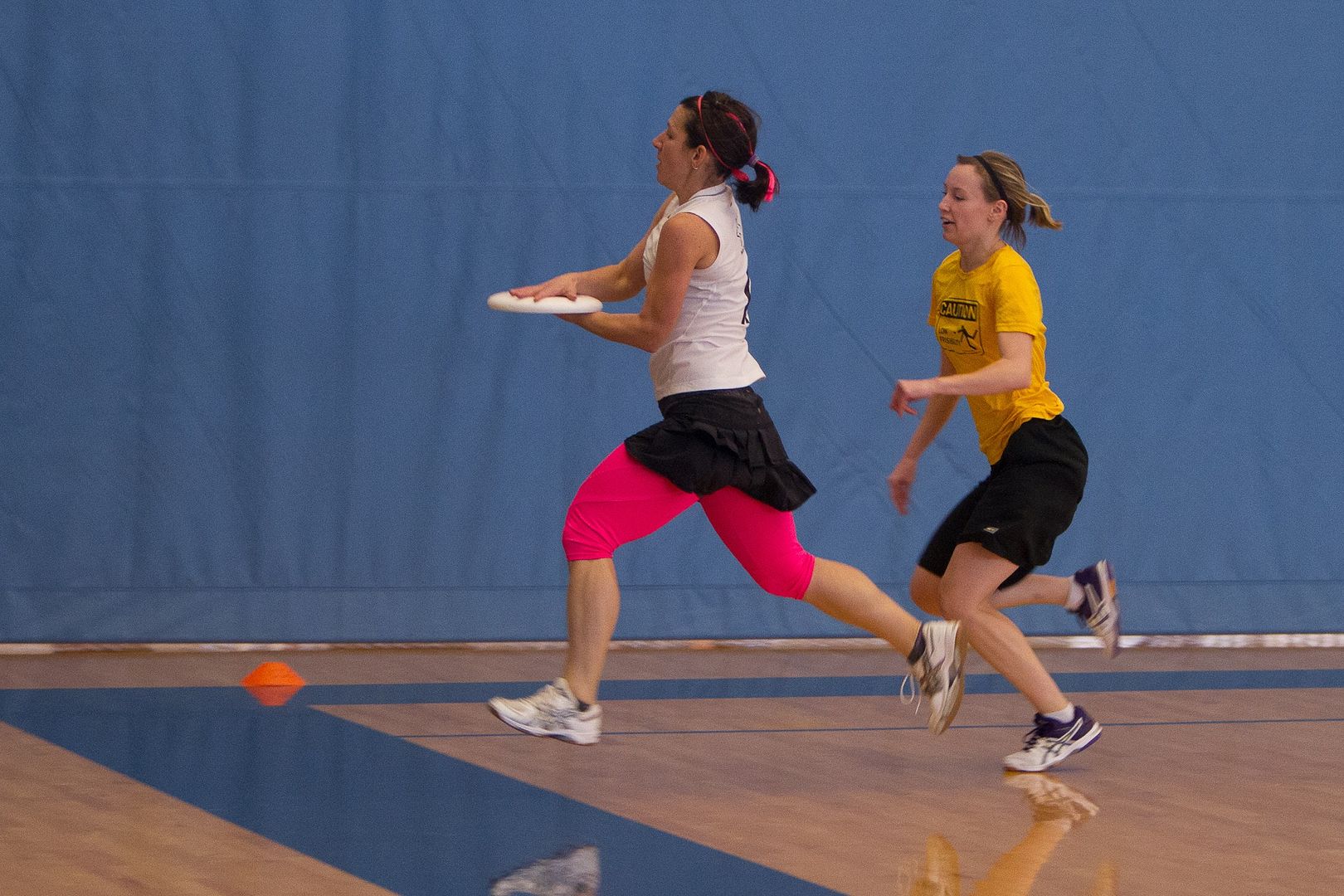 Not only does she work full time as an RN in a prestigious Children's Hospital, but she is a great mum to Maryn and Cameron and a good wife to Tom. She also manages to find time to stay in great shape. I don't know how she does it all. I think Tom must be a great help and support to her. She is very blessed to have that in a husband. This mother's heart is greatful for Tom and all the love and support he shows and gives my daughter and grandchildren.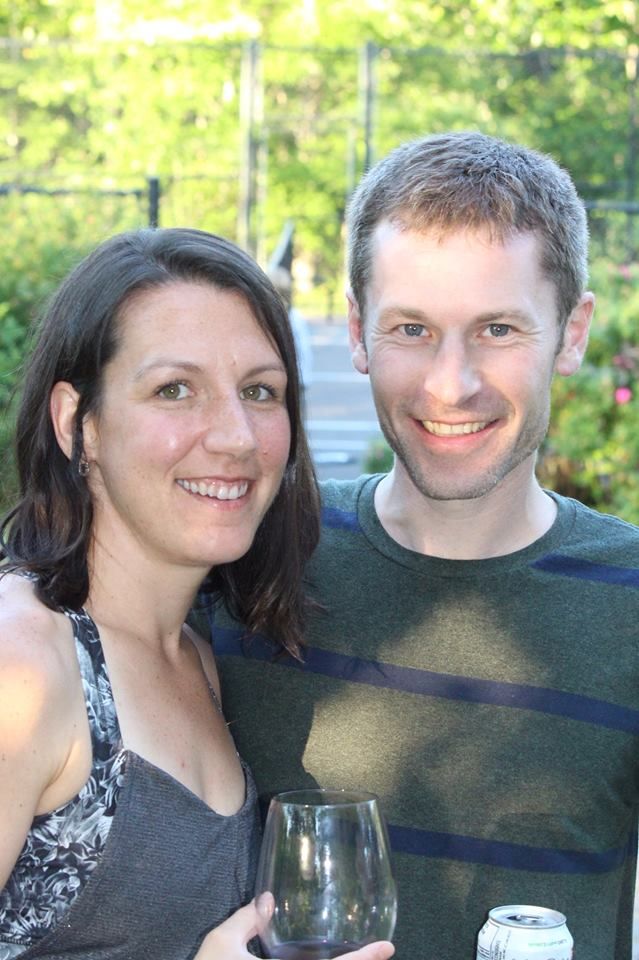 I could not have picked a better husband for her if I had chosen him myself. I truly hope that one day I will get to know him a lot better.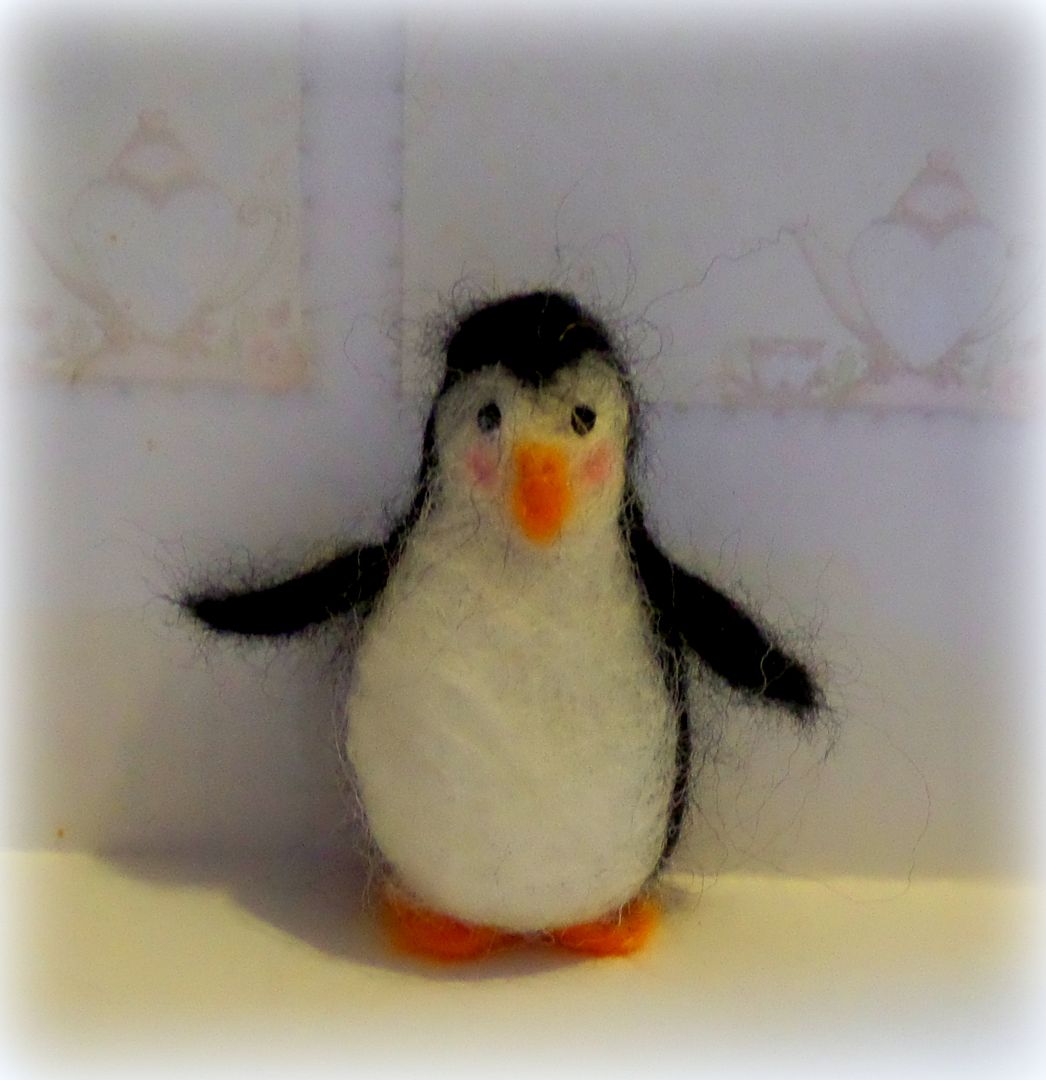 My latest Needle-felting creation. It's a penguin! I think I'll call him Percy. He would make a great Christmas Tree ornament.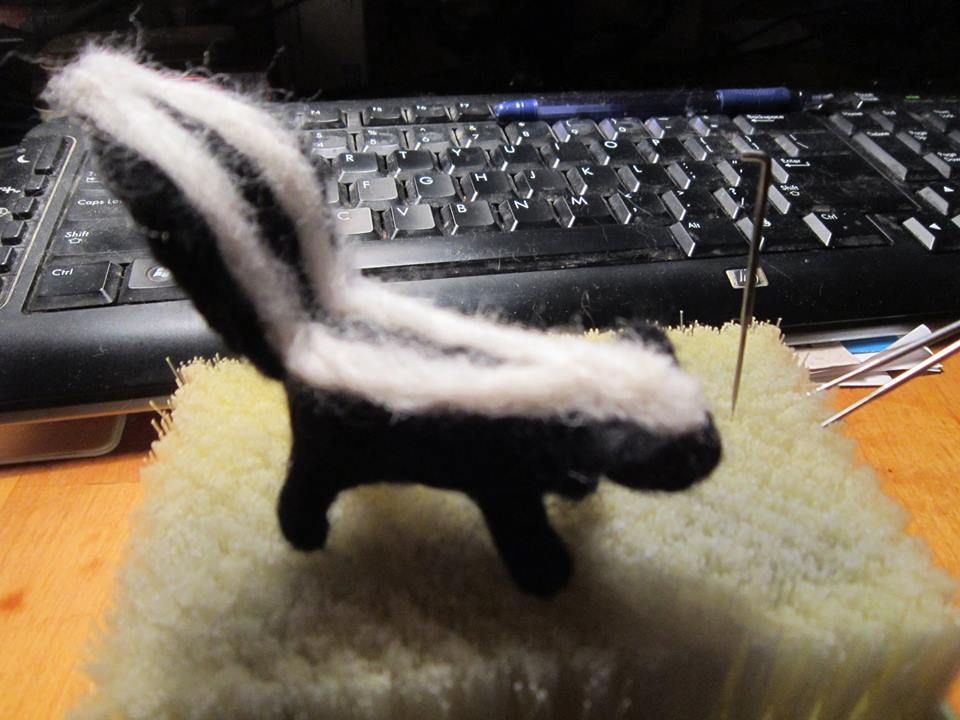 This is my sister's latest creation. It's a skunk. I love that we can share this hobby together, even though we are thousands of miles in space apart. Praise God for modern technology! We have always shared a mutual love of creating and crafting things. Some of my most pleasant hours have been spent in creating things together with my sister.
I need to get one of those brush mats. My mat is a piece of sponge. Something to put on my wish list.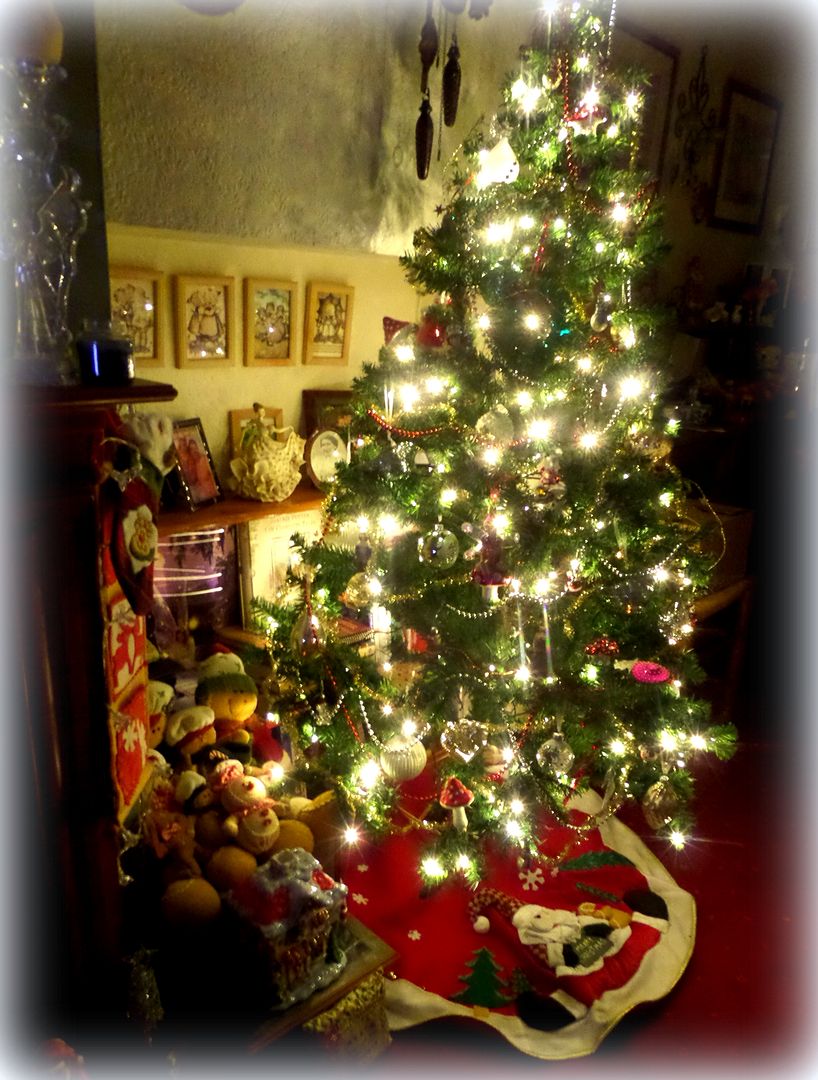 Once more getting to pen my morning thoughts and muses via "tree-light." That makes me happy and brings a sense of contentment to my heart. I am so blessed to live in a country in which I can celebrate the Saviours birth with abandonment and with light. So many in this world do not have that same priviledge. May I never take such freedoms for granted.
I am sorry that I left you all in the dark for a couple of days. I really was feeling very lousy. I am feeling much better now. I need to show Todd how to post messages on here so that if anything bad really ever happens he can let you all know. There is nothing more distressing than having an invisible friend disappear.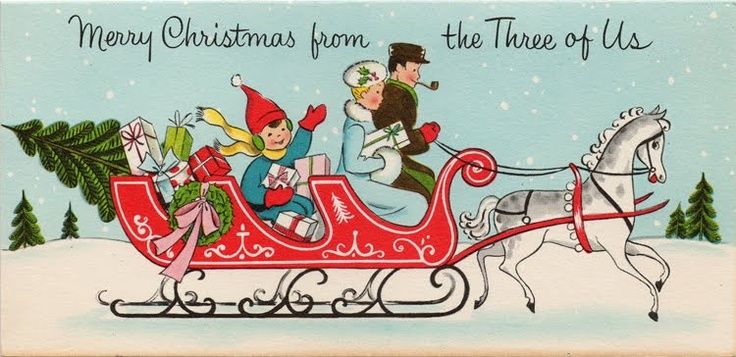 A thought to carry with you through today . . .
❥✻❥.¸¸.✿¨¯`❥✻❥¸¸.✿¨¯`❥✻❥.¸¸.✿¨¯`❥✻❥
Happy, happy Christmas,
that can win us back to the delusions of our childhood days,
recall to the old man the pleasures of his youth,
and transport the traveler back
to his own fireside and quiet home!
~Charles Dickens
❥✻❥.¸¸.✿¨¯`❥✻❥¸¸.✿¨¯`❥✻❥.¸¸.✿¨¯`❥✻❥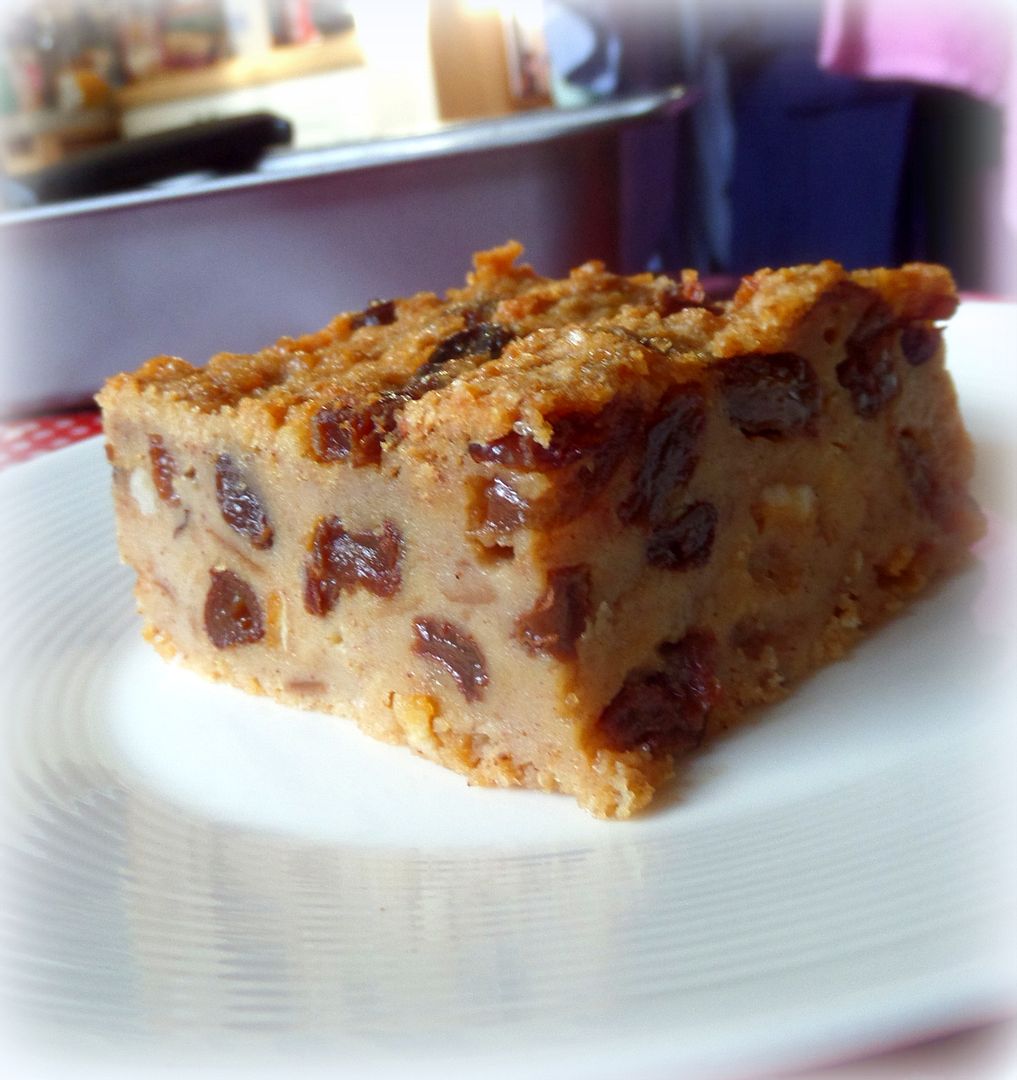 Stogged full of lovely dried fruits, a
Traditional Old Time Bread Pudding
is baking in The English Kitchen today.
═══════════ ღೋƸ̵̡Ӝ̵̨̄Ʒღೋ ═══════════ ⊰✿░L░O░V░E⊰✿⊰✿⊰✿⊰✿⊰✿⊰░Y░O░U░⊰✿
═══════════ ღೋƸ̵̡Ӝ̵̨̄Ʒღೋ ═══════════
Only a little over two weeks til Christmas! It's coming upon us rather quickly!
Have a fabulous Tuesday! We have the boiler man coming to service our boiler today.