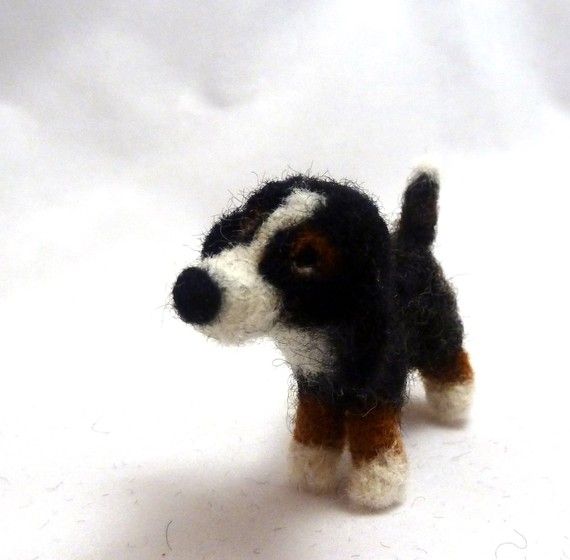 This is Socks. He is a needle felted Dog that I bought for in my doll's house a year or so back. I bought him on Etsy and I daren't say how much I paid for him. Let's just say he was not cheap.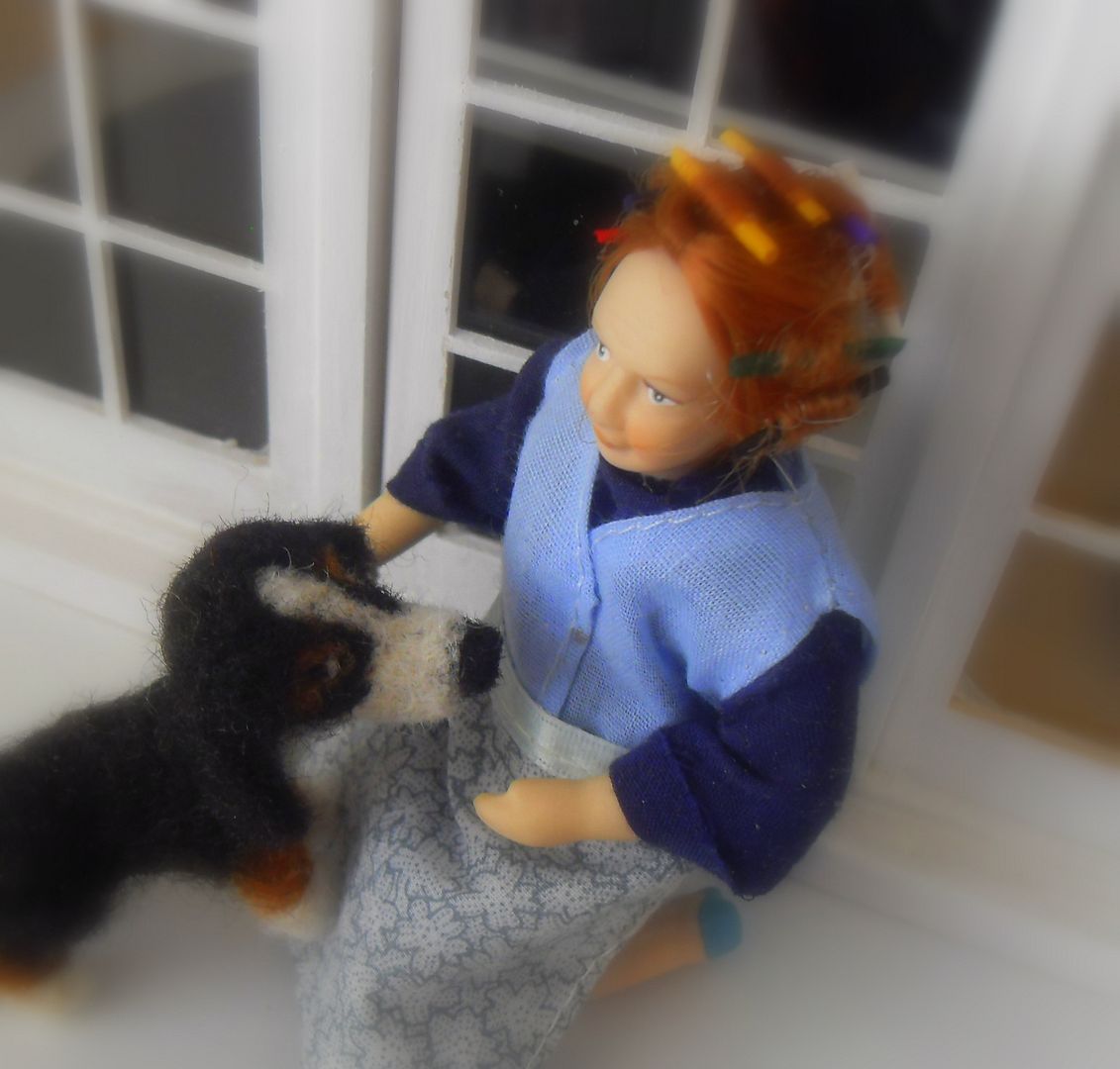 He just showed up on Nora's doorstep one day and they became fast companions.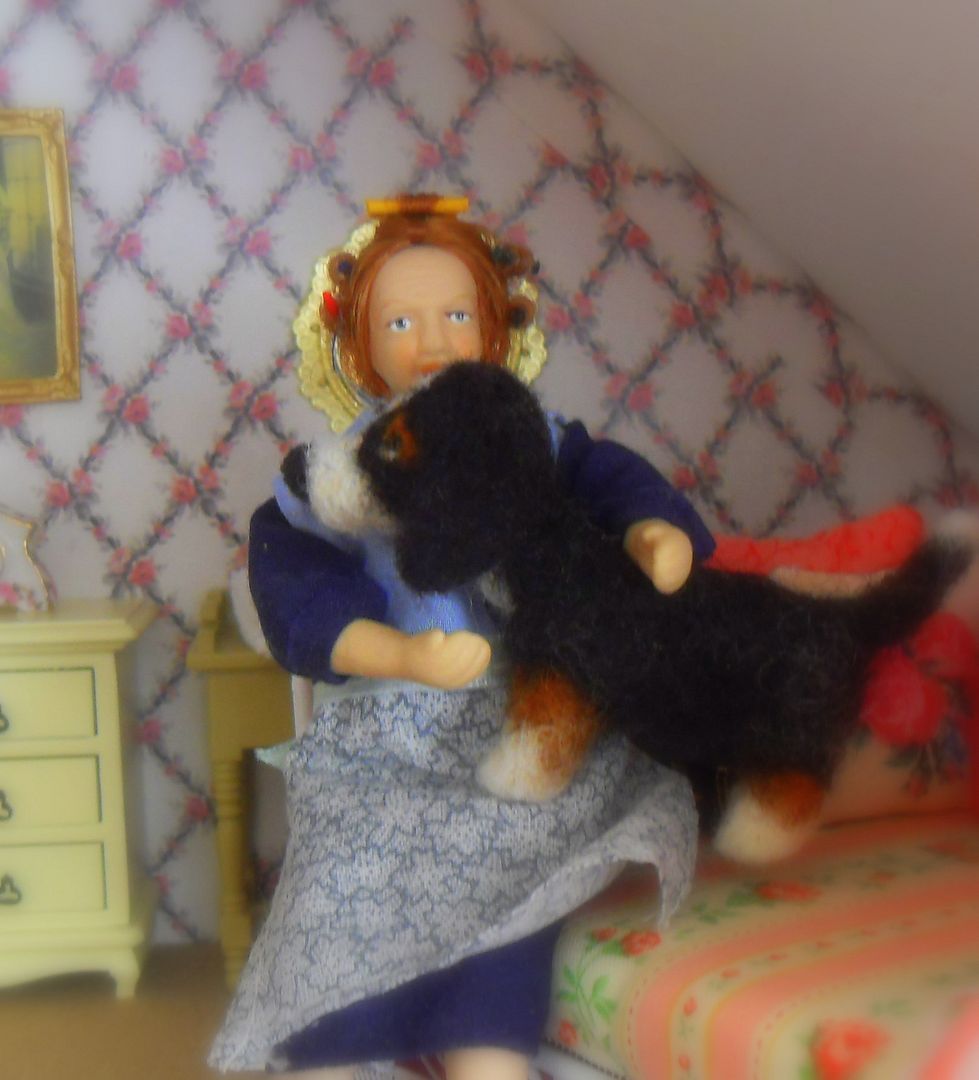 He needed a home and she needed some company . . .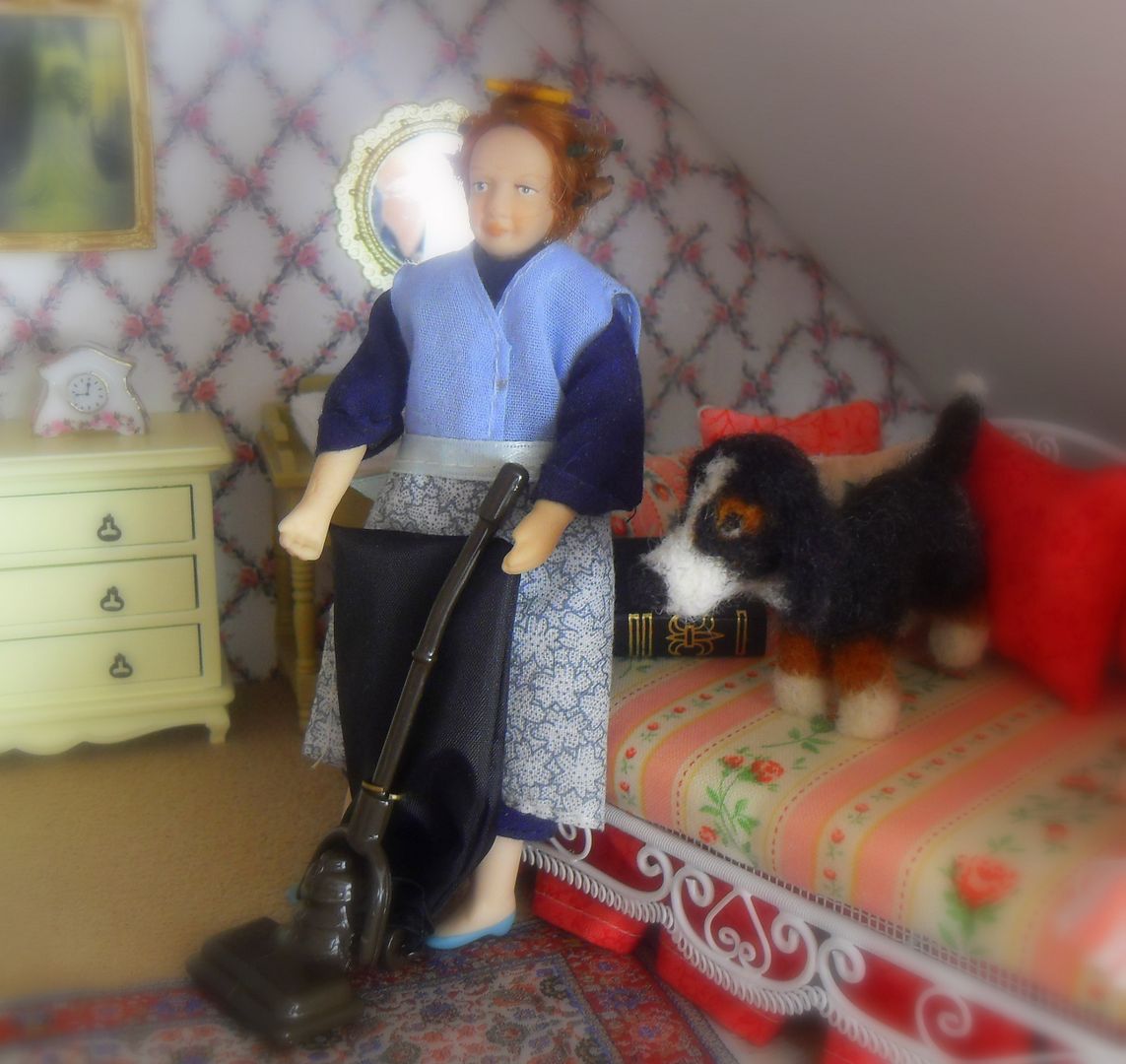 Since then he's pretty much been her steady companion . . .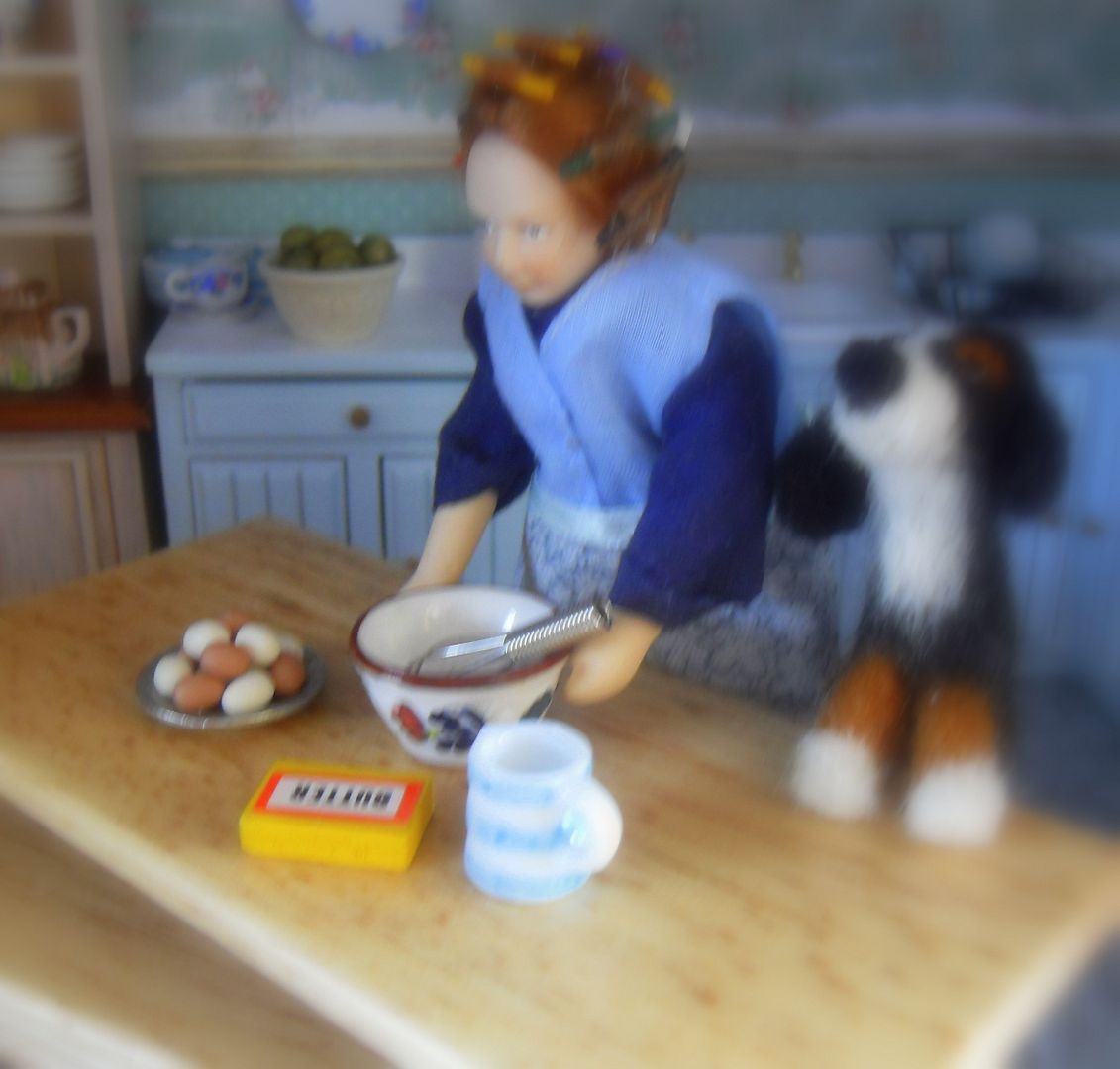 Filling her days and nights with joy and unconditional love . . .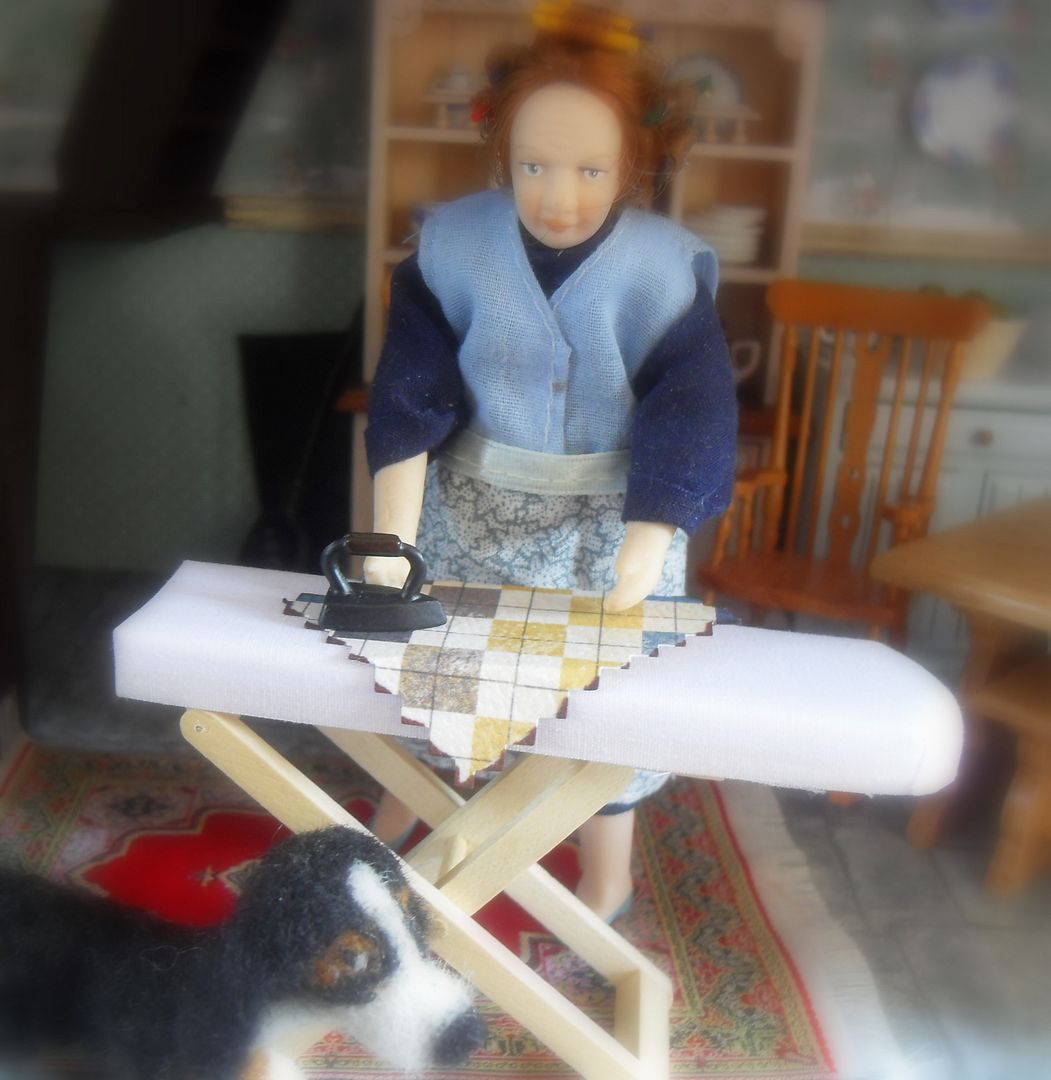 It's a give and take relationship. The best kind.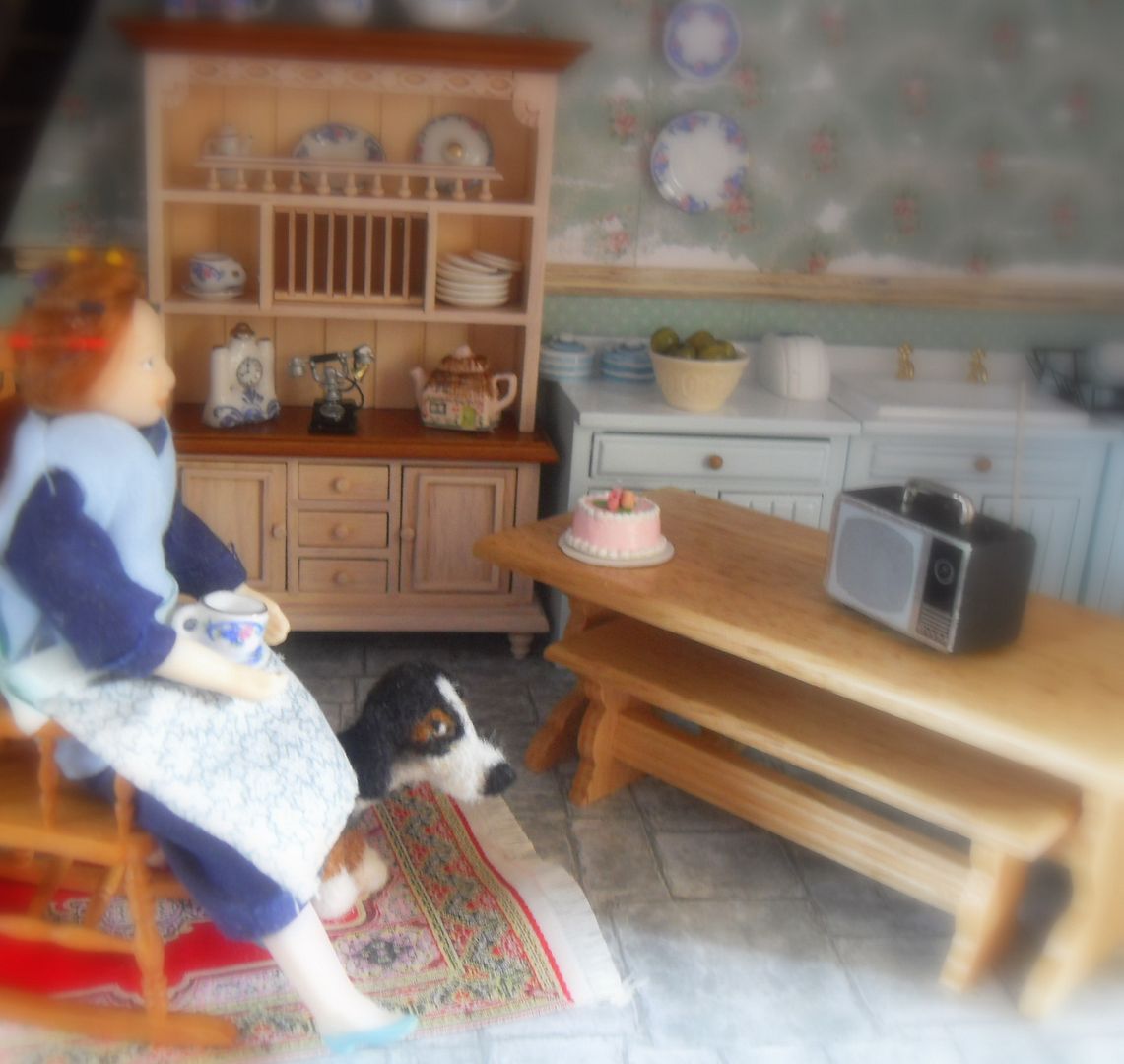 It works well for them. ☺
I have long been interested in the art of Needle Felting. I never thought I would be able to do it though. It always sounded so complicated.
Using a single, barbed needle borrowed from commercial felting machines, wool fibers are tangled and compacted by repeatedly jabbing the needle into the fibers, forming three-dimensional felt sculptures bound only by one's imagination.
My sister has recently taken up the art.
This is her first creation. I was well impressed that she made this and then she showed me this . . .
It's the beginnings of a sheep she is making. She made a model for the base using wire and is needle felting onto the wire.
I thought wow. That's amazing. Maybe I can do this. So I went out and bought a bit of wool roving and some needles and a sponge pad. They are not as expensive as one would think actually. I was quite suprised.
I watched this video on You Tube and it looked really easy and so I had a small teddy bear shaped cookie cutter that my sister had given me a couple of years back and I went to work. It was quite therapeutic actually. And not that hard at all. Except for the few times I missed the felt with my needle and poked it into my finger. OUCH! It hurt. It bled. But it was okay.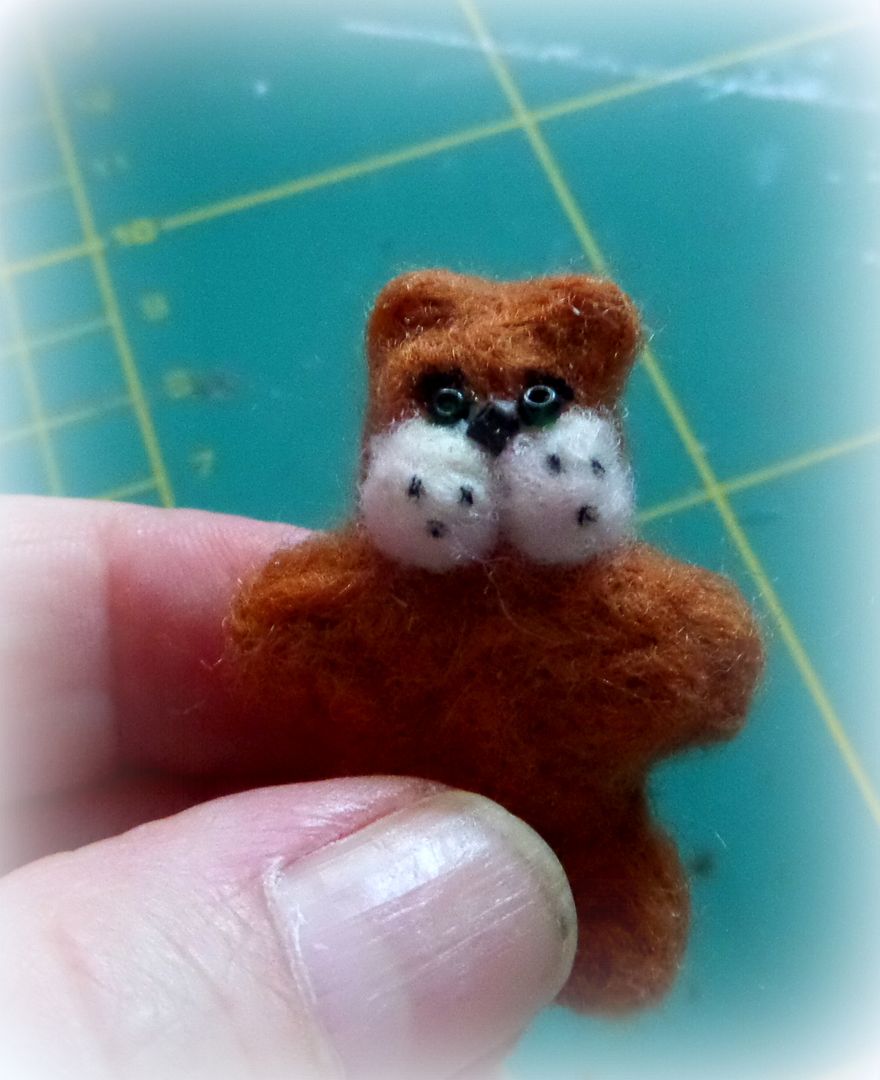 This is what I ended up with. First I had the little teddy bear shape and then I added some cheeks coz bears have puffy cheeks. Then I glued some seed beads on for eyes and a nose . . . dotted the cheeks.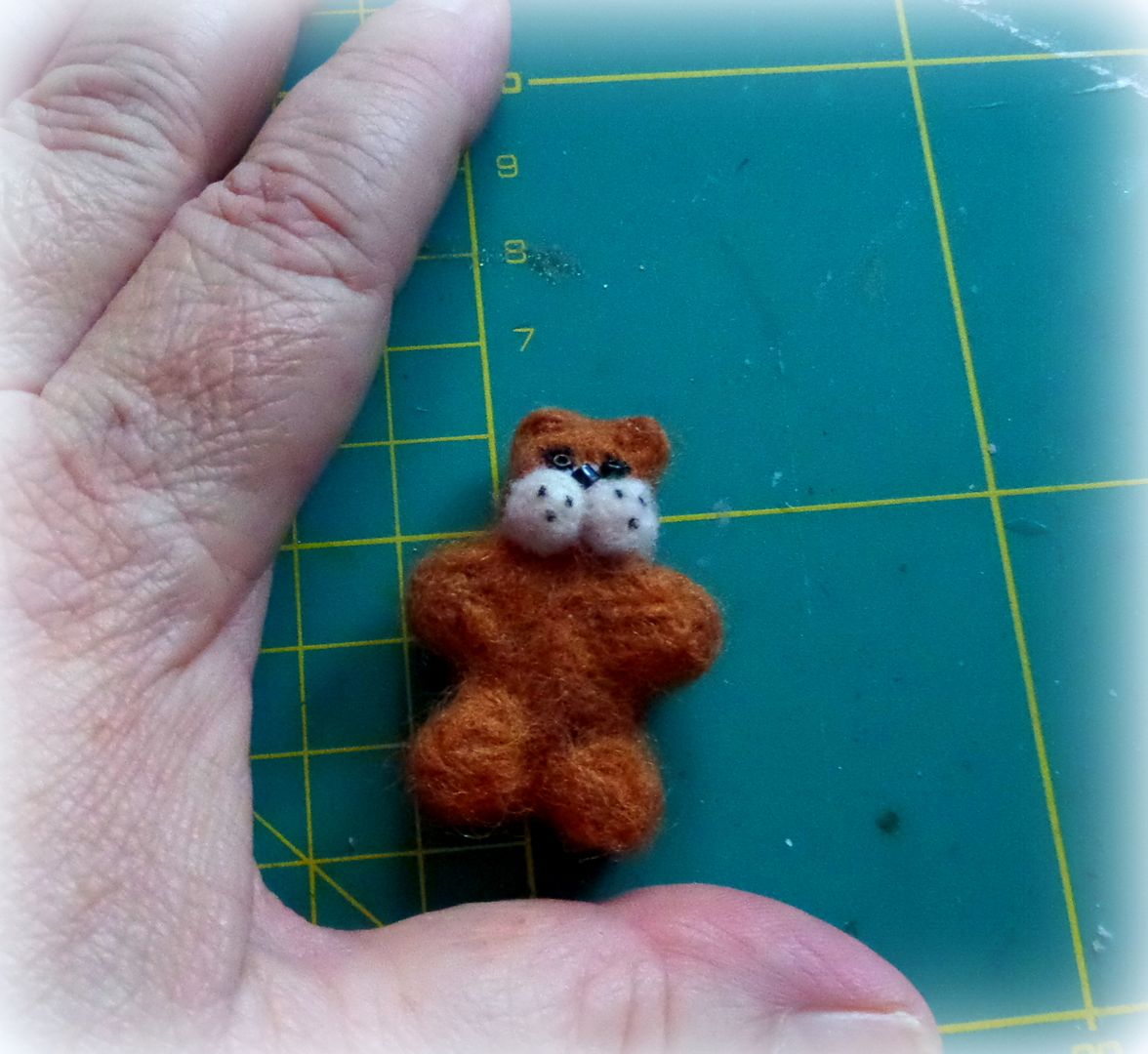 As you can see he's not very big at all. It took me a couple of hours to make him. But I am a newbie and if I was more practiced it probably wouldn't take as long.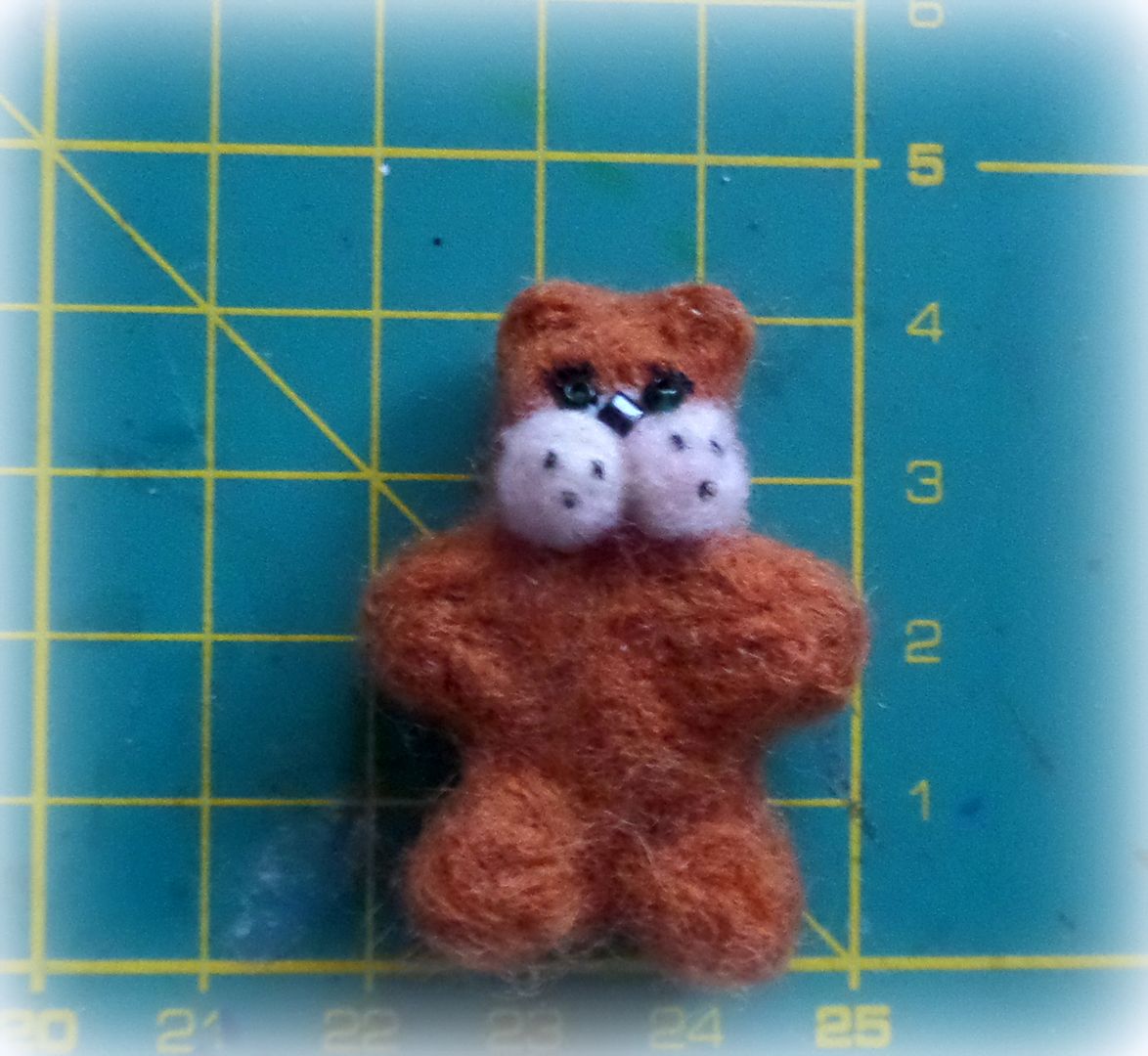 I was quite pleased with the results actually. He's the perfect size for my doll's house and he cost only a fraction of what Socks cost.
I have plans now. I would really like to do figures of my artwork. Needlefelted little girl dolls. This is the first one I want to do . . .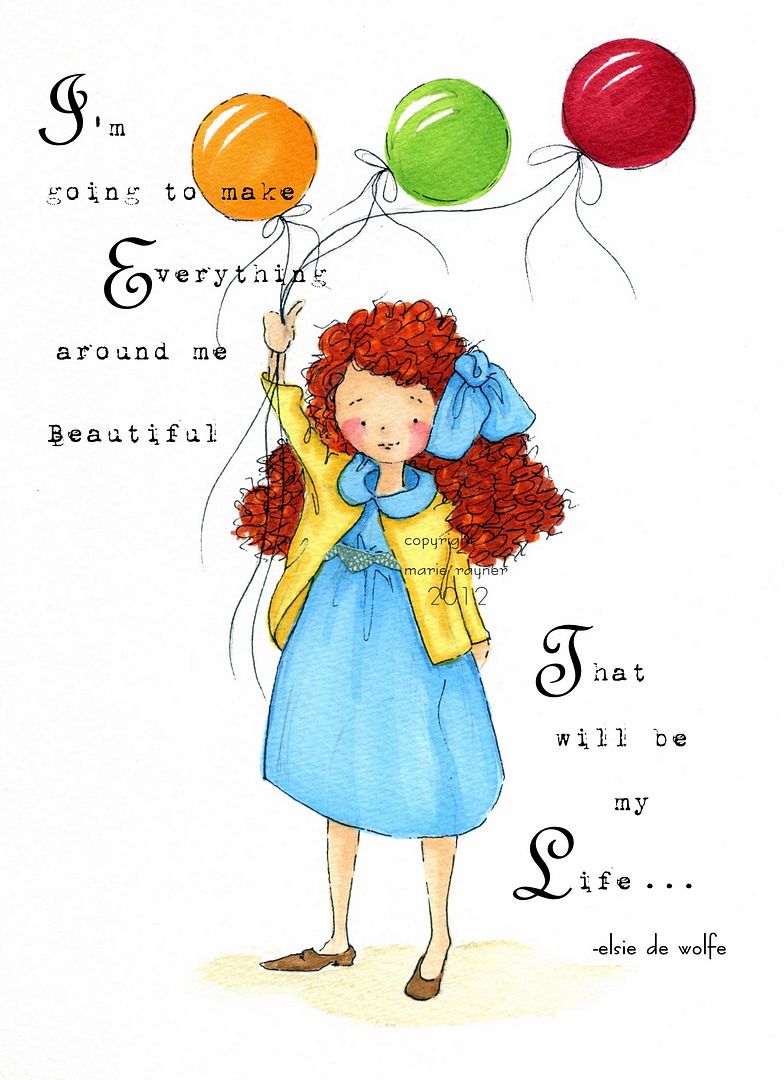 She has always been my favourite piece of art that I have done. I know . . . strange that. I can't even begin to tell you why she's my favourite. I don't understand it myself. I only know that I love her most of all.
Watch this space. We will see what happens next. Maybe my sister and I will open up an Etsy Shop together. That would be nice.
We're going to a concert this afternoon with our friends Audrey and Peter. Its a recorder concert. Their daughter plays in a Baroque recorder musical group. It should be fun. I remember going to watch them in concert at the Liverpool Cathedral years and years ago and it was just lovely. I am looking forward to this afternoon.
I do have the sniffles though . . . our nurse had a cold earlier this week and despite my precautions to try to keep her germs at bay, they have caught up with me. Hoping it won't be as bad as my colds usually end up being. I don't want to be sick for Christmas. And with that I'll love you and leave you for today . . .
A thought to carry with you today . . .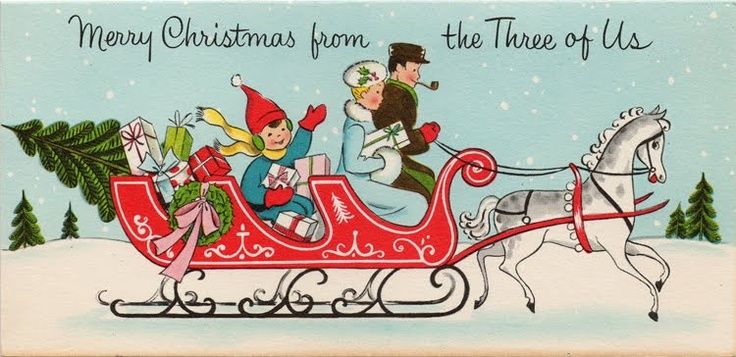 ❥✻❥.¸¸.✿¨¯`❥✻❥¸¸.✿¨¯`❥✻❥.¸¸.✿¨¯`❥✻❥
"Christmas! The very word brings joy to our hearts.
No matter how we may dread the rush,
the long Christmas lists for gifts
and cards to be bought and given . . .
when Christmas Day comes
there is still the same warm feeling we had as children,
the same warmth that enfolds our hearts and our homes."
~Joan Winmill Brown
❥✻❥.¸¸.✿¨¯`❥✻❥¸¸.✿¨¯`❥✻❥.¸¸.✿¨¯`❥✻❥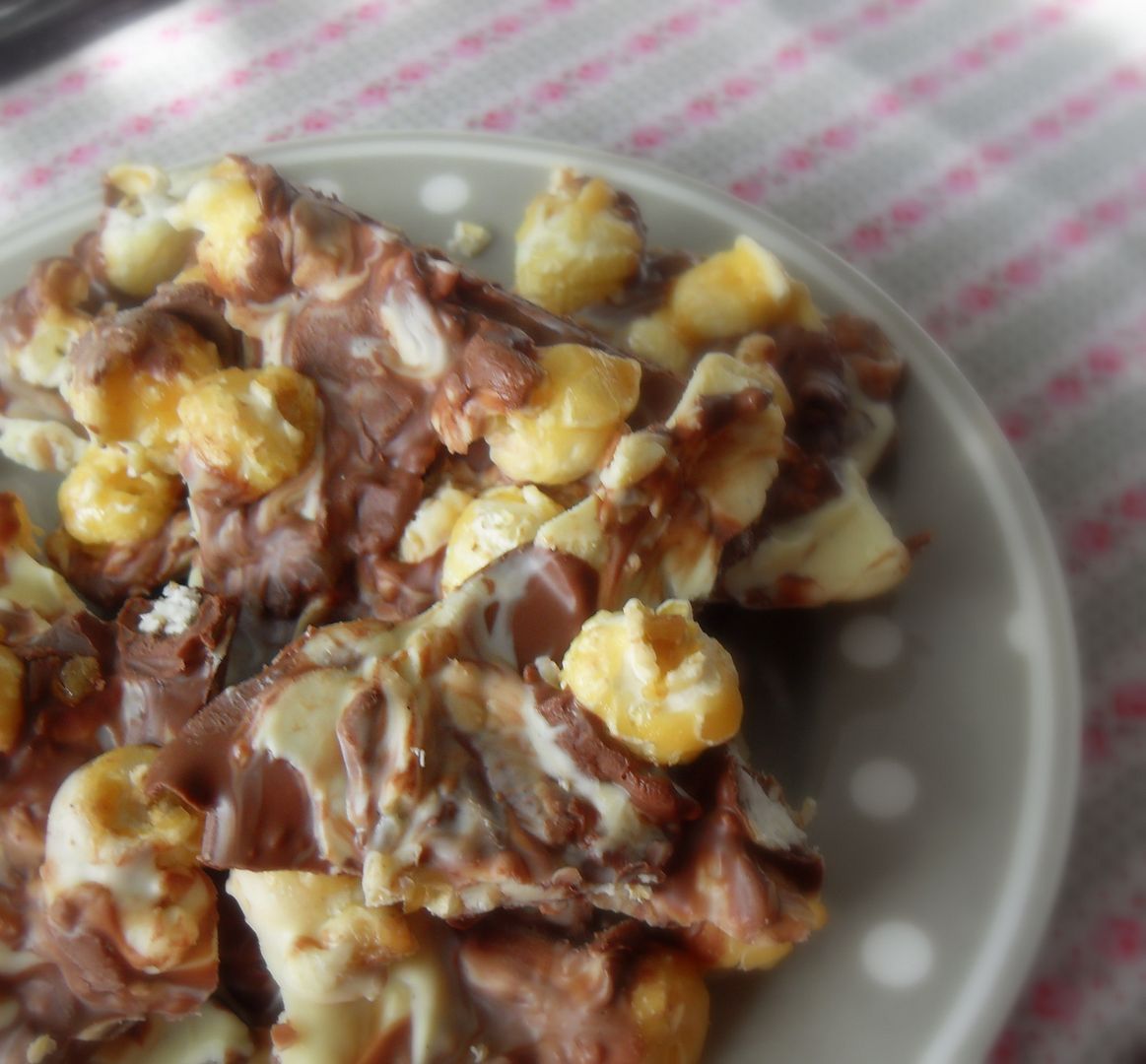 Cooking in The English Kitchen today . . .
Toffee Popcorn Bark
. Simple.
═══════════ ღೋƸ̵̡Ӝ̵̨̄Ʒღೋ ═══════════ ⊰✿░L░O░V░E⊰✿⊰✿⊰✿⊰✿⊰✿⊰░Y░O░U░⊰✿
═══════════ ღೋƸ̵̡Ӝ̵̨̄Ʒღೋ ═══════════
Hope your Saturday is as special as you are! Only nineteen days. ☺