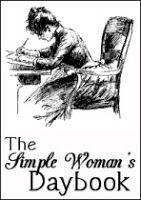 FOR TODAY, August 19th, 2014
Outside my window ...
I am late getting started this morning. It is fully light already. I had a bit of a lay in this morning. It's cold out there! Autumn seems to be in a bit of a hurry to arrive!
I am thinking ...
✻ღϠ₡ღ✻(¯`✻´¯)
✻ღϠ`*.¸.*₡ღ¸.✻
Moomintroll closed his eyes and surmised, "How different we all are, really."
I love that we are not all the same. I like to celebrate our differences and enjoy the variety that makes up human-kind! It would be so boring were we all exactly the same!
I am thankful ...
Iam so very thankful for two sons that are always there for me. I don't know what I did to deserve them, but it must have been something very good!
In the kitchen ...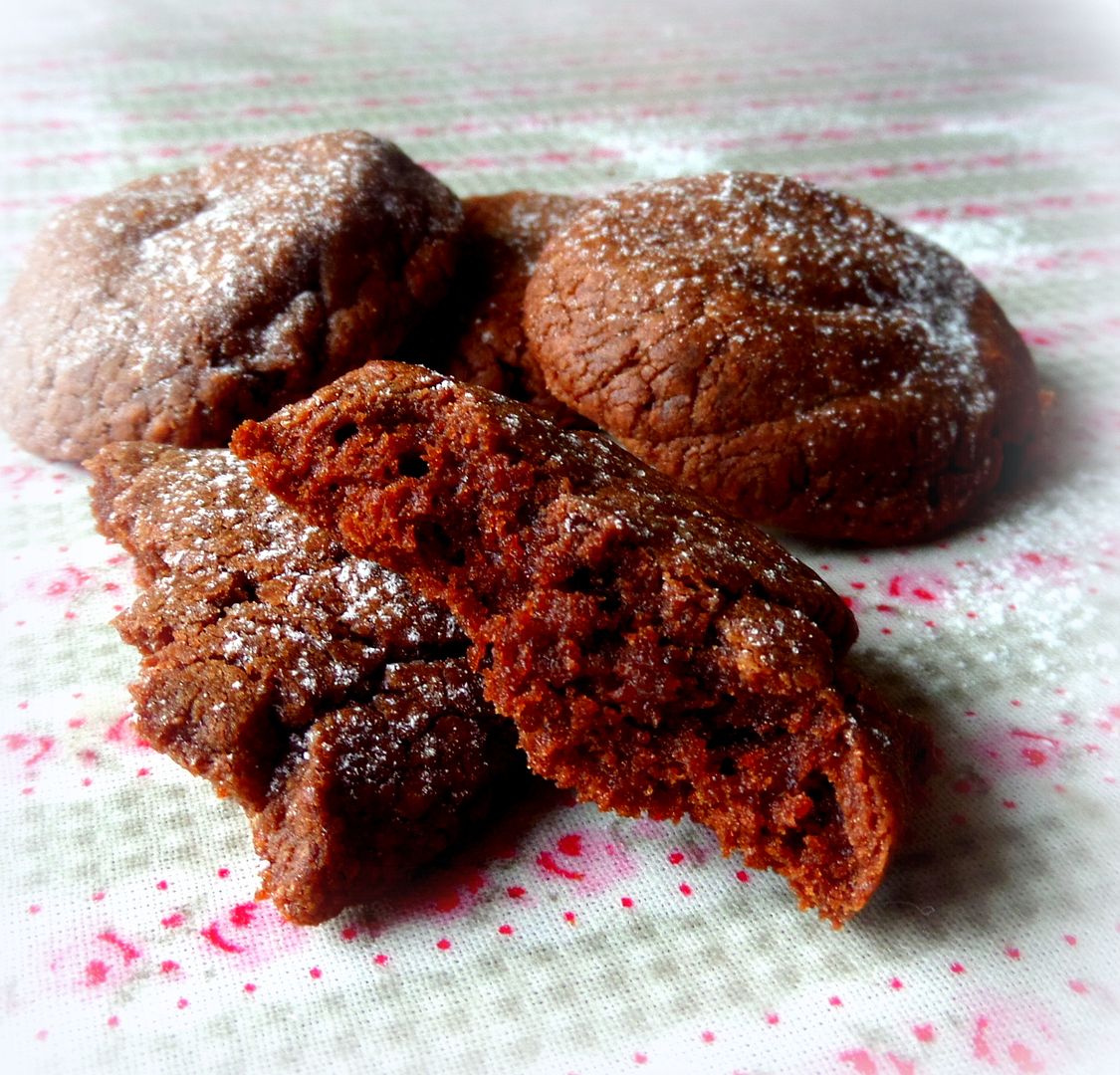 In the kitchen today there are some very delicious
Nutella Cookies
. Only three ingredients and a six to eight minute baking time. What could be better than that! Incredibly moreish!
On my "To Cook" list ...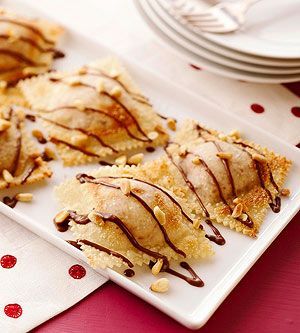 This
Chocolate Ravioli
from BHG looks awfully good don't you think? Well at least for a start. I think I could run with this idea. Watch this space!
I am creating ...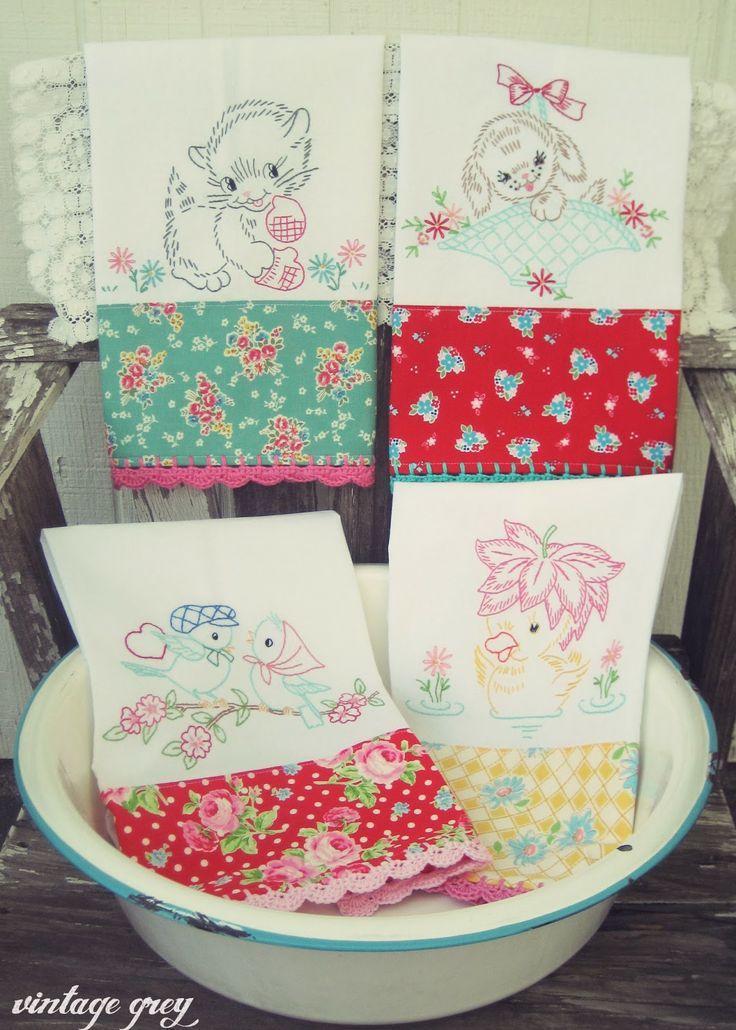 I am inspired by these hand embroidered, crochet edged tea towels from
Vintage Grey
. I have a whole box filled with embroidery transfers, some very old ones as well. I may do myself a few of these.
I love the simplicity of this granny row blanket that I found on
Ravelry.
I love the colours and it is something that you could just sit and crochet without thinking about it. What do you think? So simple.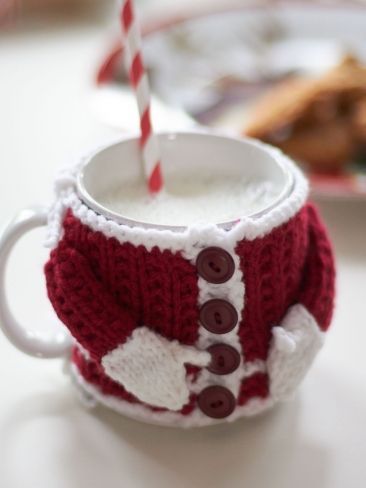 It's never too early to start on simple Christmas projects. I love this little mug cosy that looks like a Santa Suit! From
Yarnspirations
. What a great gift this would be for friends. Just buy some nice mugs, crochet up some of these. Fill each mug with a baggie of your own homemade hot chocolate mix. I can't think of anyone that wouldn't love getting one, can you?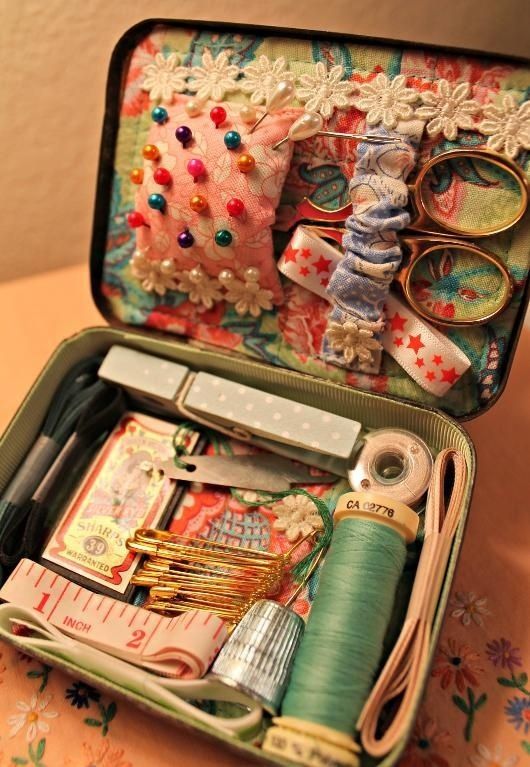 No source but I love this sewing kit in an altoids tin. I think it would be very easy to make. I love that it seems to hold a little bit of everything! Pretty and colourful too.
I am going ...
Our dog grooming appointment for Mitzie for today got cancelled and rebooked for Friday. There is a BBQ at the chapel this weekend which we will be going to. A bit of grocery shopping and a bit of this and that and that is my week sorted!
I am wondering ...
I had real problems with my food blog at the weekend. Someone had attached something nasty to it. I don't know how or what, but it took hours and hours to get rid of. I am wondering at the motivation and spirit of someone who would do something like that??? I don't think I will ever understand what they get out of it.
I am reading ...
Tapestry of Fortunes
, by Elizabeth Berg
In this book four very different women delve into their pasts in order to share their futures, fates and fortunes.
Cecilia Ross is a motivational speaker who encourages others to change their lives for the better. Why can't she take her own advice? Still reeling from the death of her best friend, and freshly aware of the need to live more fully now, Cece realizes that she has to make a move—all the portentous signs seem to point in that direction. She downsizes her life, sells her suburban Minnesota home and lets go of many of her possessions. She moves into a beautiful old house in Saint Paul, complete with a garden, chef's kitchen, and three housemates: Lise, the home's owner and a divorced mother at odds with her twenty-year-old daughter; Joni, a top-notch sous chef at a first-rate restaurant with a grade A jerk of a boss; and Renie, the youngest and most mercurial of the group, who is trying to rectify a teenage mistake. These women embark on a journey together in an attempt to connect with parts of themselves long denied. For Cece, that means finding Dennis Halsinger. Despite being "the one who got away," Dennis has never been far from Cece's thoughts.
Still on this.
I am hoping ...
The sun just peeked out from the clouds. I am hoping that it decides to stick around for the day!
Makes me smile ...
Found on Pinterest, no source . . . but aren't you now smiling too? It's so cute! I just love nature! How can people think animals have no souls? They positively do!
I am learning ...
To love myself and embrace all of my curves, angles, aches, pains, wrinkles, grey hairs, etc. This is me. I am not going to let any fear of what others might think of me stop me from enjoying what life I have left to enjoy.
Around the house ...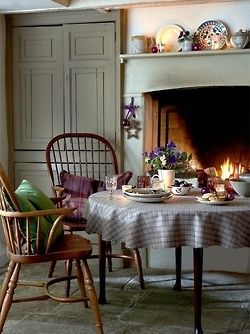 Wouldn't it be lovely to have a table just like this by a fireplace, a real fireplace? It looks so cosy and inviting don't you think?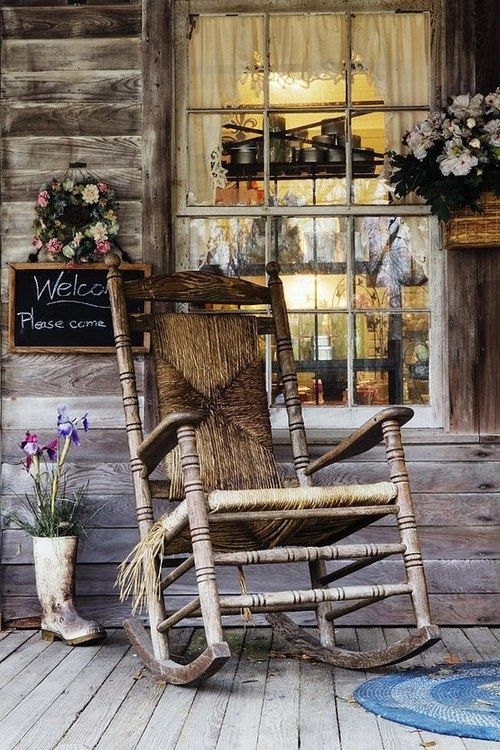 A rocking chair on the porch just says come on over don't you think? I would love to have a rocking chair. I would love to have a porch!
I adore these vintage fabric covered lamp shades I found on
Indulgy.
We don't have a table lamp in our lounge. Perhaps we need to get one. Hmmm....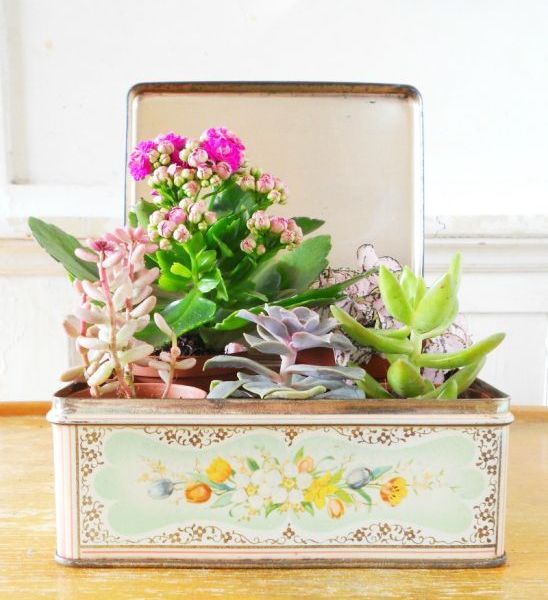 I love the idea of using an old tin for a plant pot in the house. I think it's perfectly lovely.
I am pondering ...
Last night we watched the film "Heaven is for Real." It is about a little boy who has a near death experience and his family. His father is a pastor. It was really a very good film, but I found myself wondering how someone can be a Paster and not know in his heart that Heaven is a real place?
Thankfully by the end of the movie I think his questions were answered. If you have the chance to see it you should. It's very good.
A favourite quote for the day ...
`*.¸.*✻ღϠ₡ღ¸.✻´´¯`✻.¸¸.Ƹ̴Ӂ̴Ʒ..
(¯`v´¯)
`*.¸.*´Ƹ̵̡Ӝ̵̨̄Ʒ
¸.•´¸.•~♥♥♥~•.~
ღϠ₡ღ¸.✻´´¯`✻.¸¸.Ƹ̴Ӂ̴Ʒ.
(¸.❀⁀⋱‿✿"The true way to live
is to enjoy every moment as it passes,
and surely it is in the everyday things around us
that the beauty of life lies."
~Laura Ingalls Wilder
One of my favourite things ...
I just adore brooches. I only have a few, but I would love to collect more. I am not a person who feels comfortable with something around my neck or wrist, but I do love a pretty brooch on my sweater or dress. It may be a bit old fashioned, I don't know, but I just love them, and the sparklier the better!
A peek into my day ...
No surprise here, but a great deal of any day will find me doing a bit of this. Cookery of some sort. It's my bliss.
And that's my day book for this week!
⋱ ⋮ ⋰
⋯ ◯ ⋯ Take time to enjoy the small*´¯`.¸¸.☆
⋰ ⋮ ⋱ blessings in life.*´¯`.¸¸.☆
✿¸.•*¨`*•..¸✿ ✿¸.•*¨`*•..¸✿
╬♥═╬╬═♥=╬╬═♥╬╬═♥╬╬═♥=╬╬♥═╬
░░░░░░░░░░░░░ ░░░░░░░░░░░░░

Wherever you go and whatever you do I hope there's a wonderful day planned for you!
═══════════ ღೋƸ̵̡Ӝ̵̨̄Ʒღೋ ═══════════ ⊰✿░L░O░V░E⊰✿⊰✿⊰✿⊰✿⊰✿⊰░Y░O░U░⊰✿
═══════════ ღೋƸ̵̡Ӝ̵̨̄Ʒღೋ ═══════════