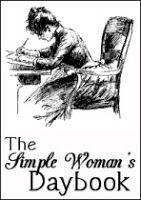 FOR TODAY, August 12th, 2014
Outside my window ...
Already the days are becoming visibly shorter. It is still daylight when I get up, but just barely and it is dark now when we go to bed. Before too long we will see the leaves on the trees beginning to change.
I am thinking ...
✻ღϠ₡ღ✻(¯`✻´¯)
✻ღϠ`*.¸.*₡ღ¸.✻
I awoke this morning to the news of the apparent suicide of Robin Williams. This is quite simply tragic. I had read somewhere once that he struggled with depression. This is so often true about comedians. It's a great irony that often those who bring us a lot of joy and laughter struggle with dark inner demons. My heart goes out to his family and friends. The world has lost a wickedly brilliant man. I hope he is now able to find the peace he so clearly was missing here on earth.
I am thankful ...
I know I have said this a bazillion times, but I am thankful for the Gospel in my life which helps me to know who I am and how very special I am in my Heavenly Father's eyes, and I am even more grateful that I can "Feel" His love.
In the kitchen ...
In the kitchen today, I am sharing another tasty dish in my week of celebrations.
Skillet Chicken and Spinach Bowties
. Seriously tasty. Even Todd admitted it was rather good, which is a high compliment coming from him, and Ariana loved it.
On my "To Cook" list ...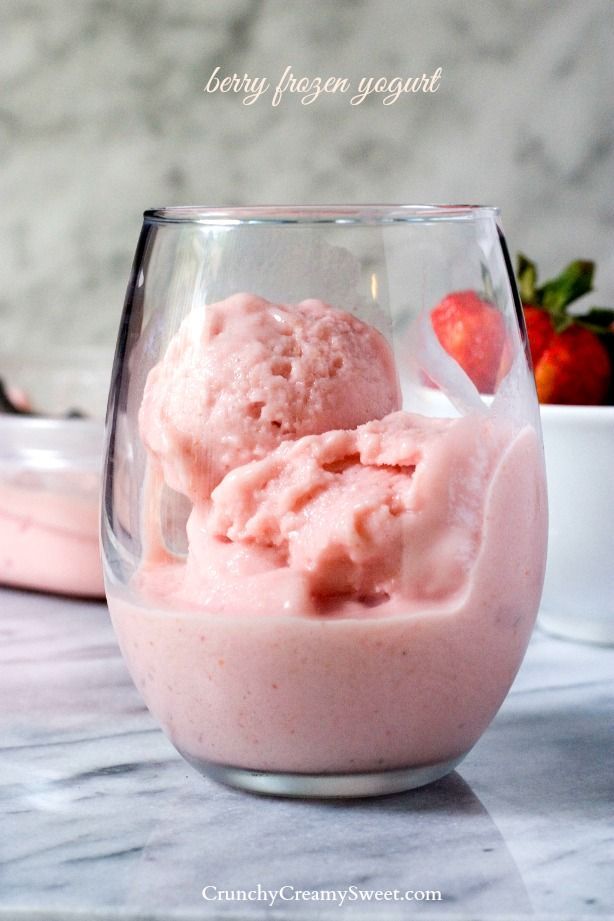 Frozen Berry Yogurt from
Crunchy Creamy Sweet
. One of the things I really miss from home is frozen yogurt. I always prefered it over ice cream.
I am creating ...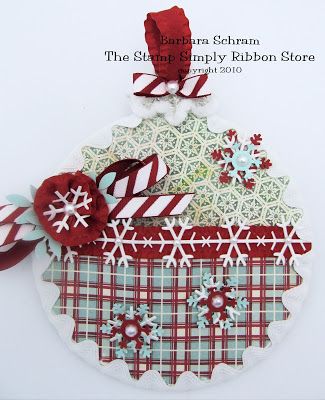 I love this simple little Christmas ornament created using paper and ribbon. And there are several other versions as well. No instructions but plenty of inspiration on
Explore Dream Discover.
I love this simple and easy to make, but very cute, Hot Cocoa Dispenser. Absoutely adorable from
Simple Stories
.
Loving these little fabric Yo Yo Tree ornaments which I found
here on Inspired Ideas.
It's a whole online magazine stuffed to overflowing with Christmas Projects. So sweet and adorable.
Yes, I am in a Christmas Frame of Mind.
Clay Santa Hands. I could not find the instructions or a link, but what a fun project to do with the kiddos. Salt dough cut out hands, painted with acrylics. Cute!
I am going ...
I cancelled my hair appointment last week due to lack of funds, hoping that this week I can manage it, but somehow I doubt it. Tomorrow I am having some of my church friends over for a birthday pot luck lunch. I wanted to celebrate my birthday somehow. All of the other ladies have had me to birthday lunches throughout this year at nice restaurants, all paid for by them. I can't really afford to do that, so I thought a pot luck lunch at my house would be good. Finger's crossed it goes well!
I am wondering ...
I am wondering how I am going to comfortably seat everyone tomorrow! Where there's a will there is a way! Wish me luck!
I am reading ...
Tapestry of Fortunes
, by Elizabeth Berg
In this book four very different women delve into their pasts in order to share their futures, fates and fortunes.
Cecilia Ross is a motivational speaker who encourages others to change their lives for the better. Why can't she take her own advice? Still reeling from the death of her best friend, and freshly aware of the need to live more fully now, Cece realizes that she has to make a move—all the portentous signs seem to point in that direction. She downsizes her life, sells her suburban Minnesota home and lets go of many of her possessions. She moves into a beautiful old house in Saint Paul, complete with a garden, chef's kitchen, and three housemates: Lise, the home's owner and a divorced mother at odds with her twenty-year-old daughter; Joni, a top-notch sous chef at a first-rate restaurant with a grade A jerk of a boss; and Renie, the youngest and most mercurial of the group, who is trying to rectify a teenage mistake. These women embark on a journey together in an attempt to connect with parts of themselves long denied. For Cece, that means finding Dennis Halsinger. Despite being "the one who got away," Dennis has never been far from Cece's thoughts.
Still on this.
I am hoping ...
I am hoping for good things from this art liscensing company which has taken me on as one of their artists. I have almost finished uploading all of my work onto their server. It has been quite a job, and I still have more to do, but I am getting there!
Makes me smile ...
The thought that there is another season of Downton Abby coming soon makes me smile. I just adore that show. I wonder if Julian Fellowes knew when he wrote and produced the first series just how very popular the show would be? I am sure he hoped it would go over well, but I am also equally as sure that it has by far exceeded his expectations!
I am learning ...
Little by little, bit by bit, I am learning to see others through the eyes of the Savior. It is not easy to do this. Some people are very nasty and difficult. Remembering that they are all children of God and all "shouted" for joy is not a very easy thing to do sometimes.
Around the house ...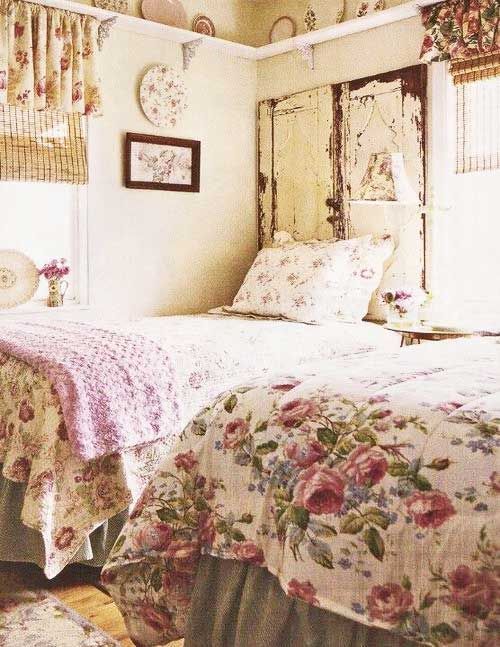 No source, just sigh . . . I love this cottagey looking bedroom, with the plate rail shelf near the ceiling holding trinkets and collectables, to the headboard which looks like an old abused door. The window dressings . . . the floral fabrics, colours, etc. It's all so quaint and beautiful. If only . . .
Again, no source, but again . . . sigh . . . Love the pale yellow walls and the fabric skirt which is around the sink and countertop, and once again the plate rail above the windows and the window treatments. it might be a nightmare to keep clean and dust free, but what a labor of love it would be.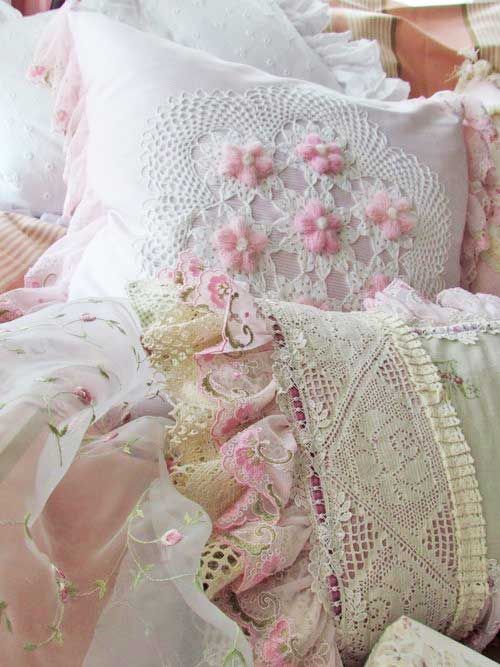 I love all of these beautiful lacy and feminine pillow treatments. Looks like a lot of vintage pieces have been thrown together to make something which is quite a beautiful thing to behold. Vintage crochet, vintage handkerchiefs, doilies, lace, ribbons. Delightful.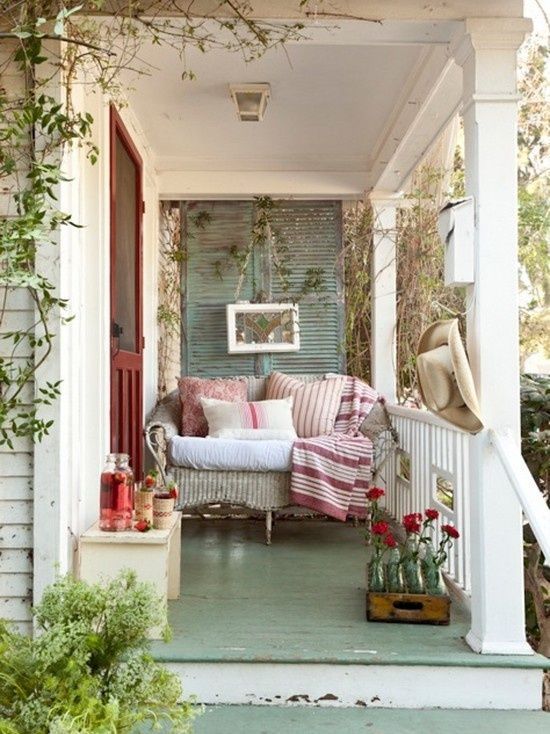 Oh to have a veranda/porch to sit out on and relax on of a summer evening. Bliss. Utter Bliss.
I am pondering ...
I have never met a person whose greatest need was anything other than real, unconditional love.
You can find it in a simple act of kindness toward someone who needs help.
There is no mistaking love. You feel it in your heart.
It is the common fiber of life, the flame that heals our soul, energizes our spirit and supplies
passion to our lives. It is our connection to God and to each other.
~Elizabeth Kubler-Ross
I think wanting to be loved and accepted by others is the root of everyone's desire.
We were not meant to go it alone.
We need each other.
A favourite quote for the day ...
`*.¸.*✻ღϠ₡ღ¸.✻´´¯`✻.¸¸.Ƹ̴Ӂ̴Ʒ..
(¯`v´¯)
`*.¸.*´Ƹ̵̡Ӝ̵̨̄Ʒ
¸.•´¸.•~♥♥♥~•.~
Happiness held is the seed;
happiness shared is the flower.
~Author Unknown~
I think I read a similar thought somewhere which said in essence that love isn't given to us to hoard in our hearts, but that it isn't really love until it is given away.
One of my favourite things ...
I know they are the bain of anyone who has them, but I adore freckles. I really do. I always wanted them.
A peek into my day ...
Music is a huge part of each of my days. I play to it, I work to it, I read to it. I have certain music I listen to which makes my housekeeping chores a lot easier to manage. I have certain music which helps my creative juices to flow. I have certain music which helps me to think and to ponder, and also music which just helps me to relax. I would not want to live in a world where there is no music.
And that's my day book for this week!
⋱ ⋮ ⋰
⋯ ◯ ⋯ Take time to enjoy the small*´¯`.¸¸.☆
⋰ ⋮ ⋱ blessings in life.*´¯`.¸¸.☆
✿¸.•*¨`*•..¸✿ ✿¸.•*¨`*•..¸✿
╬♥═╬╬═♥=╬╬═♥╬╬═♥╬╬═♥=╬╬♥═╬
░░░░░░░░░░░░░ ░░░░░░░░░░░░░

Wherever you go and whatever you do I hope there's a wonderful day planned for you!
═══════════ ღೋƸ̵̡Ӝ̵̨̄Ʒღೋ ═══════════ ⊰✿░L░O░V░E⊰✿⊰✿⊰✿⊰✿⊰✿⊰░Y░O░U░⊰✿
═══════════ ღೋƸ̵̡Ӝ̵̨̄Ʒღೋ ═══════════