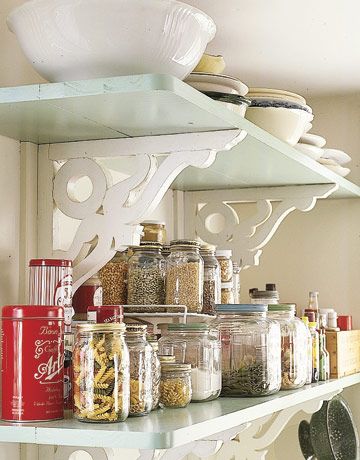 It was only a cup of water with a gentle grace bestowed,
But it cheered the lonely traveller upon life's dusty road.
None noticed the cup of water as a beautiful act of love,
Save the angels keeping records, away in the land above.
The trifles in secret given, the prayer in the quiet night,
And the little unnoticed nothings are great in our Saviour's sight!
~unknown
I just love this little verse. I try to do what I can for those around me at all times, not because I think they will do something in return for me, but because I just cannot see someone in need and not do something to help out. That is why those commercials on the television of starving and deprived children and animals break my heart. I wish that I had the means to help all of them, but I do not, and it makes me sad sometimes that I can't . . . but I do what I can and that's what's really important.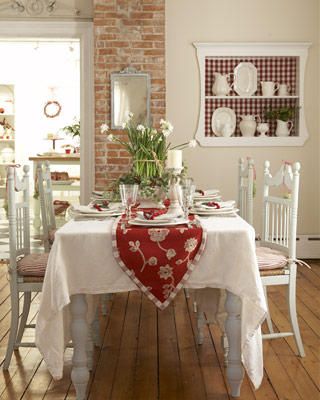 It is another gloomy day out there today. Another day of not being able to hang out the wash . . . we are getting our April showers in June!! I don't mind, just so long as we don't get January in July!!
I was able to paint two more Christmas Cards yesterday for my 2011 collection. If you are on Facebook, you will have already seen them, but if you are not, here they are for your perusal!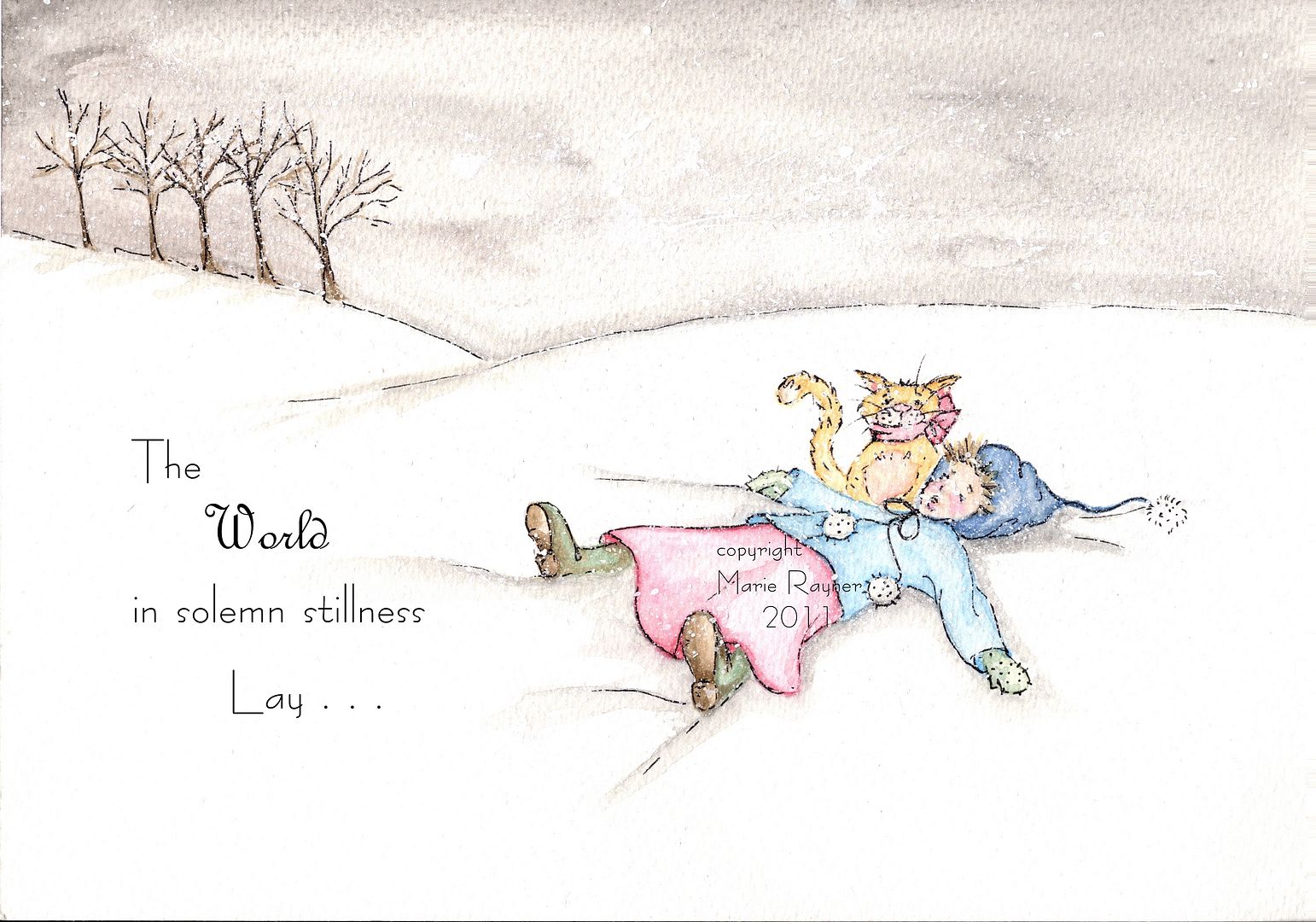 The World in solemn stillness lay . . . Imogene and Puff are making snow angels! I used to do this when I was a child. In fact I think it was sometime before I got pregnant for my youngest son, so some 23 or so years ago now that we were having a huge snow storm and I took myself off outside for some fresh air and I remember making snow angels on our front lawn, out there all by myself. It was a nice feeling. Sometimes you just have to get away don't you . . . and making snow angels was the perfect escape!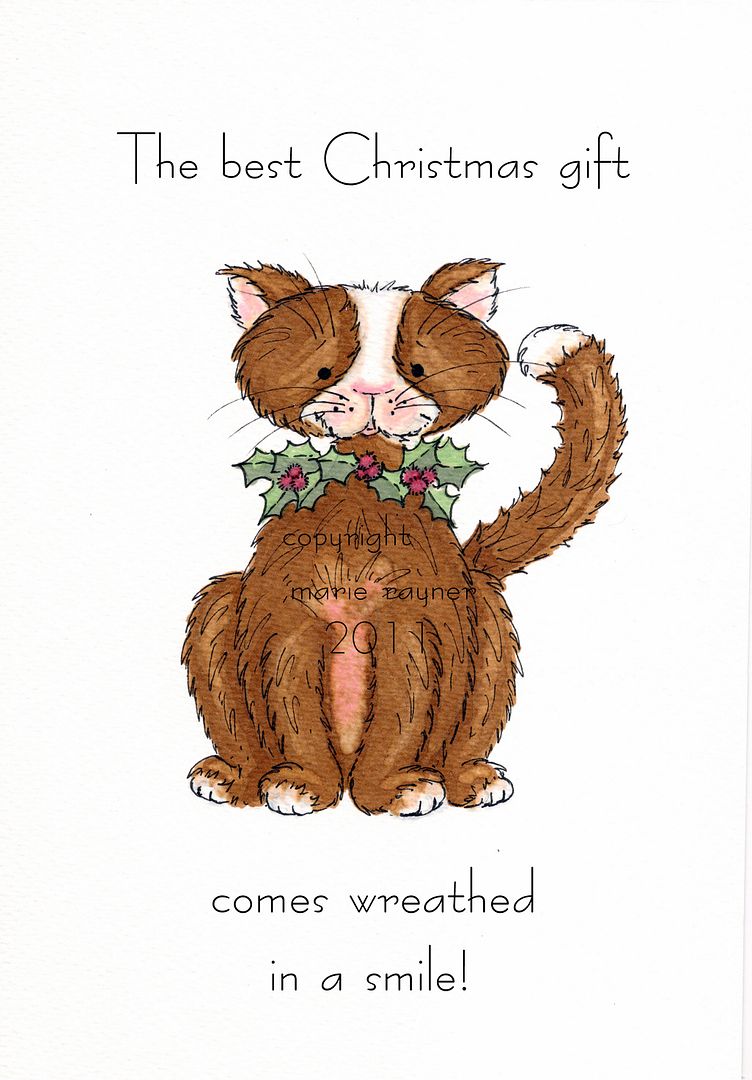 And then here is Puff in his Christmas Finery! I do have a thing for orange cats, or ginger cats, whatever you want to call them. We had one called Dandy (short for Dandy-lion) when I first moved over here. He was so sweet. My mother has one now, called Ginger. He is getting quite old now and has bad arthritis. He is my mother's best friend and companion. Animals become just that don't they? I don't know what we would do without our pets. They add such a beautiful dimension to our lives.
I am off to tidy up the house now, as I won't be doing much after my injection this afternoon and I want the house to look nice for my guests tonight. I do so love to have company! We'll be making a tasty Kalamata Olive Dip and some Strawberry Amaretto Puffs!
Even though we have been getting lots of rain, I have been making more salads these days. It's just the salad time of the year! Our lettuce is ready in the garden as are the spring onions. This layered salad is one of our favourites, although in all honesty when I make it here at home I scale it right back as there are only the two of us! I sometimes add a layer of cooked macaroni, some sliced boiled egg, and a layer of cooked ham or turkey, which turns it into a heartier main dish salad! If you don't fancy red onions, you can use chopped spring onions!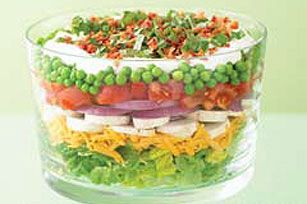 *Layered Salad*
Serves 12 (1 cup) servings
Printable Recipe
This is the perfect salad to take to pot lucks or barbeques. It's pretty to look at and everyone always loves it! It does need to be made at least five hours in advance so plan ahead!
4 cups torn romaine lettuce
1 1/2 cups grated mild cheddar cheese
2 cups sliced fresh mushrooms
1 small red onion, peeled, sliced thinly and separated into rings
2 tomatoes, chopped
1(10 oz.) package of frozen peas, thawed
1/2 cup good quality mayonnaise (I like Hellman's)
1/2 cup dairy Sour Cream
1/4 cup chopped fresh basil
4 slices streaky bacon, cooked until crisp and then crumbled
Layer the lettuce, 1 cup of the cheese, mushrooms, onions, tomatoes and peas in a large see through bowl. (I use my Pampered Chef Trifle bowl.)
Mix together the mayo, sour cream and basil. Spread this mixture over top of the salad, completely covering it.
Sprinkle with the remaining cheese and bacon. Refrigerate for at least five hours or overnight.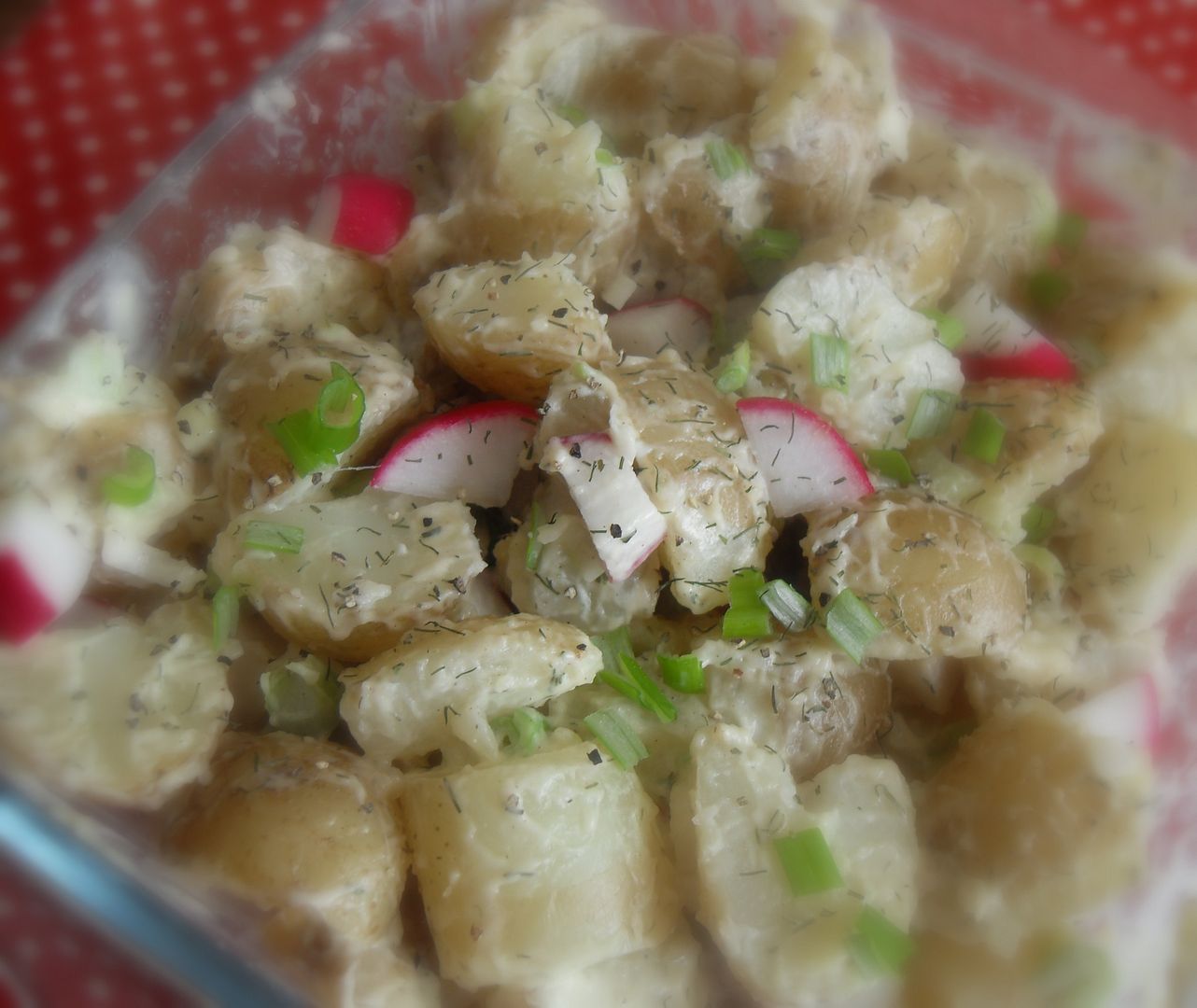 In
The English Kitchen
today, Creamy Dilled Potato Salad.