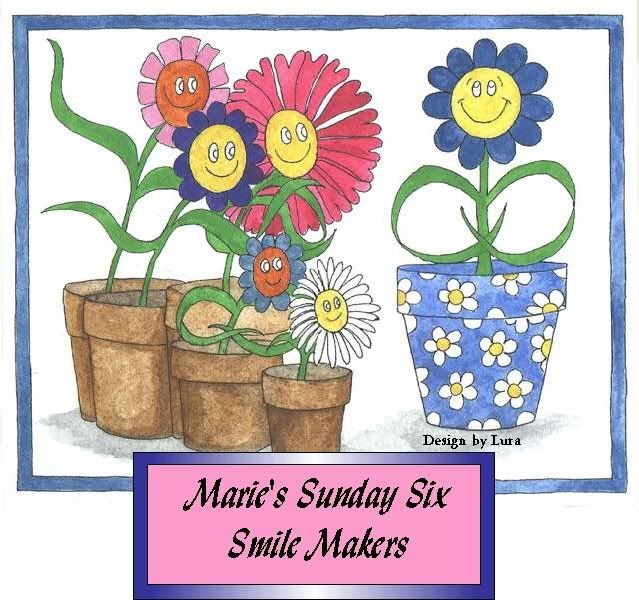 Welcome to my first Sunday Smile Makers post for June, 2011! It is hard to believe it is June already! Isn't the time going by quickly? Or is it just me. It seems to pass quicker and quicker all the time. A month no sooner starts, when it is finishing. I wish time would slow down!
Nevertheless I manage to fill my days with lots of things that bring me smiles and joy and I am ever so happy to share them with you today!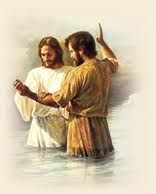 In The Church of Jesus Christ of Latter-day Saints we believe in being baptized, just as the Saviour was. Baptism is a personal covenant between us and God. Being baptized is how we show faith in Christ, repent of our sins, receive the Holy Ghost, and enter in the kingdom of God. It is sacred and it is beautiful. Yesterday we had a Baptism in our Ward. A lovely lady named Marie. Todd and I have gotten to know her, and her children quite well over the past couple of months and it was so lovely to see her take this beautiful step forward in the Gospel. Todd actually performed the Baptism. Although he has done many confirmations, he had never done any Baptisms. Yesterday was his first, and although he was a bit nervous about it, he was also honored to have been asked. I love Baptisms. Each one that I see, reminds me of when I took this important step in the Gospel myself and of how I felt when I did. Baptisms always make me smile!!
We have four missionaries in our Ward now! One is from the Vatican City, Rome. Another from Phoenix, Arizona. One from Finland and the last one is from Kent, England. What a lovely bunch of lads they are, times four! We haven't had them all for dinner yet, but how wonderful it will be to have a houseful of them when we do!! I just love feeding the missionaries, as you know! Todd and I have always done our best to help the missionaries out whenever we can. Todd often goes teaching with them, and I, of course, feed them whenever I have the opportunity to do so. I have never met a missionary that I didn't care for. They are always such nice young men, filled with the Holy Spirit, and working hard to labour in the Lord's vineyard. I admire them. I carry them always in my prayers. They are very special to me and to have four of them serving here now, is an extra special blessing and smile maker!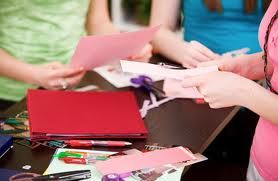 Getting to spend a special evening with the Sisters in my Ward on Thursday evening made me smile. It was a wonderful opportunity to get to know each other better and to share. I taught a short lesson on Testimonies and some of us were able to share our testimonies with everyone, which is always nice and inspiring. And then we did a special project together. We are creating a Testimony Album whereby each sister will be able to have a page dedicated to herself and her own testimony included. It will be kept in the RS room, so that we can all share our testimonies with each other and I think it will be a wonderful remembrance in years to come. At the end of the evening we built Ice Cream Sundaes, a reminder that each of our testimonies are different and come together in individual and unique ways, according to our own experiences in life. Everyone that was able to attend enjoyed themselves and it was just wonderful to me to be able to share these several hours with some pretty special ladies. That always makes me smile!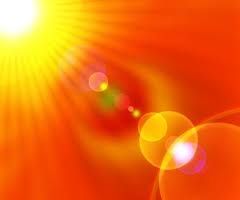 We've had some lovely sunny summery weather this past week, and that always makes me happy. Our garden is growing by leaps and bounds. We had a bit of rain as well, which was nice. The grass needs to be cut again and everything is looking quite lush. The Lavender is in bloom and the rose bushes are covered in beautiful blossoms! Our snapdragons are blooming and the pansies and petunias are a riot of colour. It is so nice to be able to sit out under the umbrella and take it all in. Mitzie is enjoying it as well. Our goldfish have doubled in size from last year and our tadpoles are looking more like frogs every day! Our apple tree is covered with little baby apples and there are some pears on the pear tree and also plums on the plum tree. It is raining today, but that is ok. I don't mind the rain when it is interspersed with lovely sunny days!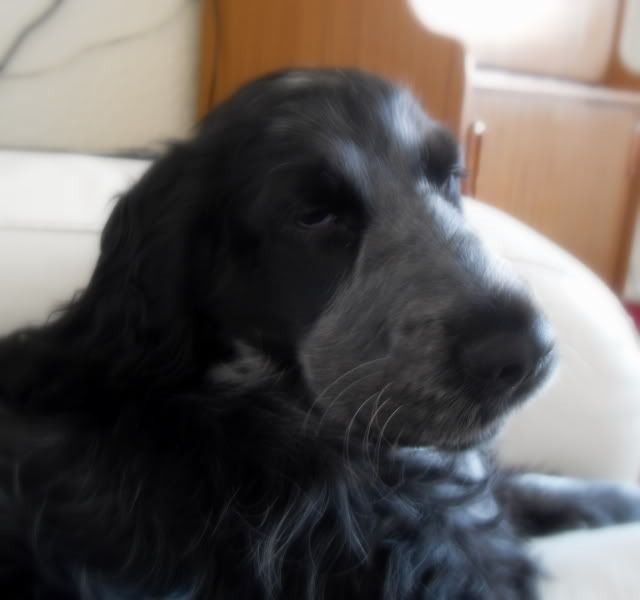 It is hard to believe but Mitzie will be one year old tomorrow!! I know! Hasn't the time gone by quickly? She is the light of our lives and brings us much joy and happiness. When we lost our Jess we were devastated and I was not sure if I wanted to have another pet, but the fate led us to our Mitzie and it was love at first sight. We were so happy to bring her home to live with us and she had continued to weave her special spell on our hearts ever since. There was a cat in the garden yesterday and she was afraid of it. She barked and ran into the house and was peering out at it through the plastic ribbon curtain we have hanging at the back door. She was very worried about this intruder in our garden. It was cute. The cat was not bothered. Todd went out to shoo it away, but it was not in any hurry to leave as it slowly sauntered down the garden and out under the hedge . . . just like a cat would be. They are very independant creatures aren't they? Anyways, there was no way Mitzie was going out there when I cat was about! She is so cute. I will have to do something special for her tomorrow. Mitzie makes me smile!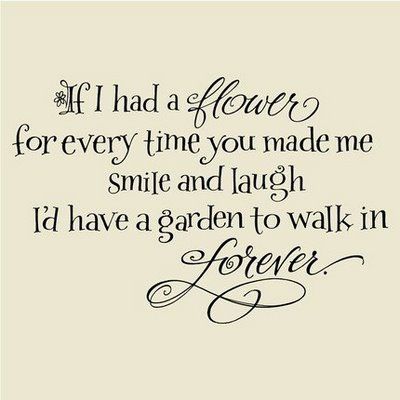 Each of you makes me smile. Your comments and support breathe immeasureable amounts of joy into my life each day. I call you my invisible friends, and you mean the world to me. Each morning when I sit down to write my thoughts I picture many of you in my mind, and it is like having a conversation with a good friend. You fill my heart and you touch my soul. I have been doing this blogging thing for about 7 years now, having started back on the AOL journals when they existed. I started doing it because I thought it would be a way of putting down my thoughts and stories for my children. Well, it has ended up being so much more. My kids don't really pay attention to it much, and that is ok, they are busy bringing up their own families and making a start in their own adult lives. That is as it should be. I have been touched by the stories and hearts of you, my readers. My life has been enriched by your presence and your love, and the many, many ways that you show it to me. You truly are flowers in my garden of life and I thank you for that! God Bless you every one!!
And there you have it. Some of my smile makers for the week. Of course I had ever so many more reasons to smile, but blogger is being a bit of a pain at the moment and has published this entry at least 3 times already! I think I will end it up now so that it can publish it finally and for good!! I hope that each of you have a wonderful and blessed Sabbath day and that you SMILE!
Love and hugs to you all!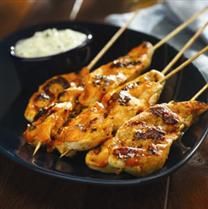 *Buffalo Chicken Skewers*
Makes 10 to 12 skewers

Printable Recipe
Hot and spicey chicken skewers served up with a delicious blue cheese dip!
6 TBS butter
1/4 to 1/3 cup hot pepper sauce (depending on how much heat
and spice you wish to have)
1 1/2 tablespoons cider vinegar
1 (.6 oz) envelope dry Italian salad dressing mix
Non-stick cooking spray
1 pound chicken tenders, rinsed and patted dry
2 tablespoons Vegetable Oil
Salt and pepper, to taste
Wooden skewers (soaked in water for 30 minutes to avoid burning)
1/2 cup purchased blue cheese dressing
Mix the butter, hot sauce, cider vinegar and dressing mix in heavy saucepan. Stir over low heat until the butter melts and the mixture is smooth. Taste and add more hot sauce if desired.
Spray a grill or broiler pan with non-stick cooking spray, and then heat grill or broiler.
Place the chicken tenders in a large bowl and drizzle with the oil, tossing to coat. Season with salt and pepper. Thread each chicken tender onto a wooden skewer.
Grill or broil until cooked through and golden brown, about 8 to 10 minutes. Brush generously with the hot sauce you have made, in the last minutes of cooking. Serve with blue cheese dressing for dipping. Delicious!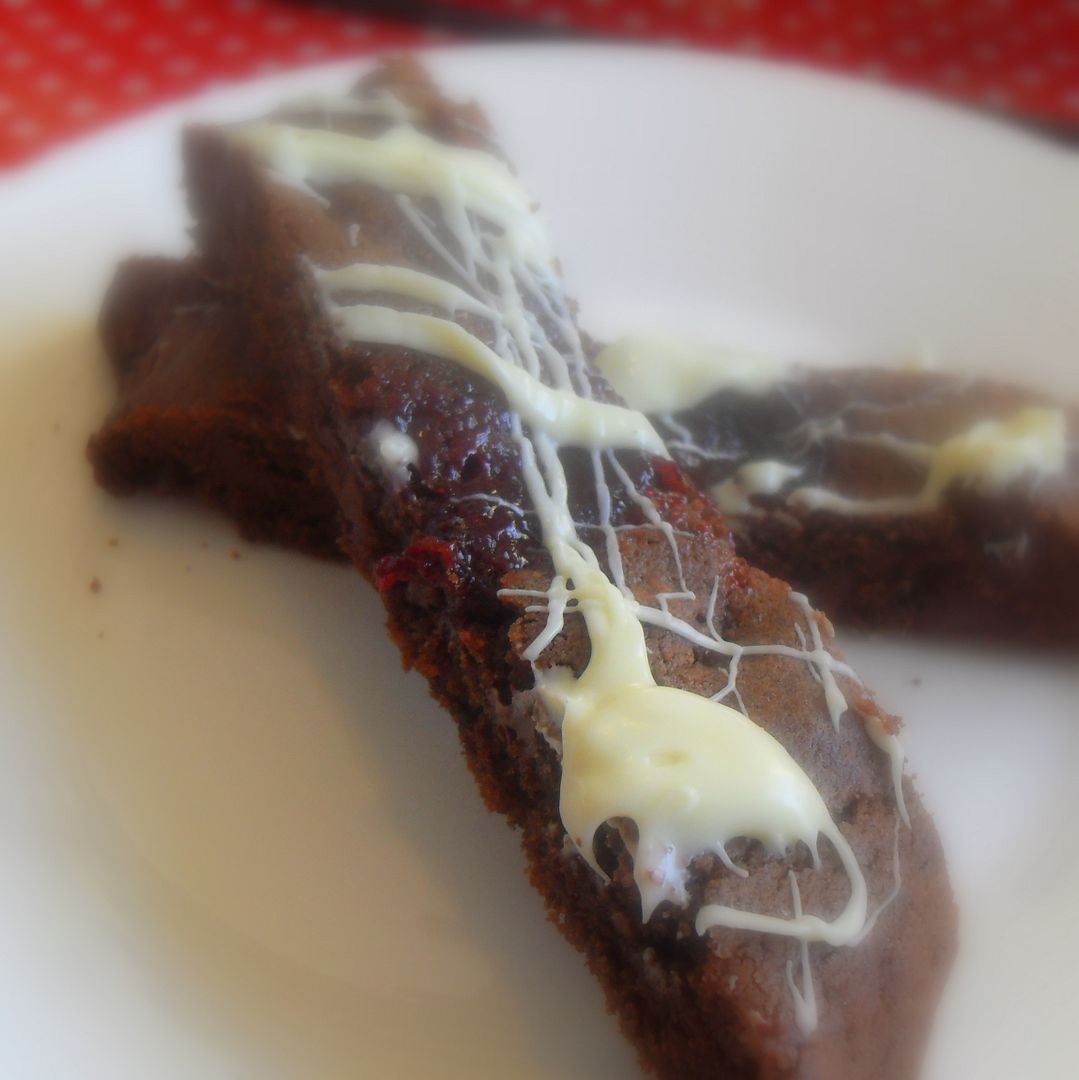 Baking in
The English Kitchen
today, delicious Chocolate Strip Cookies!