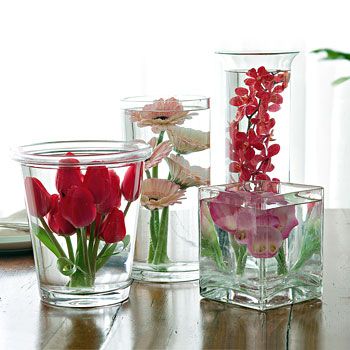 "Far away, there in the sunshine, are my highest aspirations. I may not reach them, but I can look up and see their beauty, believe in them, and try to follow their lead."
~Louisa May Alcott
I don't think there are too many of us who wouldn't think that we could improve ourselves in one area or another when it comes to daily living. Perhaps we might strive to be more patient, or more thoughtful . . . to take off a few pounds, or be a little kinder. There is no end to the improvements we can think of, I am sure.
We shouldn't be too hard on ourselves though, if we sometimes fail. We are only human after all. It is not all that important whether we win or lose in the long run . . . only that we play the game, and try our best. We shouldn't let ourselves become discouraged by what we may see as failure. After all, tomorrow is another day and we can always pick ourselves up, dust ourselves off and begin again, vowing to do better the next time. Rome wasn't built in a day, and neither will we be!!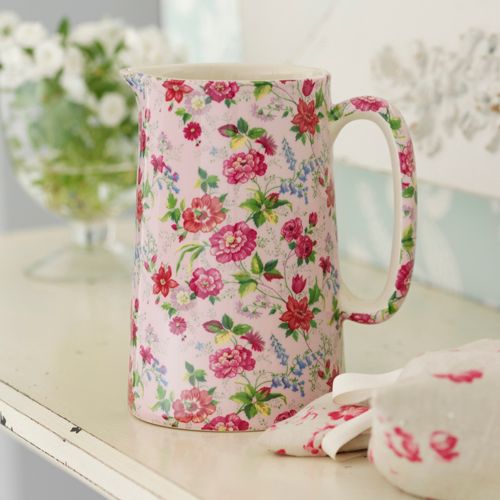 We didn't have an overly huge turnout last night to the Relief Society activity, but the ones that were able to come seemed to have had a lovely time. With it being half term for the children, a lot of people are away or otherwise occupied. I was a bit nervous about it all, as I have not taught adults for a very long time, having spent a long time in our children's Sunday School program. It was probably good that it was only a small crowd. I think I did ok with it though, and everyone came away spiritually fed. We did enjoy very much making our scrap book pages also, and the build your own Ice Cream Sundae's were a hit! I didn't get home until after 10 pm! (That is a late night out for me!)
I am looking forward to the next activity, which won't be until September now. In July we have a combined camp with the Young Women and then apparently they don't hold one in August as a lot of people are away. In September we are going to be doing something for the technologically challenged! (I hold my hand up as a card carrying member of that crew!!) We thought it would be a good way to get some of the younger ladies involved, and that they would be able to help us older ones out with some of the things we find hard to figure out in these modern times . . . things such as texting, etc. All this modern stuff seems to come so easily to the younger folk!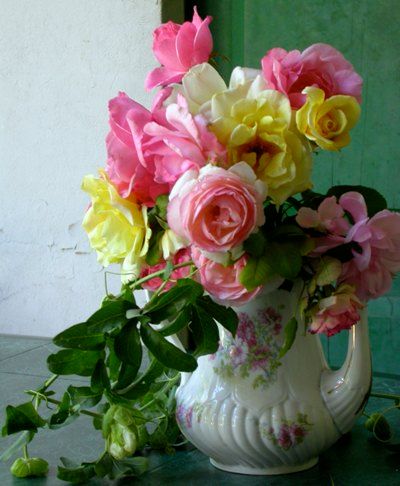 Todd's brother and his wife are coming up in August, which is something to look forward to! They usually go to Devon on holidays each year, so it is exciting to think that they are going to come here this year instead! I am quite looking forward to seeing them! We have so very little family over here, it will be nice to spend some time with them!
Then in September we have booked ourselves a week up in Cumbria at the place we always go to. We will be taking Mitzie with us and enjoy a few days relaxation away from it all. It's been several years since we have been and we are quite looking forward to it. It's so beautiful there, and peaceful. It won't take as long to get there either, this time around, as we live that much closer! We thought we would go in September as the schools are back in and the holiday sites won't be as busy and crowded. The weather is usually still fairly good in September as well, and it will be nice to get away for a little change of scenery. Because we are repeat customers, we are always given a good deal on the cottage as well, which helps!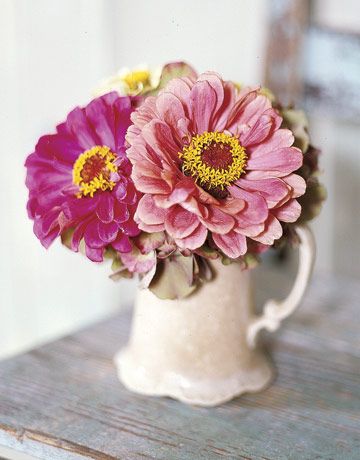 Here is a delicious burger to cook up for supper on one of these warmer nights we are enjoying. It is a Greek Burger, made with ground lamb. If lamb is not something you fancy or can get ahold of very easily, rest easy . . . they are also very delicious when made with ground turkey or veal! Moist and delicious, with lots of feta cheese, grilled vegetables and a tasty balsamic drizzle, these lovely open faced burgers please on many levels!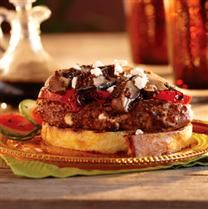 *Greek Lamb Burgers*
Serves 4
Printable Recipe
Deliciously different. All of your favourite meditterranean flavours in a tasty burger!
1 1/2lb of ground lamb
3/4 cup of crumbled feta cheese
2 TBS Italian bread crumbs
6 TBS olive oil, divided
1 tsp of minced garlic, divided
1 tsp dried oregano
2 large portabello mushroom caps
1 medium red pepper, quartered lengthwise
salt and pepper to taste
4 thick slices of firm Italian bread
1/4 cup of good quality balsamic vinegar
Preheat your grill to medium heat. Crumble the lamb into a large bowl. Add 1/2 cup of feta cheese, bread crumbs, 1 tablespoon olive oil, 1/2 teaspoon garlic and the oregano. Mix all together well and then shape into four 1/2-inch thick oval patties.
Brush the mushrooms and red pepper with 2 tablespoons olive oil. Season the patties and vegetables with salt and pepper. Grill patties for five minutes, then turn and cook an additional 4 to 5 minutes, until no longer pink inside. Grill the vegetables about 6 minutes or until desired doneness, turning ocassionally. Peel the skin from the red peppers, if desired, and discard. Cut peppers and mushrooms into thin strips.
Cook the remaining 1/2 teaspoon garlic in 1 tablespoon olive oil in a small skillet over medium heat for about 1 minute. Add an additional 2 tablespoons olive oil, then whisk in the vinegar. Remove from heat. Grill the bread slices for about a minute on each side or until lightly toasted. Place bread on serving plates. Top with the burgers. Spoon the vegetables over the burgers. Drizzle with the balsamic and olive oil mixture. Sprinkle with the remaining 1/4 cup feta cheese and serve immediately.
Note - You may also use an equal quantity of veal or turkey for the burgers.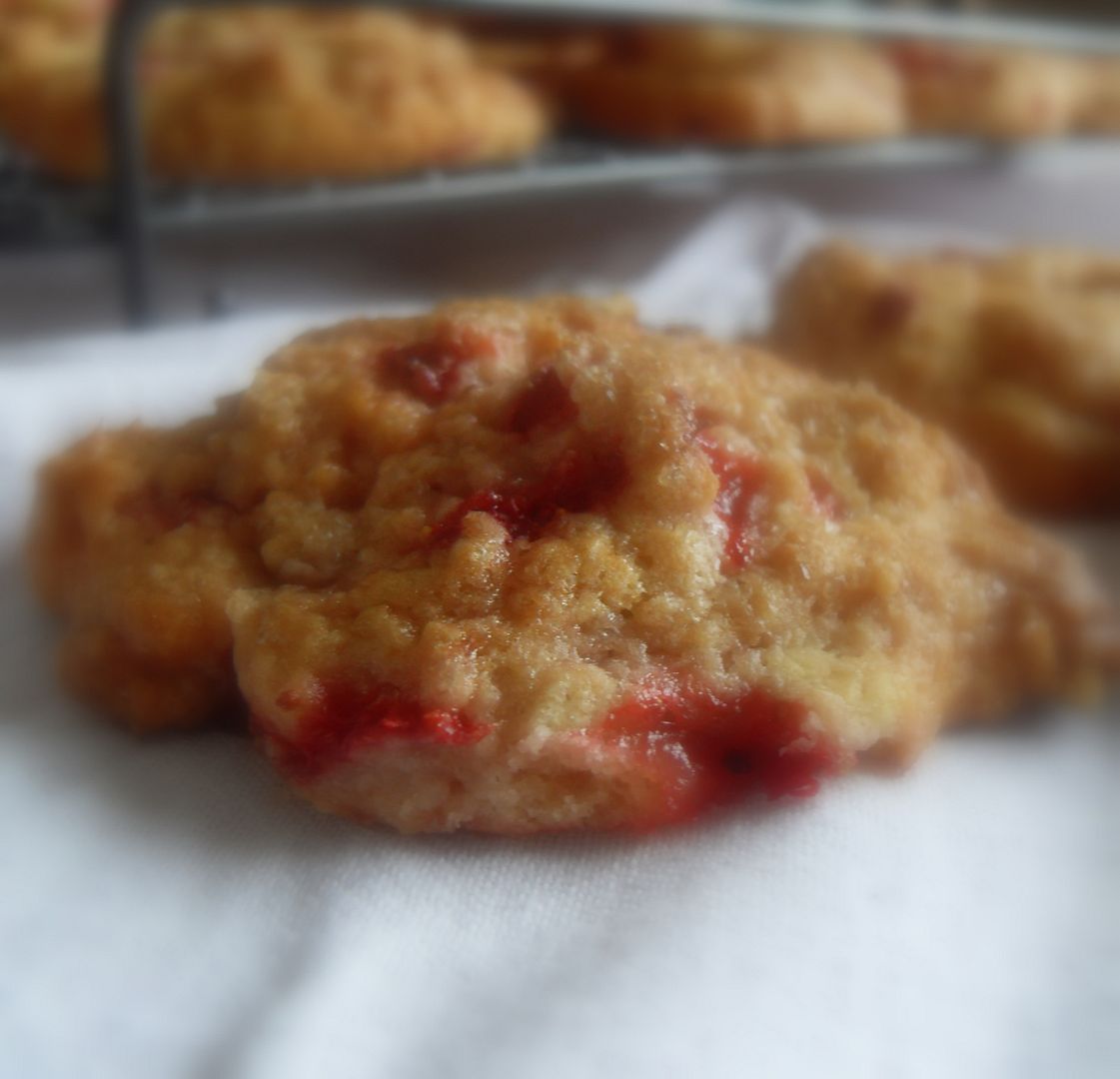 Baking in
The English Kitchen
today, some delicious Strawberry Shortcake Rock Cakes!