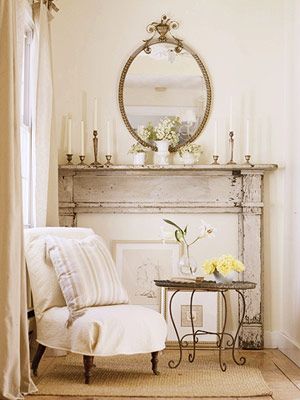 "God is in the details."
Ludwig Mies Van Der Rohe
Making your own imprint in this world we live in depends on your ability to express your own "inimitable" style. That can sometimes be a problem as we struggle to figure out just who we are, "stylewise" at any given time. If you are like me, you have no problem whatsoever with figuring out your spiritual identity, but when it comes to style in any other way, you haven't got a clue!! My house and closet are a mishmash of whatever it was that happened to be on sale, or that grabbed my eye and was cheap!
Here's an interesting exercise that might just help you (and me) figure out what your own inimitable style might be!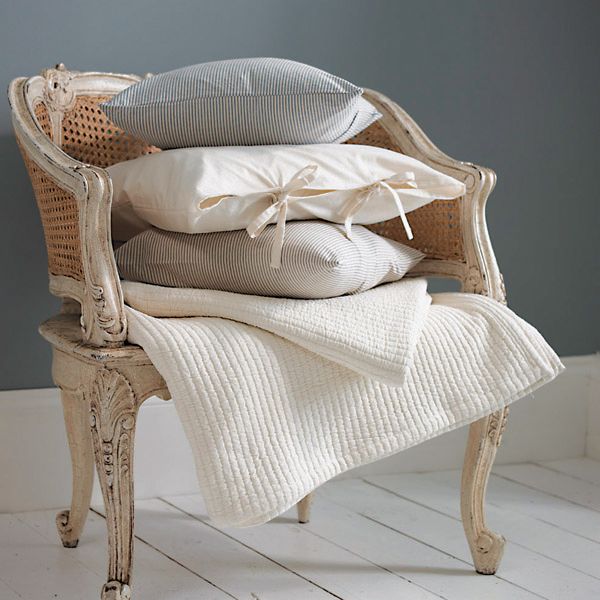 Imagine you are moving into a completely empty house, and starting all over again from scratch. Money is no objective, and not to be taken into consideration when you begin to furnish your home. Write down 20 specifics for this dream home of yours, from architectural features to "must have" furnishings. Remember, money is no objective and you can let your imagination go wild. Really allow your creative flair to have full rein here! Are any of these items leftovers from your childhood, or young adulthood? Have you been dreaming about having them for very long? I opened a folder on my desktop, searched out photographs of these things, and then saved them into the folder. It is now my dream folder.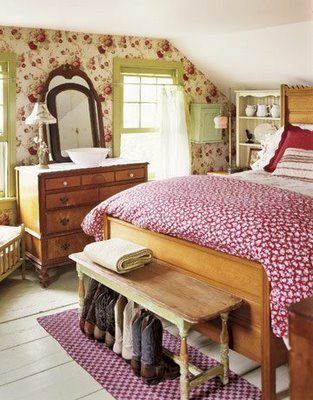 Next, imagine that your bedroom closet and dresser drawers are likewise empty, as well as the top of your dresser. How would you fill them? What are the first ten things that you would either hang up or put away?? You can either choose to keep ten favourite things from what you have already, or pick out ten new things. Which comes first for you . . . comfort or style? Pop these into your dream folder as well.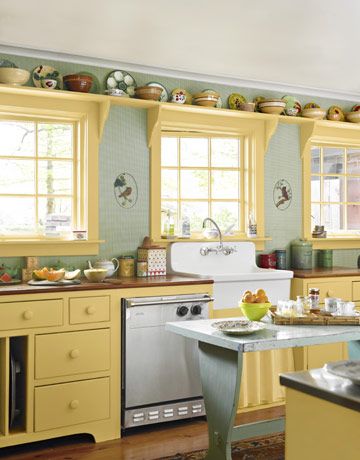 You kitchen cupboards are now bare. You need to buy new china, cutlery, cookware, glassware and linens. Where do you begin? What shape glasses do you enjoy drinking from? What is your absolute favourite of all dinnerware patterns? Do you prefer to drink your morning cuppa from a pottery mug or a china cup? Pick your favourites of all these things and pop them into your dream folder too.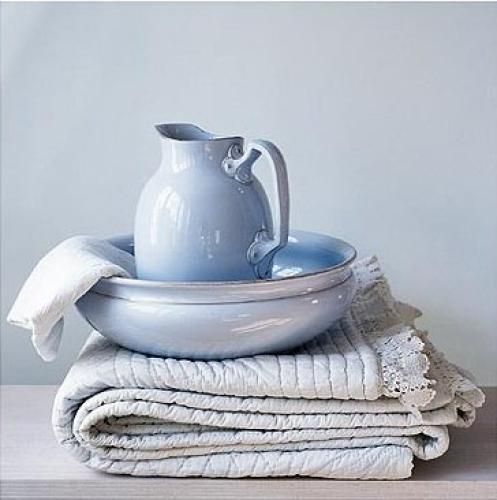 All these things . . . things as small as the bar of soap which you choose to use (Dove beauty bar) or the flowers which you choose to plant in your garden (sweet peas, snapdragons, roses, pansies), the books you have laying next to your side of the bed (Elizabeth Berg and LaVerle Spencer) . . . these choices are, each of them, strong symbols of a life in progress. Each and every day that we live, we make choices like these and create ourselves anew through these choices. We literally are what we choose to read, watch, live amongst, who we choose to hang out with etc. By paying attention to all these finer details, we are able to give expression to the most personal of all the arts . . . making our own imprints on our own lives.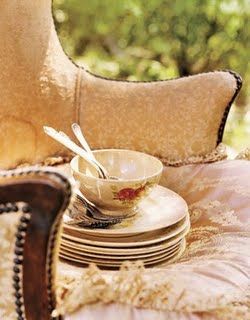 I just love my "Dream Folder." It has been very telling. From it I can tell that I am an old fashioned girl with simple tastes and desires, and that is just what I thought in the first place. I like cosy and comfort and home sweet home!
It was "Torture Todd with Pasta" day again yesterday! Actually I'm not that mean. I always make him something else, but you know this pasta loving girl just has to feed her pasta loving heart once in a while!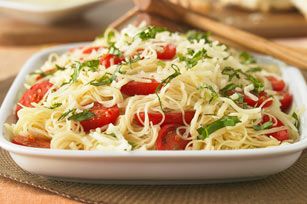 *Spaghetti Caprese*
Serves 4
Printable Recipe
Delicious, light and filling, not to mention easy too!
1/2 pound of spaghetti, capellini or linquine, uncooked
1/2 cup of Zesty Italian salad dressing
1 onion, finely chopped
2 cloves of garlic, peeled and minced
3 cups of halved cherry tomatoes
1 cup of grated Mozzarella cheese
1/3 cup of fresh basil, finely sliced
Cook the pasta as directed on the package.
While the pasta is cooking, heat the salad dressing in a large skillet over medium high heat. Toss in the onions and garlic. Cook, stirring for several minutes, until they begin to soften. Add the cherry tomatoes. cook for about 3 to 4 minutes, until heated through, stirring occasionally. Keep warm.
Drain the pasta. Pour into the tomato mixture, tossing to coat. Sprinkle with the cheese and basil and serve!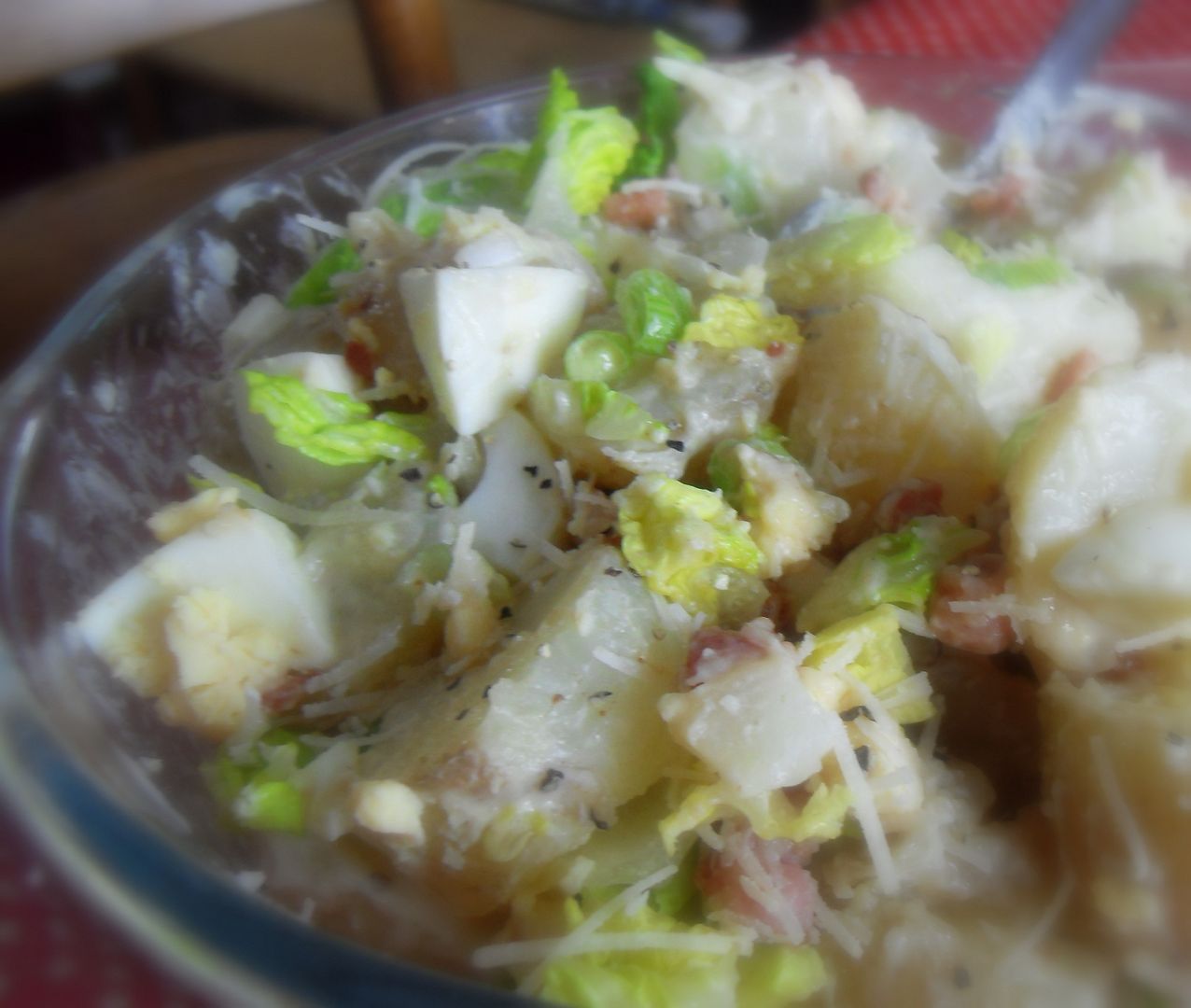 Cooking in
The English Kitchen
today, a delicious Caesar Dressed New Potato and Egg Salad, made with potatoes, lettuce and spring onions we grew ourselves!!