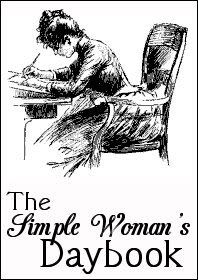 FOR TODAY, March 1st, 2010...

Outside My Window...
It is getting light and the birds are beginning to sing. I am up a lot later this morning for some reason. I expect it's because I had a few sleepless nights last week. It is catching up with me now and I am recapturing some of the sleep I lost!!
I am thinking...
About all the changes in my life at the moment. It is a bit frightening, and also a bit exciting. A real mixed bag of emotions. I have always said that you never know where you life will lead you from one day to the next. This is a prime example of that. Just a month ago I had no idea this was coming . . .
I am thankful for...
I am so very thankful that I have my Todd and the Gospel in my life. Without them, I don't know how I would be feeling right now. A bit lost I suppose. They are the two most important things in my life. They are the cake. Everything else is just icing . . .
From the kitchen...
There's a coffee and walnut cake and not much else. I haven't been baking a heck of a lot over the past week really.
I am wearing...
I am wearing my table cloth pajamas. They are blue and white checked seersucker gingham and they just hang off of me now. I am pleased that I have lost so much weight though, so no worries. I will soon have to take them in though as they will soon be so big they'll fall off!
I am creating...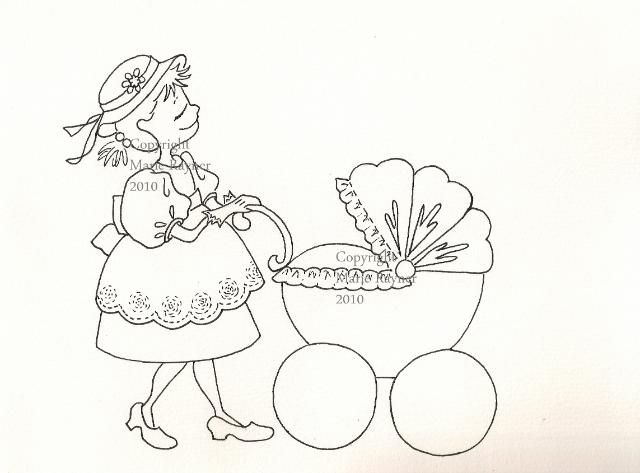 I have two more digital stamps done which I have posted over on
Blossomtime Creations.
I am almost finished my dolls as well. I can't wait to show you. Each one is very different. I didn't have a lot of creating time last week, nor was I really in a very creative mood. I am getting my 'mojo' back now though!
I am going...

I have a very busy and somewhat exciting week ahead. We are leaving to go up to Chester on Wednesday morning and won't be back until next Wednesday. We are going up to go check on housing and employment opportunities. Right now we are kind of thinking that the most important thing is for us to secure a roof over our heads. Once we have that then we can move forward. Finding a home is the most important thing on our agenda right now. I have never been homeless before. It is kind of scary, but I have faith that we are being led in the right direction and that all will be well, as unsettling as things are right now.
I am reading...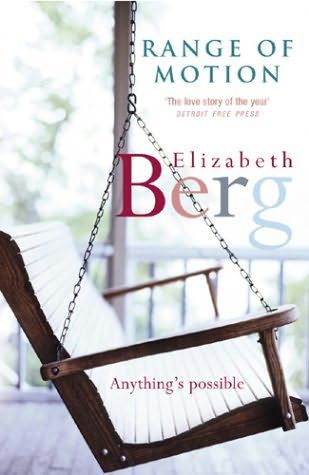 Range of Motion, by Elizabeth Berg
'I can tell you how it happened. It's easy to say how it happened. He walked past a building, and a huge chunk of ice fell off the roof, and it hit him in the head. This is Chaplinesque, right? People start to laugh when I tell them...'
As Jay Berman lingers in a coma, his young wife, Lainey, is the only one who believes he will recover. While he lies motionless, she hopes to reach him by offering reminders of the ordinary life they shared - sweet-smelling flowers, his softly textured shirt, spices from their kitchen. And throughout her ordeal, Lainey is sustained by her relationship with two very special women, each of whom teaches her about the enduring bond of friendship and the genuine power of hope.
I am still reading this novel by Elizabeth Berg and enjoying it. I am about halfway through the book. I didn't get very far last week. I just couldn't seem to concentrate on it.
I am hoping...
The Blessings of God's Seasons

We know we must pass through the seasons God sends,
Content in the knowledge that everything ends,
And oh, what a blessing to know there are reasons
And to find that our souls must, too,
have their seasons . . .
Bounteous seasons and barren ones, too,
Times for rejoicing and times to be blue . . .
But meeting these seasons of dark desolation
With the strength that is born of anticipation
Comes from knowing that every season of sadness
Will surely be followed by a springtime of gladness.
~Helen Steiner Rice

How wonderful these words penned by Ms Rice.
I do have hope and it is strong. I also have faith, which is evern stronger. I know that I am a righteous daughter of a Heavenly King and that things will be sorted and settled as soon as they possibly can be. God is faithful concerning His promises. I trust and hope in them always.


I am hearing...
The clock is ticking, the keys are tapping, the birds are singing. I shall miss this little corner of the world, but I cannot believe that God does not have something much better in store for us. Change is often difficult and hard to work your way through, and the tunnel can sometimes look very dark and frightening, but . . . the good news is there is always light at the end of the tunnel. You can't reach the end until you move forward, and we are moving forward.
Around the house...
All is in order. Todd does love an orderly house. We have spent the weekend going through things and getting rid of what we can. We still have a lot more to organize. It's always good to have a good old tidy up and organization period!
One of my favorite things...
Is reading the scriptures. They touch my heart and bring me solace, peace, inspiration, hope, joy, and strength. I doubt there are many books in this world that can do all that and do it so well.
A Few Plans For The Rest Of The Week...
Well, the biggie is Chester. It will be nice to see our old friends and, indeed, to see the city we have always loved so much. I will miss speaking to each of you every morning, but I know you will be upholding us with prayer and happy thoughts, so you will not be very far from me . . .
Here is picture thought I am sharing...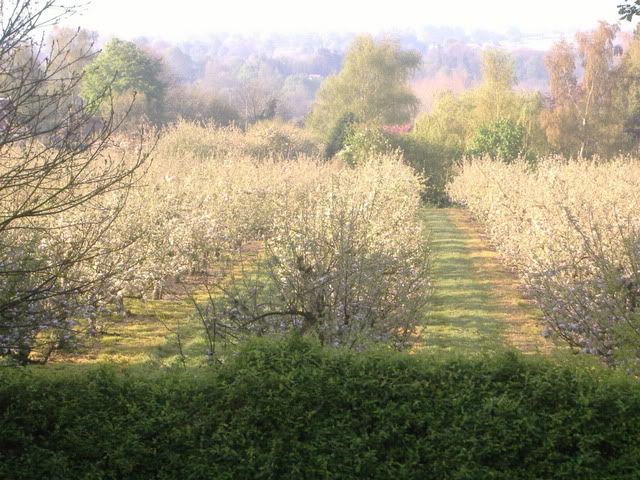 This is a picture I took from one of our upstairs windows the first spring we lived here. It is of the Orchards behind and just beyond our back garden hedge. They are full of the blush of springtime bloom. I hope that I will get at least one more glance of this beautiful scene before we have to move away. A beautiful sea of pink blooms that sway gently in the springtime breezes, the air filled with their beautiful scent . . . that wonderful feeling of the earth awakening . . . it is such a lovely time . . .
And there you have it, my Simple Woman's Day Book for today. Don't forget to hop on over to the
Simple Woman
to check out the other day book entries! (Or better yet, do a simple day book entry yourself! It's not that hard and I am betting you would enjoy it!)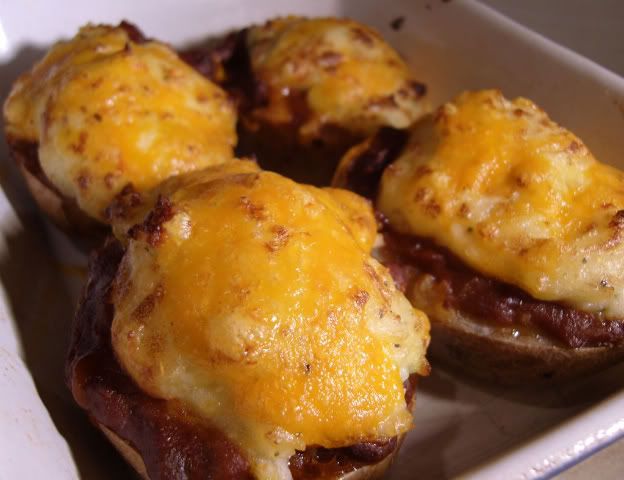 *Chili Stuffed Jacket Potatoes*
Serves 4
Printable Recipe
These are the perfect dish when you are tired and lacking in energy and inspiration. I suppose you could just bake the potatoes and then spoon the chili over, but why not go just a little bit further and make something a tad more exciting!!
2 large baking potatoes
1 (410g) tin of chili con carne (I use Stagg)
1/2 cup cheese and onion dip (from the refrigerated section of the grocery store)
1/2 cup grated Red Leicester Cheese (Or strong cheddar)
Preheat the oven to 200*C/400*F. Wash and dry the baking potatoes really well. Prick them with a fork and then place them into the preheated oven, directly on the oven rack and roast them for about 45 minutes to an hour, until they are tender to the touch and nicely crisped on the outside.
Remove them from the oven and let them cool for about 10 mnutes, once you can handle them without burning your fingers too much, carefully slice them in half lengthwise with a very sharp knife. Using a spoon, very carefully scoop out the potato flesh, leaving a thin potato shell, being very careful not to tear the skin.
Empty the chili into a saucepan and heat it to a simmer over medium heat, stirring it once in a while to keep it from catching.
While the chili is heating, mash the potato flesh that you have removed very well with a fork. Beat in the cheese and onion dip. Place the potato shells in a shallow casserole dish. Spoon the chili into each one, dividing it amongst the halve equally. Top each one with a healthy spoonful of the mash, mounding it up onto each one. Sprinkle with the cheese, dividing it equally amongst the potatoes. Bang them back into the oven and cook for an additional 15 minutes or so until they are nicely browned on top and heated well through.
I like to serve these with a tossed salad and some broccoli on the side.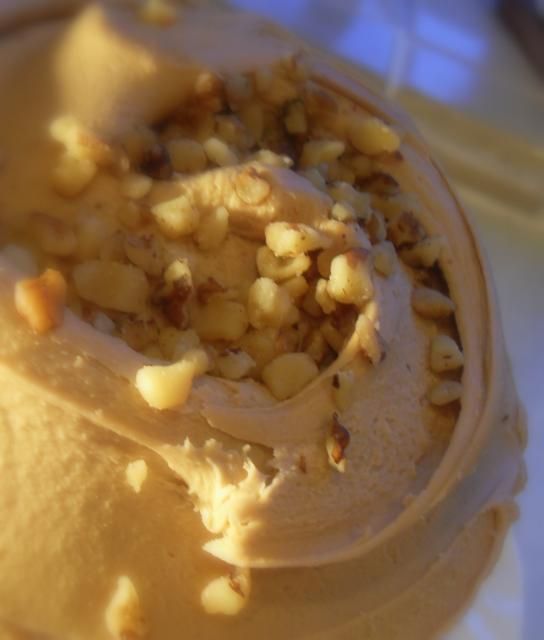 Over on
The English Kitchen
today, a delicious Coffee and Walnut Cake!