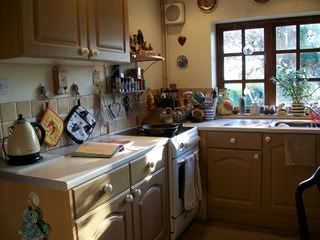 "My opinion of a kitchen?" said Susan, in a tone, with a glance, and a wave of her fork that spoke unwritten volumes, as she translated the perfection of fried cakes from the frying kettle to a tin colander to dreain; "my opinion of a kitchen? Well, that would vary somewhat with the mansion that contained it. In any case, however, it would be the pleasantest room in the house, if I had the ordering of things."

The queen of our kitchen said this with a half smile and a half apology, as she continued; "It makes a good deal of difference, you know, to the one who is to spend the best part of her time there."
~Our Susan's Opinion of a Kitchen, "The Home Cookbook," Canada's first community Cookbook

I have long felt that the kitchen is the heart of any home. I am not sure if that is because it is the one room that I have always spent most of my time in, or if it's because it truly
has
been the heart of all of my homes. I've been really lucky in that, for the most part, most of my homes have contained a kitchen which was large enough to hold at least a small table and some chairs. The kitchen has
always
been where I have felt the most comfortable and at peace.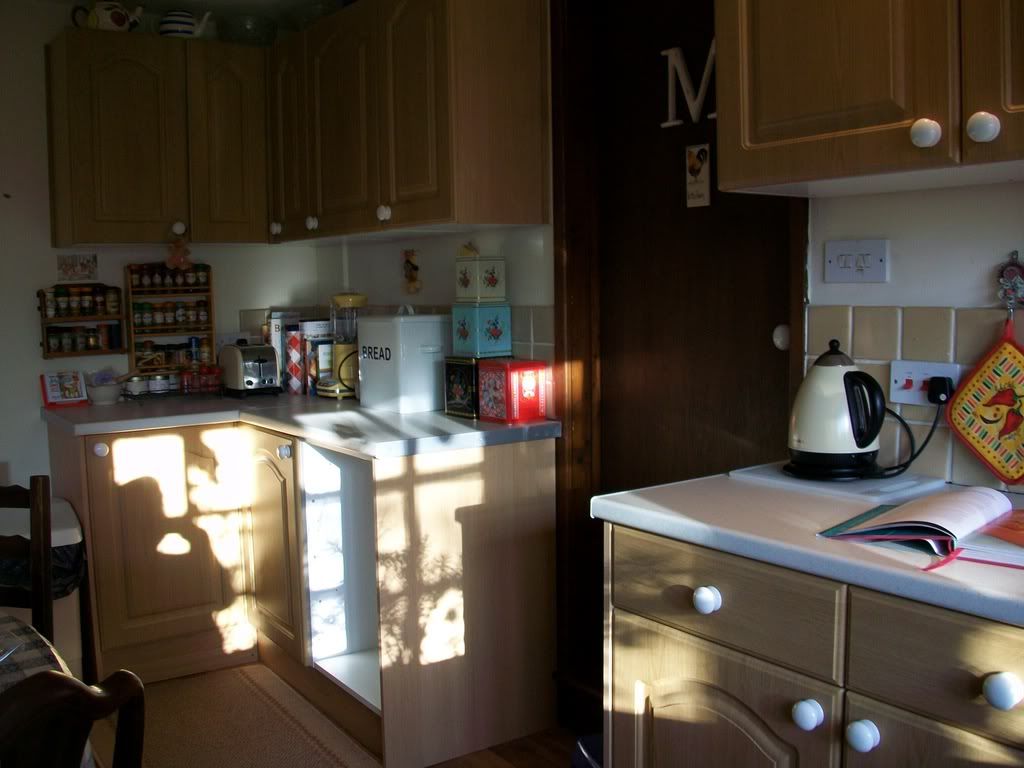 The kitchen here in the cottage is where we spend most, if not
all
, of our time. It is rather large and serves not only as a kitchen/diner, but also somewhat of a lounge . . . in that we have comfy seating and a television down here, not to mention our computer. There is a circular staircase in the corner that our Jess was never able to manoeuvre, and so we decided early on in our life here at Oak Cottage, that we would simply live in the kitchen with her, so she didn't have to spend her time alone. We never minded, really . . .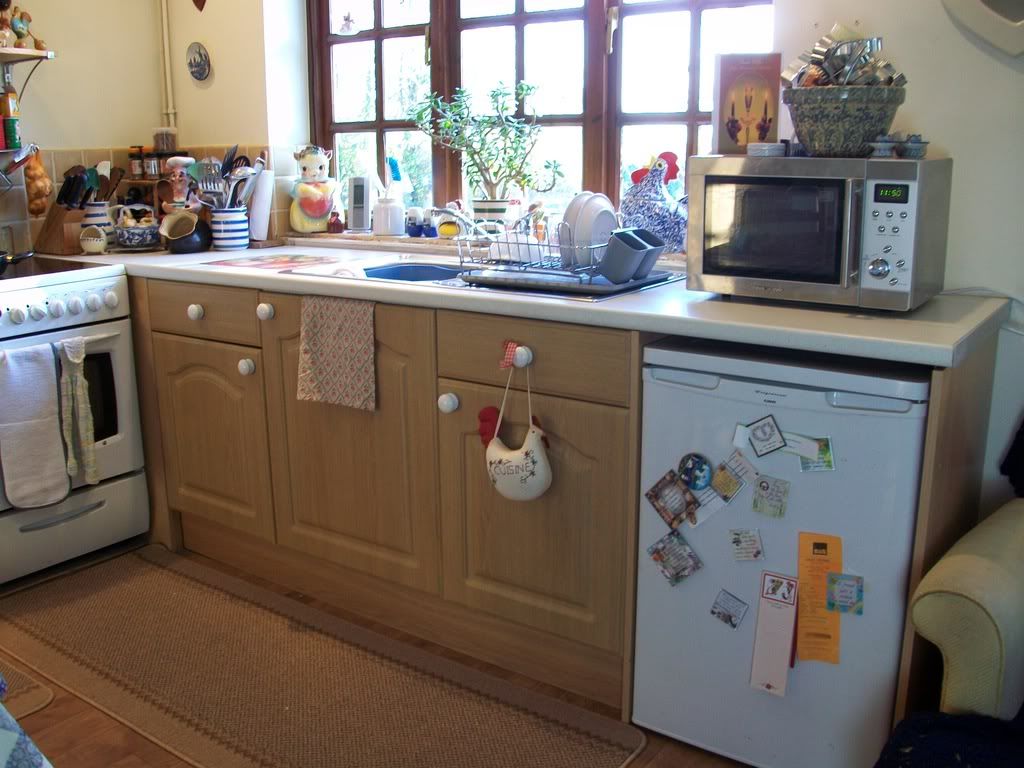 When I was growing up, the kitchen in many homes was the place where most people entertained their guests, and . . . if you watch shows like
The Waltons
or
Little House
, it's very plain to see that a great deal of entertaining went on in their kitchens as well.
It is the perfect place to sit someone down and give them a cup of refreshment along with a cake or a few cookies. And . . . if you came from where I come from, there is no way on God's green earth that you are going to go
"A-callin"
at someone's home without having been offered at least some form of refreshment during your visit!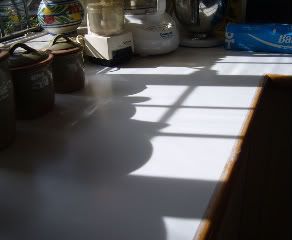 Oh . . . . I could
never
bear to work in a kitchen without a window to look out of while I was puttering away . . . . I am happy to say that I have
always
been blessed with a window in each kitchen I have worked in.
My window here at the cottage has to be the most beautiful of all . . . looking out over the Orchards that border the back garden . . . a beautiful scene that perfectly catalogues the changing seasons of the year as they pass. Right outside the window is a beautiful rosebush which, during the growing season, is just covered with beautiful big pink roses . . . that blow against the panes and scratch the glass in windstorms . . . I call it my dream window.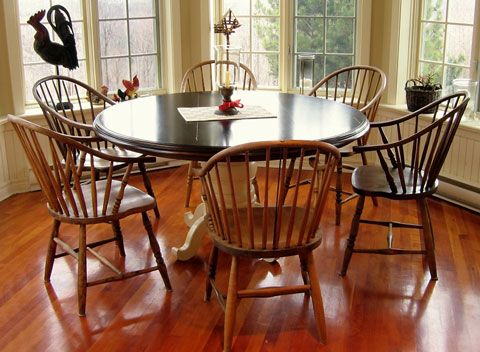 A nice table that is pleasing to the eye, but also welcoming and enticing to the visitor, is also another necessity in a kitchen. I want people to come on in, take off their coats, sit down and make themselves at home. After I have gotten them a drink and offered them a cookie or slice of cake, I will sit down with them. My kitchen table is where I have shared many an important conversation and much love with others. It is the place that battles have been fought, problems have been solved, laughter has been supplied, tears have been shed, and hearts have been shared . . . across my solid, vinyl covered, oak kitchen table. It has ever been so in each of my homes. I'm not sure why, but it seems that if the kitchen has always been the heart of my homes, then the kitchen table has always been it's nucleus, the place where the heart beat starts . . .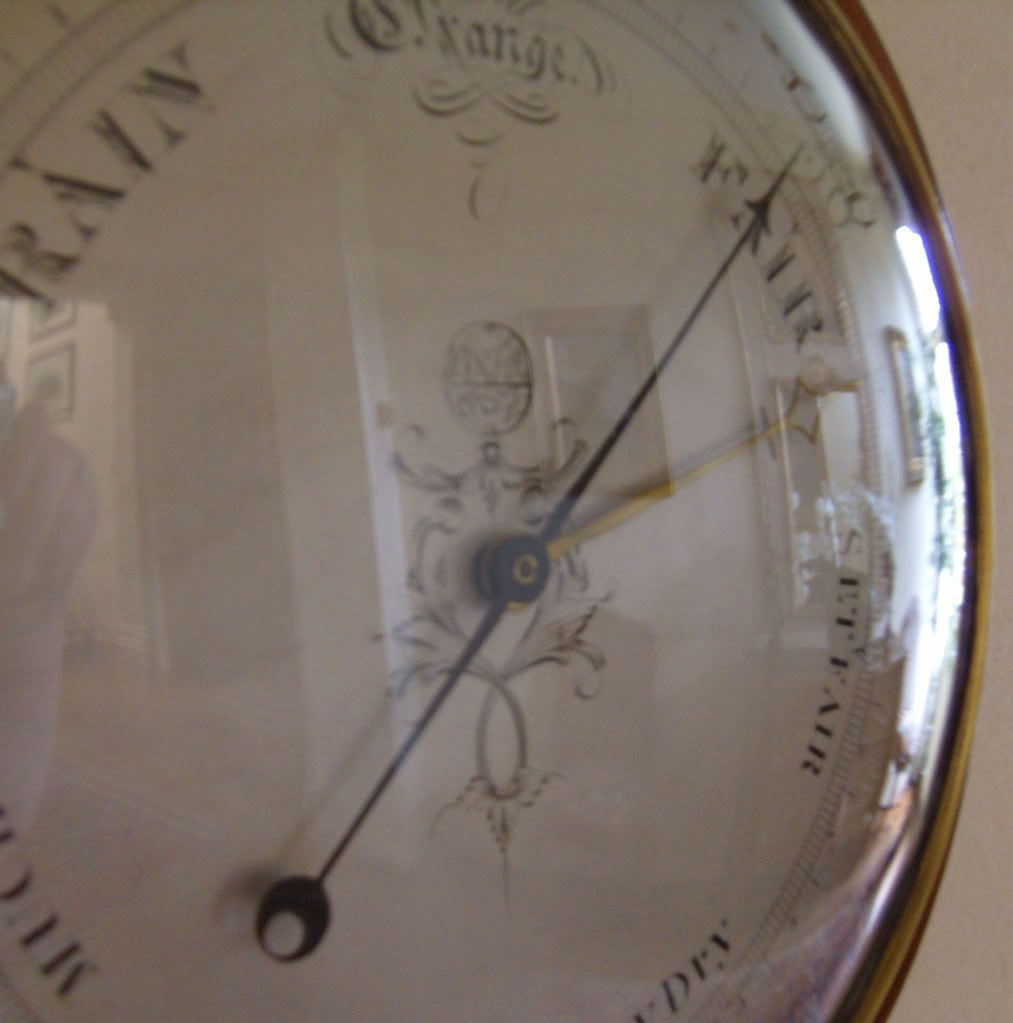 Our kitchen is slowly losing it's heart this week . . . We packed all the dishes away yesterday except for what we will need just for ourselves over the next week or so. All the pictures are down and packed away . . . and our faithful companion is no longer here . . . soon, our heart will be beating strongly in another kitchen, several hundred miles from here . . .
"My opinion of a kitchsn, 'as is a kitchen,' is one room enough about for the many little things and comforts that give it a home-like look; a 'living room,' as we used to call our kitchen in the old home. And then Susan's glance wandered, with a pleased softened look to the sunny window, with it's geranium pots and hanging basket, near which the most cheerful of canaries in his cage made all the air melodious with song."
I have to agree with Susan . . . a kitchen is indeed a 'living' room.
"No
matter
where

I

serve

my
guests
. . . it

seems

they
like
my
kitchen
best.

"
This is a tasty salad that is not only pleasing to the eye, but very refreshing as well. Just perfect for sharing at the kitchen table with someone you love . . .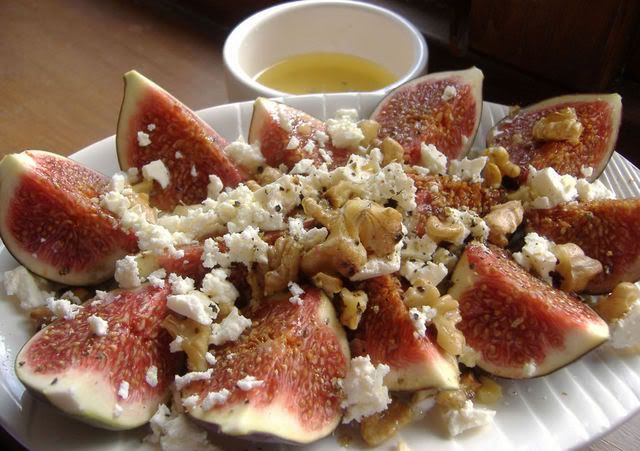 *Fresh Fig Salad*
Serves 2
You can easily multiply this salad to serve more people. It's fruity and refreshing and a wonderful change from ordinary green salads. It's quick to put together and you can have it done in no time at all. With a bit of crusty bread and butter on the side, it makes a fabulous light lunch!
4 fresh figs, medium to large
2 ounces feta cheese, crumbled
2 ounces of walnut halves, toasted and roughly chopped
For the Dressing:
2 TBS walnut oil
1 tsp white Balsamic vinegar
1/2 tsp Dijon mustard
sea salt and freshly ground black pepper to taste
Put the vinegar, oil and mustard along with a good pinch of salt and the black pepper into a small bowl. Whisk it together well. Set aside until you have the rest of the salad ready.
Wipe the figs gently with a damp cloth. Trim off the stem end and discard. Cut the figs into quarters. Arrange them on individual plates in an attractive way. Scatter half of the feta cheese and walnuts over each.
Give the dressing another quick whisk and then drizzle it evenly over each salad, dividing it equally. Serve immediately.
Note - To toaste the walnuts, heat a heavy skillet over high heat and toss the walnuts into the pan. Toast and stir for 2 to 3 minutes. Remove from the heat and set aside.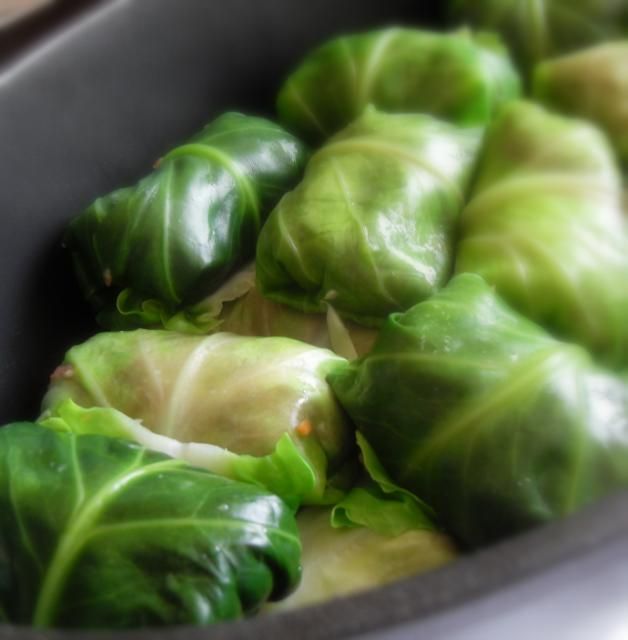 There are some mighty delicious Cabbage Rolls sitting over in
The English Kitchen
today.