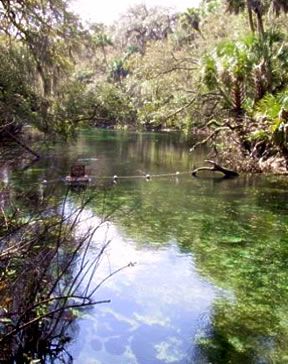 The first warm day . . . oh lovely phrase
After the dreary winter days,
To wake one morning with a start,
And know deep down within your heart,
That Spring has blossomed overnight,
With all her shining lamps a-light.
The sun's bright warmth on earth and sky,
A little warm wind going by;
To look and find a rub of green,
Poking it's nose up through a screen
Of matter grass and sodden ground,
With triumph like a bugle sound.
The first warm day . . . how hearts are stirred,
How sweetly flows the spoken word
In happy greeting to a friend;
Above the road the tall trees bend,
Like ladies at a royal tea
Bowing before great company.
A thousand hearts rejoice and sing,
To greet the first warm day of spring.
~Edna Jaques
One of my favourite Canadian Poets has to be Edna Jacques. I am not sure how well she is known, but I have loved her for a long time. When I was growing up my mother had an old Fireside Book of poetry and amongst it's pages were several poems of Edna's which I loved to read, and still do. Edna Jacques has been dead for many years now, having passed away in 1978, but her poetry lives on . . .
This specific verse I picked out of the 1977 Fireside Book of David Hope that I picked up for a pound at a yard sale up in the Lake District when we were holidaying there several years ago. As soon as I saw it, I had to have it. It brought back so many memories of the hours I spent as a child reading my mother's book of poems. Oh yes, I must have been an odd child indeed!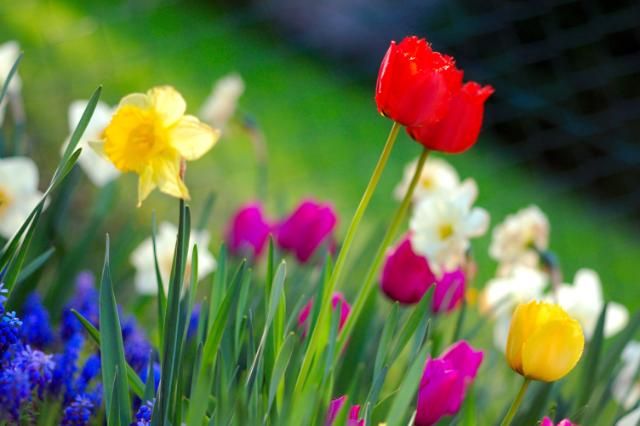 Most of our lives is now sitting around the cottage in brown cardboard boxes. It is getting quite difficult to maneuvre our way about the place without bumping into one! There is not a lot left to pack now, except for some clothing and a few odds and sodds.
I'm afraid that what is left now for me to cook is also probably going to be highly uninteresting as well, as most of my spices and condiments are now also packed away . . . we have kept out a few tins of beans and such, so it looks like we will be having a few beans on toast nights and some soup suppers. There probably won't be any recipes on here much, unless I move some over from my old Marie's Muses page, which I might well do.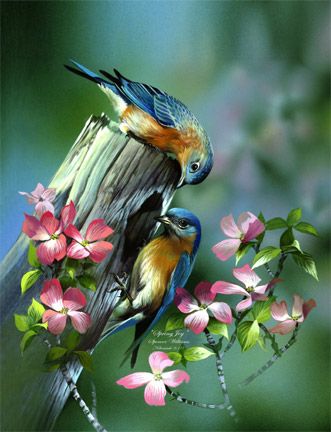 Oh how pretty the birds are singing this morning . . . the dawn chorus. Right now I can hear the song thrush as she sings, her beautiful voice ringing out above the tree tops of our garden, whilst over in the orchard I can hear the cries of crows cawing . . . a robin trills in the rose bush next to the kitchen window, and sparrows and blackbirds join in with their lovely songs as well. Altogether it is a beautiful sound, it is as if they are praising God for this new day that has dawned. I know there are birds in the city, but there won't be as many as what there have been here. I shall miss their morning wake up call. Oh how lovely it has been, and how blessed we have been to be able to hear it for these past 7 years . . .
Some of you have noted the small change I made to my header. I will not be changing the name of my page. Oak Cottage is so very well known and it is a name that I have paid money to keep over these years, having registered this domain as my very own . . . so I made a subtle change to the header . . .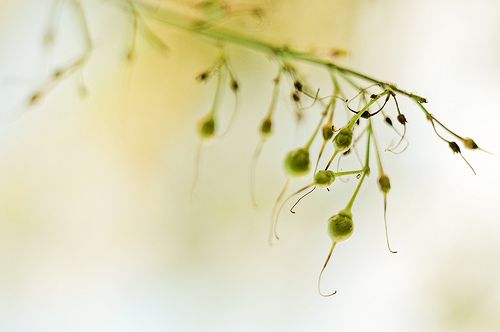 Oak Cottage is indeed much more than a place . . . it is a state of mind and heart, and it can live anywhere. It can live with you and with me in any place we find ourselves aboding. It is a sense of peace and of love. It is having faith and trusting in the Lord. It is caring for others and finding joy in the simple things of life. It is choosing to live with the cup half full instead of half empty, and in finding small blessings scattered through each and every day of your life.
It will not disappear, for I carry it with me wherever I go. I am glad for that.
Here are some tasty cookies that will have you coming back for just . . . one . . . more!! Yes, they are incredibly moreish!!!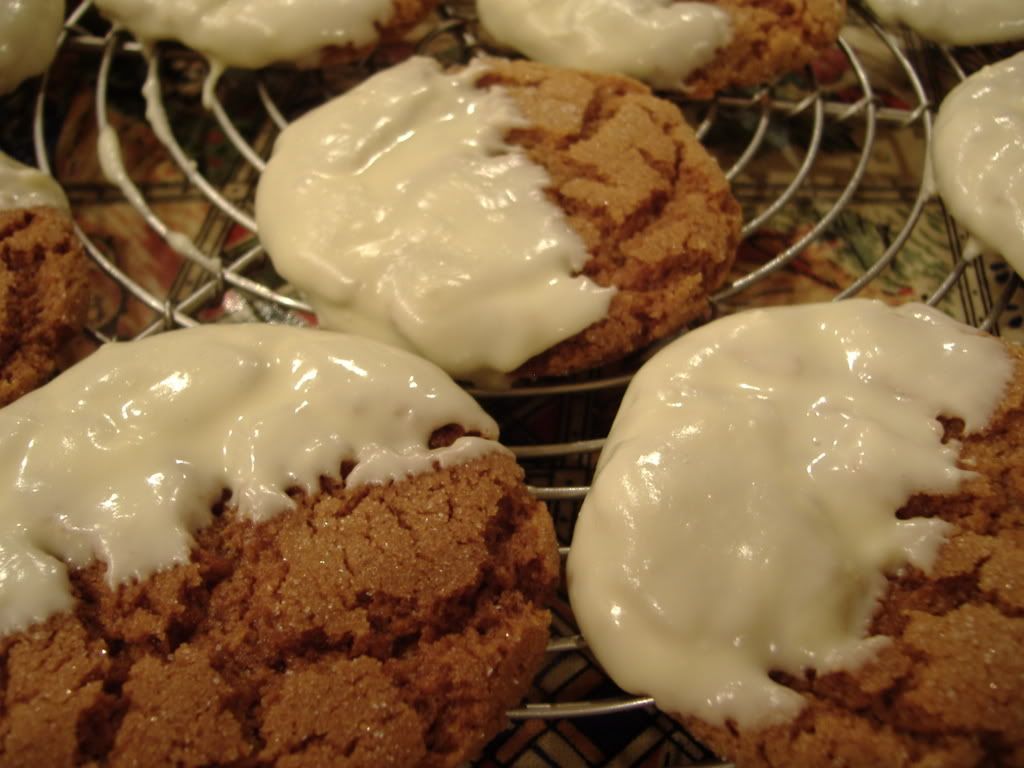 *White Chocolate Dipped Gingernuts*
Makes 24
What could be better than a delicious, crunchy homemade gingernut biscuit??? Why, a delicious, crunchy homemade gingernut biscuit dipped in chocolate!!!
3/4 cup butter, softened
1 cup sugar
1 large egg
1/4 cup molasses
2 cups flour
1 TBS ground ginger
2 tsp baking soda
1 tsp ground cinnamon
1/2 tsp salt
2 TBS finely minced candied ginger
1 further cup of sugar (to roll the cookies in)
White Chocolate Dip:
2 cups white chocolate chips
2 tsp butter
Preheat the oven to 180*C/350*F. Lightly grease two baking sheets. Set aside.
Cream together the sugar and the butter until fluffy and well mixed. Beat iin the egg and the molasses. Whisk together the flour, ginger, soda, cinnamon and salt. Stir this into the creamed mixture, mixing it in well. Stir in the candied ginger.
Place the further cup of sugar into a small bowl. Pinch off pieces of cookie dough the size of a walnut and roll into balls between the palms of your hand. Drop them into the bowl of sugar and coat them well. Place onto the prepared baking sheets, leaving at least 2 inches of space between the balls. Bake for 8 to 10 minutes until done. They will look all crackly and be firm to the touch. Remove to a wire rack to finish cooling.
Melt the chocolate chips together with the butter over low heat. Cover a wire rack with some wax paper or baking paper. Dip each gingernut into the melted chocolate halfway, shaking any excess off. Place on the wax paper to allow the chocolate to set and harden. Scrummy!!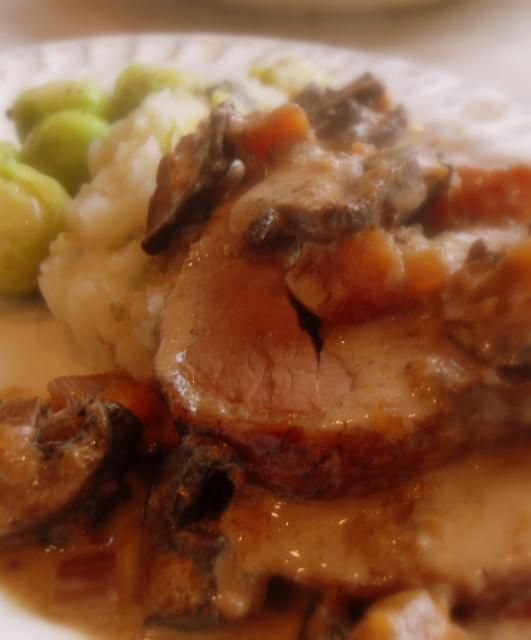 Over on
The English Kitchen
this morning??? A delicious Java Cooked Brisket. Oh, my, but this was good!