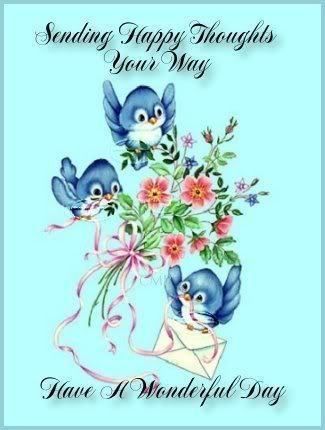 How very wonderful it is on these lighter mornings to wake up and come downstairs to the sound of birds singing. Ornithologist would have you believe that birds sing to attract a mate . . . but I have heard of another reason that is much closer to my heart. There is an ancient Jewish legend that claims the following.
After creating the earth and before creating man . . . God took a break. He gathered all His angels around Him and asked what they thought of His work so far.
All agreed that the earth was a beautiful masterpiece.
And then . . . one small voice piped up from the back. One solitary angel dared to suggest that it was lacking in something. No one could figure out what he meant, until he explained that the World only lacked the sound of praise for it's Creator.
And so . . . God created birdsong.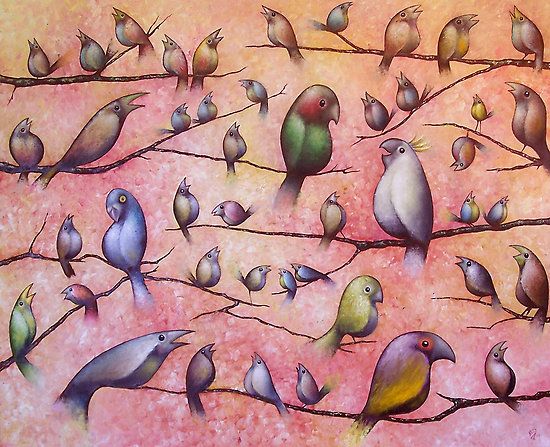 I just love it! What a beautiful thought. Can there be any birdsong prettier than the melody of the Song Thrush???? I think not!!! We have several here at Oak Cottage and I am always mesmerized by their beautiful notes . . .
Song Thrush

A crystal clear, triple note song,
Repeating, cascading optimism
From the ash tree top,
Brim-filled with buds.

Chestnut speckled, bright breast
Feathers, puffing out,
Facing the chill
winter wind.

On this day of mist and frost
The happy heart fills his soul
With an exuberance,
Simple, plain, defined.

How good it is
To breathe and sing,
How good
To be alive.

~David Elder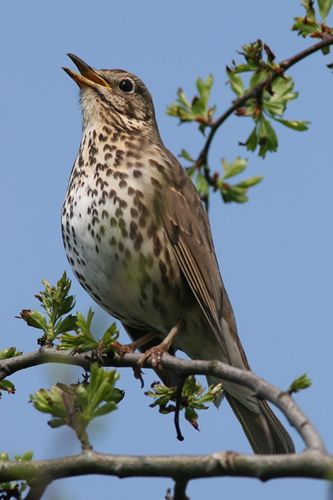 Like the song thrush that sits and sings on the crest of the rooftops next door, I have a song to sing today . . . a song of praise to my creator . . . a song of gratitude for the many blessings in my life, and for this beautiful life I have been given.
I hope that you too have a song to sing, and that you will sing it today.
There was an old Acadian woman that lived across the street from my ex mother in law. Every time we would visit she would promptly bake up a batch of what she called French Biscuits. Oh my but they were lovely, all fluffy and light, and crisp on the outside. We always looked forward to them so very much. I was always trying to get her recipe, but it was something that she held close and would not divuldge . . . pity that, as I would still love to have it . . . they were THAT good! Nevermind, these come a close second.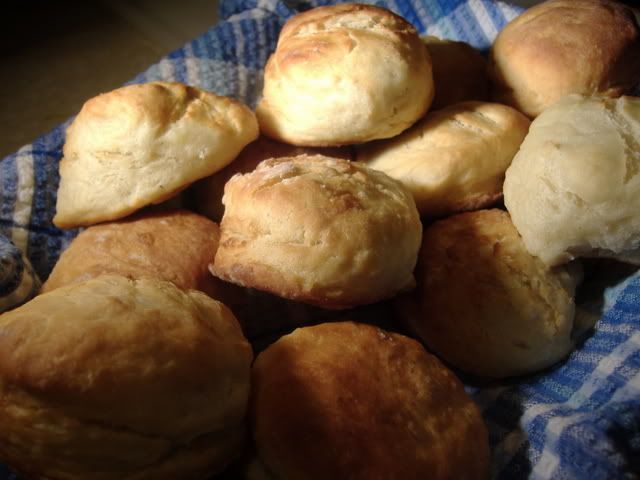 *Angel Biscuits*
Makes about 16
Printable Recipe
These lovely biscuits turn out perfectly every time. Light and fluffy, they are a cross between a traditional baking powder biscuit and a yeast roll. They hold up well, but are incredibly tender and really quite delicious. Light as an angel's wings.
1 TBS yeast
1/4 cup warm water
2 1/2 cups flour
1 tsp baking powder
1/2 tsp baking soda
1 tsp salt
2 TBS sugar
1/2 cup vegetable shortening
1 cup buttermilk or sour milk
Stir the yeast into the warm water and set aside for several minutes.
Sift the flour, baking powder, soda, salt and sugar into a large bowl, lifting the sifter up high to aerate the flour as much as possible. Cut in the shortening with a pastry blender, or two knives, until you have a crumbly mixture, with a texture similar to small peas.
Give the yeast a stir to dissolve and then stir it into the flour mixture along with the buttermilk, mixing all in well. Cover the bowl with a clean cloth and set it aside to rise for at least an hour, but up to two hours.
Butter a large baking tray and set it aside.
Scrape the dough out onto a well floured surface. It will be really sticky. Flip it over, coating it in flour, and then knead it four to six times. Pat out to 1/2 inch thickness. Cut into rounds using a floured biscuit cutter. Repat any scraps and repeat until all the dough is used up. (Remember to cut with a straight up and a sharp tap down, lifting the cutter straigh up again when done. Try not to twist the cutter or you will have lop sided biscuits) Place on the prepared pan, leaving a couple of inches in between each. Cover with a clean cloth again and let them rise slightly, from 10 to 30 minutes. Preheat the oven to 200*C/400*F.
Place the pan of biscuits into the heated oven and bake until lightly browned and well risen, 10 to 12 minutes. Remove from the oven to a wire rack to cool slightly before serving. Serve warm with plenty of butter and honey for spreading! Yummmmm!!!
In
The English Kitchen
today, a delicious chicken dish, Roasted Chicken with Chorizo and Spring Cabbage. Yummo!