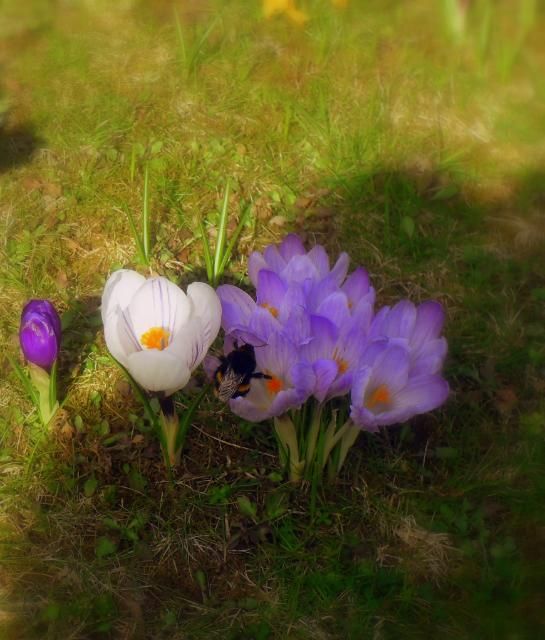 There is so much going on in the garden right now that it is pretty hard to keep up with it all. the crocuses are swarming over banks and borders and positively humming with life as fat springtime bumble bees amble betwixt the blooms . . .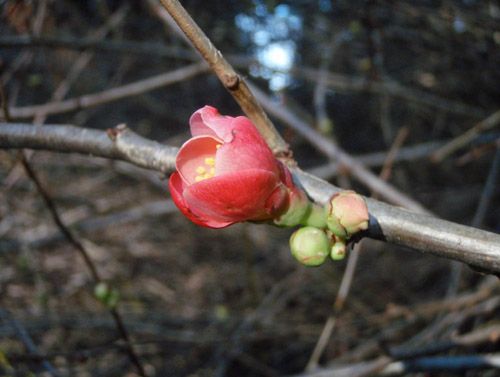 The quince beneath the window is just peppered with small rosy buds and the damson trees down by the tennis courts are on the point of breaking out into blossom . . . I dare say it will be any day now, or is that just wishful thinking . . . .
The old Dutch honeysuckle which grows amongst the hedgerow at the back of the garden is flecked with new leaves and purple Hyacinths are pushing up out of the frosted beds, amidst the stones. Spots of violet primula wanda make velvety mats of bloom along the edges of the footpath that runs across the front of our cottage . . .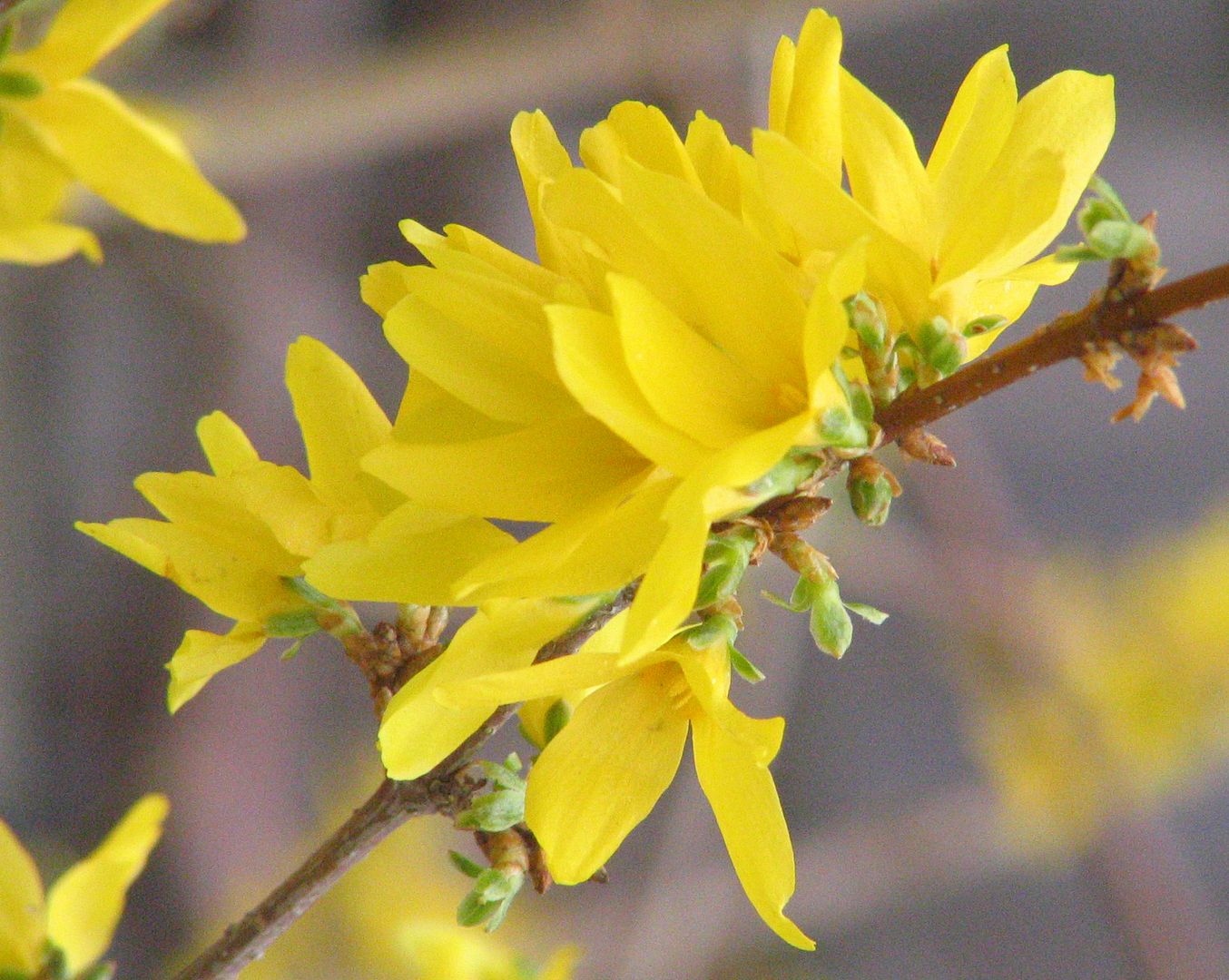 Forsythia in the shrubbery are like golden fountains that arch gracefully over budding daffodils and Jonquils, not to mention the yellow primrose that has made its way up through the bed of mulch that we put down last autumn . . .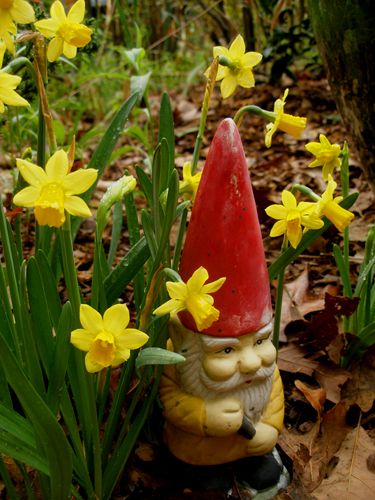 The birds are building and each morning begins now with their beautiful song . . . it floats through the air, such a beautiful melody to wake up to as the sun begins it's ascent into the early morning sky . . . It is a time that you want to slow down the passing of hours . . . to prolong these beautiful early spring delights . . .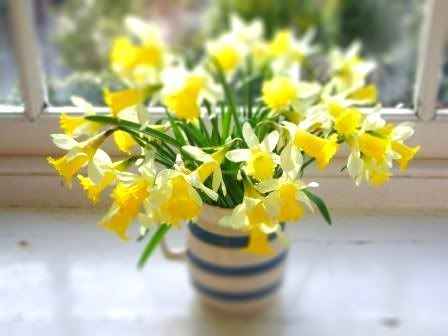 It will be our last spring here at Oak Cottage . . . I will be sad to let it go . . . but we will build a new life back in Chester and there will be beautiful springs there to look forward to as well. Spring is a state of mind . . . and it comes to all places . . .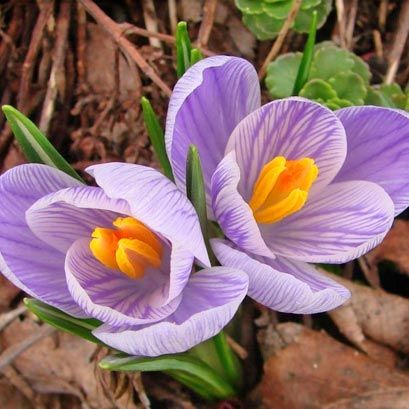 It can be found amidst the dry leaves and blooms of many places . . . a softly blowing ripple of air blowing up out of the south . . . a hope that hangs precariously on the edge of the mind, heralded in by blackbirds, that dance in gardens throughout this beautiful country. It will not be the cottage spring that I have come to love over these past almost 7 years, but it will be spring nonetheless, and I have a feeling that it will be just as welcome . . . and I will love it just as much.
I am having to use up odds and sodds in the larder and freezer right now. We won't be taking the small freezer with us, so it must be empties. I found some leftover turkey in it yesterday and used it to make us up a delicious casserole last night. You don't have to use turkey in this though. It works equally as well with leftover roast chicken or ham, or both! It's quite delicious with any of those meats.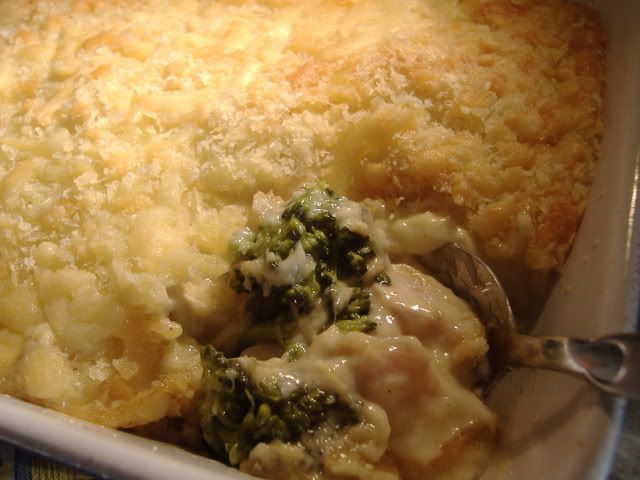 *Turkey Divan Casserole*
Serves 4
Printable Recipe
This is one of the most delicious ways of transforming your leftovers into a delicious feast for the eyes and tummy. We love this. You can use low fat mayo and soup if you are watching the calories!
3 cups broccoli florets
2 cups cooked turkey, chicken or ham, cut into cubes (you can even use both turkey/chicken and ham together)
3/4 cup good quality mayonnaise
1 tin of condensed Cream of Chicken Soup (Campbells or Baxters)
1/2 to 1 tsp curry powder
(depending on taste)
the juice of half a lemon
1/2 cup strong cheddar cheese
1 cup dry bread crumbs
2 TBS melted butter
Preheat the oven to 180*C/350*F. Lightly butter an 11 by 7 inch glass baking dish and set it aside.
Bring a pot of lightly salted water to the boil and then cook the broccoli in this only until crispy tender, about 3 to 4 minutes. Drain well.
Lay the broccoli in the bottom of the prepared baking dish. Sprinkle with the chopped pieces of meat over top.
Turn the soup into a bowl and mix together with the mayonnaise, curry powder and lemon juice. Mix all together well and then spread this mixture evenly over top of the meat.
Mix together the grated cheese, bread crumbs and butter. Sprinkle evenly over top of all . Place in the heated oven and bake for 25 to 30 minutes until bubbling and the cheese is melted and beginning to brown. Remove from the oven and allow to stand for a few minutes before serving.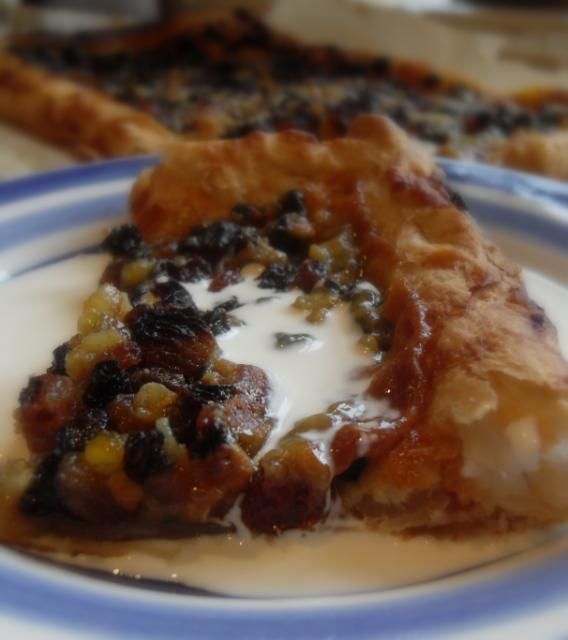 There's a delicious Simnel Tart over on
The English Kitchen
this morning. Deliciously different, and very easy to make.